Property management can be a lucrative career for the right person. According to GlobeNewswire, the global property management market is expected to reach $37.25 billion by 2029.
Who benefits? The property managers, landlords, and administrators who own or lease all that real estate. To pursue this in-demand career, potential property managers need several things, including local accreditation, a knowledge of the ever-changing real estate market, and tools like property management software.
What is a Property Manager?
A property manager owns or leases real estate which they then rent out to tenants. Some personally own their property, while others work for real estate agencies.
Property managers are responsible for coordinating between tenants and owners on issues such as lease agreements, rent collection, and maintenance. Some alternate titles include landlord or property administrator.
What Do They Do?
The main day-to-day tasks a property manager must complete include:
Supervising building maintenance
Addressing tenant complaints on time
Collecting and depositing rent checks
Advertising vacant properties to bring in new tenants
Overseeing tenant turnover or lease termination
There are some differences between residential and commercial property management. Residential property managers are more likely to be on-call for emergencies, since inhabitants can be home anytime. A commercial property usually requires a manager to remain onsite during work hours.
How Much Do They Make?
According to Indeed, the average base salary for a property manager is $55,808 per year. The amount of money a property manager makes depends on several factors, including if they are independent or work for an agency. Generally, their earning potential is determined by:
Scope of property
Number of properties/units
Rental rates
Utilities/upkeep costs
The more real estate a manager oversees, the more expenses there are to maintain the property. However, there's also more potential profit.
An independent manager has more control over how much they charge in rent, though they don't enjoy the safety net of a guaranteed salary.
Necessary Skills of Property Management
To succeed as a property manager, the following skills are key:
Current Real Estate Knowledge: Staying up-to-date on the latest real estate news, both locally and nationally, matters in the fast-moving world of real estate.
Clear Communication: Acting as a liaison between tenants and owners requires crystal-clear communication.
Organizational Abilities: Managing multiple properties or units simultaneously requires lots of paperwork, which requires organization.
Accounting Education: While there's no need to be a certified accountant, having a base level of knowledge on the subject makes it easier to handle rent collection and expenses.
Attention to Detail: Follow-up is critical in property management to ensure tasks like lease approvals or maintenance requests get completed on time.
The skillset for commercial and residential property managers is largely the same. However, the main differences come from the amount of properties being managed. For example, a landlord who owns a single duplex won't need nearly the same level of organization as the manager of a commercial property with dozens of tenants.
Education Recommendations
Only a high school degree is required for work in real estate, though a college degree is recommended. Coursework completed through the Institute of Real Estate Management can also provide useful credentials.
For those seeking a college degree, majors in business administration, finance/accounting, and property management (if available) are ideal.
Certification Requirements
The exact accreditation necessary for a real estate manager varies based on location. Several states require potential property managers to pass a real estate licensing exam, even if they do not plan to sell property.
According to All Property Management, almost every state has a minimum requirement of a property management or real estate broker license in order to work with rental properties. However, some states have no licensing requirements:
Idaho
Maine
Maryland
Massachusetts
Vermont
To get these accreditations, potential managers need to be at least 18. However, some states have a minimum age of 21. There may also be a criminal background check.
All Property Management provides a full list of state requirements for property managers. Fortunately, many states offer real estate license reciprocity with neighboring states.
How are Property Managers Different from Real Estate Brokers?
The terminology around property managers and real estate agents can be confusing. Here are some basic differences between these jobs:
Property Manager: The property manager controls all aspects of a property leased or rented out to tenants, such as maintenance or utilities. They may work independently or through an agency.
Real Estate Agent: An agent handles the sale or lease of a property on behalf of a current owner or potential buyer, and must work under a broker or agency.
Real Estate Broker: A broker is a specially licensed real estate agent who may employ other agents, or work as an independent contractor to buy and sell property.
Real estate agents and brokers receive commission after a sale is completed. Unlike property managers, they aren't involved in the upkeep or maintenance of a property. Learn what different states require to become a real estate agent or broker.
While there is a lot of work to become a property manager, there are many tools available to make the job easier. Both commercial and residential property managers can use software to streamline daily tasks.
Property management software provides the most benefits for those with real estate careers. These solutions can automate rent collection using payment portals, provide hubs for maintenance requests, and track prospects in databases. The top 5 benefits of property management software are:
Improved tenant screening methods
A professional barrier for business interactions
Total system automation
Customizable alerts for vacancies, rent, and maintenance
Accessible legal records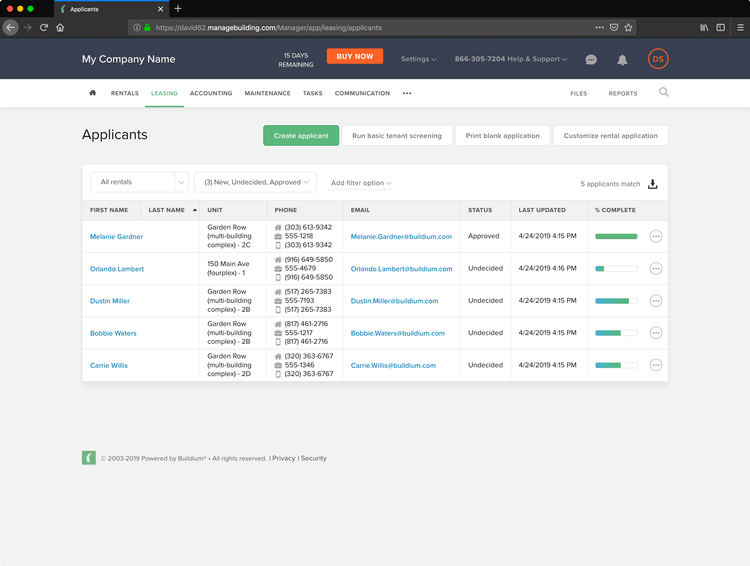 Lease accounting software is also popular with property managers since it can automatically track tenant payments, lease renewals, and contract information, all while keeping financial records compliant with Financial Accounting Standards Board (FASB) and International Accounting Standards Board (IASB) standards.
Want to start or improve your property management business? Get free software recommendations from Software Connect.