When you're starting a property management business, your main focus may be on increasing the number of tenants, maintaining or improving the condition of your properties, or expanding your rental portfolio. However, property managers need to consider the industry-specific needs with regards to tracking income and expenses via accounting software.
Since property management accounting software is something your rental business will use every day, it's important to choose one that is easy to use, easy to implement, and within your budget. Most small businesses may opt for a simple out-of-the-box software that does not require any additional add-ons or customizations.
Which one is right for your rental property management business? You may need to manage vacancy reports, track maintenance and common area expenses, hold security deposits, connect to various bank and credit card accounts, and calculate rent increases. It's important that landlords find the best property management accounting software that can help automate their accounting processes so they can spend more time managing their properties and less time bookkeeping.
What is Property Management Accounting Software?
Property management accounting software handles check writing, management of receivables and collections, bank reconciliations, top-level financial reporting, and fixed asset depreciation involved with running a rental property business. The main capability of accounting software for property managers is rent collection, which allows collecting fees owed by tenants for rent, security deposits, and other services provided. This also allows access to credit card payment portals and the ability to establish electronic (ACH) payments.
Property management accounting software also provides investment management, which tracks and reports on ownership and investment data. This capability tracks rental property investments, handles disbursements, and even helps identify new investors. Online owner portals can provide owners with a snapshot view of their investment data.
New landlords will want to look for an accounting system that can collect rent payments and track the basic expenses involved with managing rental properties, such as routine maintenance to the property and the units within. Accounting reports offered by property management accounting systems will help indicate how much profit is being made by these real estate investments.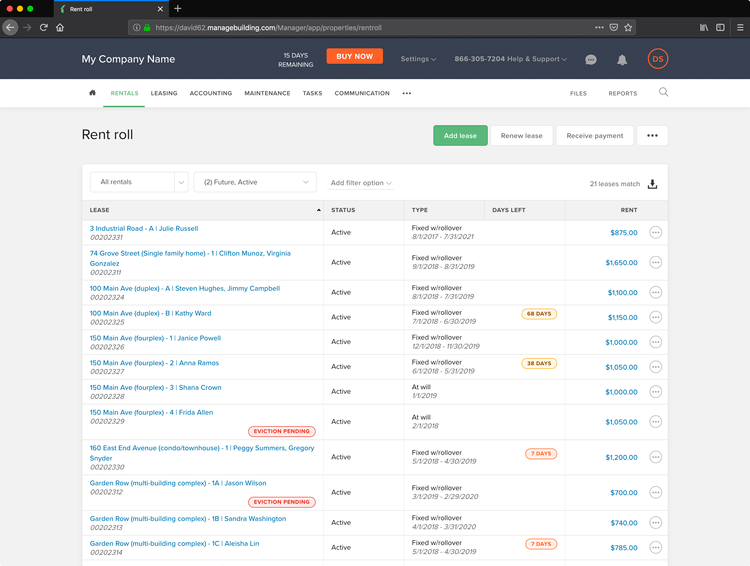 Features of Property Management Accounting Software
Rent and Payment Collection: Collect rent payments from tenants and organize them to the appropriate tenant file to keep their status current. Categorize receipts based on the real estate category and specify if the cash inflow is for rent, utilities, or late fees. Manage real estate taxes, property insurance, and maintenance costs.
Online Payment Portal: Allows access to credit card payment portals and the ability to establish electronic (ACH) payments. Keep track of which payments cover fees and/or security deposits.
Bank Reconciliation: Download bank statements and credit card transactions to identify and correct discrepancies. Make sure your software records match with your bank statements.
Reporting: View income and expense data by month or year. Create reports on a property by property or tenant by tenant basis.
Budgeting and Forecasting: Assists with the creation and management of detailed property financial plans. Historical data and estimates of future market conditions are used to approximate a company's future revenues and expenses.
Investor Reporting: Track and report on ownership and investment data. Track investments, handle disbursements and even identify new investors. Online owner portals provide owners a snapshot view of their investment data.
General Ledger: Provides a complete record of the financial management of the business, including the transactional records and the account structure. Includes chart of accounts, financial statements, journal entries, audit trails, and more.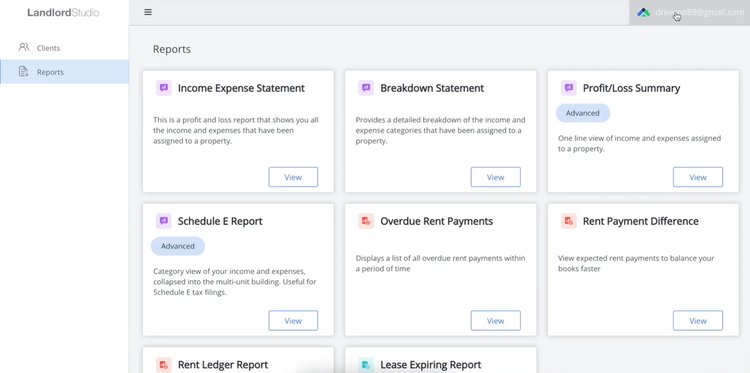 Benefits of Property Management Accounting Software
The most desired benefits of accounting and property management integration include:
Simplify Payments and Receivables
Today's property management software allows for online portals that lets tenants view their lease agreement, submit maintenance requests, and make rent payments. Letting your tenants and prospective tenants make payments via a portal allows them access to credit card payment portals and the ability to establish electronic (ACH) payments.
Since a property management accounting program is all about managing the financials involved with running a property management business, it can make sense to desire a solution that provides ease of use in your receivables.
Upon having a rental agreement accepted, a new tenant will need to pay a security deposit. In today's day and age, tenants may desire the ability to keep all payments online rather than driving to your rental office to drop off a check. The same goes for their month to month rent payment. The online payment portal within your rental property accounting software will help keep track of which payments cover fees and/or security deposits.
With your receivables in check, your business can easily manage to pay the bills. The right property management accounting software will be able to track upcoming bills (such as bank payments or maintenance costs) and ensure they are paid on time. You can also set reminders, or break down your costs to know where you are spending the most money.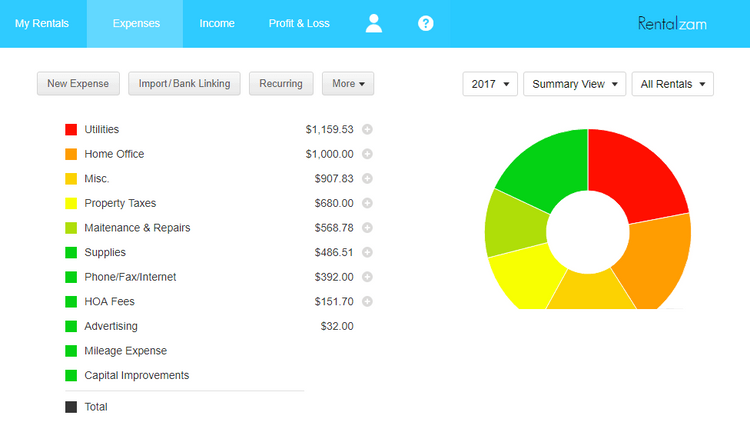 A Fully Integrated Approach
Many businesses may start out with a popular accounting software option such as QuickBooks Pro or Xero. Due to being ingrained in these options, it is a natural desire to want to keep their bookkeeping the same while they explore property management software options for their non-financial needs, such as storing lease documents or marketing their available properties.
While these tools can be used side by side, they may lack the integration desired. If marketing dollars are spent through a non-financial property management software, you'll have to ensure that transaction gets recorded within your generic accounting system.
By implementing a property management accounting software from the start, you'll be able to facilitate communication between all areas of your business. This lets you view your banking information and how it relates to other property management actions you take throughout the course of business, such as overdue payments and financial projections.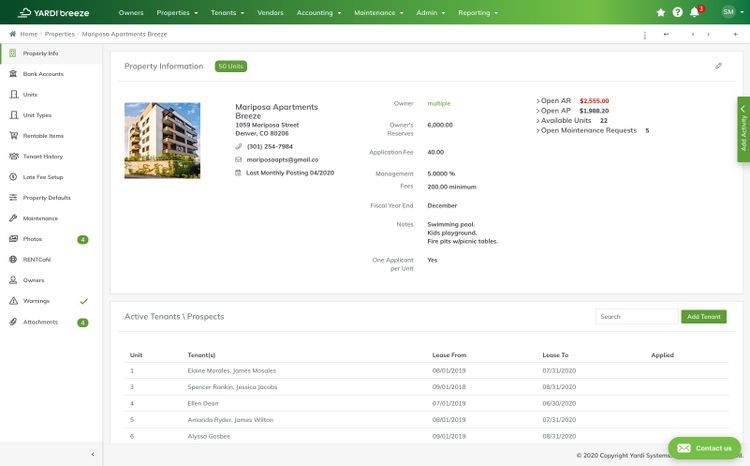 Allow Your Business To Grow
Having a fully integrated approach to your property management accounting means your accounting functions are communicating with critical information in your property management. Having one source of truth also eliminates the possibility of double entry bookkeeping mistakes, as well as having a single source of information for uncovering key insights and data points about your business.
With total visibility of your business, you won't have siloed information across separate systems that takes time (and therefore money in the form of paying employees) to manage everything individually.
The increase in automation provided by an all-in-one system eliminates tedious tasks–allowing you to focus on strategic and high-balue activities that are more beneficial to your bottom line. Examples of automated tasks include paying invoices, establishing recurring invoices, attaching invoices to leases, transaction matching and reconciliation.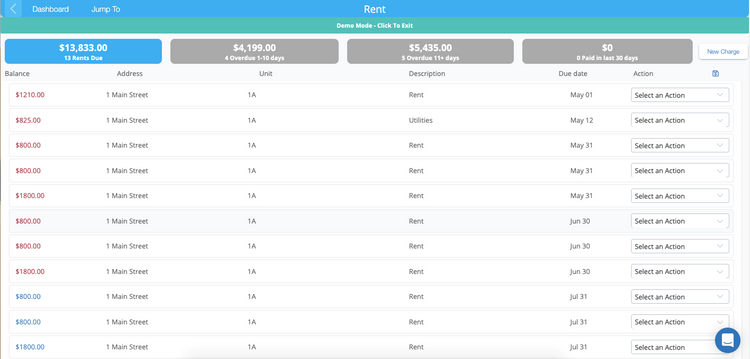 Pricing of Property Management Accounting Software
The cost of property management accounting software will vary on the level of functionality included with the solution. Most standard property management software will include some level of accounting mixed in with non-financial features, such as work order management for handling maintenance requests and lease management. For property management-focused accounting software, the solutions will tend to include more advanced accounting features than what is offered in standard property management options.
Property management accounting software will start around $50/month for subscription pricing. These programs may or may not charge additional fees per unit, ranging from $.50 to $2/unit/month. This can significantly raise the cost of the investment. For example, a property management company with 50 units may pay $1/unit/month, plus the $50/month subscription fee for a total of $100/month.
Depending on the software vendor, companies may also be charged for upfront fees such as implementation and training. Data migration services are also available by many software providers for an additional fee–allowing you to import all of your existing property management accounting data from your old software.
Is QuickBooks A Good Choice For Property Management Accounting?
QuickBooks is a massively popular accounting product with both desktop and online versions–the latter having more than 3.9 million subscribers alone. The software is used by a variety of industries, meaning it's possible to use a product such as QuickBooks Online for your property management needs. Specifically, it is best used by a property manager handling small to midsize properties.
Desktop versions of Quickbooks will allow you to set up company and customer files as various properties. This will allow you to handle tasks such as collecting rent from tenants and paying property owners and management companies, on top of any fees involved in property maintenance.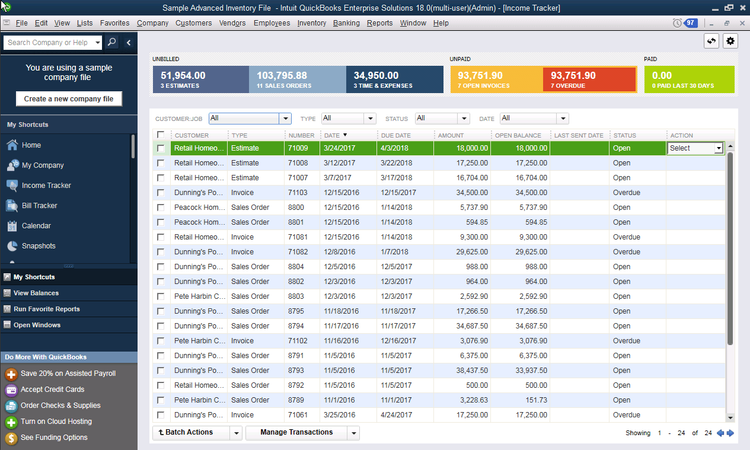 It's important to note that there is no specific version of QuickBooks tailored to the real estate or property management industry. Because of this, you'll need to be fluid with the program and perhaps make a few tweaks and adjustments in order to have it work the way a property owner would like.
For example, in QuickBooks you'll be able to create and manage two company files:
Rental property company: For collecting rent, paying bills, and managing the property for the owner
Property management company: A file for receiving income for managing properties
This will help keep the companies' transactions separate from each other, allowing you to set up tenants and vendors, accounts and items, record security deposits, track the rent income, record expenses for each property, and pay the property owners. From the property management side, you'll be able to set up property owners as customers, set up accounts and items, and record property management income.
If the property management business is comprised of several large properties or multiple complexes, it is advised you look into a more advanced system. A professional property manager could be better off finding a trust accounting system. Whatever accounting software is chosen to handle property management accounting, these facts remain certain:
Once rent is received from the tenants, it needs to be disbursed to the property owners. This money should be kept in its own account and separate from any account that is used to pay expenses.
Any money also received from the owners for the work you've done (your management fee) should be put into your own account.
QuickBooks lacks this type of straightforward account management and is why it can be difficult to manage multiple properties using QuickBooks.