Our Top 5 On-Prem ERP Picks
On-premise ERP is a software which is installed on local, company-owned servers instead of deployed through the cloud. These solutions have a lot of benefits for businesses, like greater privacy, tighter data security, and lower costs over time. Here are 5 of the best options for businesses looking to deploy an on-premise ERP software:
These are the top recommendations for on-premises ERP software.
SAP Business One: Best for SMB
SAP Business One's on-premise ERP software is ideal for businesses of all sizes, though remains popular with medium to small businesses. In fact, most businesses using SAP have between 10 and 99 employees, though some can reach up to 500.
This system can integrate operations across various departments, including finance, sales, supply chain management, production, project management, and production processes. This broad range of functional support makes SAP Business One a suitable ERP for a wide range of industries, though it is particularly popular with manufacturing companies, distributors, and other professional or commercial organizations.
SAP Business One offers extensive customizability options through the Software Development Kit (SDK). And there are a large variety of third-party software add-ons available to extend the core functionality.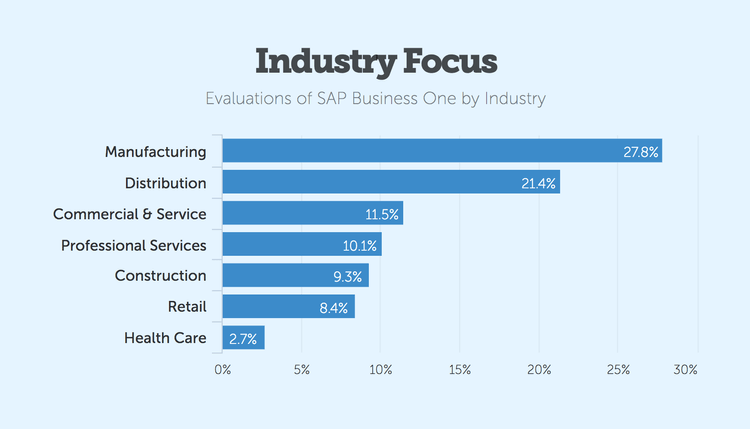 Microsoft Dynamics 365: Best for Financials
Microsoft Dynamics 365 is a popular ERP focusing on financial management. As an on-premise solution, this ERP can streamline ordering, selling, invoicing, and reporting tasks. And the ability to integrate with Office 365 means sales documents can be directly generated within Outlook for faster prospect outreach.
Dynamics 365 has a lot of useful tools for streamlining business operations. Opportunity management modules can prioritize leads based upon revenue potential, ensuring the sales cycle focuses on what matters most. Contact management tools make it possible to combine sales and CRM data in one system to better target products to specific customers. Additionally, a general ledger with AR and AP can track all relevant accounts for your company.
Dynamics 365 is popular with small businesses, though it can be used by companies of all sizes.
Infor CloudSuite: Best for Lean Manufacturers
Infor CloudSuite, formerly SyteLine, makes it possible to accelerate production tasks to better meet customer demand. This ERP automates workflow to help minimize error-prone manual processes. The on-premise solution is designed with smart functionality so manufacturers need less customization and get a shorter implementation period. However, they also offer a high level of personalization based on industry, business duties, and responsibilities.
Add-ons, like Field Service Plus, provide extra benefits. Scheduling and dispatch tools provide visibility into every technician's schedule, certification level, and manufacturing experience.
Epicor Kinetic: Best for Made-to-Order Manufacturers
Epicor Kinetic's on-premise ERP offers an easy to use and highly intuitive user interface. Formerly Epicor ERP, this software is specifically developed for growing manufacturers. Its configuration makes it popular with made-to-order and engineer-to-order businesses.
Other strengths include the amount of data it can store and analyze, as well as the automation it can provide when it comes to production. A top feature in Epicor Kinetic includes the shop floor control that can measure everything from raw materials to the final product. The software can be deployed on-premise, hosted, or as a hybrid option.
This ties together everything from sales and estimating through the manufacturing of those products.
ECi M1: Best for SMB Manufacturers
ECi M1 is a business system designed for helping small to mid-market manufacturers optimize business processes while they grow. This on-premise software is used by job shops, custom, mixed-mode and make-to-order manufacturers to save time and resources on tasks from quoting to invoicing.
ECi's Advanced Planning & Scheduling System (APS) is particularly useful for manufacturers since it offers scheduling flexibility on the shop floor with easy to use drag-and-drop features. In addition to these popular features, the on-premise software can be customized to allow for more unique business processes. The new reports created using the industry standard Crystal Reports can also be customized.
ECi has dedicated support teams in the United States, the United Kingdom, Australia, New Zealand, and Europe. The software interfaces with Microsoft Office.
Disclaimer: While all of these software vendors offer on-premises ERP, some also have cloud-based systems. Make sure to specify which type you want when requesting a demo or pricing information:
On-Premises Benefits
There are many benefits to on-premise ERP systems, starting with ownership. On-premise solutions are almost always offered with a perpetual license, though there are a few which require ongoing maintenance or upkeep costs. Instead of making monthly or annual payments, companies implementing an on-prem ERP make a one-time payment. While it's a lot upfront compared to SaaS ERP solutions, a perpetual license can have a lower total cost of ownership than a subscription after only 8 years of use.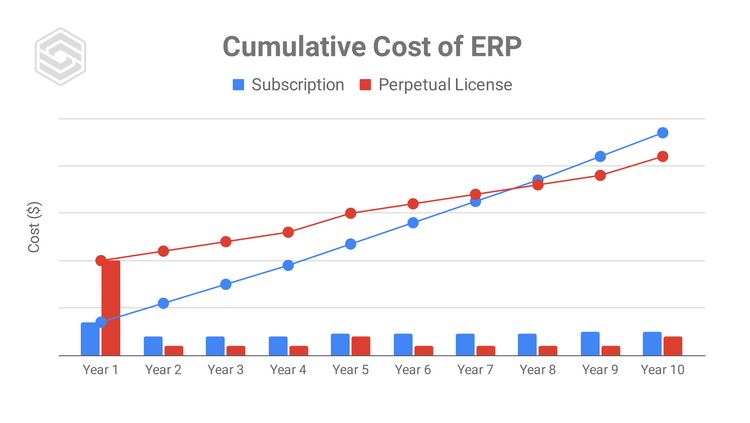 Hosting an ERP on local servers means more control over important company data, as everything is stored on local servers rather than up in a third-party cloud. This can result in greater data security, as long as IT stays on top of patches and other maintenance.
Since the system is contained to local servers, it depends on local IT support. Businesses can hire their own technicians who will better understand the business when making any repairs or updates. They also won't try to upsell additional services the way a vendor-sent technician might.
On-premise solutions can't be changed by the vendor after-the-fact, so any releases on new versions won't impact current systems. Cloud-hosted systems can literally update to an entirely unrecognizable user interface with no way to revert back. Some on-prem applications can even operate offline, allowing for uninterrupted work even without an internet connection.
Private and Developer-Hosted Cloud ERP
Of course, it's important to mention that on-premise ERP can always be converted to private or developer-hosted cloud systems later. Private cloud ERP systems offer businesses several unique advantages, as they combine the best of on-prem control with the increased functionality of developer–hosted cloud services.
Private cloud ERP has a significantly higher cost of ownership compared to both on-prem and developer-hosted systems. It may also require a third-party to manage the infrastructure, making it not much different from a public, developer cloud.
Drawbacks of On-Premises Software
For all its benefits, there are a few drawbacks to consider before implementing an on-premise ERP system:
Higher IT costs: Since the ERP will need to be maintained locally, businesses may need to hire an IT specialist, increasing payroll. And there's no guarantee of access to future updates which may improve performance and security. At least, not without making additional payments to the vendor.
Reduced accessibility: Users of on-prem software can't always log-in from any web browser they way they could with a cloud-based system. This can limit business opportunities when traveling or attending meetings.
More migration costs: If a business decides to switch to a private or developer cloud-based in the future, the necessary changes can be costly. Data migration alone will be pricey, not to mention installing any new hardware to meet compatibility requirements.
Harder to integrate: Many businesses utilize multiple software products to operate as efficiently as possible. Integrating an on-premise ERP with out-of-the-box software can be difficult if those systems are cloud-based or from another provider.
Is On-Premise Right for Your Business?
It's important to fully understand the differences between on-premise and cloud-based software to know which is best for your business. One keeps data secure and close; the other offers more opportunities for updates and growth. At the end of the day, there are undeniable benefits to both on-premise and cloud-based ERP systems.
To determine if on-prem is right for your business, you need to consider several factors:
Size of organization
Number of users
Potential growth
Industry standards
Budgetary restrictions
Customization needs
For example, a global enterprise might not want an on-premise ERP because it can limit growth opportunities. Yet some businesses might need to use an on-prem solution to keep data as secure as possible.
Request free ERP software recommendations from the advisors at Software Connect for assistance.