Our Rating: 9.7
Our Verdict
We recommend Limble CMMS to businesses looking for a highly customizable maintenance management system. We felt the software was easy to use, offered visual dashboards, and was perfect for businesses that frequently change data related to assets, equipment, and machinery.
We would not use Limble CMMS if we didn't need real-time mobile access to a CMMS. This might mean smaller companies or startups with limited assets. It also wouldn't be a good fit for businesses requiring fleet management capabilities.
Limble CMMS is a mobile-first CMMS software designed to assist with maintenance by helping managers organize, automate, and streamline operations. Both desktop and mobile applications are available to provide access to services anywhere.
Companies with 1-500 employees will find the best use of Limble CMMS software. This includes small to large sized companies with physical assets that need maintenance, such as:
Pros
Cons

Simple and intuitive user interface.
Over 100 pre-built integrations available.
Desktop and mobile apps available.

Per user costs can add up for larger companies.
Integration options with non-prebuilt third-party platforms might require an additional quote to implement.
Our Ratings
| | |
| --- | --- |
| Usability - 9.8 | Has a modern and responsive interface; lets users fully customize dashboards for fully personalized views. |
| Support - 9.7 | Includes support through online chat, email, and phone; response time averages a few minutes; Business Plus and Enterprise plans include dedicated customer service manager. |
| Features - 9.6 | Features are comprehensive for asset management, monitoring, and maintenance; the mobile app offers the same features as the browser version. |
| Security - 10 | API access is limited to Business Plus and Enterprise plans; only Enterprise has 21 CFR regulatory compliance; users can be automatically logged out after a customizable period of time. |
| Value - 9 | Plans start at $55 per user per month when billed annually; free trial is available; some features are limited to higher cost plans; the enterprise-level plan pricing is custom. |
| Performance - 9.7 | Functionality was fast and responsive; drag-and-drop made for easy changes to dashboards; no slowness or performance issues. |
| Scalability - 10 | Plans can be changed at any time to fit organizational needs; cloud storage begins at 50 GB and goes to unlimited at higher tiered plans. |
Features
While testing out Limble CMMS, a few key features stood out:
Automated Dashboards
Limble CMMS has several different dashboards you can display when using the software. It's easy to change between dashboards to see different data at a glance. You can set up your own parameters as well, such as having a monthly report run itself automatically once a new month has started. This was a great feature, as it meant you only had to create a report or dashboard once and Limble took care of filling in the rest.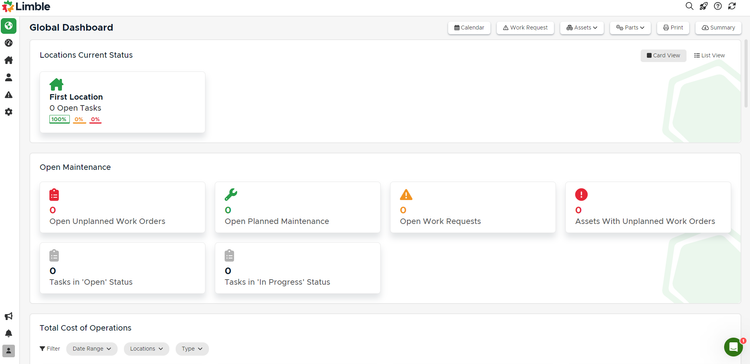 There are pre-existing widgets you can use as a starting point to build your custom dash. However, if you need something more, you can reach out to Limble and they can try making it for you. Finished widgets can be dragged-and-dropped to look exactly how you want.
Work Order Management
Limble CMMS makes managing work orders simple. As mentioned with the customizable dashboards, you can view new, in-progress, and completed orders immediately after logging in. New WOs are easy to add as well, just select the appropriate category, such as Unplanned or Planned, and then click the green "Start WO" button. From there, you select the necessary assets, technicians, timeframe, and more.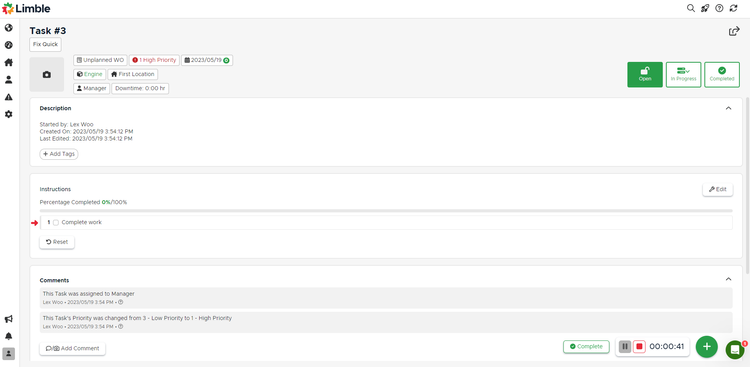 A timer automatically starts whenever you view a newly assigned task. This helps streamline the logging process. There's even an automated reminder if a user has spent over 5 minutes on a task without logging.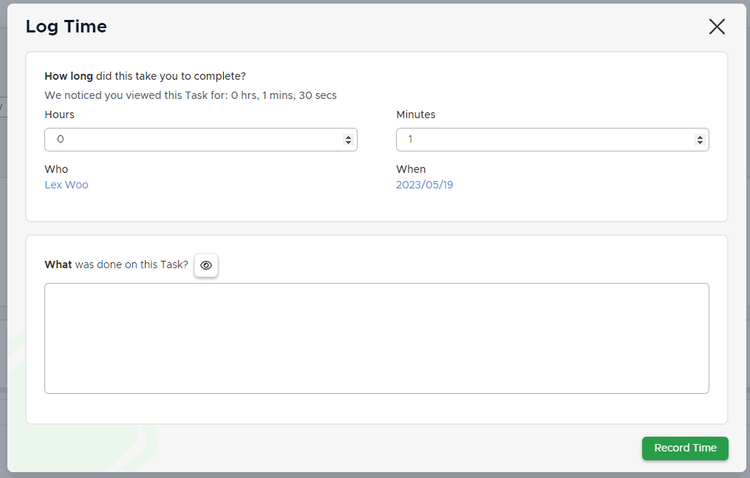 Photo capture and markup can be added to the comment section of tasks to create a clear, complete record of what happened. Oh, and when a task is completed, a fun message and GIF pop up to celebrate success.
There are plenty of videos available on Limble to teach new users how to do different tasks, like a tutorial on setting default work orders templates on assets. This was super helpful when first getting set up with the program.
Preventive Maintenance Programs
Limble CMMS lets you automate preventive maintenance scheduling based on time, asset usage, or equipment condition. A calendar on the global dashboard makes it easy to see who has upcoming tasks.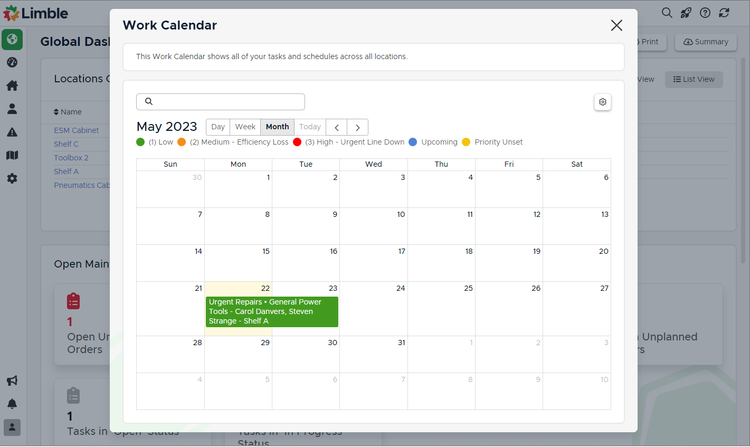 What Features Are Missing?
Using Limble CMMS would have been better with a few added or improved features, like:
More 21 CFR coverage: Although Limble CMMS does offer 21 CFR, it's only included in the Enterprise version. Since custom quotes are available for the Enterprise plan, this can still be affordable for many businesses looking for a way to prepare for 21 CFR audits.
Pricing Plans
Plan
Pricing
Features
Starter
$65 per user per month or $55 per user per month (billed annually)
Designed for small companies:

Mobile app (iOS and Android)
Preventive maintenance
Work orders
Data importing
Work requests (ticketing)
10 vendors
1 dashboard

Professional
$100 per user per month or $85 per user per month (billed annually)
Includes all Starter features, plus:

Advanced reporting
Parts inventory
Downtime tracking
Multiple locations
Barcode and QR codes
Unlimited dashboards

Business Plus
$135 per user per month or $120 per user per month (billed annually)
Includes all Professional features, plus:

Dedicated customer service manager
Workflow automation
API access
Purchasing (POs and budgets)
Offline mode
Vendor management
Unlimited vendors

Enterprise
Custom quote
Includes all Business Plus features, plus:

Cycle counts
Tool check in/out
Capital depreciation
Warranty tracking
Maps
Regions
Free trials are available for the Starter, Professional, and Business Plus plans. Businesses can switch to a different plan at any time based on changing business needs. And special pricing plans can be developed for non-profits or companies with special circumstances.
FAQ
Here are some popular questions about Limble CMMS:
What does Limble CMMS do?
Limble CMMS is a computerized maintenance management software that maximizes the runtime and lifespan of machinery or equipment systems by automating maintenance operations in real-time.
Alternatives
Summary
Based on our experience, we'd recommend Limble CMMS to businesses looking to automate their existing maintenance processes. This solution is especially useful for those looking for visual ways to manage assets. You can set the highly customizable Limble dashboards to refresh based on what timetable works best for you. You can also manually refresh at any time. All of this makes Limble best for those businesses which need real-time maintenance options.
Limble CMMS has multiple pricing plans available to fit budgets of all sizes. However, the per user price means costs can grow quickly. As such, this might not be a good fit for businesses which are currently scaling up and have tight budgets. We also would not recommend Limble to businesses which do not have considerable physical assets or need a fleet management solution.