The best accounting software tracks financial transactions for instantaneous reporting and analysis–making it easier to complete audits or analyze information from years prior.
We've examined 20+ providers across 7 metrics to rank the best accounting software. We tested features such as invoice creation and paying vendors to better determine the top options on the market today.
1

Wave - Best Free

Wave is a forever-free accounting solution that offers accounting, invoicing, payments, payroll, and receipts. Wave is very transparent in their pricing structure. The accounting, invoicing, and receipt scanning is 100% free. Collecting payments via credit card or bank transfers, or running payroll for your employees, does come at a price, however.

Wave is not only one of the most popular free accounting solutions, it can also be thought of as one of the most popular accounting solutions period. Because of this, it's a great choice for freelancers and start-ups who are strapped for cash.
2

QuickBooks Online - Best for Small Businesses

QuickBooks Online stands out as the best small business accounting software due to its robust integrations, intuitive user interface, and powerful invoicing capabilities. Widely recognized as the most popular financial software, QuickBooks allows companies to invoice an unlimited number of clients even with basic subscription levels. Furthermore, it offers straightforward bank reconciliation and a high level of scalability, making it an ideal choice for businesses looking to grow.

The cloud-based accounting solution not only enables businesses to track sales and expenses, manage customers, and create estimates, but it also supports collaboration with external accountants. QuickBooks Online excels in capturing and organizing receipts, maximizing tax deductions, and handling invoicing and payments, making it a comprehensive option for small to mid-level companies in the accounting, information technology, and professional services industries. While it may lack industry-specific functions, it remains a top choice for service-based businesses that don't require inventory tracking in their books.
3

NetSuite - Best for Advanced Features

Utilized by over 40,000 organizations in more than 160 countries, NetSuite is a cloud ERP software solution that supports sales, finance, human resources, operations, and service needs.

NetSuite is licensed as a subscription-based software-as-a-service (SaaS). Its broad range of ERP functionality includes accounts payable and receivable, bank reconciliation, bill of materials, fixed asset tracking, inventory control, and more.
4

Quickbooks for Mac - Best for Mac Users

QuickBooks for Mac is the Mac-exclusive version of one of the most widely used accounting products ever, QuickBooks Desktop. New in 2020, the Mac version includes modernized reporting, an improved customer snapshot, a dark mode, electronic invoices with online ACH, credit card, or e-check payment options, and bounced check processing.

Due to the widespread popularity of PCs, many software developers have a "Windows-first" approach when it comes to creating their software. While it can be challenging to find an accounting software with a Mac-specific UI, QuickBooks for Mac gives all the same features provided to it's Windows counterpart. This is a relief for Mac users who prefer a locally installed option rather than QuickBooks Online accounting software.

QuickBooks for Mac primarily serves small businesses and starts at only $299 for a one-time purchase.

Want more results? Check out our list of best mac accounting software.
5

Sage Intacct - Best for Financial Management

Sage Intacct includes support for core accounting, financial reporting, billing, purchasing, sales and use tax, inventory management, and project accounting. The financial management system offers a suite of accounting features that could serve medium and large-sized businesses with consolidated ERP and e-commerce features.

Most of Sage Intacct's applications are financial-based, including accounts payable, accounts receivable, cash management, a general ledger, order management, purchasing, and reporting and dashboards. Intacct also includes support for financial reporting, billing, sales and use tax, inventory management, and project accounting.

The Intacct solution is particularly popular with professional services companies based on extensive support of time-based billing, ease of use for remote professionals, and strong project accounting features.
6

Freshbooks - Great for Online Access

FreshBooks is a true all-in-one accounting software that improves cash flow and automates your administrative tasks such as basic invoicing, organizing expenses, and tracking your time worked on projects. It also offers a large quantity of reports that help monitor the finances and financial health of your business.

The biggest benefit of FreshBooks is what you get included for the price. Rather than offer a limited base version of their software (such as only invoicing), their "Lite" package includes a full suite of unlimited invoices, expense entries, estimating, and time tracking. It can also accept credit card payments and ACH bank transfers and has an automated bank import feature built in.
7

Tipalti - Best Payables Management

Tipalti is an accounts payable automation solution that prioritizes efficiency across an end-to-end global payables workflow. Supporting AP and payment management in their cloud platform, Tipalti helps users scale and adapt to their business' changing needs.

Invoice-based supplier payments are the heart of Tipalti, helping growing companies focus on improving their AP workflow. Larger companies can enjoy global and performance based mass payments to partners depending on their marketplaces, networks, or communities.

Tipalti lets vendors register on your Supplier Hub, helping your business reduce data entry and ensure supplier identity with tax IDs. Vendors can then upload invoices and allow you as the payer to review what has been keyed in and approve any invoices and schedule future payments.

Want more results? Check out our list of accounts payable automation software.
8

Xero - Also Great

Xero is very scalable online accounting software, meaning many small businesses continue to use Xero as they grow into larger enterprises and upgrade to more advanced versions. Because of this, over 1.3 million users have chosen Xero as their primary accounting software.

Online accounting solutions (also known as cloud accounting software) such as Xero provide a "log in from anywhere" approach, which is intended to increase usage given the ease of access. On top of being able to access your financial information from anywhere you have access to a web browser, Xero has a mobile app for iOS devices, which can provide accounting features such as receipt scanning.

Xero learns and categorizes each transaction to help save your business time. Xero also has a large customer support network and an online "checkup tool" that lets the customer support team run some system checks to identify issues and handle issues via chat support.
---
What is Accounting Software?
Accounting software at a minimum keeps track of financial transactions to record profit loss and better improve business finances and overall cash flow. Core functionalities include general ledger (GL), accounts payable (AP), and accounts receivable (AR). Common additional functionalities include bank transactions, purchase orders, payment reminders, and payroll service.
Many industries require customizable financial management functionalities, like fund accounting for nonprofits, job costing for construction firms, or DCAA compliance for government contractors. There are also different ways of conducting your accounting process, such as single- or double-entry accounting.
Small business owners might want only to streamline the basics. Yet in larger organizations, the terms "accounting software" and "ERP" are often used interchangeably and there are significantly more performance expectations for accounting solutions. The right software will provide the data management tools you'll need for accurate account balances and let you be ready at tax time.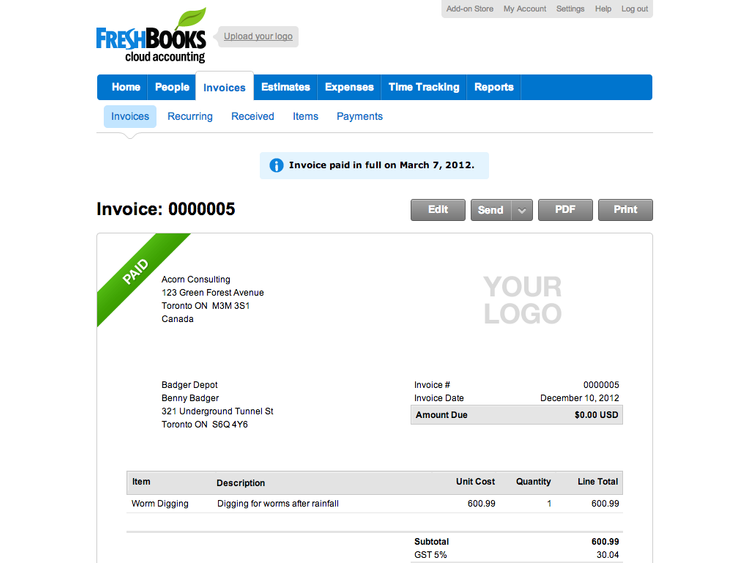 ---
Essential Features of Accounting Software
Business accounting software has features and applications that can be broken down into basic categories, such as common (typically found in all accounting software), industry-specific (only found in certain types of accounting software), and advanced features (only used by mid-sized to larger businesses).
While many top accounting software features exist to benefit your business, let's focus on some of the essentials: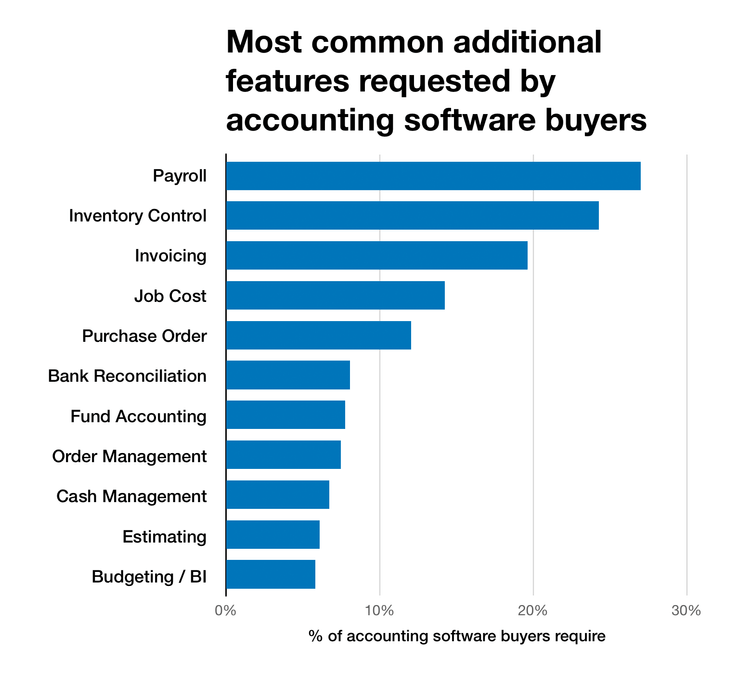 Our recent accounting software buyer trends report found that payroll, inventory control, and invoicing were the most requested additional accounting features that buyers search for more on top of the "core accounting" of accounts payable, accounts payable, and a general ledger.
---
Benefits of Accounting Software
From a small-business that may require an off-the-shelf option to a larger enterprise that desires a vast amount of financial management customization, this buyer's guide will cover everything you should care about during your search when reviewing accounting software.
Undoubtedly in using any business software solution, you'll find things you like as well as dislike. The best accounting systems will help alleviate pain points from manual methods, but they may also bring about some technological pain points that you'll want to be prepared for.
Accounting Software Can Integrate With Other Systems
Companies that do not have a complete (all-in-one) software will look to combine more than one software to meet all of their applications needs. A common example is having a bookkeeping software and an inventory tracking option that do not integrate.
An off-the-shelf software that handles core accounting may lack additional applications such as payroll, advanced reporting, or more involved inventory tracking. Once the need for these accounting features arrives, many buyers may lack the means necessary to integrate the programs together.
Integrations, or APIs, allow distinct products to talk with one another. For example, your payroll system could update your HR team with a chat program (such as Slack) of any processing errors. Your payment processor might automatically push new receivable entries to your accounting system. Your accounting software could share available funds with BI systems.
Expect inter-software communication abilities to increase in most products. While some accounting products may try to provide an "all-in-one" tool, others will focus on being the best at a few main areas, and offer integrations to tools that they feel help complete their program.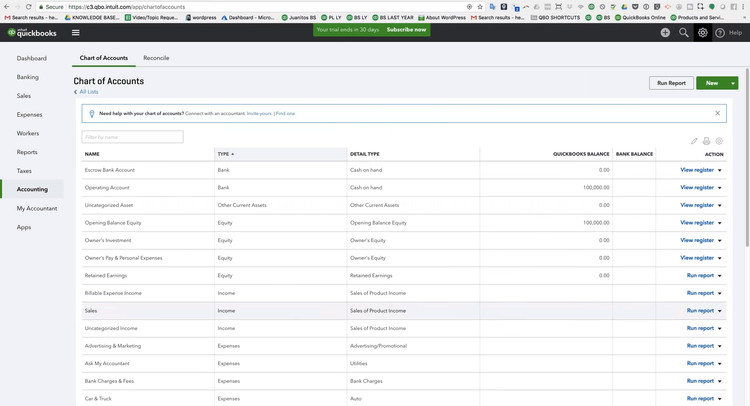 Industry-Specific Accounting Software
As consumers demand functionality more in-tune with their industry needs, software developers are doing everything they can to make those dreams a reality.
While a super-niche industry may not have a software option exclusively developed for them, be on the lookout for specialized vendors. These are companies that pride themselves in implementing specific software solutions into certain environments, and will offer customizations or add-ons for a generic-product that will make it more in line with what the business expects on a day to day basis.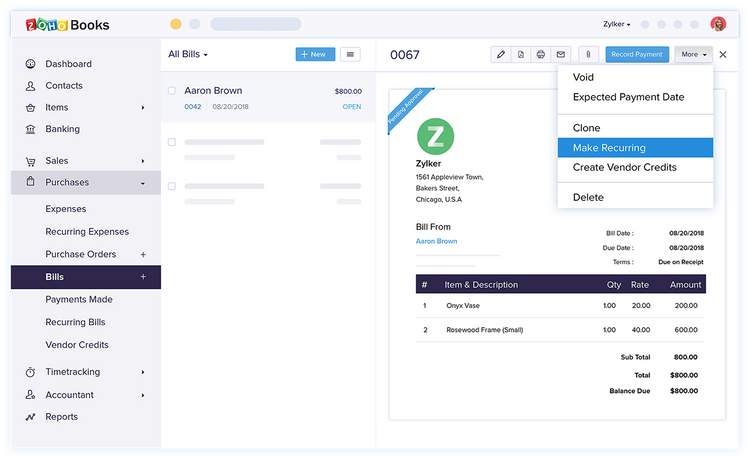 Custom Accounting Software
Many companies will try to make due with a lower-cost solution at the expense of functionality. Options such as Sage 50c, Zoho Books, and Quickbooks Online are great low priced options for new businesses, but they'll lack ways to customize the software towards your business.
Popular accounting software customizations include:
Tailored reports
Role-based dashboards
Custom data fields
Bottom line, don't sacrifice functionality for cost if it's something you may look to add within a year down the road.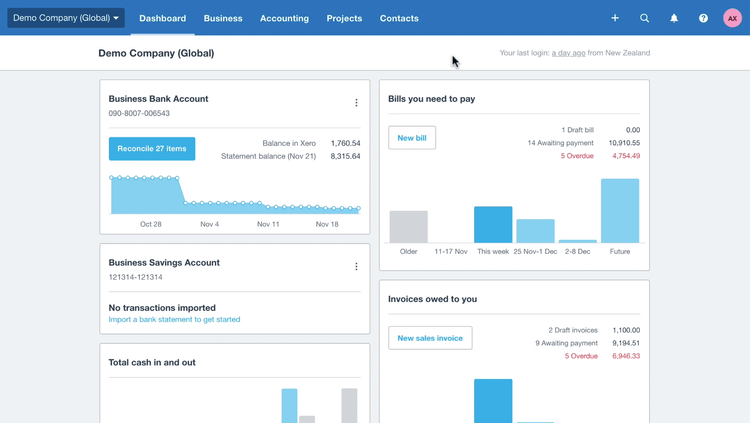 Remote Access With Cloud Accounting Software
Also known as software-as-a-service (SaaS), cloud-based software adoption rates have picked up over the past decade. In 2015, 76% of the buyers indicated a receptiveness to have their software hosted externally, off-premise. In 2017, this percentage rose to 84% and has continued to rise.
With cloud-based software, products are essentially leased, rather than licensed, which becomes more attractive for smaller businesses with limited funds or short-term needs. The software industry has responded by making software more available on a cloud basis.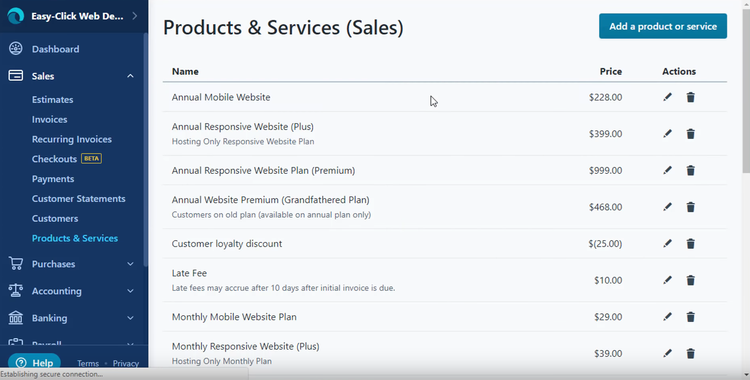 Mobile Accounting Software
In 2016, mobile web browsing surpassed desktop browsing in user counts. Naturally, usage has translated into business demands for accounting solutions compatible with iOS and Android apps.
Accounting software developers have responded in kind, especially within fields that require on the site analysis such as construction and field service. This also makes accepting credit card payments in the field easier than ever.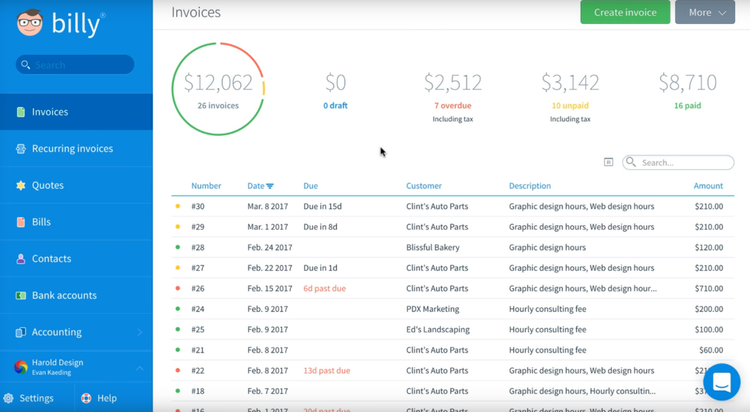 Business Intelligence and Reporting in Accounting Software
Over the past five years (2012-2017), we've seen a whopping 42% increase in end users looking to evaluate Business intelligence software. Business intelligence software is used in virtually every industry.
Consulting firms need to track employee productivity by project/company. Retailers need to track profitability by SKU. Financial institutions set new account goals for personal bankers.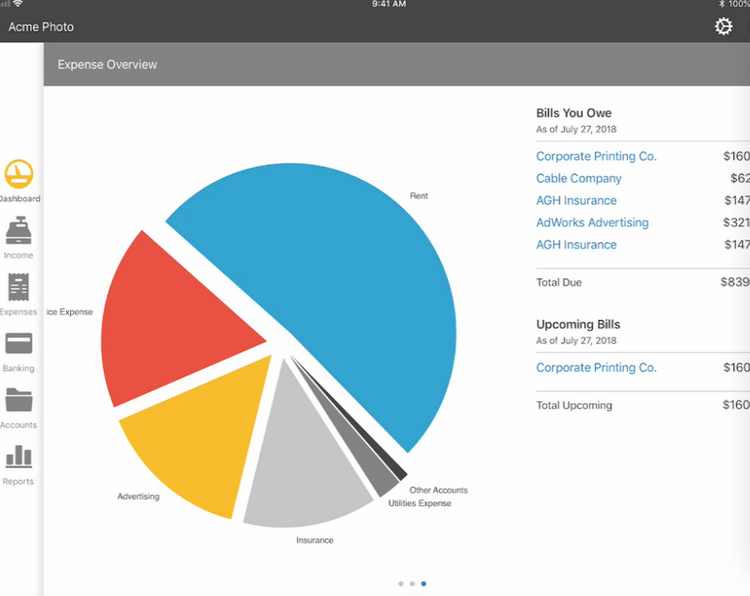 Lease Accounting Standards Update
In an effort to improve financial reporting, the Financial Accounting Standards Board (FASB) issued a new standard on lease accounting. Each asset with a 12+ month lease term needs to be included on a balance sheet. This includes equipment, buildings, vehicles, and other assets your company leases.
The new standard went into effect for public companies for fiscal years & interim periods beginning after Dec 15, 2018, and for private companies for fiscal years beginning after Dec 15, 2019 and interim periods within fiscal years after Dec 15, 2020.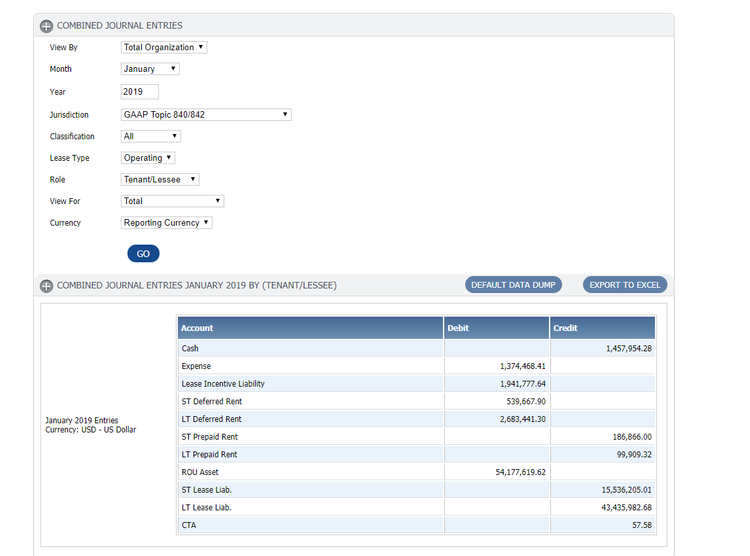 Read more on our lease accounting software guide.
---
What Accounting Software Does Your Business Need?
Creating financial management reports with your data, using mobile apps, finding a new support vendor, or finding the cheapest cloud-based accounting option; everyone has their main motivation for finding a new solution.
The needs and motivations of many buyers will differ from project to project. While many types of buyers exist, most can fit into these common categories below.
Small Business Accounting Software
New buyers will likely desire a basic solution that can easily and automatically manage their finances and help them pay bills. 37% of the companies we surveyed were buying accounting software for the first time. Many small business buyers were looking for increased functionality over their current methods, which ranged from a manual bookkeeping method (pen and paper) to a popular starter solution such as Zoho Books or Sage 50c (Peachtree).
Additionally, companies that require a high amount of users or manage multiple entities most commonly want small business ERP software with a full suite of functionalities to go along with their accounting.
Midsized Accounting Software
Over 20% of buyers said they need more software that handles payroll, inventory management, and invoicing. These features are common in enterprise business accounting software. A growing business also has more users in the system, which means vendor support may be needed more frequently if your staff isn't trained properly.
Enterprise Accounting Software
In contrast, more than 70% of larger businesses surveyed desired software that handles advanced budgeting and forecasting or a business intelligence (BI) package for better analytics and creating financial statements. Larger businesses also expressed a desire for fund accounting capabilities and a way to manage their procurement.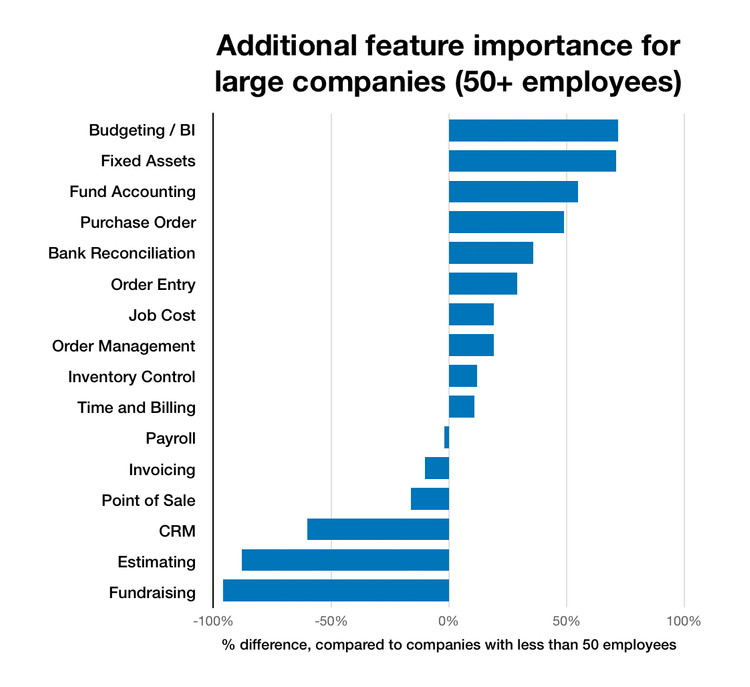 ---
Outsourced Accounting Services vs. Using a Software In-House
Maybe your business feels it doesn't even need an accounting software system and can get by with outsourced accounting tasks from a local accountant or CPA. While the services offered by these professionals is usually of a higher quality, there are other critical factors to consider:
Do you have the technical resources to correctly use the accounting tools?
Are you comfortable managing your business's financial data beyond simple spreadsheets?
Does the cost of software outweigh the cost of paying for a firm's services?
Is QuickBooks the Right Choice?
Undoubtedly, QuickBooks is a massively popular accounting solution, particularly amongst small business owners. While a product such as Intuit QuickBooks Online can serve many needs, it's also the most commonly replaced accounting software on the market since it lacks more robust accounting features.
Our previously mentioned buyer trends survey found that 33% of upgraders are coming from QuickBooks.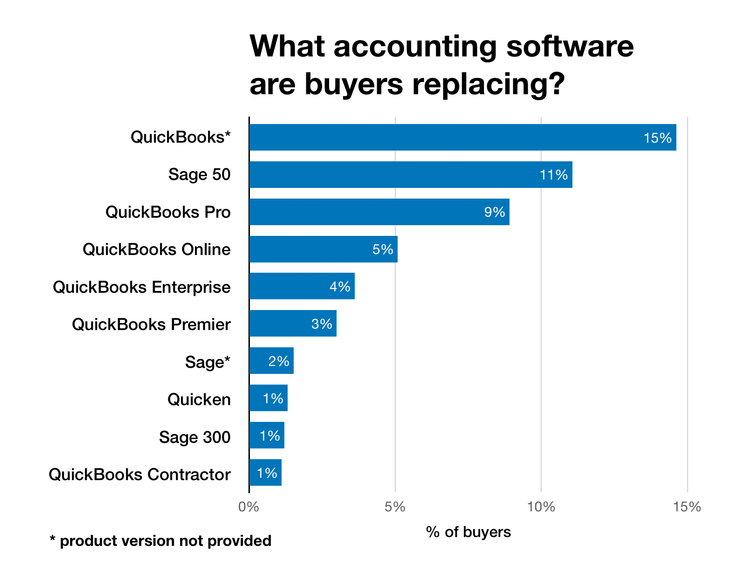 ---
Best QuickBooks Alternatives
Another study on over 4,000 previous users for their most popular replacement products led to a list of suitable Quickbooks alternatives. These will vary by industry, but these options were found to be the most common choices for companies to review: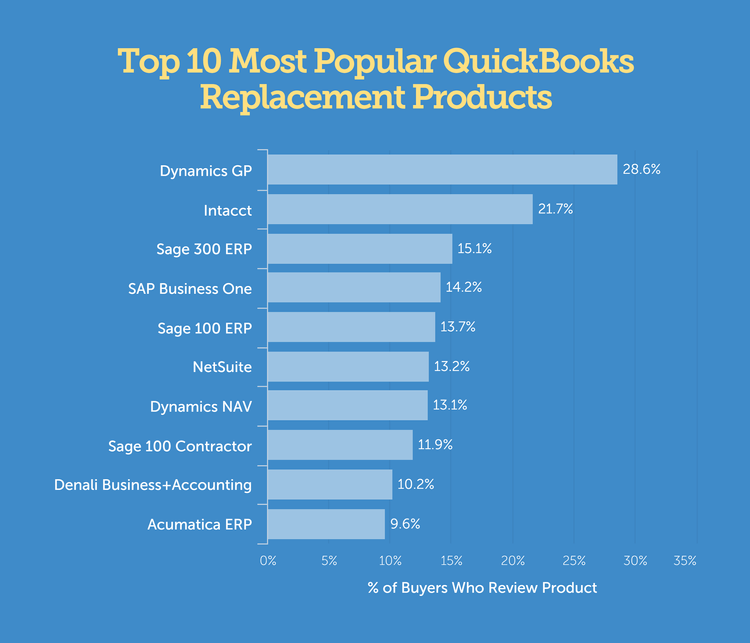 If you are just looking for an alternative small business accounting software that still provides ease of use and an affordable cost, consider these comparable options which offer great sign-up offers, such as:**
And you can check out the best free accounting software for small businesses to find even more cost-effective options.