Sage Intacct is a web-based, SaaS accounting and financial management software system designed for use by small and mid-size organizations. Sage Intacct was built by finance professionals, for finance professionals, providing powerful automation of complex processes and multi-dimensional data analysis.
Video Overview
Key Benefits
Automation of manual processes enabling faster delivery of accurate financials
Improved decision-making capability via accurate, accessible financial data
Anytime, anywhere user access via a browser-based, SaaS delivery model
Scalability for multi-entity support and user growth
First released in 2000, Sage Intacct is one of the pioneer SaaS accounting solutions. Over 10,000 organizations now actively use the program. It provides an alternative choice for businesses that require more functional sophistication than what is found in entry-level web accounting products. Growth-minded small and mid-market companies seeking robust financial management capabilities represent the core market.
Sage describes the product as "built for finance." The American Institute of CPAs (AICPA) has endorsed Sage Intacct as a "preferred provider of financial management applications." The solution has bolstered the appeal of the program for financial professionals by providing significant point-and-click configuration capabilities or fields, reports, and workflows without the need for code-based changes.
Organizations seeking functional support for business processes beyond finance and sales departments can augment it's capabilities with a variety of 3rd party add-on programs designed to integrate via its Web Services API.
Real World Evaluations
Wondering if it is right for your organization? To better understand if it is a fit for you, explore data detailing the functional requirements, anticipated spending ranges, and company attributes of 50 businesses who recently considered making a purchase.
Quick Facts Q&A
What Functionality Is Included?
Sage Intacct provides a comprehensive suite of financial management and accounting applications. Additionally, it enables key sales business processes with support for order and inventory management.
The core functionality set includes: accounts receivable, accounts payable, cash management, general ledger, order management, and reporting & dashboards.
Additional modules include: contract and subscription billing, contract revenue management, fixed assets, inventory management, multi-entity and global consolidations, project accounting, sales and use tax, time and expense management, and vendor payment services.
What is the Cost?
Sage Intacct pricing varies and is provided on a quotation basis. Factors influencing subscription costs include user count, user access level, and module requirements. Initial set-up costs vary and can be influenced by data migration needs, configuration services desired, requirements for integration with other business applications, and training expectations.
Based on recent SoftwareConnect.com review activity, 80% of buyers who considered purchasing had maximum 3 year spending ranges in the tens of thousands of dollars (USD) range.
Customized pricing for the solution is available on-demand and additional cost data can be found below.
How Does Software Licensing Work?
Sage Intacct is licensed on a software-as-a-service basis. The standard licensing agreement includes hosting, software functionality, support, and access to upgrades.
The normal billing term is annual payment. Users can choose how many users to license, the level of functional user access, and which modules are licensed.
Under the license agreement, all software users fully own their own business data held within the software. The end-user agreement also includes a provision to make business data available for 90 days after service contract termination.
Who Sells It?
Sage Intacct is offered through multiple sources. Organizational users can subscribe directly through the developer. Or, users can subscribe via a network of authorized value-added resellers, who offer additional consulting and support services to complement product functionality.
What Industries is the Software Appropriate For?
Sage Intacct is used by a wide variety of industry types. It is particularly popular in the service sector. Professional services (24.1%), non-profit (18.3%), and commercial & service companies (14.0%) review the solution most frequently.
For a detailed breakdown of buyer reviews by company industry, see below.
What Size Companies?
The solution is appropriate for companies across a wide range of organizational sizes. There is no minimum or maximum user count. Sage Intacct is most commonly used by small and mid-sized businesses.
Based on recent SoftwareConnect.com review activity, 62.3% of organizations who considered the software for a potential purchase had employee counts between 10 and 99 employees.
For more data pertaining to the target organizational size, see below.
Is it Cloud-Based?
Yes. Sage Intacct is a cloud-based program offering anytime, anywhere access to users on any device with a supported web-browser. The solution is delivered on a software-as-a-service (SaaS) basis, meaning it hosts the application in their own data center and provides access to application resources and data on subscription service basis.
An internet connection is required to use the software. The SLA provides for a guarantee of 99.8% application uptime.
What Kind of Technical Support Is Provided?
Basic tech support is included with the SaaS license agreement. There is a community forum and provides support through a combination of phone, email, and chat client communication.
Organizations desiring more involved strategic consulting for planning optimal use of functionality relative to specific business process requirements can purchase additional support services from VARs.
Can it be Customized?
Extensive customization capabilities are possible.
Sage Intacct provides a wide range of point and click system configuration to help non-technical financial personnel adapt interfaces, fields, and workflows to fit their needs.
The developer has published a 134 page user manual covering their customization services, which provides users with in-depth information on altering program functionality to suit their needs.
What Additional 3rd Party Software Is Available?
There is an extensive array of 3rd party add-on programs designed to extend the functionality. The Marketplace includes functional add-on offerings ranging from CRM, eCommerce, business intelligence, payroll, point of sale, human resources, and beyond.
Functionality
Sage Intacct offers an extensive set of financial management and accounting oriented functionalities, as well as order and inventory management tools. Departmental needs beyond finance and sales can be satisfied with a wide range of 3rd party add-on applications are designed to integrate.
| Functionality | Support | Note |
| --- | --- | --- |
| Accounts Payable | Yes | Cash, check, card, and bank transfer payment management; collections management; penalties & adjustments |
| Accounts Receivable | Yes | Electronic or check payments; real-time posting to GL; vendor management |
| Asset/Equipment Management | No | 3rd party add-ons available |
| Bank Reconciliation | Yes | Automated reconciliations; bank error and fraud monitoring |
| Benefits Management | No | 3rd party add-ons available |
| Bill of Materials | No | 3rd party add-ons available |
| Budgeting | Yes | Actual/variance reporting; month/quarter budgetary estimates |
| Business Intelligence | Yes | KPI monitoring; dashboards; advanced financial analytics such as customer acquisition cost |
| Cash Flow Management | Yes | Multi-account cash management; cash forecasting |
| Commissions Management | No | 3rd party add-ons available |
| Credit Card Processing | No | 3rd party credit card processing integration possible |
| Customer Relationship Management | No | Preferred integration with SalesForce available |
| eCommerce | No | 3rd party add-ons available |
| EDI | No | 3rd party add-ons available |
| Employee Records | No | 3rd party add-ons available |
| Estimating | No | 3rd party add-ons available |
| Field Service Management | No | 3rd party add-ons available |
| Fixed Asset Tracking | Yes | Customizable depreciation formulas; predefined depreciation schedules; asset splits & combinations |
| Fund Accounting | Yes | Fund and grant management; stakeholder reporting; activity based budgeting |
| Fundraising Management | Yes | Automation of calculation of funds |
| General Ledger | Yes | Streamlined data entry; financial close automation |
| Human Resources | No | 3rd party add-ons available |
| Inventory Control | Yes | Status management (on-hand, on-order, back-order); location management |
| Invoicing | Yes | Email invoices; automated invoice creation |
| Job Costing | Yes | Time and expense tracking; project accounting using milestones, schedules, & percentage completion |
| Manufacturing Execution System | No | 3rd party add-ons available |
| Material Requirements Planning | No | 3rd party add-ons available |
| Payroll | No | 3rd party add-ons available |
| Point of Sale | No | 3rd party add-ons available |
| Project Management | No | 3rd party add-ons available |
| Purchasing | Yes | Dashboard purchasing reports; purchase automation |
| Quotes | Yes | Quote-to-cash management |
| Recruitment and Talent Management | No | 3rd party add-ons available |
| Requisition Management | No | 3rd party add-ons available |
| Sales Forecasting | No | 3rd party add-ons available |
| Sales Order Management | Yes | Point-and-click order entry; integration with Salesforce CRM; order fulfillment reporting |
| Time Tracking | Yes | Anytime, anywhere time & expense data entry; client & project organization |
| Warehouse Management (Advanced) | No | 3rd party add-ons available |
| Work Order Management | No | 3rd party add-ons available |
Industries
Sage Intacct is used by a wide variety of industries, but is most commonly considered by service and non-profit oriented organizations.
The following data provides a breakdown of recent review activity organized by the industry of the organizations considering the solution for a possible purchase.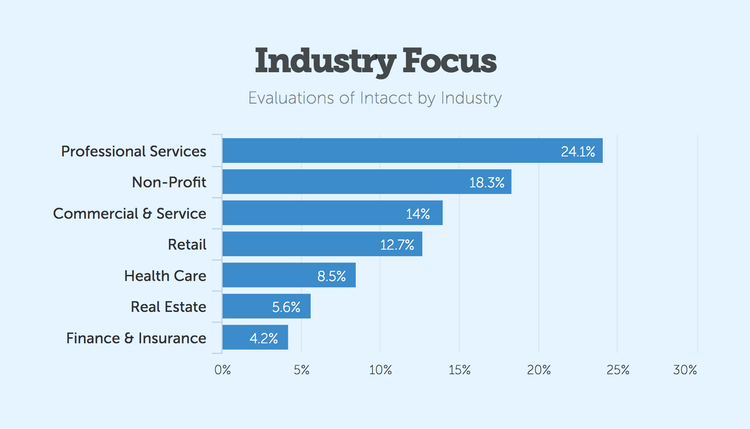 Sage Intacct Healthcare Accounting
Sage Intacct provides a cloud-based accounting solution for hospitals and other healthcare organizations that is HIPAA compliant.
Pricing
Pricing depends on a variety of factors. User and functional requirements play the most significant role in affecting base licensing costs. The cost of implementation (configuration and data migration) and training services can also substantially affect overall project pricing.
The following chart displays a breakdown of estimated maximum spending ranges reported by software buyers who recently reviewed the solution as a purchase option.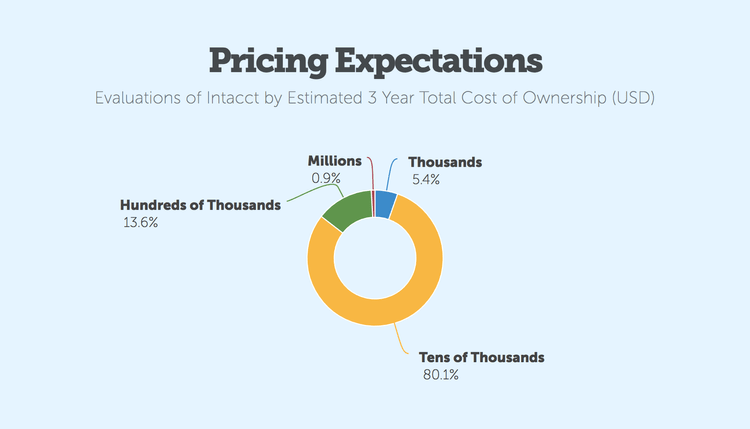 Target Organization Size
Sage Intacct is designed for use by organizations of varying company sizes. The median size of organizations using is 20 employees, based on review activity.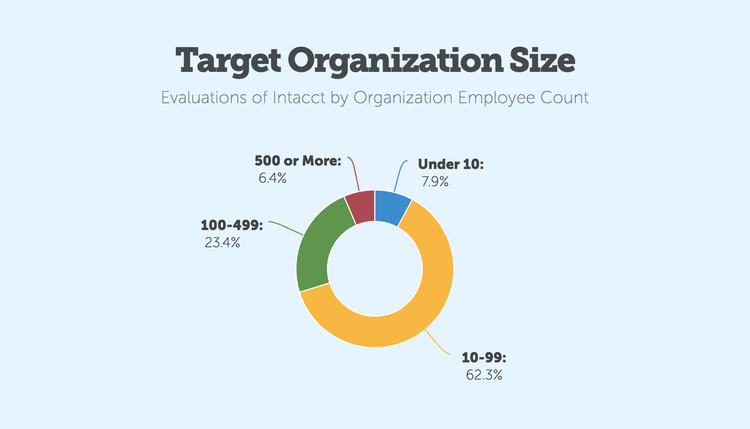 Modules
Accounts Payable
Accounts Payable is a comprehensive solution for managing your vendors and the full procure-to-pay cycle. Know your obligations across the entire procurement process and manage payments to your vendors online or by check.
Save thousands of hours by automating data entry; pre-define default vendor values such as payment terms, discounts, general ledger accounts, payment priority, and payment date.
Automate your vendor payment process to manage and control invoice and check payment.
Better track payments with user-defined, automated multi-level payment approvals to help manage cash and adhere to internal controls.
Automate expense allocation with pre-defined expense allocation tables to quickly allocate bills across multiple business entities or departments.
Close your Accounts Payable ledger while maintaining day-to-day operations.
Do more than just pay the bills. Eliminate time spent on manual processes by automating billing and payment management--and take advantage of electronic invoicing and payment capabilities that go well beyond traditional accounts payable functions. Manage an unlimited number of vendors and transactions, set up customized terms for each vendor, take advantage of discount opportunities, and improve financial controls with flexible processes you can tailor to the needs of your organization.
Manage, track and report on payments:
Apply overpayments and vendor credits to the next bill you pay.
Tailor default AP terms, aging periods, and more by creating custom terms as needed.
Create vendors on-the-fly with flexible, yet stringent, permissions.
Choose from a wide variety of easily customizable aging and payables reports and graphs that enable you to easily drill down to vendor and bill-level detail.
Track payment reconciliation status to avoid reissuing payments that have cleared your bank.
Increase internal controls by configuring to the software to conform to your business processes:
Set up an optional approval cycle with different authorization levels based on limits and controls that you define.
Attach digital files or supporting documents to transactions, for permanent and secure access to underlying documentation.
Maintain a high level of accounting control by separating accounting duties between people or groups.
Assign to different users the ability to enter vendor bills, request payments, approve payments, and print checks, ensuring accountability and security, and eliminating the risk of editing or deleting bills once they are paid.
Up to date financials with real-time integration:
Maintain independent close processes, by closing the accounts payable ledger while you're updating the general ledger.
Take advantage of real-time integration with General Ledger, Cash Management, Project Accounting, and Purchasing.
Synchronize with Purchasing and give your purchasing staff effective procurement tools--including RFQs and purchase orders.
Automatically post purchasing transactions to both Accounts Payable and General Ledger.
Seamlessly integrate other business applications with Sage Intacct using SOA, web, and XML services.
Automate workflows and processes to increase productivity.
Differentiate each class of vendor--for example, contractors from suppliers, or hardware vendors from software vendors--by assigning a vendor type to create aging reports.
Analyze spending and prioritize payments by setting up vendor groups.
Streamline vendor communication using a built-in contact manager.
Accelerate manual check writing with batch check entry functionality that makes it easy to enter up to 100 checks per screen.
Add supporting documents--such as scanned receipts--to each bill to substantiate the payment request.
Take full advantage of vendor discounts with automatic due date and percentage discount calculations.
Accounts Receivable
Accounts Receivable is a comprehensive solution for managing your complete customer payment cycle. Efficiently collect and process payments and effectively manage your cash collection. Accounts Receivable makes it easy to create and print or email invoices, receive and apply regular and advance payments, make deposits and deliver statements.
Efficiently collect and process payments--cash, checks, credit cards, and banking transfers.
Quickly set up and generate recurring invoices.
Create and print or email invoices.
Effectively manage cash collection and key customers.
Receive and apply regular and advance payments, apply penalties and adjust accounts, make deposits, and deliver statements.
Automate data entry by defaulting customer terms, general ledger accounts, billing, and shipping address information.
Gain real-time visibility into customer financial information and cash analysis.
Streamline customer invoicing process.
Attach documentation directly to transactions when you need backup information.
Shorten the collection process by easily emailing invoices.
Give your customers multiple payment options, including check, cash, charge card or funds transfer.
Receive advance payments at any time, and apply those payments to invoices, similar to other account adjustments.
Use the fast batch entry mode for easy, after-the-fact, bulk invoice entry.
Simplify payment receipt, and support recurring bills and scheduled payments, using integrated PayPal Merchant Services and Authorize.net for credit card processing.
Streamline cash management.
Place funds into an undeposited funds account to deposit later.
Make a quick deposit to attribute a payment to a customer's general account, rather than to a specific invoice sent to that customer.
Manage non-invoiced deposits, such as over-the-counter register sales, that don't track back to individual customers or transactions.
Take control of accounts receivables.
Keep track of transaction details forever, and maintain secure access to complete customer histories.
Eliminate the risk of users deleting or editing invoices once they are paid.
Assign accounts receivable duties to different employees or to different roles by taking advantage of granular access control over data and processes.
Fully automate receivables invoicing and approvals.
Process one-time or recurring invoices.
Streamline data entry by pre-populating invoices with the appropriate data using a previous invoice.
Assess finance charges on past due accounts, as part of your customer collections process.
Integrate receivables with other applications. Post all transactions on a cash or accrual basis in real time using fully integrated modules, ensuring financially consistent views across the business.
Simplify tax management.
Get up-to-date, accurate sales tax calculations using integrated cloud-based tax compliance capabilities provided by Avalara, or by configuring the Advanced Tax Engine to fit your business.
Comply with tax accrual requirements in each area where you do business, and support multiple rates for different regulatory bodies by calculating transactional taxes using the Advanced Tax Engine.
Calculate the sales tax payable balance by tax jurisdiction and drill down to individual invoices for audit trail purposes.
Bill & Invoice Presentment
Users have multiple options for delivering invoices to clients and customers. You may email invoices directly from within the service. Or you can request that invoices be printed and mailed for you - without your needing to ever touch an envelope or a stamp. Similar capabilities are available for statements.
Cash Management
Cash Management provides visibility and control intro your company's spending and allows you to easily manage cash across multiple accounts. Increase productivity by managing all your cash accounts in one centralized location, allowing you to manage cash flow, forecast cash needs, maximize investment returns and ensure compliance with your own cash handling processes.
Increase productivity by managing all of your cash accounts from one centralized location.
Automate and simplify bank reconciliations.
Manage cash flow, forecast cash needs, maximize investment returns, and ensure compliance using your organization's cash handling processes.
Take advantage of complete cash management software functionality to manage all financial payments, deposit transactions, and bank reconciliations in real time. Control spending and flexibly manage all checking, savings and charge card accounts with comprehensive bank reconciliation. Increase visibility of your financial banking transactions to ensure compliance across your entire organization.
Control over your cash management process - Receive payments, make deposits, print checks, record manual checks, record funds transfers and card charges, pay off charges, and reconcile your cash accounts with Cash Management software.
Automate Cash Management Process
Easily reconcile accounts to see instantly which transactions have already cleared the bank by automatically importing statements from many financial institutions.
Automate bank reconciliation by identifying exceptions, manage bank errors and monitor fraud.
Keep accurate cash balances in real time.
Streamline Payment Process
Deposit cash directly into a bank account or into your Un-deposited Funds account for later deposit.
Choose from two ways to make and track payments: Print a check for a vendor immediately without assigning it to a specific bill using the quick check feature--as an option to bill-focused payment cycles available within Accounts Payable. Record and post checks written directly from your checkbook.
Choose from two ways to pay credit card charges: Create a payment request that follows the appropriate review and approval cycle before you print a check using the full payables cycle. Automate the funds transfer from a bank account to a credit card account.
Attach a supporting document to any transaction, for online justification of any payment or receipt.
Contract and Revenue Management
Contract and Revenue Management automates and optimizes the financial processes associated with complex contractual relationships. It frees you from managing revenue with dedicated staff and complicated spreadsheets, which lead to inevitable errors, lost revenue and compliance risks.
Manage Complex Contracts with Ease - Contract and Revenue Management allows you to manage and track customer relationships and complex contracts from a centralized repository. Easily manage even the most complex multi-element contracts.
Support Sophisticated Revenue Management - Contract and Revenue Management supports flexible revenue recognition schedules including multiple product lines as well as maintenance, subscription, transaction, usage and services offerings with dates, events and percent completion values. Easily adjust events, such as changing project milestone dates or percentage completion.
Maximize Renewal Revenue - Streamline the contract renewal process and increase renewal revenue by automatically scheduling, managing and providing visibility into contract renewal activities. Contract and Revenue Management supports complex pricing and can automatically apply pre-negotiated or policy driven changes in pricing and discounting.
Automate Complex Billing - Contract and Revenue Management helps optimize billing, increase client satisfaction and avoid revenue leakage. It leverages a deep repository of contract information to automatically generate billing schedules that lead to accurate, timely and justifiable bills.
Easily Forecast Revenue - Quickly and accurately forecast deferred, recognized and renewal revenue. Contract and Revenue Management provides instant access to reliable, accurate business forecasts to help you make informed strategic business decisions.
Comply with Standards and Regulations - Contract and Revenue Management helps you comply with Sec, FASB and Sarbanes-Oxley guidelines for revenue recognition, including VSOE.
Customer Relationship Management
Integration with Salesforce seamlessly combines the two products for complete lead to cash management. Sage Intacct for Salesforce helps you eliminate manual data re-entry, deploy a single, integrated lead to cash process and give each member of the sales and finance teams the information they need, where and when they need it to operate more effectively and productively.
Convert quotes in Salesforce into orders in Sage Intacct with a single click, eliminating paperwork and manual re-entry of data.
Make it easy for sales reps to submit quotes and orders, verify pricing in real time, and complete the sale online without leaving Salesforce.
Dramatically reduce days sales outstanding (DSO) by up to 40%, and improve customer satisfaction, by providing your sales team with real-time financial information about customers.
Streamline fulfillment and ensure customers receive goods and services on time by instantly verifying pricing, checking inventory and confirming shipments.
Automatically generate renewal sales opportunities in Salesforce based on the original contract terms plus desired price adjustments.
Make it easy for your finance team to manage the billing and payments process for your sales orders.
Automatically update Salesforce with the latest billing and payment information.
Manage your professional services business more efficiently by creating, tracking, and synchronizing Projects and Tasks in both Salesforce and Project Accounting.
Easily manage orders from multiple business entities with built-in integration to Global Consolidations.
Financial Consolidation
Global Consolidations provides all the functionality a company needs to manage complex, multi-entity or multi-national operations, in real time. Empower your finance team with the tools they need to more effectively automate and control the financial consolidation and close processes, while also improving visibility with real-time intelligence to drive better business decision making. Enable your company to expand rapidly into both local and international markets, without drastically increasing headcount.
Provides sophisticated support for multi-entity organizations, allowing each entity, franchise or subsidiary to use its own chart of accounts, taxation rules and reporting requirements.
Automates time-consuming inter-entity transactions, automatically tracking due to and due from transactions between entities and automatically eliminating inter-entity balances, ensuring your books stay clean.
Supports multiple functional currencies allowing each of your entities to operate in its native, functional currency while consolidations are done, in real time, in the currency of the parent organization.
Gain greater visibility into your global finances, with advanced reporting capabilities that provide a consolidated, real-time view of data at both the global and local levels. Advanced dashboards including graphical organizational maps and real-time global and local KPIs help you make better strategic business decisions.
Leverage real-time consolidated financials, anywhere, anytime. Securely review your consolidated financial information, in real time, wherever and whenever you want.
Foreign Currency Conversion / Multi-Currency
For companies who have customers and vendors from around the globe, or who have entities, subsidiaries and business units in several countries Multi-Currency Management provides sophisticated multi-currency support. Reduce the cost and complexity of running businesses in multiple countries.
Automate currency translations - Multi-Currency Management provides real-time currency translations and gain/loss computations and realizations, ensuring the accuracy of your data.
Comply with Regulations and Standards - multi-currency management is compliant with GAAP and other commonly applicable standards such as Financial Accounting Standards (FAS) Statement 52 Foreign Currency Translation and FAS 141R Business Combinations (covering FAS 52, EITF 87-12).
Support unlimited transactional currencies - Easily sell and buy internationally with Multi-Currency Management. It supports as many transactional currencies as you need to do business.
Transact in Unlimited Functional Currencies - For companies with complex, global multi-entity organizations, allow each of your entities to operate in its native, functional currency while consolidations occur in the currency of the parent company.
Easily Track Currency Gains and Losses - Multi-Currency Management supports Cumulative Translation Adjustments (CTA) so you can track both gains and losses from currency translations over time.
Collaborate
Connect People, Accelerate Processes
Dealing with non-routine transactions--clarifying policies, gathering missing information, resolving exceptions--can slow down or derail critical financial processes. Now you can handle them quickly, efficiently, and effectively with Collaborate, a secure social layer embedded in your financial management system. It spans every process and device so your finance, sales, and services teams can cooperatively resolve any issue.
See the Full Context of the Issues
Collaborate helps you speed up and better control accounting processes. With a single click you can see all messages related to a particular issue--giving you the complete context, from all participants, right as you're working on the resolution. And you shouldn't ever have to explain a situation multiple times; just leave a note.
Have the Conversation Where It Makes the Most Sense
Forget email threads. It's better to communicate where there's an issue, right inside the solution--on specific journal entries, accounts, projects, invoices, purchase requisitions, and more. These conversations can appear at the same time in Salesforce Sales Cloud, so sales teams can participate using the system they're most familiar with.
Bring the Whole Team Together
When everyone's on the same page, your finance operation runs more smoothly. Collaborate improves communication and teamwork, and expedites processes and decision making, across the company. Salesforce customers: your finance employees join your Salesforce Chatter network, which can be conveniently accessed directly from inside the program.
Key Benefits
Communicate faster and smarter to strengthen teamwork, expedite processes, and improve decision making
Stay informed with one-click access to all related messages and the ability to leave notes, and have conversations, right inside the program
Connect your back office and Salesforce front office (Salesforce customers only)
General Ledger
General Ledger is the cornerstone of the Financial Management system. General Ledger streamlines data entry, accelerates your financial close through automation, increases the accuracy of financial reporting and reduces the burden of compliances.
Increase Internal Control - Granular permissions and control enable the highest level of data integrity and access control. Easily safeguard your financial data by function and by region.
Provide Powerful Budgeting Capabilities - General Ledger provides powerful budgeting capabilities and tools for creating and revising budgets. Easily create budgets based on dollar amounts or operational information. Once a budget is created, include it in financial reports for comparison and evaluation.
Comply with Regulations and Standards - Sage Intacct is certified by nationally recognized auditing firms as GAAP, Sarbanes-Oxley, FASB, IASB and IFRS compliant. General Ledger delivers double-entry accounting, true closing of the books and customizable and adjusting journals.
Gain Real-Time Visibility - The powerful reporting capabilities enable your business to manage not just fiscal but also operation performance. Easily track Key Performance Indicators (KPIs) so you can get a good handle on your business. From the General Ledger, you can easily drill down into the supporting documents behind each transaction to help you easily support accounting judgments.
Streamline Data Entry - Create simple transaction templates so non-accounting users can enter general ledger transactions without navigating the intricacies of account numbers, departments and locations.
Get Started Quickly with QuickStart Financials - Pre-packaged, best practice charts of accounts (CoA), dashboards and reports let you easily map your existing CoA to the General Ledger, automatically creating all of your account hierarchy structures and giving you extensive reporting out of the box.
Inventory Control
Let cloud inventory management software help you reduce costs, improve capital efficiencies, and increase customer satisfaction by streamlining inventory operations, improving inventory visibility, and managing and optimizing inventory levels.
Create User-Defined Workflows
Create custom documents and transactions from standards you provide.
Automatically check inventory levels, create backorders, and much more.
Use running totals to see how many items are requisitioned, on order, on hand, on hold, damaged, or in scrap or spoilage.
Compute discounts and freight using flexible subtotaling.
Base transactions and associated documents on customizable templates.
Create a seamless inventory process--from requesting quotes from vendors and receiving merchandise into your warehouse, to invoicing customers.
Real Time Reporting and Analysis
Make informed sourcing decisions by identifying inventory trends using the inventory valuation report.
Optimize inventory levels for each warehouse using the inventory reorder report.
Stay up to date on kit status using kit analysis reports.
Manage Multiple Locations
Gain greater agility for managing inventory, whether from a single location, multiple stockrooms, warehouses and distribution centers, or across any combination of locations and product lines.
Support procurement, order fulfillment, and returns from customers or vendors with visibility into inventory balances and availability in multiple units of measure.
Control and Customize Item Management
Configure and track costs at the inventory item level using flexible costing methods.
Organize kitting and serial numbers with configurable masks and lot numbers for any item.
Track multiple vendors per inventory item, along with reorder levels, quantities and costs using multiple cost-evaluation methods.
Manage items by defining which product lines they belong to, the cost method to use for cost-of-goods calculations, which vendors supply the item, and the economic reorder quantity for each vendor.
Order Management
Order Management is a complete solution for bridging the gap between sales and finance to improve client satisfaction, reducing costs by automating the order-to-cash cycle, increasing sales by encouraging the use of profitable channels and delivering accurate, timely information to everyone involved in the process.
Improve productivity by automating your entire order-to-cash cycle.
Reduce the time it takes to do these transactions from 20 minutes to 5 minutes. Saving you up to 2000 hours a year in wasted manual processes. Increase sales by gaining visibility into the most profitable channels.
Define a wide range of flexible pricing options.
Deliver accurate, timely information to everyone involved in the ordering process.
Reduce wasted hours managing day-to-day processes by automating your quote-to-cash cycle--improving productivity, increase sales, heighten customer satisfaction, speed sales cycles, and drive margins. Let Order Management help reduce your Days Sales Outstanding (DSO) up to 50%.
Organizations that take advantage of seamless integration between Salesforce and Order Management software can achieve significant business process improvements. See why Sage earned a top rating in the AppExchange.
Performance Management
Insight includes deep financial and operational reports, enabling you to manage the business, not just track your finances. Insight includes built-in performance management capabilities that make it easy to define and publish key performance indicators across the business. Users can create reports that support non-financial data such as rooms per hotel or tables per restaurant, allowing real-time operational reporting of room occupancy or tabletop management. You can report on earnings per share, or revenue per employee - the numbers you really need to manage, not just the numbers available from your financial system. You can easily calculate performance against plan, against benchmarks, or against other divisions or locations.
Project Accounting
Maximize Service Delivery Performance and Profitability.
Highlights:
Streamline and automate the capture of all billable and non-billable time and expenses.
Reduce revenue leakage, maximize billable hours, gain control over current project costs and margins, and forecast more accurately for future projects.
Speed UP and maximize cash collection and revenue recognition for improved cash flow.
Proactively manage project revenue, costs, and margins for improved profitability.
Gain real time visibility into backlogs, and their impact on recognized and deferred revenue.
Ensure that bids reflect the true cost of implementation and include adequate margins.
Gain insight into project and customer profitability.
Project Accounting software provides comprehensive capabilities to unify, automate, and streamline the financial and operational processes throughout the services delivery lifecycle. Combine Project Accounting software with Sage's best-in-class cloud-based financial management and accounting applications to maximize performance and profitability, provide better service to clients, and boost financial visibility for better real-time decision making throughout the project-to-cash lifecycle.
Project Management
Streamline your quote to cash process across sales, services and finance with MAX for QuickArrow or MAX for OpenAir. Seamlessly connect to either QuickArrow or OpenAir, leaders in Professional Services Automation, to provide a single, integrated quote to cash process that increases productivity, streamlines the project accounting and billing processes and provides 360 degree real-time visibility and insight into your company's finances.
Provide 360 real-time visibility and actionable insight into your company's projects and finances. Prebuilt reports help you get a better handle on the profitability of your projects and see which projects are generating the biggest percentage of your revenue.
Increase productivity, by eliminating time-consuming manual data-entry of customer information from one system to the other. Only enter billable and non-billable expenses once -- QuickArrow will post the expense to the correct project where appropriate, while managing the tracking and reimbursement on the backend.
Streamline and automate project tracking, accounting and billing helping you more effectively manage the receivables and invoicing processes. Reduce revenue leakage and accelerate collection timeframes.
Purchasing
Purchasing automates your purchasing transactions and provides a comprehensive set of dashboards and reporting tools for your staff to monitor and manage merchandise and services acquisitions.
Tailor Purchasing to Fit your Business - Purchasing supplies a set of best practices templates purchase requisitions, requests for quotations, receivers, vendor returns, purchase order and adjustments. Customize these templates or create new ones that precisely fit your business.
Flexibly Manage your Vendors - Easily manage vendor information including multiple contacts, defined pay-tos and return-tos, credit limits, payment priorities and default bill payment and discount dates.
Optimize Price Management - Purchasing makes it easy to keep your vendor prices current. Using the prices you pay on purchase orders, you can automatically update vendor costs with the latest prices. Purchasing also provides automatic quantity price breaks and economic order quantity options.
Customizable Reports - Customizable reports and dashboards help purchasing personnel and management place orders, monitor order status and analyze the state of your inventory.
Reporting and Dashboards
Insight is a set of powerful tools for real-time business intelligence, management and control. Insight allows users to create and share dashboards that contain real-time interactive charts and reports, financial and operational analytics, Web 2.0 mashups and performance management capabilities. Empower employees with real-time, actionable and tailored financial and operational information so they can make better decisions and drive business performance.
Gain Valuable Business Intelligence and Financial Visibility - Easily create real-time centralized business desktops called dashboards that are composed of any report or graph from any application. If you have the permissions, easily drill down to the details behind each activity.
Global Control, Local Autonomy - Validate user permissions and access to individual components on the dashboard according to your security permission definitions, on a very granular level.
Manage Your Business with Built-in Performance Management - Insight includes built-in performance management capabilities that make it easy to define and publish key performance indicators across the business. Easily create reports that support non-financial data such as rooms per hotel or tables per restaurant.
Flexible Ad-Hoc Reporting - Export data from custom views to a text file or spreadsheet, giving every user the power of simple ad-hoc data reporting.
Sales Tax Management
AvaTax is a comprehensive sales tax management solution that fully automates and streamlines the cumbersome, costly and compulsory process of sales tax compliance. AvaTax ensures accurate tax calculation despite constantly changing tax laws, boundaries and jurisdictions.
Simplify and Automate Sales Tax Calculation -- After a simple set-up process, AvaTax automatically calculates, in real time, the correct tax rates.
Improve Sales Tax Accuracy -- AvaTax provides one of the most complete and accurate tax calculation services in the industry. Ensure sales tax accuracy by automating a previously manual and highly error-prone process.
Reduce Costs -- Traditional tax compliance methods are expensive for any business. AvaTax is incredibly affordable and provides a flexible pricing model that works for small and large businesses alike.
Simple but Detailed Reports -- Easily and quickly generate detailed on-demand reports that contain all the information needed to prepare and submit sales tax returns for your business.
Time & Billing
Professional Services Automation (PSA) helps customers run their billable services business efficiently and effectively. PSA provides seamless integration between project management and time and expense tracking. Time and expenses can be entered online via laptop or Smartphone, or offline, to be synced when there is Internet connectivity. Timesheets and expense reports come with full approval routing and workflow.
Time & Expense Management
Expense Management streamlines and automates your company's expense reporting and approval process. Employees can enter their expenses in the office on the road using a Web browser to simplify and streamline data entry and reimbursements, while you have complete control over the routing and approval process.
Provide anywhere, anytime access to time and expense reporting and approvals for an increasingly distributed workforce.
Provide finance with real time visibility into expense commitments made by employees so you're always aware of committed funds.
Enter and check the status of timesheets and expense reports at any time with automated workflow that emails notifications to supervisors for reviews and approvals.
Easily capture billable and non-billable time and expenses related to client projects when used with Project Accounting.
Streamline and automate online approval workflows, making it easier to enforce company-prescribed policies and internal controls, and improve cashflow.
Increase employee satisfaction by expediting the expense reimbursement process using an online expense reporting system.
Streamline the Reimbursement Process- Simplify the entire expense reporting process while maintaining complete control--over time and expense entry, reimbursement, approval, and payments--and ensure the timely and accurate reimbursement of expenses.
Implement detailed tracking, paperless reporting - Provide supervisors, payables managers, auditors, and senior management with instant access to both expense line items and supporting details so they can easily review, approve, process, and audit expense reports.
Simplify data entry and track billable and non-billable expenses- Take advantage of flexible, multi-level approval workflows to automatically route timesheets and expense information to approvers--inside or outside your organization--for unparalleled transparency into billable charges, better compliance with internal policies, and improved financial controls.
Streamline and automate timesheet management - Make it easy for employees, part time workers, volunteers, and subcontractors--wherever they're located--to enter and submit time information using a simple, intuitive web-based interface.