NetSuite has been one of the leading integrated cloud business software suites since the company was formed in 1998. The solution is a top choice for companies looking for complete accounting software with integrated CRM and eCommerce capabilities.
Sage Intacct is a web-based, online accounting software with a strong financial management feature-set designed for use by small and mid-size organizations. Founded in 1999 before being acquired by The Sage Group in 2017, Sage Intacct was built by finance professionals, meaning it can provide powerful automation of complex processes and multi-dimensional data analysis. As of 2021, Sage Intacct has launched its first Canadian Data Centre, making Sage Intacct available from the AWS region in Montreal–expanding its market reach.
Our Verdict
We like Sage Intacct for its multi-entity financial reporting, powerful integrations, and industry-specific services. For example, Intacct offers out-of-the-box functionality, from comprehensive fund accounting to healthcare financial management.
We like NetSuite for its advanced features, extensive customization, and powerful integrations. NetSuite offers industry-specific software editions to generate leading practice reports and boost out-of-the-box functionality. It integrates with eCommerce platforms, point-of-sale applications, and more.
---
This post will discuss the differences and similarities between NetSuite and Sage Intacct, including the features, pricing, number of users, and other frequently asked questions you may have.
Quick Comparison of NetSuite vs Sage Intacct
NetSuite is primarily an ERP program over an accounting solution. In fact, it is perhaps the most well-known cloud ERP software, meaning it includes a broad range of enterprise functionalities including:
Financial management
Supply chain
Inventory control
Procurement
Billing
Warehouse & fulfillment
Human capital management
Sage Intacct includes support for core accounting, financial reporting, billing, purchasing, sales and use tax, inventory management, and project accounting.
The Intacct solution is particularly popular with professional services companies based on extensive support of time-based billing, ease of use for remote professionals, and strong project accounting features.
NetSuite Company Profile
NetSuite ERP is designed for modern companies that require cloud access and mobile-enabled tools. This works great for companies with multiple locations, as they can access the same information as another in real-time, wherever they are located. NetSuite is designed to support growing organizations, as it lets you add or customize features as your company grows.
NetSuite was acquired by Oracle back in 2016, who has continued to improve upon the NetSuite product all while being backed by a multinational computer technology corporation. Oracle was recently listed as one of our top ERP vendors, who continues to make NetSuite work great for companies with multiple locations and/or supports growing organizations.
Key features of Oracle NetSuite include financial management, fixed assets, billing and invoicing, and inventory management. The solution aims to improve employee productivity via software automation and cross-departmental system integration.
These goals are accomplished through real-time data visibility that provides for better business decision making, and the reduced technology support costs via outsourced application hosting and the elimination of dedicated server hardware investment costs.
Sage Intacct Company Profile
Intacct was founded in 1999 and was one of the first web-based, cloud accounting products available for the SMB market. The solution was most known for being an in-depth financial management system, as it offered a suite of accounting software that could serve medium and large-sized businesses with consolidated ERP and e-commerce features.
Most of Sage Intacct's applications are financial-based, including accounts payable, accounts receivable, cash management, a general ledger, order management, purchasing, and reporting and dashboards. Intacct also includes support for financial reporting, billing, sales and use tax, inventory management, and project accounting.
The Intacct solution is particularly popular with professional services companies based on extensive support of time-based billing, ease of use for remote professionals, and strong project accounting features.
Similarities and Differences Between NetSuite and Sage Intacct
The easiest way to put your business on the path of understanding which option is right for you is by comparing the solutions by their similarities and differences.
What does your company care about more?
What are you most willing to live without?
While both solutions are built for and used by modern companies, their focuses can largely be different. Using the wrong software could set your business back financially.
Main Similarities
Perhaps the biggest similarity between the two solutions is that they are both cloud solutions. To the uninformed, this is a licensing and deployment approach. The solutions are billed on a subscription-based pricing model. The software generally has data stored off-site and is accessed from any device or browser wherever you have access to the internet.
This means you likely do not use an internal server and have fewer implementation headaches to worry about. You can also get by with less IT infrastructure. This also means workers can access the software data in the office or remotely. For growing companies with multiple locations, this can be a huge asset to make sure everyone is seeing and reacting to changes in data in real-time.
NetSuite and Intacct are also huge improvements from most small business accounting software such as QuickBooks Online, Sage 50 (Peachtree), or Xero.
Both solutions are also highly customizable. Companies that are growing fast will usually try to squeeze as much value as they can out of their software investment. These growing companies likely have accounting needs that are constantly changing or being improved upon, and both Oracle NetSuite and Sage Intacct are up for the challenge.
Key Differences
One major difference between NetSuite and Sage Intacct is what the solution is capable of. NetSuite is more of a modern ERP system with offerings that go well beyond the needs of a normal accounting department. This allows you to easily add on capabilities for CRM, eCommerce, point of sale, inventory, and manufacturing management modules. Meanwhile, Intacct is focused almost exclusively on financial management.
Another major difference between the two systems is their audience scope. NetSuite, powered by Oracle, has a huge base with over 21,000 customers in over 203 countries. The software has 27 supported languages it can be interfaced in and can handle 190 different currencies. Sage Intacct also targets customers of many sizes, but has a customer base of about half of NetSuite (around 12,000) and only has English-language support. Because of this, Sage Intacct is strongly focused on the US-market.
While NetSuite can operate as a modern accounting system, it can also handle complex business processes with all the available additional functionality. Because of this, Netsuite negates the need for any additional add-ons or applications. Sage Intacct is more strongly focused on being an accounting solution, and should not be regarded as a complete suite. In order to make it one, you'll require some outside assistance.
NetSuite vs Intacct Pricing Guide
If cost is one of the biggest driving factors in your decision between Sage Intacct vs NetSuite, you're in luck. This is because the solutions are priced vastly different from one another. For the most part, Sage Intacct will run as a less expensive option compared to NetSuite. But what do both solutions cost? The price is set by a complicated combination of your application needs, hosting costs, and any additional support or add-ons needed from your software provider.
As both solutions are not designed with an SMB or startup in mind, the price will not be in line with other small business ERP software.
What is the Cost of NetSuite?
Pricing for NetSuite varies depending on user count, support expectations, module selections, implementation needs, and a variety of other factors. The following chart provides a breakdown of the estimated maximum of three-year spending ranges reported by software buyers who recently considered NetSuite as a possible purchase option.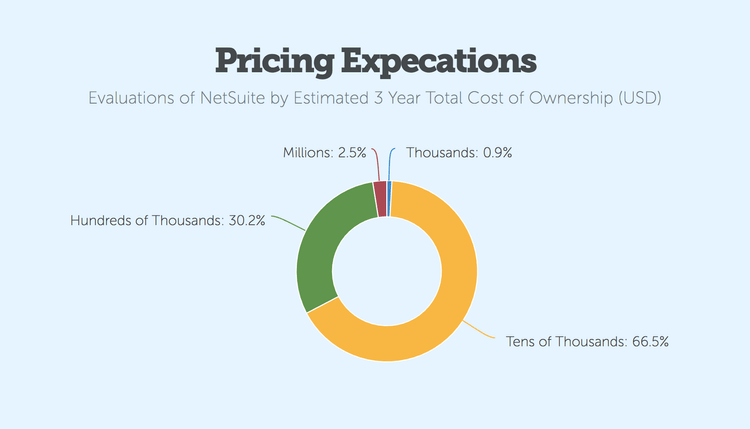 NetSuite also has a variety of editions available: Limited, Mid-Market, and Enterprise. These will provide you with a varying level of user licenses, and which edition you need will largely be determined on how many legal entities you have as well as how many employees. However, the functionalities required will matter as well, since each edition has features included right out of the box.
One final factor that will muddy the waters is the cost of the additional services. While NetSuite does have a direct sales team, a majority of businesses likely purchase NetSuite from value-added resellers (VARs). These are the companies you are not only paying to implement your software, but to also provide you with direct support.
Instead of calling the corporate offices of NetSuite, you will likely have a local contact you can reach out to who is more easily accessible and potentially available in-person for complicated situations. Most of these vendors will determine their own costs for services, and it is entirely possible to rate-shop vendors and find one more affordable for your business.
With that being said, the cost of NetSuite will generally start at $99/user/month which includes a 10-user minimum ($999/month total). This usually comes with a contract you will need to renew annually. Additional fees will exist for the implementation, needed integrations, customizations, and data migration (called setup fees). These setup fees will range from 100%-200% of your overall annual subscription cost. For example, if your business expects to spend upwards of $20,000/year on your NetSuite subscription costs, you'll also have around a $20,000 to $40,000 price tag for your setup fees.
What is the Cost of Sage Intacct?
Pricing depends on a variety of factors. User and functional requirements play the most significant role in affecting base licensing costs. The cost of implementation (configuration and data migration) and training services can also substantially affect overall project pricing.
The following chart displays a breakdown of estimated maximum spending ranges reported by software buyers who recently reviewed the solution as a purchase option.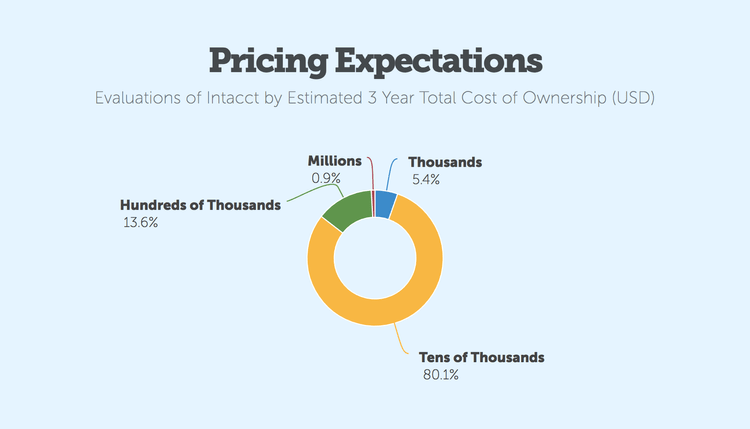 The cost of Sage Intacct starts at $400/month for base applications with a $225/user/month charge for licensing. Sage Intacct requires annual contracts that you renew each year. There are also additional fees for integrations or add-ons, depending on your needs. Generally, a company should expect to spend upwards of $8,000/year at minimum for a single user system.
NetSuite vs Sage Intacct Feature Comparison
NetSuite and Sage Intacct features can be compared easier by breaking them into various categories:
Financial Accounting
| Feature | NetSuite | Sage Intacct |
| --- | --- | --- |
| Accounts Payable | Yes | Yes |
| Accounts Receivable | Yes | Yes |
| General Ledger | Yes | Yes |
| Multi-Currency Accounting | Yes | Yes |
| Multi-Entity Accounting | Yes | Yes |
| Fixed Asset Management | Yes | Yes |
| Budgeting and Forecasting | Yes | Yes |
Human Resources
| Feature | NetSuite | Sage Intacct |
| --- | --- | --- |
| Recruiting | Yes | No |
| Applications | Yes | No |
| Onboarding | Yes | No |
| Benefits Administration | Yes | No |
| Multi-Entity Accounting | Yes | No |
| Time and Attendance | Yes | No |
| Payroll | Yes | No |
Supply Chain Management
| Feature | NetSuite | Sage Intacct |
| --- | --- | --- |
| Order Management | Yes | Yes |
| Material Resource Planning | Yes | No |
| Inventory Management Yes | Yes | |
| Purchase Orders | Yes | Yes |
| Warehouse Management | Yes | No |
| Demand Planning | Yes | No |
| Work Orders | Yes | No |
| Shop Floor Control | Yes | No |
How Many Users Are Allowed?
Both NetSuite and Sage Intacct will be able to handle the volume of users your business needs. Both are capable of working for both small business needs as well as larger enterprises. NetSuite is better suited for larger multinational corporations, and as such can allow for a more diverse user set. This is not to downplay the number of users Sage Intacct will allow for, however.
Sage Intacct has been implemented in companies successfully with upwards of 50 users needing concurrent access. Keep in mind that as Sage Intacct is more of a financial management system, the required users are contained more in the accounting and finance departments. Meanwhile, NetSuite users can be anyone from accounting, human resources, warehouse operations, and more.
Frequently Asked Questions
Q: Is Intacct an ERP system?
A: No. Intacct is considered more as an accounting or financial management system. Advanced functionality such as inventory management and time and expense management will allow Sage Intacct to perform beyond a traditional accounting system.
Q: What is NetSuite similar to?
A: Popular NetSuite alternatives include Microsoft Dynamics GP, Oracle ERP Cloud, SYSPRO, Odoo, and SAP Business One.
Q: Is NetSuite easier to learn than Intacct?
A: NetSuite is known as a more mature and robust solution than Sage Intacct. The amount of customizations and extensions available for NetSuite means no two platforms are alike, and you will likely require training from your software provider. Intacct systems are more similar and someone moving from company A to company B would likely be able to adapt easier.
Q: Does Sage Intacct or NetSuite do payroll?
A: Neither software option has payroll included as a base feature. Sage Intacct has a variety of HCM and payroll options available in the Sage Intacct Marketplace, such as Workforce Go! HCM. NetSuite offers NetSuite Premier Payroll Service, a full-service solution that converts time data, attendance, and commission data directly to payroll.