SAP Business One provides comprehensive business management capabilities for small and medium sized companies. This system provides integrated departmental support for finance, sales, supply chain management, production, project management, and production processes.
Video Overview
Key business benefits of SAP Business One include:
The ability to capture and manage all business information in a single, integrated software platform
Improved decision-making capabilities via extensive business intelligence capabilities
Scalability for growing organizations anticipating increase data, transactional, and user demands
Flexibility to meet changing business requirements through customizability and an extensive array of add-on applications
Critical administrative and system-level features that distinguish SAP Business One from other competitors in the SMB ERP market include: multi-currency/multi-language support, notifications and alerts, role-based permissions management, a data transfer workbench for managing the migration of existing business data, an integration framework, and an SDK for rapid deployment of program customizations.
SAP Business One Quick Facts
What Functionality Does SAP Business One Include?
SAP Business One provides a range of ERP related functionality including:
Accounting and financial management
Customer relationship management
Supply chain and warehouse management
Manufacturing production management
Purchasing and procurement
Reporting and analytics
How Much Does SAP Business One Cost?
Pricing on SAP Business One depends on a number of factors including selected modules, user count, user types, deployment preference, support expectations, and implementation and training needs.
Based on review activity, 68% of buyers who recently considered SAP Business One had spending ranges in the tens of thousands of dollars range (USD) for their estimated total cost of ownership over a 3 year period. The median expected spending range for reviewers of SAP Business One was $51k.
Customized pricing is available upon request and additional SAP Business One cost info can be found below.
What Are the Licensing Options for SAP Business One?
SAP Business One can be licensed on either a purchase or subscription model.
The SAP Business One OnDemand offering provides managed hosting of the software and makes the software available on a SaaS, subscription basis.
Alternatively, SAP Business One can be purchased via paying a one-time licensing fee. Version updates and tech support for the purchased version of SAP Business One are available via annual maintenance contacts.
Who Sells SAP Business One?
SAP Business one is sold and supported by an extensive network of SAP authorized solution providers.
What Industries Is SAP Business One Appropriate For?
SAP Business One is designed for use in a wide variety of industries. Based on established customer review activity, SAP Business One is most commonly considered by companies in the manufacturing, distribution, and commercial & service industries. Additional data on SAP Business One popularity by industry is available below.
What Size Companies Use SAP Business One?
While SAP software is often associated with large enterprises, the SAP Business One solution is designed specifically for small and mid-sized businesses.
Based on recent customer review activity, 63% of organizations reviewing SAP Business One had employee counts between 10 and 99. Additional data detailing the popularity of SAP Business One as a review option across different organizational sizes is available below.
Is SAP Business One Cloud-Based?
SAP Business One functionality can be access via the cloud in both self-hosted or managed hosted deployments.
Users running SAP Business One via the cloud will require either Citrix XenApp Edition or Windows Terminal Services in order to access the software from Windows based work stations.
Mobile users can access select SAP Business One functionality via native iOS and Android apps.
What Operating Systems Can the SAP Business One Client Run On?
SAP Business One is designed for users running Microsoft operating systems. Additionally, select functionality is available for iOS and Android users.
Can SAP Business One Be Customized?
SAP Business One offers extensive customizability options. The SAP Business One Software Development Kit (SDK) provides programming interfaces, sample code, documentation, and a variety of utilities enabling customization of program functionality.
Are Additional 3rd Party Software Options Available to Extend SAP Business One?
A large variety of 3rd party software add-ons are available to extend the core functionality of SAP Business One.
Features
The SAP Business One solution provides a broad set of functionality designed to meet the business challenges of small to medium sized businesses.
The following chart displays data on the feature support found in SAP Business One for a selection of functionality commonly desired by companies seeking an SMB-oriented ERP product.
| Functionality | Support | Note |
| --- | --- | --- |
| Accounts Payable | Yes | AP batch processing; partial payment support; credit & debit memos |
| Accounts Receivable | Yes | Dunning wizard; invoice reversals; recurring transactions; down payments |
| Bank Reconciliation | Yes | Bank statement import; payment method filters; guided reconciliation |
| Benefits Management | No | SAP SuccessFactors recommended |
| Bill of Materials | Yes | Multilevel BOMs for productions orders; BOM revision management; assembly/sales/production BOM options |
| Billing | Yes | Progress billing; down payment invoices; customizable billing cycle definition |
| Budgeting | Yes | Budget authorizations; budget distribution flexibility; budget imports |
| Business Intelligence | No | SAP BusinessObjects recommended; 3rd party add-on integrations available |
| Cash Flow Management | Yes | Cash flow reporting automation |
| Commissions Management | Yes | Definable commission employee groups; automated commission calculation |
| Credit Card Processing | No | Certified 3rd party add-ons available |
| Customer Relationship Management | Yes | Marketing campaign, opportunity, and sales management; interactive dashboard reporting; customer contact management |
| eCommerce | No | Certified 3rd party add-ons available |
| EDI | No | Certified 3rd party add-ons available |
| Employee Records | Yes | Employee contact management; salary/compensation data; attachments & document management |
| Estimating | No | Certified 3rd party add-ons available |
| Field Service Management | Yes | Service call management; customer equipment cards; service contracts; solution knowledge base |
| Fixed Asset Tracking | Yes | Definable depreciation schedules; asset class assignments |
| Fund Accounting | Yes | Restricted and unrestricted fund support |
| Fundraising Management | No | Certified 3rd party add-ons available |
| General Ledger | Yes | Predefined chart of account templates; recurring postings; distribution rules for revenue & expense allocation |
| Human Resources | Partial | Employee records; employee absence reporting |
| Inventory Control | Yes | Item master data management; multiple costing method support; serial & batch numbers |
| Job Costing | Yes | Project budgeting and costing control |
| Manufacturing Execution System | Yes | Production orders |
| Material Requirements Planning | Yes | Material requirements planning based on inventory and demand forecasting |
| Payroll | Yes | SAP SuccessFactors or certified 3rd party add-ons recommended |
| Point of Sale | No | Certified 3rd party add-ons available |
| Project Management | Yes | Planning, task management, and project budgeting; stage dependencies; document management |
| Purchasing | Yes | Goods receipt PO updates; quotation requests; approvals; split purchase orders |
| Quotes | Yes | Quote to order conversions; "valid until" management; sales employee assignment; rounding management |
| Recruitment and Talent Management | No | SAP SuccessFactors or certified 3rd party add-ons recommended |
| Sales Forecasting | Yes | Forecasts based on historical records; forecast window customization |
| Sales Order Management | Yes | Quote to order conversion; delivery tracking; backorder management; multiple sales order to production order consolidation |
| Time Tracking | No | Certified 3rd party add-ons available |
| Warehouse Management (Advanced) | Yes | Stock transfer management; bin location tracking; pick and pack management |
| Work Order Management | Yes | Service call management; customer equipment cards; service contracts; solution knowledge base |
Industries
SAP Business One offers a broad range of functional support and is a popular ERP product option for organization spanning a wide variety of industry types.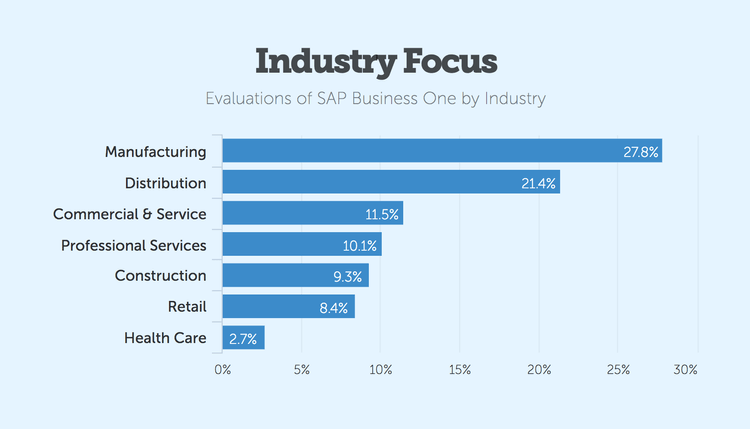 Cannabis ERP Software
Searching for the best cannabis ERP software for your business?
SAP Business One is designed for your cannabis business and its growth. All your data in one system provides robust functionality and the ability to automate processes. State-of-the-art analytics and dashboards will help you make better business decisions.
The Cannabis Industry is booming and this is a very exciting time to be involved in this ever-expanding market.
However, this industry is not without challenges.
Getting control over a business that is experiencing double-and-triple-digit growth annually is difficult, to say the least. Adding to this challenge is the required tracking and reporting that changes from state to state. SAP Business One is designed to provide the functionality to address these challenges.
Cannabis and CBD product producers require a system that can handle the complexities of their entire operation. â?? a cannabis ERP software. The SAP Business One platform has all functionality built into one system, with a shared centralized database to increase efficiency throughout the organization.
Core Business Functionality
SAP Business One is the perfect cannabis ERP software because it comes standard with core functionality all cannabis businesses need to operate:
Best Practices Financials and Accounting
Materials Resource Planning & Forecasting
Advanced Purchasing Functionality
Sales, Order Processing and Delivery
CRM & Customer Service
Inventory Management
Cannabis & CBD manufacturers have specific requirements unique to the industry. This functionality is built into SAP Business One.
Seed-to-Sale Tracking
Integration to METRC
Multi-State Operations (MSO)
Lot & Batch Numbering
Advanced Bill of Materials
Availability to Promise
Raw Material Traceability
Certificate of Analysis Templates
Advanced Planning and Scheduling
Recall Traceability
Materials Resource Planning (MRP)
Cannabis and CBD producers generally require services provided by companies outside their organization. SAP Business One easily integrates with other platforms with industry-standard APIs.
Website and eCommerce
Customer and Vendor Portal
Warehouse Management Systems
Shipping & Logistics
Third-Party Logistics (3PL)
Point-Of-Sale (POS)
System Benefits
SAP Business One will help Cannabis and CBD producers reduce expenses and increase profits in multiple areas throughout the business:
Forecasting Sales and Inventory Requirements
Adherence to Industry Best Practices
Faster Delivery Times & Improved Customer Service
Greater Efficiency with Automated Processes
Respond Quickly to Demand Changes
In-depth Procurement Analysis
Realtime Reporting on any Device
Increases the Value of Your Business
Pricing
Pricing on SAP Business One depends on a variety of factors including required functionality, support expectations, implementation and training needs, deployment preference, active promotions, and user count. Consequently, pricing on SAP Business One can vary significantly.
The following chart provides an overview of the estimated maximum acceptable spending range over a 3 year period of total ownership reported by reviewers of SAP Business One.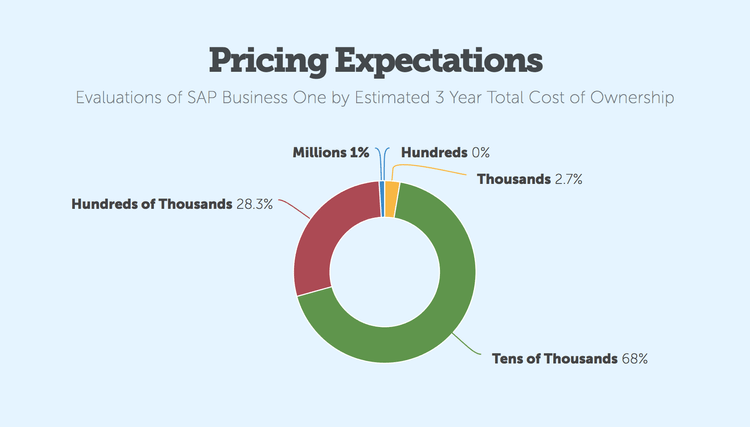 Target Organization Size
SAP Business One is intended for use by small and medium-sized organizations. The median size of organizations who consider SAP Business One based on recent review activity is 30 employees.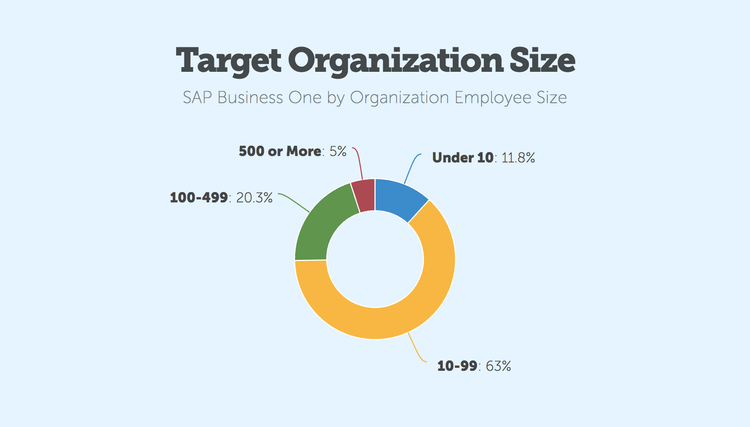 Modules
Accounts Payable
SAP Business One includes a comprehensive solution to improve vendor management and control accounts payable operations.
Accounts Payable vendor account records integrate directly with inventory items and purchase orders so that you can optimize the purchasing and purchase payment operation in your business. That integration provides you with great features such as:
Issue purchase orders to define purchase terms such as price, quantities, delivery dates, etc.
Record goods when received and match vendor invoices to purchase order detail
Once invoices are recorded and matched with receipts and purchase order terms it's a simple matter to process vendor payments
Record credit memos for vendor returns ans assure proper credit is received
SAP Business One's vendor and accounts payable functions make this critical and time consuming task simple to perform
Accounts Receivable
Keeping on top of customer Receivables is critical. With SAP Business One makes this crucial task easy to do.
Features Include:
Customer receivable collection - Collection wizard provides the ability to manage multiple collection letters per customer along with a complete collection history.
Interest, collection and late fees can be easily added using different calculation methods that best fit your business needs.
Track outstanding receivables by client or invoice… your choice.
Create an invoice AND receipt in one step by using information on the same document
Easily create credit memo's by importing data from the original invoice when products are returned
Bank Transactions
Features and Functions of Bank Transactions
Receipt - Records any payment term given to you by a customer, such as checks, credit cards, cash, or bank transfers
Payment to supplier - Issues a payment to suppliers, allocates payments to open purchase invoices, and automatically prints the check
Deposits - Enables you to deposit cash, credit cards, or checks to the bank
Deferred checks - Automatically displays the deferred checks that should be deposited that day
Checks for payment - Issues checks for vendors, employees, or other creditors – and can write and print a check and update the creditor balance accordingly
Reconciliation - Gives you fully automatic bank reconciliation, so you can reconcile debit versus credit transactions or reconcile your data with your bank's records
Banking and Reconciliation
With the banking and reconciliation functionality in SAP Business One, you can automate and accelerate incoming and outgoing payments. The payment wizard allows you to clear multiple accounts receivable and accounts pay­able invoices in batch mode for checks and bank transfers. The payments are executed according to your selection criteria and payment methods (such as check, bank transfer, credit card, or cash), and then the journal entry trans­actions are automatically posted once the process is completed. With the bank statement processing feature of SAP Business One, you can also readi­ly process external bank statements to generate incoming and outgoing pay­ments and to reconcile your balance sheet accounts.
SAP Business One enables you to match payments that are not automati­cally reconciled, such as payments made "on account," to open items either automatically or manually through its reconciliation engine. You can filter this engine by general ledger account or by business partner.
Cost Accounting
SAP Business One enables you to define profit centers so that you can monitor and regulate the costs of your business processes effectively. The profit center reports give you important information about the costs and revenues that have arisen, sorted by area and department.
First of all, you define the various cost centers or departments in your company as profit centers. You then assign revenue and expense accounts to the profit centers so that any data relevant to a profit center can be updated automatically for all transactions entered in the system. Costs are allocated to the profit centers using information that you define in a distribution rule. This means that any costs incurred will be allocated to the profit centers on the basis of a specific key. If you decide that the way in which costs are allocated no longer reflects the way in which your company works, you simply change the distribution rule as required. You can use the Profit Center Report to generate a profit and loss statement for any profit center and period.
In addition to conventional financial accounting (where the values of all business transactions are recorded), many companies also perform cost accounting. The aim of cost accounting is to determine how profitable a company's business activities are.
Cost accounting allows you to analyze the expenses and revenue of a specific business area in detail. Some expenses can be assigned to one specific business area. Expenses and revenues that can be assigned to one specific business activity are called direct costs and direct revenues.
In every company, there will always be expenses (and sometimes even revenues) that cannot be assigned to one specific business activity. These include administration costs, advertising costs, and financing costs. In Cost Accounting, these indirect costs (and indirect revenues) are allocated to business activities by means of distribution keys. In addition to the data that you enter for profit centers and distribution rules in the standard fields of SAP Business One, you can also define as many user fields as you want for these objects. This is a convenient way of storing a large quantity of additional data required in your company. If you have created user-defined fields for profit centers and distribution rules, you will find these in the menus for processing these objects in the menu bar.
Customer Relationship Management CRM
SAP Business One provides comprehensive, integrated sales and service features to ensure total control of customer acquisition, retention and profitability for your business.
SAP Business One helps you record and track each sales opportunity, from lead identification, to qualification, proposal, sale close and after sales service and support. Managing sales campaigns and prospects means you'll close more sales for less cost. Create prospect lists for telemarketing, direct mail or e-mail campaigns. Off site access also available via Web-based access to SAP Business One data.
CRM Provides Integration With:
Sales and Accounts Receivable activity
Purchasing and Vendor transactions
All customer and vendor contact information including things like e-mail address, sales and purchasing reports, etc.
Dynamic reports detailing sales, lead, purchasing, inventory data and more
Prospect and lead management
Accessible via the Internet allowing sales and service employees data access while out of the office
Be Sure to Review the SAP Business One -Customer Service and Support CRM- Information as Well (Linked Below).
Customer Service and Support CRM
SAP Business One provides the tools to enable you to excel in customer service and support.
Create support and warranty contract items for services sold to a customer. Maintain start and end dates for specific contract items including guaranteed response times if applicable.
Maintain detailed information about items purchased by customer including manufacturer's serial number, replacement serial number, service call history, etc.
View reports on all equipment and corresponding serial numbers sold to a customer or range of customers
Review info on all service calls. Sort report by technician, problem type, priority, item, call status, etc.
Realtime monitoring of call status in order to manage team service call queues
SAP Business One's customer service and support functions are easy to use and quickly helps manage this important business function
Be Sure to Review the SAP Business One Customer Relationship Management Information as Well (Linked Below).
General Ledger and Financial Accounting
SAP Business One provides you with excellent financial management features to help your enterprise become more efficient, productive and profitable.
Accounting Features Include
Real-time accounting means financial reports immediately reflect all completed transactions.
Drill down from financial summary numbers to specific transaction detail.
Easily allocate costs and transactions between multiple departments with predefined posting templates.
Quickly integrate business, accounting, warehouse and financial reports with Microsoft Excel and Word.
Recurring posting feature allows you to define entries that occur on a regular basis.
Allocate revenue and costs as needed based on predefined distribution rules
Some of the Standard Reports Include:
Balance sheet
Budget reports
Aging Reports
Profit and Loss statement
Trial Balance
Company dashboards to instantly view and graph critical company performance metrics such as sales, inventory movement, etc.
Reports also allow comparison between periods.
Multiple financial reports are predefined for immediate use. In addition, you can design additional reports and export to Microsoft Excel for even more flexibility
Very flexible chart of accounts with department and cost center segments available
Human Resources Management
The SAP Business One HR functionality supports staff management, including employee details and contact information. It allows the user to capture pertinent information about each employee so you have one place to maintain and manage your employee records and data.
Information you can capture includes:
Employee contact details
Skills matrix & previous employment
Review date and outcomes
Repository for supporting documents such as references and CV
Management of candidates
Issue down payment requests to cash customers.
Salary information
Charge interest on overdue receivables.
Alerts for key notifications i.e. re-certifications
Inventory Control
Inventory, for many businesses, is a large asset that demands constant attention to maximize profits. SAP Business One's Inventory function helps you keep on top of this important business asset.
Some of the features included in SAP Business One's inventory include:
Track serial numbers for inventory items
Assign and track inventory lots
Create lists of substitute or alternate inventory items to improve sell through
Maintain vendor part numbers to eliminate purchase order errors
Transfer inventory between multiple warehouses as needed
Separate posting to record opening inventory balances and/or update warehouse data
Steamline inventory counting by assigning when inventory items are to be recounted
Define various price lists and link the lists to customers or vendors.
Define special prices for individual customers or suppliers OR peg quantity specific prices based on order volume
Improved management of picking and packing process.
Supports various inventory valuation methods including: standard cost, weighted moving average, and FIFO
Define optimal order size based on minimum order quantities and average order lead time
Links directly with MRP functionality to further improve operations
Maintains vendor order history for review as needed
Maintain multiple alternate vendors for each inventory product carried
Material Requirements Planning (MRP)
SAP Business One provides a MRP simple planning function to help you schedule and manage items that are to be produced or purchased.
Forecasts help you predict demand based on forecasting metrics and not solely on history or received orders. This helps you better anticipate product demand so you can adjust your material planning to more accurately reflect that demand.
SAP Business One's MRP Wizard optimizes future material requirements and helps manage and execute purchasing and manufacturing recommendations and exceptions. Also, take advantage of purchasing price breaks and standard product lot sizes in order to further reduce your costs
Automatically create product orders and purchase order based on the Order Recommendation Report. Items can be easily oursourced if needed by converting a production order to a purchase order. In addition, it's simple to consolidate individual vendor PO's into a single order to further streamline the purchasing process
Mobile Application for iPhone
With today's technological advances, there is a growing need for connectivity and information accessibility as your customers expect you always to have up-to-date information at your fingertips. They would like to know what's available, how much it costs, and when you can deliver it. And to stay on top of things, people and businesses are increasingly turning to smart phones. With the SAP Business One mobile application for iPhone, SAP empowers you by providing immediate access to the most relevant information to enable you to run your business from any location, at any time. You can manage customer and partner data, process pending approval requests, view reports, and much more.
Key Features
Manage tasks and activities - View your upcoming tasks and scheduled activities at a glance, with flexibility to drill into details and update information if needed. Display all activities pertaining to a specific customer or partner, update activities, or add new ones
View and interact with alerts and approval tasks - Get alerts on specific events such as deviations from approved discounts, prices, credit limits, or targeted gross profits – using an intuitive interface that allows you to sort various alerts by date, type, or priority. View and complete approval requests, and drill into the relevant data or metric before making your decision – with just a few taps. Ask for additional information or provide comments to requesters in the approval and rejection process.
Access real-time reports - Access built-in reports from SAP® Crystal Reports® software. Add your own customized reports to the application, and share them via e-mail.
Manage customer and partner data - Access and manage your customer and partner information, including addresses, phone numbers, and contact details; view historical activities and special prices. Create new customer and partner data, and add new activities as new opportunities arise. Have all changes automatically synchronized with the SAP Business One application on the back end.
Check on-hand inventory and item data - Monitor inventory levels, and access detailed information about your products, including purchasing and sales price, available quantity, manufacturer, shipping type, product specifications, and pictures
Customize by adding new features - Add custom features to the application by working with your SAP partner to meet your exact needs.
Purchasing
SAP Business One helps you better manage your supplier relationships.
Some of the Features and Functions of Purchasing Include:
Issue a purchase orders to vendors for materials or services, update the available amount for the items ordered, and notify the warehouse manager of the expected delivery date
Split order delivery to one or multiple warehouses.
Goods receipts may be linked to a purchase order, which means that the purchase order quantity can change if the quantity received does not match the original purchase order amount
Record and track goods returned to suppliers to assure proper credit
When recording a supplier invoice the system simultaneously records a stock entry to update new stock available
Landed costs calculates the purchase price of merchandise by allocating various landed-cost elements (such as freight, insurance, etc) to the FOB cost of each item. Actual merchandise warehouse value updates automatically as well
Report Writer
SAP Business One makes it easy for you to pull together reports on any and all your business data. Many standard reports are immediately available for your use but with SAP Business One you have the ultimate ability to quickly pull together reports when you need them.
Here Are Some of the Features You'll Find in SAP Business One
Easily integrates with Microsoft Excel, Word and Outlook
Microsoft Outlook integration means it's simple to email quotes and invoices to customers and prospects.
Data synchronization between SAP Business One information and your Microsoft Outlook -calendar, contacts, tasks, etc
Report creation wizard means you'll quickly create unique reports to better understand your business activity
Company dashboards allow you a top level look at your business with custom views and graphs
Custom reports work with Microsoft Excel functions and interfaces to extend your ability to compose reports with advanced report design options. It's easy to create custom parameters, formulas and layouts from scratch
Sales Orders, Invoices & Quotes
SAP Business One provides a comprehensive, simplified method to enter and record customer orders and issue invoices.
Access complete inventory views across multiple warehouses during order entry
Out of stock for a hot selling item? No problem, simply offer a list of alternative items and make the sale!
Need to schedule order delivery dates? Check! With SAP Business One you can schedule different delivery dates AND different ship-to-addresses for each item on the order! That's flexibility.
Automatically create PO's from a sales order to eliminate data entry and speed your time processing orders.
Drop-ship ordered items directly to customers site as needed
Generate packing documents for all goods shipped.
Store delivery tracking numbers with each order shipped
Built-in packaging function facilitates virtual input of items into different parcels to optimize shipping
Insert free-form text anywhere within the body of the document
Store and reuse standard comments, headers and footer text for documents
SAP Business One helps you quickly create customer quotes as well. Calculate sales price and gross profit for each quote and seamlessly export to Microsoft Word when done
Warehouse Management
The warehouse and inventory management tools in the SAP® Business One application allow you to manage your supply chain and enhance customer satisfaction by providing reliable information about inbound and outbound shipments as well as current inventory levels. You can keep track of product inventory, quantity at each warehouse, movement history, and stocking status. Inventory data is updated in real time so that you can extract insights to meet customer demand and expectations.
SAP Business One gives you integrated accounting functionality, so you can be assured that your warehouse management and your financial accounting data are consistently synchronized. The software automatically values every goods movement and cost and price change, thereby eliminating manual interaction and the associated errors and costs.
Using integrated production functionality, you can manage various types of bills of materials and link your warehouse with your order processing and production operations. Additionally, the material requirements planning feature in the application allows you to effectively plan material requirements for complex, multilevel production processes and maintain an optimum level of inventory.
SAP Business One also has a comprehensive set of reports to meet any of your warehouse and inventory reporting needs. Detailed reports on stock transactions and inventory valuations, inventory counts, production planning, and material requirements provide the information necessary to make quick and effective management decisions.