NetSuite ERP is a cloud-based, developer-hosted, cloud ERP software platform offered on a software-as-a-service (SaaS) basis. NetSuite advertises its ERP solution as "the world's most deployed cloud ERP" solution. NetSuite ERP is used by over 40,000 organizations in 160+ countries.
NetSuite offers ERP management functionality to support departmental finance, operations, sales, service, and HR needs.
Key benefits of NetSuite ERP include:
Improved employee productivity via software automation and cross-departmental system integration
Real-time data visibility providing better business decision making
Reduced technology support costs via outsourced application hosting and the elimination of dedicated server hardware investment costs
Improved business partner relationships via self-service B2B business portals enabling easier customer and supplier collaboration
Flexibility to support evolving, business-specific needs via a suite of configuration and application development tools
Video Overview
NetSuite Real World Evaluations
Wondering if NetSuite ERP is right for your organization? To better understand if it is a fit for you, explore data detailing the functional requirements, anticipated spending ranges, and company attributes of 50 businesses who recently considered purchasing NetSuite.
Quick Facts Q&A
What Functionality Does NetSuite Include?
NetSuite offers a broad set of functionality including accounting, inventory control, supply chain and warehouse management, production management, order management, procurement, human capital management, and e-commerce. More.
How Much Does NetSuite Cost?
NetSuite costs depend on a number of factors including user count, which modules are licensed, support level selection, contract term, frequency of billing periods, configuration and training requirements, and promotion eligibility.
Based on review data, 66.5% of the organizations who recently considered NetSuite as a potential purchase option indicated that their maximum estimated 3 year investment costs would be in the tens of thousands of dollars.
NetSuite pricing options generally start around $1,000/mo, with additional licensing costs dependent on module selection, support level, and user requirements.
Customized pricing is available upon request and additional cost information can be found below.
What Are the Licensing Options for NetSuite?
NetSuite is licensed as a subscription based, software-as-a-service (SaaS). NetSuite provides licensing options for bundled module editions as well as a la carte licensing of advanced modules, varying levels of user access, and flexible length contract terms.
Who Sells NetSuite?
NetSuite licensing is available directly through NetSuite corporate or via an extensive network of NetSuite VARs. Buyers choosing to license NetSuite through VARs are able to access additional service assistance for consulting, implementation, training, and support.
What Size Companies Use NetSuite?
NetSuite advertises NetSuite ERP as a solution intended for "businesses of all sizes."
Based on review activity, the majority of organizations considering NetSuite for a purchase come from the SMB sector, with 57% of reviews being conducted by organizations with employee counts between 10 and 99 employees.
Is NetSuite Cloud-Based?
As a developer-hosted, SaaS program delivered via browser-based user interface NetSuite ERP provides turnkey cloud functionality.
What Kind of Tech Support Is Available for NetSuite?
NetSuite offers three tiers for their standard support offerings (Silver, Gold, Platinum). The support tier service levels vary by the number of support users, access to phone support, phone support hours, and the availability of a dedicated account manager.
Customers seeking additional support services for consulting, implementation, and training can access these services from a broad range of authorized NetSuite solution partners.
Can NetSuite Be Customized?
NetSuite offers significant opportunities for customization. Embedded system functionality available to licensed NetSuite users provides a development framework and IDE for customization based on a standards based JavaScript scripting language. Additionally, point and click customization of forms, fields, records, and workflows is available without custom coding.
What Additional 3rd Party Software Is Available to Extend NetSuite?
A wide variety of 3rd party add-on software is available to extend the functionality of NetSuite. For a list of sample add-on products frequently used to augment NetSuite functionality, see below.
Is NetSuite Owned by Oracle?
Oracle purchased NetSuite in November of 2016 for $9.3B (USD). Oracle has traditionally sold its financial and ERP applications to large enterprise organizations. The NetSuite acquisition was a key component in a strategic move for Oracle to be able to extend its SaaS offerings and compete more effectively in the SMB market.
Functionality
NetSuite offers a broad range of ERP functionality including financial management, item management, order management, procurement, project management, ecommerce, and HR processes.
| Functionality | Support | Note |
| --- | --- | --- |
| Accounts Payable | Yes | Approvals management; vendor return authorizations; print, write, and void checks; aging management |
| Accounts Receivable | Yes | Customer credit management; collections reminders & automation; aging reports |
| Equipment Management | No | Developer certified add-ons available |
| Bank Reconciliation | Yes | Automated transaction matching; customizable grouping rules; adjustments |
| Benefits Management | Additional | TribeHR from NetSuite license required |
| Bill of Materials | Yes | Multi-level bill of materials; assemblies; sub-assembly management |
| Billing | Yes | Transaction, subscription, and usage based billing options |
| Budgeting | Yes | Variance reporting; drag-and-drop interface; financial modeling engine |
| Cash Flow Management | Yes | Bank integration |
| Commissions Management | Yes | Design, tracking, and payment control for commission plans |
| Credit Card Processing | Yes | NetSuite SuitePayments offers pre-integration with multiple merchant services gateways |
| Customer Relationship Management | Additional | NetSuite CRM license required |
| eCommerce | Additional | SuiteCommerce license required |
| EDI | No | Developer certified add-ons available |
| Employee Records | Yes | Incentive & compensation management; self-serve employee center portal |
| Estimating | Yes | Loaded cost rate & anticipated time entry for job estimating |
| Field Service Management | No | Developer certified add-ons available |
| Fixed Asset Tracking | Yes | Asset lifecycle management with customizable asset depreciation engine |
| Fund Accounting | Yes | Cost allocations & tracking across line items, grants, funds, programs, & projects |
| Fundraising Management | Yes | Pledge to payment management; online donations; membership billing |
| General Ledger | Yes | Custom transaction types; definable GL segments; multi-entity & multi-currency support |
| Human Resources | Yes | Basic HCM capabilities included; TribeHR from NetSuite available for additional needs |
| Inventory Control | Yes | Preferred stock level management; landed costs support; lot & serial tracking |
| Job Costing | Yes | Revenue, cost, margin reporting; project & task level budgeting |
| Manufacturing Execution System | Yes | Backflush, WIP, & labor capture; production work orders; downtime tracking; quality management |
| Material Requirements Planning | Yes | Real-time scheduling engine: finite & infinite capacity scheduling; demand-driven procurement |
| Payroll | Yes | Payroll disbursements; withholding management; automated tax management & filing |
| Point of Sale | Additional | SuiteCommerce license required |
| Project Management | Additional | NetSuite OpenAir license required |
| Purchasing | Yes | Requisitions support; approval management; configurable procurement dashboard |
| Quotes | Yes | Quote to order conversion; permissions management |
| Recruitment and Talent Management | Additional | TribeHR from NetSuite license required |
| Sales Forecasting | Additional | NetSuite CRM+ license required |
| Sales Order Management | Yes | Gross profit analysis; workflow approvals; quote to order conversion |
| Time Tracking | Yes | User timesheet entry; user/project level approvals definition; billing integration |
| Warehouse Management (Advanced) | Yes | Inbound & outbound logistics management; warehouse space management & wave planning |
| Work Order Management | Yes | Work order travelers; instruction document attachment; assembly builds; inventory commitment |
Industries
Organizational users of NetSuite's cloud-based ERP software span a wide range of industry types including healthcare, manufacturing, professional services, retail, transportation, wholesale distribution, and advertising. It is an especially popular choice in the professional services market, where distributed workforces benefit from the easy anytime, anywhere access provided by the web-based client software.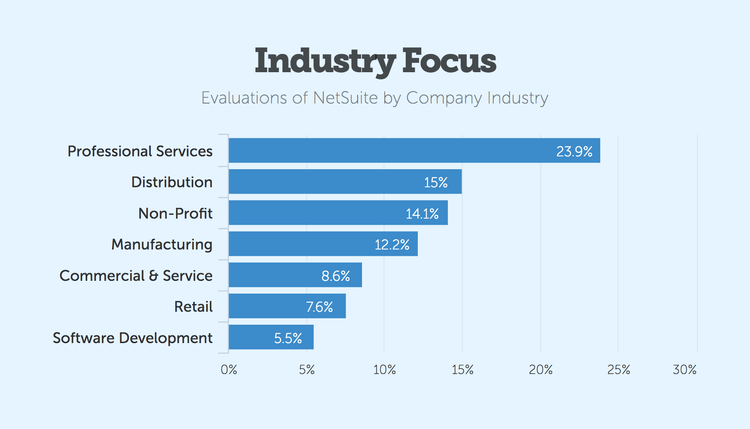 Pricing
Pricing for NetSuite varies depending on user count, support expectations, module selections, implementation needs, and a variety of other factors. The following chart provides a breakdown of the estimated maximum three year spending ranges reported by software buyers who recently considered NetSuite as a possible purchase option.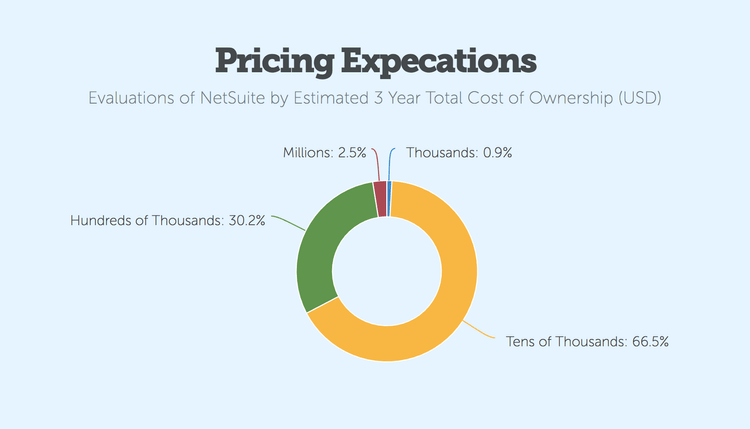 Target Organization Size
NetSuite is designed for use by organizations of varying company sizes. The median size of organizations who consider NetSuite is 30 employees, based on review activity.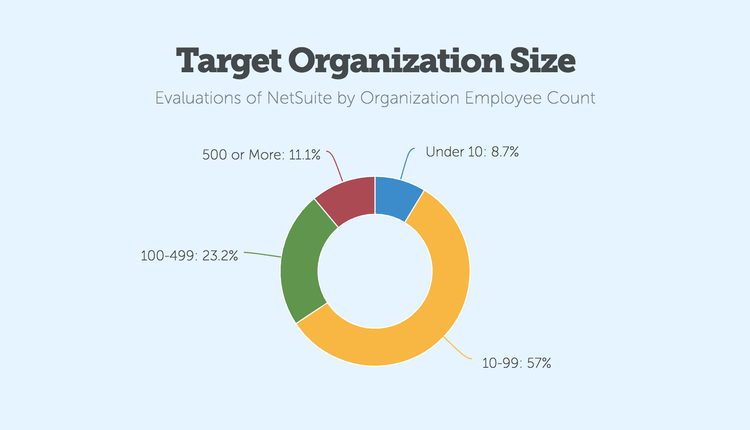 Customizations and Add-Ons
NetSuite offers the ability to extend core system through two main means: customization and integration with 3rd party add-on products. One of the competitive strengths of NetSuite is the set of tools it offers for program customizations. SuiteBuilder, SuiteFlow, SuiteScript, and SuiteCloud provide significant opportunities for customization ranging from point and click configurations to full application creation via a provided development framework.
SuiteTalk provides a web services platform to allow for simplified integration with 3rd party add-ons.
Hundreds of 3rd party add-on programs have been designed with preconfigured integration capabilities in order to connect to NetSuite. The following is a list of some of the most popular options.
Modules
Accounts Payable
When it comes to accounts payable, the name of the game is matching three essential elements to one another: the purchase order, the vendor invoice and the receipt.
With NetSuite software, companies can do exactly that with ease and speed. Companies can also pay their vendors and taxes via electronic funds transfer (EFT) directly from NetSuite. As a result, they can streamline business processes and eliminate the need to print and sign checks manually.
Benefits:
Establish better relationships with your vendors by offering timely, efficient payment, as well as support for EFT.
Fully automated check and payment processing leads to greater efficiency and better cash management.
View all debits, credits, revenues and costs within the same accounting period for more accurate profit and loss statements.
Features:
Get full visibility into each purchase order (PO), receipt and invoice. By calling up a PO, you can see its entire transactional history and verify proper billing.
Check the status of payments directly on your Dashboard to ensure relevant discounts have been applied--and that payments are made on time.
Online bill pay and support for EFT provide unmatched convenience.
Drop shipment is an all-in-one process, meaning you can bill the customer accurately, consistently, and always within the same pay period.
Accounts Receivable
Streamlining accounts receivable can help distributors boost efficiency and hold down costs. The key? Ensuring the process is automated, starting with the order and ending with accounts receivable.
NetSuite recognizes that automating accounts receivable brings plenty of benefits--helping companies to eliminate redundancies, reduce errors, improve efficiencies, cut costs, and speed payment. That's why NetSuite offers a host of tools that simplify functions such as reporting, billing and collection.
Benefits:
Gain unprecedented flexibility by creating on-the-fly reports according to the date, categorization, class, department or other parameters that you determine.
Generate bills the same day the shipment goes out, leading to faster payment.
Set up accounts receivables according to your specific accounting rules. With NetSuite software for wholesale distributions, you never have to settle for inflexible software that doesn't support your precise business needs.
Features:
View either summary or detailed reporting, enabling users to see the level of data most appropriate for their job function.
Standardized and customized reporting give decision-makers greater flexibility in the reports they use.
Time-sensitive reporting enables wholesale distributors to ýback-dateý reports as far as needed. (With other packages, visibility into older reports is limited to the standard 30-, 60-, or 90-day payment periods.)
Once an order has been fulfilled, NetSuite generates a bill automatically.
Cash collection capabilities enable you to collect and bill either the corporate headquarters of a client, or its subsidiary. So you can track separate accounts, but collect just once.
Process credit card or Automated Clearing House (ACH) payments online easily and quickly.
Budgeting and Financial Planning
In the highly competitive world of business, companies must plan for future success while keeping track of costs. They need to be able to monitor costs, set up new budgets, or multiple budgets for different scenarios.
With NetSuite, creating and managing budgets has never been easier. You can enter budgets for all your accounts on one screen, reducing time and labor. Or, if you have more complex needs, you can create budgets outside NetSuite and import them in a CSV file format.
Benefits:
Plan for success with a budgetary roadmap, and compare the budget to actual spending.
Support for multiple budgets allows you to set up, and report on, more than one budget for the same set of criteria.
Run a budget for multi-location facilities, enabling you to track numbers accurately across offices, departments, and teams.
Features:
Manage multiple budgets for different scenarios (best case or worse case, for example); or, compare current budgets versus actual spending.
Work with budgets either online or offline, giving you the flexibility you need to do your job more efficiently.
Import or export budgets quickly and easily using CSV format.
Customer Support and Service
In these years of escalating competition, improving customer support and service has been both a business and technology priority for nearly all companies. And the initiative to provide faster and more efficient customer service is found in companies in all industries and of all sizes.
Yet the imperative for top-notch customer support and service raises important questions: How will your company drive customer service more effectively in the coming years? How will you assign, manage and escalate your cases to serve customers better while also slashing your operational costs? And how will you give everyone that interfaces with the customer--sales, support, service and fulfillment--access to complete, key customer data in real time?
Using NetSuite services, you benefit from the market's first and only business management application that focuses on improving online customer support and service, attracting new customers and keeping existing ones, and lowering your customer care costs--all of which result in better top and bottom lines.
Ecommerce
How do you keep customers and prospects, who aggressively shop and compare multiple vendors for the best price, as your loyal buyers over the long term?
For many companies the answer has been to branch out to the Web. Businesses today want to create a dynamic, rich and powerful Web store that makes online shopping fast, easy and attractive to their customers. Unfortunately, many traditional e-commerce solutions are highly complex to set up, maintain and update. Moreover, if your electronic storefront isn't sophisticated, you may actually lose--rather than attract--prospective and existing customers.
That's why NetSuite offers companies a range of ecommerce tools that enable them to sell and market their goods via the Web, while also creating customer-specific promotions and campaigns that boost online sales.
Expense Reporting
Hectic travel schedules often mean that expense reporting is an afterthought for many sales people. Moreover, employees struggle to generate expense reports on time, and supervisors find it challenging to review and approve them promptly.
NetSuite eliminates the hassle traditionally associated with expense reporting. Now, both on-site and remote workers can file standardized expense reports online, and supervisors can review and approve them in the same way. As a result, you accelerate the expense reporting and payment process throughout your company.
Benefits:
Boost employee morale by ensuring that expenses are reviewed, approved and paid promptly.
Standardized expense reports make it easier for you to process and track costs. As a result, costs are reflected in current profit and loss statements, giving you a clearer picture of your financial position.
Online self-service means that employees can check the status of expense reports day or night--without burdening your accounting staff.
Features:
Employees submit expense reports online via a standardized format, making it easier for accounting, management and other parties to assess expenses.
Supervisors receive reminders as expense reports are filed; once approved, expense reports are automatically processed and paid.
Employees can check the status of their expense reports online and in real time.
Support for multiple currencies means that expenses are paid in the currency in which they were incurred (Canadian dollars, for example). NetSuite's wholesale distribution solution also supports multiple currencies within a single report.
Financial Analytics and Reporting
Is your finance organization knee deep in spreadsheets for monitoring and analyzing financial and business performance?
NetSuite delivers built-in, real-time financial dashboards, reporting and analytics that allow you to continually monitor personalized key performance indicators (KPIs) and get access to the latest management and financial reports. Diagnose financial issues on the fly with drill-down visibility to customer, employee or transactional details--and quickly take action to drive business performance.
Benefits
Get a real-time view into company and financial performance
Close your books faster by eliminating manual reporting processes
Eliminate multiple versions of the truth with a single centralized repository
Empower everyone with fingertip access to key financial measures
Gain visibility into business performance from summaries down to the actual live transaction.
Key Features
Real-Time Financial Dashboards
Use NetSuite's dashboards to communicate information quickly, effectively and in real time
Monitor any financial measures that are important to your role--whether you're a CFO, controller, finance manager or analyst--through key performance indicators (KPIs)
Get personalized visibility into bookings, billings, receivables, period-on-period performance, actual vs. budget and actual vs. forecast, and much more
Provide all team members with access to the latest information--including reminders about required daily tasks, such as viewing overdue invoices or accepting payments--as part of their day-to-day activities.
Detailed Visibility From Summary to Detail
Drill down from any indicator or report to the live underlying transaction or customer record, eliminating the need hunt for supporting detail
For example, drill down from days sales outstanding (DSO) measures to an aging report and then to the underlying invoice and customer information--all with only a few clicks.
Financial and Operational Reporting
Take advantage of more than 100 standard reports, including income statements, balance sheets, consolidated reports, variance reports and side-by-side comparisons--ideal for internal or external reporting
Create and define customize financial reports according to your business needs
Easily email, share or export reports to formats such as PDF, Excel or Word.
Ad-Hoc Analysis
Create any report you need on the fly with NetSuite's powerful ad-hoc analysis--no more having to wait for IT to supply the report you need
Easily select the subject area and lay out your report, then share it with colleagues or add it to your daily dashboard.
Securely Access Business Insights From Anywhere
Get secure access to financial performance from anywhere with just a web browser or a mobile device such as the iPhone
Enable your extended finance team to get the latest financial and operational measures around business performance, from the CEO on the road to a geographically distributed board of directors.
Powerful Budgeting and Planning
Eliminate error-prone spreadsheets with NetSuite's sophisticated budgeting, planning and "what-if" financial modeling capabilities
Power your business performance with a real-time, end-to-end business management solution for strategy, planning and execution
Identify variances between your plan and actuals, isolate the organization and account responsible for the variance and drill into the transactions contributing to the variance.
Fixed Asset Management
Are you still using Excel spreadsheets for asset tracking and depreciation? Struggling to track and maintain a record of employee used equipment, or equipment that needs to be insured or regularly maintained?
NetSuite Fixed Asset Management provides you with an easy-to-manage single version of the truth for your assets. It enables you to maintain and control the complete asset lifecycle across depreciating or non-depreciating assets from creation to depreciation, revaluation and disposal. NetSuite Fixed Asset Management supports detailed asset management including maintenance schedules and insurance, while providing tight integration that creates accounting entries and fixed assets from purchases ensuring that no equipment slips through the cracks.
Benefits
Eliminate Excel spreadsheets and manual effort from the fixed asset management process
Manage the complete fixed asset lifecycle from acquisition to depreciation and disposal
Tightly weave your asset acquisition process into your accounting processes
Quickly report on all assets, current valuations, asset types and more.
Highlights
Asset Acquisition, Depreciation, Disposal and Revaluation
Easily track depreciating or non-depreciating company assets
Quickly create assets based on unlimited asset types and easily report on them
Non-depreciating asset tracking ensures ease of tracking employee-owned items
Maintain all relevant detail for assets, including insurance and maintenance schedules
Automated defaults enable asset creation, depreciation and eventual retirement with minimal effort.
Flexible Depreciation Management
Supports all standard depreciation methods, including, Straight Line, Fixed Declining, Sum of Years Digits, and by Asset Usage
Unlimited user-defined depreciation methods
"Chain" depreciation methods to support comprehensive asset valuations
Supports multiple depreciations per asset for both financial and reporting depreciations.
Complete Asset Process Accounting Automation
Depreciation postings and asset retirements posted directly to NetSuite accounts
Automates the entire process, including journal posting, bill posting, and PO billing posting.
Real-Time Asset Reporting
Comprehensive reporting across assets, valuation and depreciation
Slice and dice assets across locations, subsidiaries, asset types and much more.
General Ledger
The general ledger is the cornerstone of your company's financial records. It constitutes your company's central books, and every transaction flows through it. Moreover, the general ledger documents all financial transactions since your company's inception.
But the key to maintaining--and wisely leveraging--your general ledger is having complete, drill-down capability in real time. With NetSuite for wholesale distributors, every transaction gets updated instantly. Moreover, you can find each transaction, no matter how far back, with the click of a button.
Benefits:
Understand how today's number stack up, enabling you to make better, smarter decisions tomorrow.
Find any transaction at anytime--as well as detailed information related to each transaction--enabling you to keep a well-maintained, highly accurate general ledger.
Be assured of accurate, real-time financial data and history within the general ledger, leading to more streamlined back-office operations.
Features:
Comparative reporting lets you view this month's numbers versus last month's in order to spot new trends, the seasonality of goods, and revenue increases or decreases.
Create key financial reports, profit and loss statements, and balance sheets according to location, department, and class.
Export your financial data to Excel, or other financial programs such as Crystal Reports, via ODBC.
Human Capital Management
Maximize Your Company's Most Important Resource
Streamlining your human resource management processes reduces costs, improves employee satisfaction, and makes employees and managers-as well as your human resources and finance teams-more productive. NetSuite provides an end-to-end solution that offers comprehensive time tracking, incentive compensation, expense reporting and payroll tools, all built into a self-service portal that any employee to access 24x7.
Benefits
Get complete human resource management capabilities that streamline on-boarding and day-to-day activities and reduce manual processes
Improve employee and management satisfaction and retention with complete self-service functionality and managerial approval workflows that allow employees to perform and track many transactions themselves
Reduce payroll administrative overhead and the risk of errors with NetSuite's complete payroll management capabilities
Motivate your sales teams by aligning their performance with powerful incentive management.
Employee Resource Management
Allow employees to enter and track timesheets, enter expense reports and create purchase orders
Improve employee collaboration and help business processes flow more smoothly through powerful group-calendaring capabilities, calendar sharing, and the development of schedules for each project or activity.
Job & Project Tracking
For services companies, service delivery is at the heart of customer relationship management, yet project management has been left out of most CRM vendors' solutions. Enter NetSuite. NetSuite let's you track projects and tie this directly to the customer record for real-time visibility.
That's why NetSuite lets you manage multiple types of projects, including time and materials, fixed price, and cost plus projects-all in real time. NetSuite also organizes your tasks, calls and events, linking them to specific projects and clients. Best of all, NetSuite manages project and client data in one, powerful and fully integrated system.
Marketing Automation
Making the most of marketing automation means first having the right tools. Only then can you attract and keep more customers; align your marketing and sales processes; manage marketing expenditures; support true one-to-one marketing; and gauge the effectiveness of your campaigns and promotions in real time.
Meeting the needs of growing businesses, NetSuite provides the industry's first and only marketing automation capability that lets companies build, execute, and measure the success of their marketing campaigns. NetSuite also lets you tailor marketing messages and campaigns much more precisely, leading to greater market share and sharper competitive edge.
Material Resource Planning
Optimized Manufacturing Processes
Streamline the assembly process by efficiently managing production work orders, building multi-level assemblies, creating special purchase orders for components, and seamlessly integrating with back-office operations
Extend the reach of your NetSuite inventory management system with industry manufacturing solutions available at SuiteApp.com.
Demand Planning
Calculate demand plans leveraging historical data or sales forecasts
Model how expected sales and purchase orders affect future inventory levels
Calculate supply plans and automatically generate purchase or work orders.
Order and Billing Management
Supercharge Your Quote to Cash Process
Maximizing cash flow is a priority for businesses of every size. But getting it right can be a challengeýyou need to eliminate manual bottlenecks and errors while establishing a smooth flow from sales quote to approved order, successful order to fulfillment, and timely invoicing to payment. A best-in-class order management process results in a faster path to recognized revenue, improved operational efficiencies, and higher customer satisfaction and renewals.
NetSuite fast-tracks your order-to-cash process, breaking down departmental barriers and improving customer satisfaction. NetSuite's order and billing management capabilities integrate your sales, finance and fulfillment teamsýimproving quote accuracy, eliminating billing errors, strengthening revenue recognition processes and driving fulfillment efficiency. Flexible billing management adapts to your billing needs and market demands, and improves cash flow.
With NetSuite, your business benefits from unparalleled transparency for everyone in your organization, from sales reps and finance managers to fulfillment specialists and executives. Everyone gains role-based real-time visibility into orders and invoice aging, as well as detailed status and historyýallowing them to identify bottlenecks, reduce turnaround times and resolve customer queries with unprecedented speed.
Benefits
Accelerate cash flow with an integrated quote-to-order-to-cash process across sales and finance
Drive sales by taking control of the quote and order process with integrated approvals, discounting policies, pricing and more
Monitor orders and reduce days sales outstanding (DSO) with real-time dashboards and detail reports
Improve customer satisfaction by providing self-service access to order and delivery information as well as payments
Reduce effort with automated creation of invoices based on payment terms and automation of complex billing processes such as recurring, time and project-based billing.
Quote and Order Management
Eliminate quote and order errors with total quote-to-order-to-cash business process integration across sales, finance and fulfillment, as well as centralized management of all quotes and orders
Ensure that sales is quoting based on the latest pricing and discounting rules, and increase average order size by incorporating upsell management.
Streamlined Order Fulfillment
Automate shipping processes with NetSuite's out-of-the-box integration with UPS, FedEx and USPS
Reduce fulfillment errors by electronically routing orders to suppliers for drop shipping
Improve the returns process with integration between order management and return merchandise authorization (RMA).
Billing Management and Invoicing
Get bills into customersý hands sooner and accelerate cash flow by integrating the entire quote-to-order-to-bill process, which enables faster billing and greater billing accuracy
Eliminate the risk of error with centralized customer, order and invoice records shared across the business
Reduce DSO with real-time dashboards and detail reports that let you monitor orders
Automate invoicing as well as complex recurring, time and project-based billing.
Enable Customer Self Service
Differentiate yourself from your competition by providing your customers with complete self-service access to order and delivery status, as well as payment and demographic information
Increase the ease of doing business with your company by allowing customers to manage their bills and their payment information online
Reduce the customer-call burden on your staff.
Payment Manager
Make it easier for customers to do business with you by accepting a wide variety of payment options
Get more efficient payment acceptance with streamlined and integrated order-to-payment and payment-to-reconciliation processes
Get safe and secure processing with full PCI compliance and sophisticated credit card fraud prevention tools.
Payroll
For some companies, there's no substitute for having the control and flexibility of doing payroll in-house. But generating payroll in this way comes with a host of challenges: complying with government regulations; calculating earnings, deductions, and taxes; printing checks; or giving employees the option of direct deposit.
NetSuite's financial software for wholesale distributors enables you to do payroll in-house easily, quickly and accurately. With NetSuite, you can manage your payroll with complete confidence.
Benefits:
Get the full control--and significant cost savings--of processing payroll in-house.
Make rapid changes, which are reflected instantly to give you an accurate view of the payroll company-wide.
Payroll is integrated with the general ledger, ensuring that the general ledger is always current.
Options such as direct deposit give employees more flexibility and boost company morale.
All government obligations, withholdings and forms are managed directly within the software, freeing up your time and resources for more vital tasks.
Features:
Generate a range of payroll reports, including check register, liability, payroll summary, payroll detail, as well as hours and earnings.
NetSuite tracks, gathers and creates all relevant government forms (such as W-2s or 1099s), taking the burden off you.
Set up federal withholding, federal unemployment, Medicare, social security, and advance earning income credit with a click of a button.
Company contributions, such as 401K, health insurance, or other dues, are fully integrated into the software.
Either print checks, or offer employees direct deposit.
Track all employees' sick and vacation time automatically.
Purchasing
Purchasing and Vendor Management
Eliminate inefficiencies throughout your organization with convenient online purchase order creation that allows you to replace paper-based forms and time-consuming manual processes
Streamline requisition processes and improve collaboration with vendors by giving them self-serve access to key data and information, including inventory reordering points and transaction histories
Track costs and eliminate errors by creating a complete business process flow through purchasing, receiving and account payables.
Recurring Revenue Management
A predictable recurring revenue stream can make or break a company in today's economy--but to manage it effectively, sales, service and finance must partner closely.
NetSuite's built-in recurring revenue management capability is the only solution that's integrated with all of your front- and back-office processes. This means you'll get a complete, real-time view of your customers and all of their interactions with your company.
So you'll drive profitability by increasing billing efficiency and bolstering revenue recognition processes. You'll also improve customer satisfaction --increasing the number of customers who renew, upgrade and buy more services.
Benefits
Tailor customer billing processes to your business using NetSuite's built-in flexibility and sophisticated billing logic
Minimize errors and revenue recognition issues and eliminate the need for expensive custom integration
Support agile pricing changes to subscription plans in response to customer or market demand
Get a single real-time view of your billing operations globally and interact consistently with customers around the world
Ensure that your company can handle changing revenue recognition policies--or even recognize revenue over the term of the contract
Eliminate the risks that come with spreadsheet-based processes or immature financial systems Drive customer profitability by minimizing "cost-to-serve"
Equip sales, finance and call centers with all the relevant information they need to deliver excellent service and increase customer renewals
Monetize existing customers with strong up-sell and cross-sell management features, even allowing service functions to up-sell.
Key Features
Billings
Strong management of recurring revenue-based billing processes. Bill customers one time or on a recurring basis. Manage different payment terms, whether monthly, quarterly or annually. Bill in advance or arrears, and pro-rate partial months. Provide customers with self-service capabilities that let them manage their own billing plans, payment options and demographic information--allowing you to provide faster service and increase customer satisfaction, turning billing into a competitive asset.
Pre-built integration of billing processes with all back-office functions, including order management, accounts receivable and general ledger
Built-in customer relationship management (CRM) capabilities let customers sign up easily, allowing you to smoothly convert them from prospective customers to subscribers, no matter what the channel
Price and quote management capabilities: Update Web sites quickly with new pricing, effective-date new customer agreements, update billing processes and prorate payments, communicate to the sales and service team, synchronize quote management processes and incentive compensation.
Global subscriber base support: multi-currency management with automated currency rate updates ensures reports accurately reflect currency conversion, the tax engine accommodates multiple tax schedules for local taxes across subsidiaries, GST, VAT, consumption tax or general sales tax, and more.
Built-in billing and revenue recognition functionality
Dashboards and reporting across all business functions--sales, service, finance and operations.
Renewals
360-degree cross-functional view of customers through role-based dashboards
Centralized customer data ensures that you have a single version of the truth and reduces the potential for billing errors.
Cross-Selling/Up-Selling
Strong up-sell and cross-sell management features: Sophisticated commission rules can be configured based on quotas, sales, quantity or more, real-time insight into customers' past purchases, and automated up-sell recommendations.
Strong sales incentive compensation management to balance customer acquisition with up-selling/cross-selling and to enable the roll out of SPIFs and up-sell/cross-sell sales plans.
Revenue Recognition Management
Staying on top of revenue recognition is a major challenge, and the rules keep changingýsuch as with the introduction of the latest EITF 08-01 and 09-03 rules affecting revenue recognition on multi-element sales. But most ERP systems like SAP, Oracle and Microsoft Dynamics GP aren't up to the task of keeping pace with the changes. This means finance teams often resort to complex spreadsheets that sap finance productivity, harbor substantial risk of error, limit visibility and introduce significant compliance risk.
NetSuite Advanced Revenue Recognition completely automates your revenue recognition processes. It also provides a cloud solution that integrates with existing ERP applications such as Oracle Financials or SAP R/3 to provide automated revenue management. And if you're already using NetSuite as your ERP solution of choice, NetSuite Advanced Revenue Recognition can be easily added on as a module.
NetSuite Advanced Revenue Recognition provides complete support for all key revenue recognition standards, automates revenue recognition calculation, and delivers dashboards and reporting for continual revenue recognition monitoring.
Benefits
Efficiently meet necessary revenue recognition standards and comply with AICPA, FASB and SEC regulations (including SOP 97-2 & 98-9, SOP 81-1, SAB 101, EITF 00-21, EITF 08-01 and EITF 09-03)
Improve finance productivity and reduce the cost and time of calculating, recording and reporting on revenue recognition
Reduce or even eliminate the use of spreadsheets, dramatically reduce errors and gain strong, compliant processes
Get strong processes and higher accuracy by ensuring the proper review, approval and execution of the revenue that's due to be recognized
Gain clear visibility and continual monitoring for all aspects of the revenue recognition process, from summary to detail through to Estimated Selling Prices and key variances
Extend your existing Oracle Financials or SAP R/3 deployment quickly and efficiently thanks to NetSuite's cloud delivery
Get ongoing support for the latest revenue recognition rule changes with automated upgrades.
Support for All Key Revenue Recognition Rules
Comply with AICPA, FASB and SEC regulations (including SOP 81-1, SAB 101, EITF 00-21, EITF 08-01 and EITF 09-03)
Recognize revenue for each line item according to its revenue recognition method
Effective Revenue Recognition Management on Multi-Element Sales
Track and support ýunits of accountingý and selling price (VSOE, TPE or ESP) for all elements of multiple-element arrangements
Deliver automatic reallocation of order value to each line item
Assign flexible and customizable schedules on a per-item basis
Track and manage multiple Estimated Selling Prices (ESPs) for every SKU
Compare current trending actual selling prices versus Estimated Selling Price, and get exception reporting for data integrity.
Flexible Revenue Recognition Capabilities
Support revenue recognition schedules for all sales transactions
Receive immediate notification when revenue is due to be recognized
Recognize revenue as a job is completed, thanks to support for percentage of completion-based revenue recognition
Flexibly recognize revenue using a separate process from billing, or use an integrated workflow for simultaneous revenue recognition and billing
Manage one-off and recurring billing processes for subscription and maintenance-based revenue streams
Gain multi-currency and multi-subsidiary business intelligence.
Integrate With SAP, Oracle or Augment NetSuite Financials
Deploy and integrate with your existing ERP system such as Oracle Financials, SAP R/3 or another 3rd party ERP system. Or simply add-on to an existing NetSuite Financials deployment
Supports bi-directional integration between your existing ERP deployment and * NetSuite Advanced Revenue Recognition
Provides functionality for importing orders and invoices from your ERP for revenue recognition calculation and reporting, while also exporting journal entries back into your ERP systems General Ledger.
Pre-Packaged or Custom Revenue Recognition Templates
Use revenue-recognition templates to define revenue-recognition methods and apply them at the line-item level of your invoice
Associate a template to a good or service for related recognition rules to apply whenever that good or service is sold
Use either pre-packaged templates, which capture common recognition methods, or create your own highly specialized custom templates.
Delivers Clear Reporting and Visibility
Monitor your recognized revenue continually with NetSuite's real-time dashboards
Generate key reports such as revenue recognition forecast, deferred revenue by customer / item and revenue by customer / item
Easily examine breakouts of recognized revenue across various elements
Get a clear view into Estimated Selling Prices, enabling you to ensure accuracy
See in detail into the transaction level, ensuring that you can be confident in reporting your financials
Enable monitoring of key variances between areas such as Estimated Selling * Price and Actual Sales Price
Create sophisticated revenue and deferred revenue reporting with analytics by region, product line and more.
Sales Force Automation
A highly productive sales force has an enormous impact on your company's top--and bottom lines. Yet today's salesperson faces more challenges than ever before--fierce competition, dynamic deals and demanding customers. That's why better sales force automation (SFA) is critical to your success.
By choosing NetSuite, you can reap the many benefits of online SFA. NetSuite goes beyond simple prospect management offered by other vendors and offers true customer management. With NetSuite's online sales force automation, you can streamline your sales cycles, drive higher close rates and better serve your customers.
Self-Service Centers
Self-service is a key strategy for businesses that seek strong relationships with their customers. With the ubiquity of the Web, many customers now expect to find online self-service options that let them help themselves to information when they want or need an alternative to conventional service channels. Customers also expect highly personalized applications that let them check the status of orders, place new orders, and research products.
Beyond the obvious benefits of making customers happier, Web self-service can also help wholesale distributors achieve greater efficiency and lower customer-service costs by reducing call-center activity that requires manual handling and routing. Additionally, Web-based self-service takes advantage of a company's existing data repositories, as well as documentation, such as frequently asked questions (FAQs). And when customer self-service is integrated with other functions and departments, such as billing or shipping, companies can streamline operations and dramatically reduce costs.
Shipping and Fulfillment
Save Money and Drive Customer Satisfaction by Automating Your Fulfillment Process
Are you facing order fulfillment challenges posed by multiple channels, increasing order volume or mounting shipping costs? NetSuite's completely integrated shipping and order fulfillment management can streamline your business, improve customer satisfaction and add revenue to your bottom line.
NetSuite is integrated with top shipping carriers, allowing you to manage all of your shipping needs from within NetSuite. You'll have access to up-to-date shipping rates, increasing efficiency and lowering your fulfillment order processing costs. This shipping carrier integration also automates onerous tasks such as bulk fulfillment and label printing.
NetSuite provides a seamless business process from quote to order processing to fulfillment-with complete centralization of customer, order, invoice and shipping information-helping you dramatically reduce fulfillment errors and eliminate the costs of reconciling shipping information.
Benefits
Fulfill orders faster-and have happier customers-with a seamless business process from quote to order processing to fulfillment
Lower your shipping costs with preferred rates from select carriers
Eliminate manual re-entry and unnecessary shipping errors with NetSuite's shipping automation and integration with top shipping carriers
Provide webstore customers with the latest shipping rates, enhancing their experience on your site
Allow customers to track their own order and delivery status.
Automate Shipping Processes With Out-of-the-Box Integration With Top Shipping Carriers
Automate and streamline common and time-consuming order processing and shipping tasks such as getting rates, printing labels and customs documentation, tracking delivery status and much more
FedEx shipping integration
UPS shipping integration
USPS shipping integration
Provide Customers With Self-Service Features
Improve customer satisfaction and reduce customer support costs by providing customers with online access to order and payment history, as well as shipment status.
Reduce Order Processing and Fulfillment Errors
Eliminate manual re-entry and order processing errors through NetSuite's complete integration of order and fulfillment management, logistics tracking, shipping and customer service
Easily reconcile tracking and delivery information while saving time and resources thanks to centralized customer, quote, order, invoice and shipping information.
Power Your Business With Advanced Order Fulfillment Management
Use powerful dashboards and reporting to gain complete real-time visibility into your fulfillment management performance
Evaluate operational efficiency with advanced reporting tools such as inventory turnover reports and inventory back-order reports
Reduce fulfillment errors by electronically routing orders to suppliers for drop shipping
Improve your returns process with integration between order management and return merchandise authorization (RMA)
Supply Chain and Inventory Management
NetSuite inventory management software offers a complete set of inventory management, manufacturing, and purchasing capabilities that will provide you with integrated supply chain management and control across your entire organization. NetSuite delivers an end-to-end procure-to-pay process that truly creates competitive advantage.
With NetSuite, you gain an in-depth, real-time view into key supplier, inventory and procurement indicators. Self-service capabilities for partners, vendors and customers allow you to share supply and demand informationýimproving collaboration throughout the entire supply chain. With NetSuite, you'll be able to better manage inventory levels and costsýand better meet fulfillment expectations, improving customer service.
Benefits
Get complete real-time visibility into demand, supply, costs and fulfillment measures and trends
Manage margins with a clear view into inventory costs, turn rates and inventory profitability
Eliminate manual inventory management processes and improve vendor satisfaction with a seamless procure-to-pay process
Significantly improve your relationships with suppliers, vendors and partners by providing self service and real-time visibility
Effectively and efficiently meet customer demand, helping drive and maintain superior customer service levels
Meet your industry's specific inventory management and purchasing needs with easily integrated add-on solutions available from SuiteApp.com.
Warehouse and Inventory Control
Enjoy real-time, detailed visibility into key inventory control and supply chain management measures, including inventory trends, stock on order, and supplier on-time performance
Slash inventory costs by tightening control of stock levels while increasing operational efficiencies
Increase product margins by effectively managing pricing based on different types of customers, channels and currencies
Gain control over inventory replenishment and ensure that you have enough on hand to fill anticipated orders, while keeping excess stock to a minimum
Extensive inventory management software features also include bin and lot management, landed cost, demand-based replenishment, customer and volume pricing, multi-location inventory, and more.