Read on to find out more about ERP software options and how to find the right program for your company.
This guide offers direction on:
What is ERP Software?
ERP software is a suite of software applications designed for full business management operations, including financials, sales, and operations. ERP is intended to link financial and operational "back-office" functionalities with operational and "customer-facing" technology. ERP system packages include a broad variety of modules, which you may generally choose from in order to meet the specific needs of your business.
At one point in time, ERP software was most typically used in the manufacturing process or industrial companies. Nowadays, it is fair to say that ERP can refer to packages targeted to any and every industry, and can be defined differently depending on who you are talking to.
It's not a matter of whether ERP is relevant to you. It's a matter of discovering which ERP options are relevant to your specific needs and how you can implement ERP effectively.
Features of ERP Software
The scope of ERP systems is constrained by the variety of business operations present in the market and the ability of software developers to keep up with new requirements. ERP modules are available for virtually every task, program, or function businesses perform.
ERP solutions include modules that help with all facets of a business, but should be prioritized based on what industry your business falls under.
---
Generic Features
| Feature | Description |
| --- | --- |
| Accounting | Tracks revenues and expenses. Includes modules such as accounts payable, accounts receivable, and a general ledger. |
| Customer relationship management (CRM) | Provide features designed for supporting sales, marketing, and service activities. Includes contact management, conversation history, lead tracking, order histories, quote/invoice creation, and call center integration. |
| Budgeting and forecasting | Handles the creation and management of detailed corporate financial plans, which estimate a company's future revenues and expenses. Includes departmentalized budgeting, budget approvals, rolling budgets, predictive budgeting, and workforce planning. |
| Human resources | Provides management of current employees and aids in the hiring and onboarding process for new employees. Includes features such as application processing onboarding, time and attendance tracking, and benefits management. |
| Payroll | Manage all elements of executing employee compensation, including wage calculation, check printing or direct deposit, and payroll tax management. |
---
Construction & Service-Based Features
Contractors need to focus heavily on the task at hand, and spend less time worrying about their back office procedures. Construction ERP software provides financial accounting and operational modules designed specifically with contractors in mind. Core functionalities include accounting, job costing, project management, and estimating.
| Feature | Description |
| --- | --- |
| Service work | Helps create work orders and scheduling field service work to ensure the right employees are being assigned to jobs |
| Project management | Coordinates the execution of project tasks, including planning, scheduling, resource allocation, quality management, time tracking, and collaborative document sharing. |
| Job costing | Facilitates the assignment of costs to individual cost categories in order to enable improved cost control and job profitability. |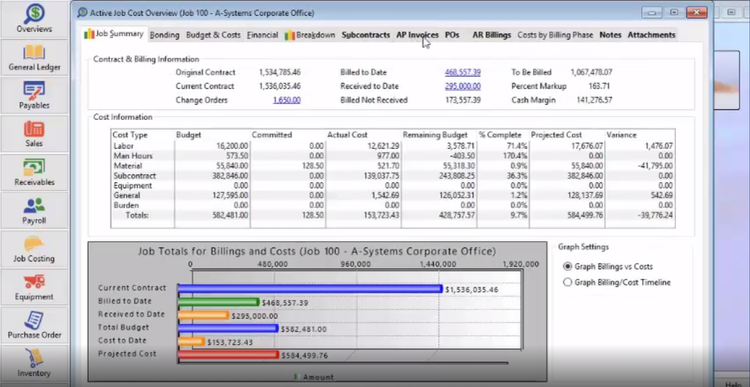 ---
Manufacturing Features
Manufacturing ERP solutions, or MRP systems, provide the necessary tools for your manufacturing company.
| Feature | Description |
| --- | --- |
| Quality control | Analyze quality-related risks, set quality objectives, implement workflows to achieve standards and audit for optimal performance. |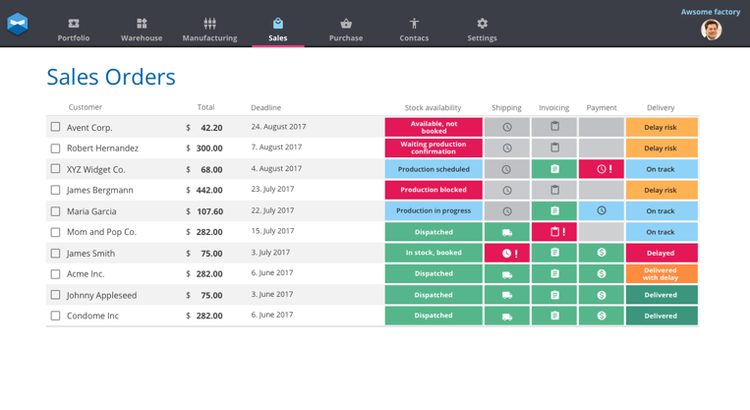 ---
Wholesale/Distribution Features
| Feature | Description |
| --- | --- |
| Order management | Coordinates and helps record sales by assisting with the business processes and document workflow involved in delivering goods and services to customers. Includes order status monitoring, invoice creation, shipping integration, backorder management, and links with inventory for pick tickets and pack lists. |
| Logistics | Coordinate, calculate, and maintain shipments, shippers, and vehicles. |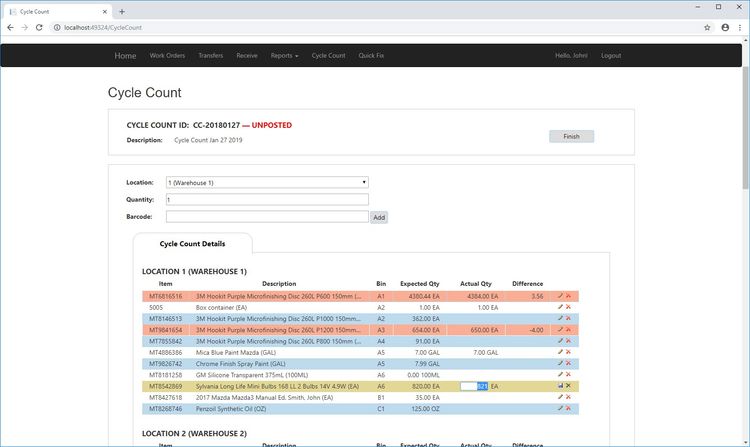 Benefits of ERP Software
Why is a centralized, comprehensive ERP software solution necessary in the modern business environment? Consider some of the benefits associated with ERP software:
Streamlined workflows and processes. Disconnected systems are inherently inefficient. Data may exist in multiple places at once and there is a time cost paid every time data is transferred between them. By providing a common interface and database, data is managed in a singular manner, allowing much more efficient processes.
Visibility into workflows. ERP can speed up internal processes and also provide the mechanism to monitor them for continuous improvement. Transparency is a central goal to effectively deploy ERP systems. ERP allows organizations to consider processes from a more holistic standpoint to spot issues preventing optimization.
Better financial planning and decision making. Reporting is key to ERP solutions. The ability to slice and dice data by region, location, profit center, employee, and in a variety of other ways allows decision makers to make more nuanced and accurate decisions about the financial direction of the business.
Improved data security. Managing security permissions and access across a variety of systems is a daunting challenge. A common control system allows organizations the ability to ensure key company data is not compromised.
Increased opportunities for collaboration. Data takes different forms in the modern enterprise. Documents, files, forms, audio and video, emails. Often times each data medium has its own mechanism for allowing collaboration. That's inherently wasteful. Employees are more effective when they spend more time collaborating on content, rather than mastering the learning curve of communicating in different formats and across distributed systems.
What Does Your Business Need?
One of the core principles that ERP software is based on is that the software centralizes information to maximize its usefulness. Integrating and centralizing information allows companies to do away with "information islands." Consolidated data allows key decision makers the ability to refer to a single version of the truth when it comes to business data. Integrating data also serves to promote efficiencies throughout the enterprise. For instance, by enabling sales the ability to access information about product availability, lead times, order schedules, and purchasing, sales employees are better able to manage the delivery of products and services to customers. Increasing customer satisfaction through increased operational visibility is one of the underlying goals of all ERP systems.
By enabling collaboration and eliminating the need to re-enter data into systems, ERP software provides a means for better financial tracking and forecasting. Comprehensive analytics allow businesses to improve to insight and productivity by delivering reliable data in real-time.
New Buyers and Small Businesses
Start-ups and other small businesses making their first software purchase can get by with an off-the-shelf accounting program to handle their core financial needs and some minor inventory. However, small business ERPs exist that will grow with your business as your needs expand.
This will allow you to start adding on important features such as payroll, production management, a point of sale, and more as you continue to find a need for them. Most of the time, these solutions can be purchased on a modular basis, which means you can buy the ERP software and pay for one module, or multiple modules, and have the software priced accordingly.
Existing ERP Users and Mid-Market Companies Desiring Additional Functionalities
Technology is being upgraded and replaced at such a rapid pace, it can be hard to keep up. It's important not to fall victim to every minor innovation, and consider upgrading or changing systems for important milestones, or for reasons of security. When the time does come for an upgrade or even to purchase a new solution, you may feel overwhelmed with the volume of options available. Important questions to ask yourself include:
Are the new functionalities I'd be adding necessary, and if so, how much training would need to be administered?
Will these new features make us at-level, or even get a leg-up on, our competition?
Do certain vulnerabilities exist that will impact our company's and our customer's financials?
Large Enterprise-Level Companies
Enterprises, or large companies, desire an ERP to handle their full business management capabilities. The vendors of the software also will need to have experience implementing and providing services to companies of similar size and of similar industries. Some of the largest software vendors in the world include SAP, Oracle, Infor, Sage, and Microsoft, which combined hold 44.1% of the ERP market share.
Best ERP Software
Some examples of the top ERP software include:
Dynamics GP is an on-premise ERP solution from Microsoft. It traces its roots back to 1993 when it was developed by Great Plains Software, known at the time as Dynamics Release 1.0. Today, it's one of Microsoft's flagship ERP software solutions, providing capabilities such as financial management, inventory, sales and service, business intelligence, and human resources.
Acumatica ERP is a cloud ERP offering that is used by virtually every industry. The solution has a flexible hosting method that can be purchased on a perpetual license basis for internal hosting or licensed as a hosted SaaS solution. This solution provides key functionalities in financials, distribution management, customer engagement, project accounting, manufacturing management, and field service. The medium expected spending range for the total cost of investment (purchase, implementation, training, and ongoing support) for reviewers of Acumatica is near $50,000.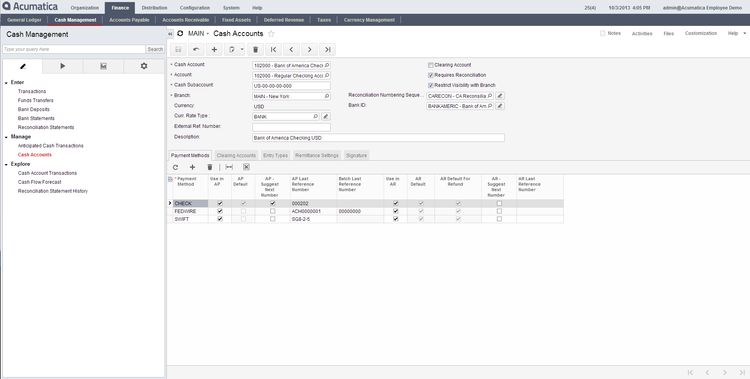 Sage Intacct is a cloud-based ERP software designed use among both small and large organizations. Acquired by Sage in 2017, Intacct specializes in strong financial management in the cloud.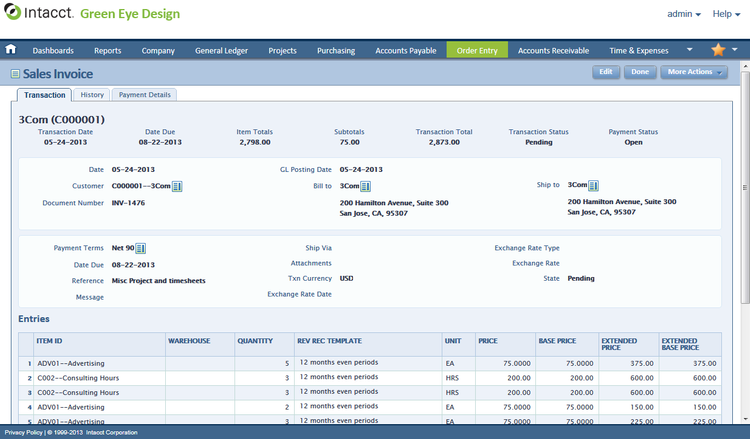 Is QuickBooks an ERP Software?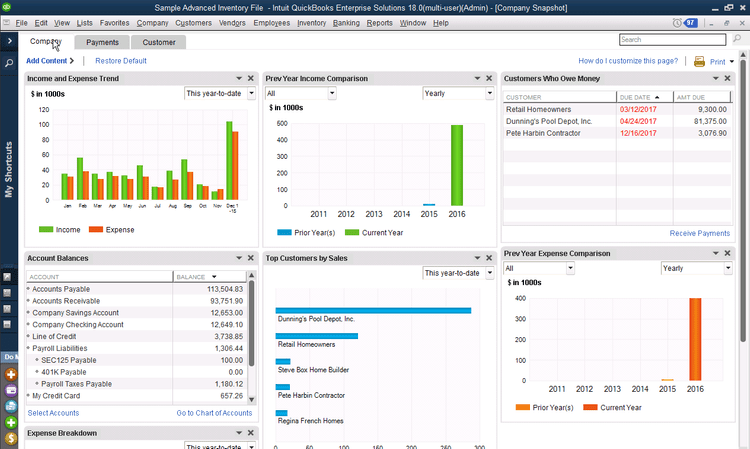 QuickBooks Enterprise (pictured above) brands itself as an "ERP alternative" and would be the closest thing to a traditional ERP in the family of QuickBooks products. Since ERP systems are intended for mid to large size businesses, QuickBooks Enterprise attempts to let smaller businesses get ERP-level functionality at a small business software price.
The software can manage and integrate all components of their businesses such as marketing, accounting, sales, costing, manufacturing, and more. The software excels at offering advanced functionality of the modules you'll find it it's Pro and Premier version, such as advanced inventory tracking, advanced pricing, and advanced reporting.
Intuit's most complete offering, the solution has 13 predefined user roles which let you limit access to parts of the software based on that user's role. The software can also have the largest amount of simultaneous users (up to 30) and allows for customization of built-in reports and forms.
ERP Software Vendors
If you're like most ERP buyers, you started your process by looking for the right ERP software. And, that's not wrong. Hundreds, if not thousands, of ERP solutions are available on the market and there is a massive amount of variety. Each solution offers its own strengths and weaknesses and relevance to your business challenges. Getting the right program matters–a lot.
A quick Google of "failed ERP implementations" brings into stark relief the importance of getting the vendor decision right. The insufficient software is infrequently the real culprit. It's more to do with issues such as cost overruns, long implementations, integration difficulties, interruptions to critical business processes, lack of user training, and improper planning. It's the role of your ERP vendor to sell you the right package and to ensure a successful implementation. But not all ERP vendors are created equal. It's important to choose the right one for you.
Consider for a moment the role of an ERP vendor:
Identify opportunities for technical solutions to business challenges,
Sell you the right software,
License the right modules within that software,
Plan the software roll-out,
Coordinate and execute implementation, including integrations,
Provide training to ensure proper system usage,
Handle ongoing support issues, and
Manage updates/upgrades.
You'll want to make sure you're asking the critical questions that will ensure you are entering into a relationship with a company that can help you meet your goals.
Common Pain Points
Replacing legacy systems. If you're searching for new ERP software, it's likely because what your company runs now is outdated. Older systems were coded in different languages and the software may no longer be supported by the original developer. The solution may have also been developed in-house by an employee who is no longer with the company. Maintaining support on this type of system is costly and exhausting.
Daunting levels of customization. When ERP solutions first became a thing, heavy customization was a must in order to ensure the solution did what you want. This meant developers and vendors spending a lot of time writing custom customization code for your company, which was expensive. On top of that, any updates to the systems would require maintenance of the custom code. Over time, ERP systems have begun to offer standard modules that most have some use for. Nowadays, customization is limited to creating modules that will help you go above-and-beyond your competitors.
Integration issues with other systems. Integration can already get messy when you are dealing with a cloud or mobile migration. Besides customization, one of the biggest headaches of an ERP implementation is the integration that may be needed with other systems. ERP vendors may push for their solution to be the fully-integrated and all-inclusive system being used at your organization. That's not always possible. You may have a proprietary system that would be a far too time-consuming data migration. You may also have stubborn staff members who refuse to let go of an older system or refuse to be trained on a new solution. Before making the substantial investment in an ERP solution, you'll need to have a philosophy laid out where you decide what integrations will be needed if any, and make sure your business has the appropriate budget to cover what your staff wants or needs.
Trends in ERP Software
Increased use of Cloud ERP and Mobile ERP. This could come in the form of internal hosting or licensed as a hosted SaaS solution. Companies are choosing to put their existing on-premise option into a cloud environment, or at least put some levels of functionality into the cloud (known as a hybrid environment). This type of access will allow sales staff and technicians in the field have access to important customer data, as well as let staff on production/warehouse floors, see info about orders that need to be filled. It provides for a more direct line of communication between all departments.
While interest for cloud technology is growing over all, large companies still have a distrust towards cloud hosting. Our recent buyer trends survey found that companies with 50+ employees shopping for accounting software were 41% less likely than smaller companies to review cloud-hosted software.
Artificial intelligence in ERP. A report from Nextec Group suggests that artificial intelligence can help advance ERP capabilities in years to come. This is by providing enhanced customer service through AI-generated answers, mining data during an interaction with a customer for further evaluation, analyze the way users access and interact the systems to create automated actions, and by using virtual reality tools in the field to let other employees interact and provide insights.
Increased focus on business intelligence. BI tools are becoming more of a necessity for businesses of all sizes. Large enterprises are not the sole beneficiaries of the type of reporting and data that can be gathered from a valuable BI system. The above-mentioned buyer trends survey also found that companies with over 50+ employees were 70% more likely to need software that handles budgeting, business intelligence, and fixed asset management. ERP vendors will need to either invest heavily in providing a business intelligence module or look to integrate with some of the top options on the market.
Open source ERP Software. Code access provides new opportunities for customization, end-users have more impact on product development, and transparency elevates quality standards. An interview we conducted goes over the intriguing value propositions offered by open source ERP software.