Manufacturing and distribution lie at the heart of the global economy. Supply chain management software technology hasn't just made it possible to build and ship products faster than ever before; in today's world, speed, efficiency, and transparency are expected to be part of any logistics-related operation.
Whether it's a locally built product or a complex piece of machine-learning technology requiring resources from all over the world, it's essential for any operation that manages the creation and distribution of products to understand and intelligently manage its entire supply chain.
This guide will provide you with information on the following topics:
What Is Supply Chain Management (SCM) Software?
Supply chain management (SCM) software helps manufacturers, logistics providers, distributors, suppliers, and retailers manage the flow of goods and services between locations as efficiently and as cost-effectively as possible. Known as a type of logistics software, it provides assistance from the acquisition of raw materials to a finished product being delivered to a customer.
SCM software makes it possible to plan, control, and execute the supply chain processes that make the manufacturing and distribution of finished goods a reality. Taking a holistic approach to supply chain management, SCM software maximizes cost reduction opportunities in getting products provisioned from the vendor to the customer.
Considering every possible strategic or business analysis possibility, SCM software enables organizations throughout the supply chain to make informed decisions about their network optimization, business partnership planning, and product lifecycle management. This is accomplished by coordinating raw materials, purchase orders, vendors, warehouse management, and distribution.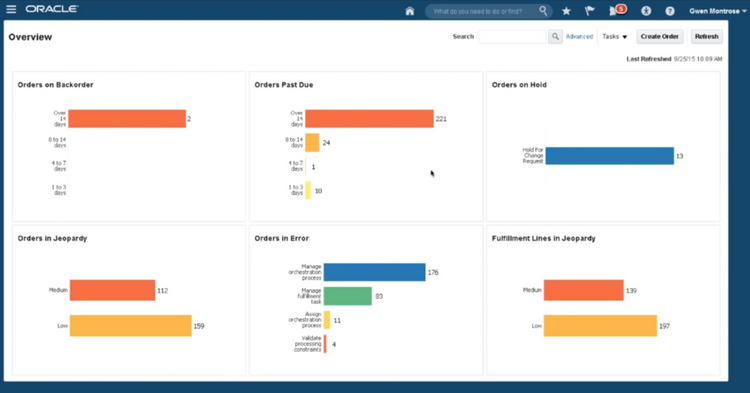 Features of Supply Chain Management Software
| Feature | Description |
| --- | --- |
| Requisition and approvals management | Automates the collection, approval, and fulfillment of requisitions. Often linked in with purchase order management systems, employees will be able to begin the process of getting the necessary goods and services to fulfill orders for customers. |
| Purchase order management | Allows you to issue orders for services and products. Tracks all key order info including: the vendor, purchase quantities, item or service purchased, delivery timeframes, payment terms, and costs. |
| Vendor management | Manage all levels of communication with vendors. Measure ship windows times, how quickly documents are submitted, how effective containers are utilized, accuracy of shipments, and double check quantity and quality of received products. |
| Supplier Management | Includes contract management, risk management, purchase order processing, supplier performance reviews, and product lifecycle management to manage and maintain supplier relationships. |
| Demand planning | Utilize information from a point of sale, ship-to or warehouse data, social data, or the weather to get a better sense of demand. Set performance benchmarks, allocate resources, and optimize targets. |
| Sales forecasting | Use machine learning to anticipate sales levels and aid appropriate production processes. Looks at analytics such as what is in season, historical sales, product launch dates, and more. |
| Warehouse management | Provides powerful tools to design a warehouse's workflow, control stock, generate bills and reports, and manage yards, docks, and labor. |
| Inventory control | Keeps track of all information about the items that your company builds, buys, stores or sells. |
| Product lifecycle management | Reduce cost on product launch and meet market demands to ensure the profitable years of the product are maximized. |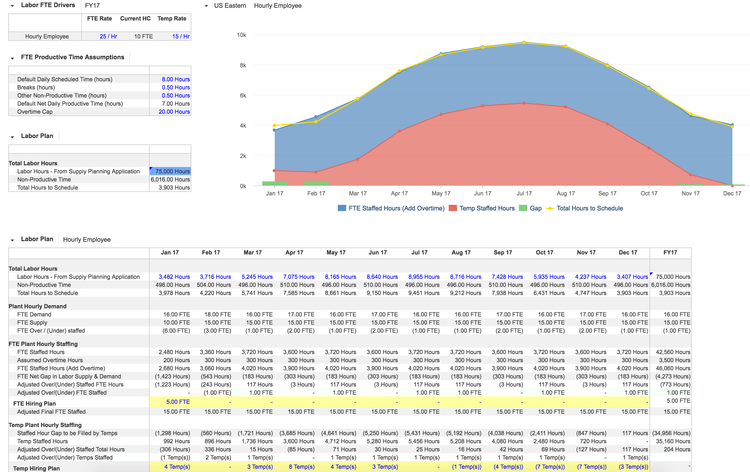 Benefits of SCM Software
Supply chain software simplifies the intricate and complex process of getting products from the supplier processed and to the customer. With SCM software, supply chain providers can gain insight and control over every aspect of the manufacturing and distribution process, including:
Vendor management
Demand planning and sales forecasting
Inventory and warehouse control
Delivery optimization planning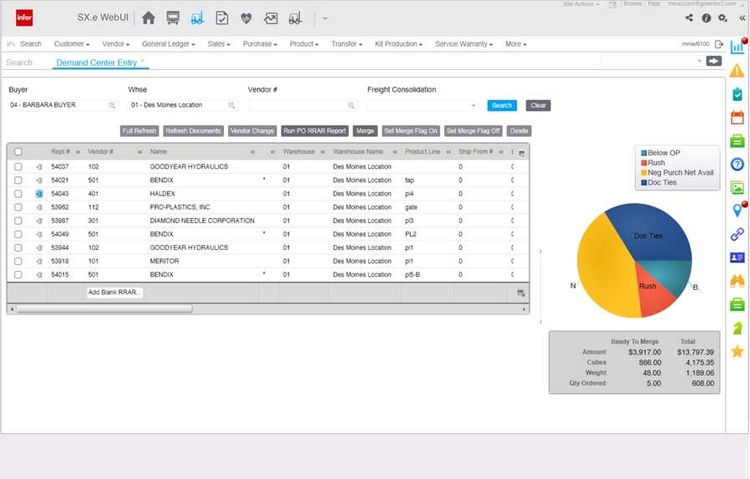 Here is our list of top benefits of supply chain management software:
1

Eliminate Delays That Cause Decreased Customer Satisfaction

Increased visibility and control over the supply chain makes it possible to identify potential issues with inventory, distribution, and labor. By enabling supply chain providers to proactively respond to changes in real time, SCM software can prevent delays and ensure products are delivered when promised.
2

Identify The Vendors Offering The Most Attractive Rates

SCM software's business intelligence capabilities can identify suppliers that offer the best prices for commodities or transportation.
3

Maintain Just-in-time Inventory and Reduce Warehousing Costs

SCM software maximizes warehouse efficiency by making just-in-time inventory management possible, ensuring goods are only received on an as-needed basis. Just-in-time inventory can greatly reduce waste and decrease the cost of unnecessary storage.
4

Avoid Shortages and Backorders That Contribute to Lost Business

Comprehensive tools for demand planning and collaboration among multiple suppliers and distributors can prevent shortages and backorders by maintaining an accurate view of product and supply levels.
5

Optimize Warehousing, Requiring Less Space or Fewer Facilities

SCM software analyzes the movement of materials among warehouses and helps plan for current and future needs, enabling supply chain producers to free up space in warehouses or distribution centers.
6

Provide Real-Time Updates to Customers on Order Provisioning Status

Live insights offering transparency throughout the order fulfillment process is possible with SCM software, letting customers know the status of their purchase across the supply chain.
7

Utilize Historical Data to Feed Future Projections and Forecasting

Business intelligence and trend analysis features make it possible to accurately manage and predict demand. SCM software enables supply chain providers to make data-informed decisions about inventory and sales, potentially saving on inventory and warehousing costs and maximizing opportunities for production.
8

Decrease Turnaround Time

Better supply chain visibility means the location of any given item can be tracked, enabling products to be built, shipped, and delivered as quickly and accurately as possible.
9

Reduce Holds on the Production Line

SCM software helps coordinate and execute production and logistical operations, making it simpler to manage production lines and cut down on holdups or delays.
Types of Supply Chain Management Software
Supply chain management software will affect almost every department in your organization. As such, you'll want to find a solution that gives you the visibility you need to ensure your automated workflows and staff operate as intended.
At its core, a fully-integrated SCM software will help you through product development, sales and operations planning (S&OP), procurement, production, logistics, and warehouse management.
While many SCM software solutions exist, finding the best choice for your operation doesn't necessarily mean selecting the most popular or most extensive solution. Be sure to take time and carefully assess the different features and capabilities of any SCM software you're considering.
Logistics Software
Sometimes used as a synonym for supply chain management software, logistics software manages the supply chain of products from their point of origin to the point of consumption via transportation, inventory, warehousing, material-handling, and packaging features.
Whether your business deals with inbound logistics (linear flow of raw materials from suppliers into a warehouse) or outbound logistics (storing, transporting, and distributing goods to customers), logistics software can help your business improve production planning, sourcing, procurement, packaging, and dispatching.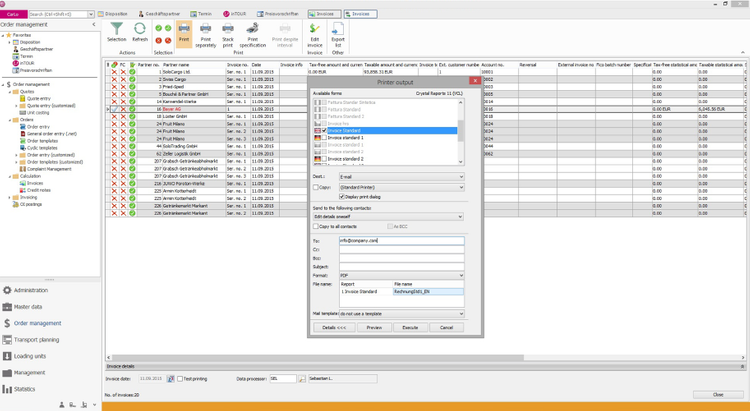 Shipping Software
Shipping software integrates with eCommerce marketplaces and order management tools to help provide real-time shipping calculations for your products. These solutions prepare all the necessary documents from a single system and let you choose the carriers that provide the lowest cost and/or the best shipping services.
Advanced, cloud-based shipping software can be thought more like a freight broker/forwarding/management system, which is best for companies handling their own supply chain distribution process.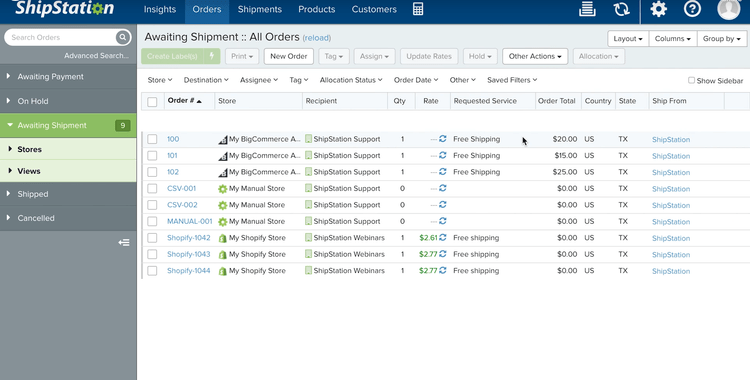 Order Fulfillment Software
Order fulfillment software automates order processing via sales order entry, inventory management, picking and packing items, and tracking shipments of goods to customers. These software options help simplify the workflows needed to efficiently ship the most amount of goods in the quickest amount of time.
Order fulfillment is typically found as a feature set within a supply chain management software. These larger enterprise-level systems usually include additional capabilities such as demand planning and sales forecasting.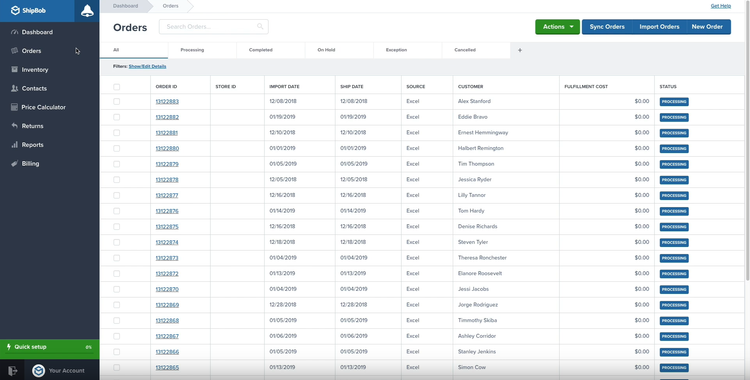 Demand Planning Software
Demand planning software is a sales and operations planning (S&OP) technology that meets customer demand with the necessary level of supply. This is accomplished by coordinating data from separate units of the business (primarily sales, marketing, and operations) to make more informed supply chain decisions.
Demand planning software is a forecasting software used by demand planners meant to improve your supply chain performance. It is closely related with sales forecasting software, which better prepares your business and sales team with expected sales and revenue that you plan to achieve over a set length of time.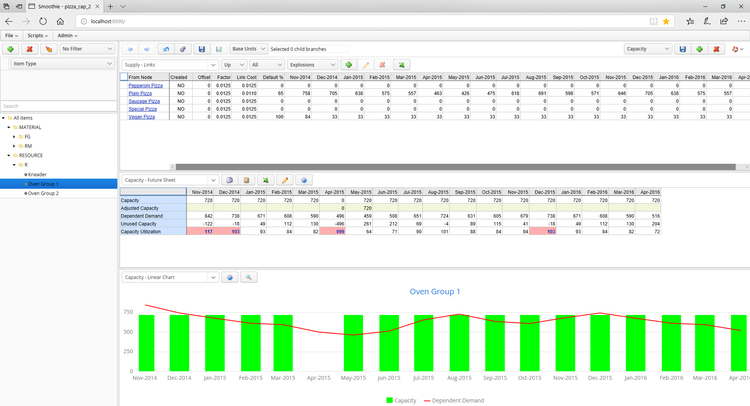 Procurement Software
Procurement software allows you to issue orders for services and products by tracking all key order info in real-time including: the vendor, purchase quantities, item or service purchased, delivery timeframes, payment terms, and costs. A cloud-based procurement system will handle submitting requisitions for approval, to sourcing, tracking purchase orders, and reconciling receipts and invoices.
The procurement of needed goods and materials is a key cog in the wheel of supply chain. For example:
Receiving management functionality provides tools for verifying that goods have been properly resolved. It also puts in place workflows that allow for the timely resolution of instances where items are not received on time, in proper condition, or at all.
Automatic or recurring purchase orders enables the creation of procurement orders in the future when particular conditions have been met and provides a means of significantly decreasing the labor associated with authorizing purchasing events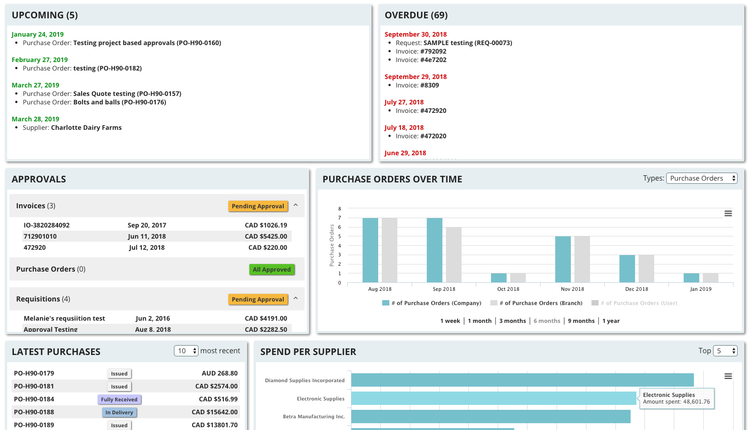 Warehouse Management (WMS) Software
Cloud-based warehouse management packages make it possible to manage and coordinate inventory and actions throughout a warehouse or distribution center. In order to oversee warehouse operations, WMS software gives warehouse managers powerful tools to:
Design a warehouse's workflow
Control stock
Generate bills and reports
Manage yards, docks, and labor
WMS software leads to a higher accuracy of order fulfillment, optimizes picking and shipping, and leads to faster delivery times.
What Does Your Business Need?
The best management software for any supply chain partner depends entirely on the scope of your business. Selecting the right supply chain management system to meet your organization's needs may depend on its size:
Small business supply chain management software should integrate with existing small-business-friendly software solutions such as QuickBooks Online. Offering extensive inventory and order management capabilities while maintaining compatibility with existing systems makes for an easy transition and can help save costs when compared with a full-scale SCM system.
Mid-sized software should integrate with complex warehousing operations, and may require integrations with larger enterprise resource planning (ERP) systems.
Large businesses may require full-scale SCM packages providing a complete supply chain visibility solution from the ground up. Enhanced business intelligence and product forecasting tools can help large enterprises better predict and manage future resource demands.
Pain Points of Supply Chain Management Software
Choosing the right solution. Supply chain partners that manage delivery fleets have very different needs than organizations that outsource delivery solutions. It's important to assess the specific needs of your supply chain operation to ensure you select the right software to meet your needs.
Integrating with existing ERP systems. While most SCM solutions are designed with software integrations in mind, seamlessly integrating with ERP suites can be a time-consuming, resource-intensive process. If the cloud-based software you desire must be integrated with an existing solution, it's crucial to evaluate both the supply chain management features your organization requires and the scope of the ERP integration it requires.
Trends in the Supply Chain Industry
Here are some of the most common trends SCM software providers have developed solutions for:
Cloud-based software: Most industries have begun migrating software operations to a cloud-based solution. Often paid on a recurring subscription basis, cloud-based makes it easier to access information through any web browser, enabling better management of the global supply chain. Cloud-based software can also help save costs on computer hardware and server equipment.
Internet of Things (IoT): The IoT increases transparency into the modern supply chain process. This includes GPS tracking and RFID technologies to monitor the transportation process, digital sensors on assembly lines to monitor quality control, or cloud-based solutions to streamline communication efficiency between different internal departments, third-party logistics providers, or other partners involved in the supply chain.
Omnichannel retailing: The convergence of online and in-store purchasing has been made possible by decades of improved logistics capabilities. As such, any successful omnichannel retail operation needs precise control across supply chains, including warehouse management, inventory control, and transportation management.
Popular Supply Chain Software Options