Do you have a coordinated software approach to your procurement process? Is your supply chain as efficient and accurate as you'd like? If not, you may be missing an opportunity to ensure faster delivery times, economies of scale, better efficiency, and lower overall costs. Procurement software can help you make sure you are making the most profitable choices in your procurement processes. Read on to find out more about your procurement software options.
What Is Procurement Software?
Procurement software allows you to issue orders for services and products by tracking all key order info in real-time including: the vendor, purchase quantities, item or service purchased, delivery timeframes, payment terms, and costs.
Also known as purchase order software, you can ensure that each order is legitimate, authorized, and trackable. By linking your procurement process to inventory control, you can access exact stock quantities, movement history, seasonal trends, and supplier lead times.
Another type of procurement software is procure to pay software, which links your purchasing department to your accounts payable department. This helps streamline your purchasing supply chain throughout your company.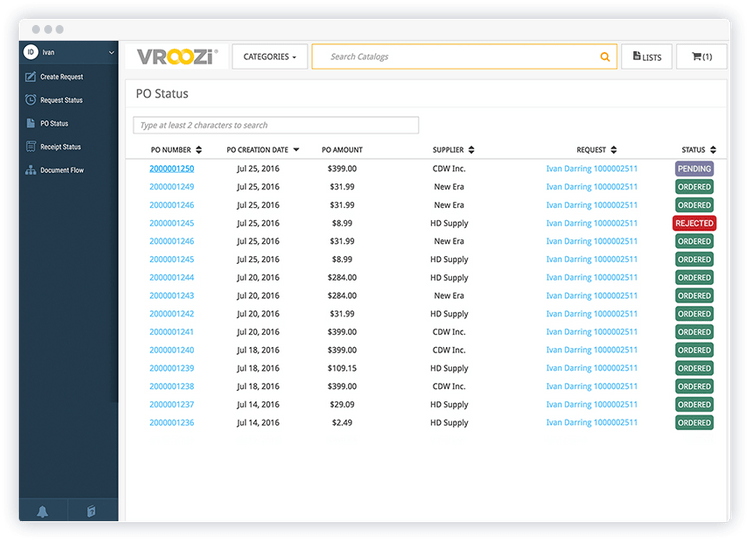 Features of Procurement Software
| Feature | Definition |
| --- | --- |
| PO document creation | Procurement software allows for the creation of purchasing documentation for both internal tracking purposes and communication with suppliers |
| Vendor database | Vendor database functionalities allow for the tracking of supplier information such as payment and service terms and vendor order histories |
| PO/invoice matching | Automated tools that assist in the matching of vendor issued invoices to the corresponding procurement order provide an important cost control safeguard |
| PO status tracking | Reporting data on procurement status helps with a variety of business tasks including allowing production/service/job teams to plan future activities and sales to communicate to customers expected fulfillment timeframes |
| Requisitions and approvals management | Requisition systems improve cost control efforts by formalizing a purchase review process |
| Receiving management | Receiving management functionality provides tools for verifying that goods have been properly resolved and puts in place workflows that allow for the timely resolution of instances where items are not received on time, in proper condition, or at all |
| Blanket purchase order | A blanket purchase order is a document provided to a supplier that provides authorization for ongoing purchases up to a certain dollar amount or until other business conditions have been fulfilled and can be used to create purchasing efficiencies where repeated, ongoing purchases will need to be made |
| Automatic or recurring purchase orders | Support for recurring purchases enables the creation of procurement orders in the future when particular conditions have been met and provides a means of significantly decreasing the labor associated with authorizing purchasing events |
| Supplier lead time management | Capturing both procurement initiation dates and dates of order reception provides a source for discovering average lead time by vendor, which may be used to determine vendor selection when supplies/goods are needed to meet expedited order/production/delivery deadlines |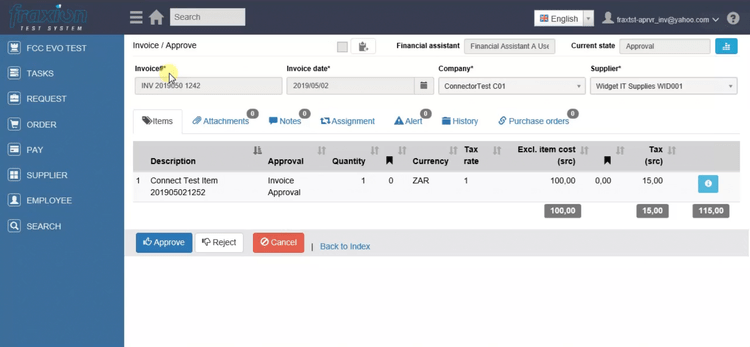 Benefits of Procurement Software
Critical supply chain benefits enabled by procurement software include:
Improved cost control via authorizations and approvals to ensure the necessity and accuracy of individual purchases
Reduced supply costs through improved capabilities to compare vendor options
Increased customer satisfaction based on ensuring the timeliness of material provisioning
Reduction in the administrative labor costs associated with purchasing activities through the use of software automation
Provide Critical Documentation With Procurement Software
Most people wouldn't enter into a legal agreement without a contract to protect their interests. But making business purchases without issuing and tracking purchase orders means doing just that. Utilizing procurement software allows you to identify instances where your order hasn't been properly fulfilled. In addition to promoting organization and efficiency, procurement modules provide recourse if your expectations as a buyer are not met.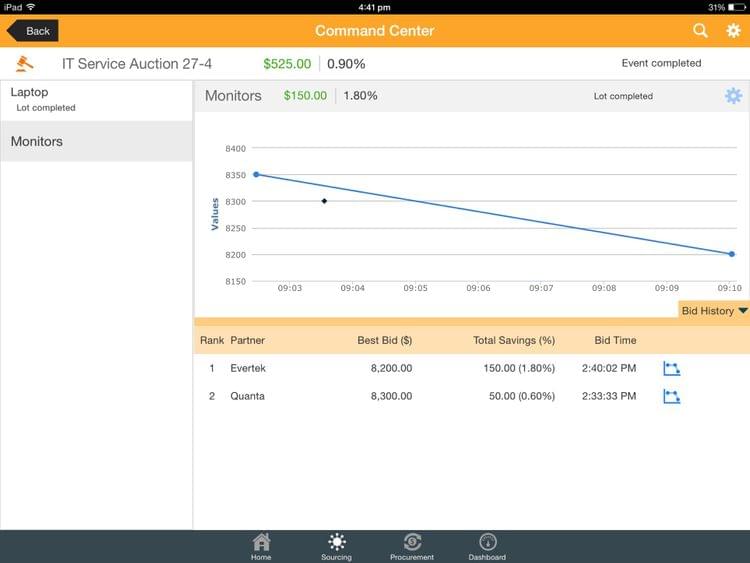 Automate The Purchasing Process With Procurement Software
Procurement software allows you to effectively and consistently manage your purchasing processes. Each order you create is automatically databased for future reference. Automation also allows you to streamline the task of creating orders. It's easy to overlook how much time this can save you. Setting up required fields lets you know that each order contains trackable information on the vendor, items purchased, quantities, delivery instructions, terms, originating buyer, and costs.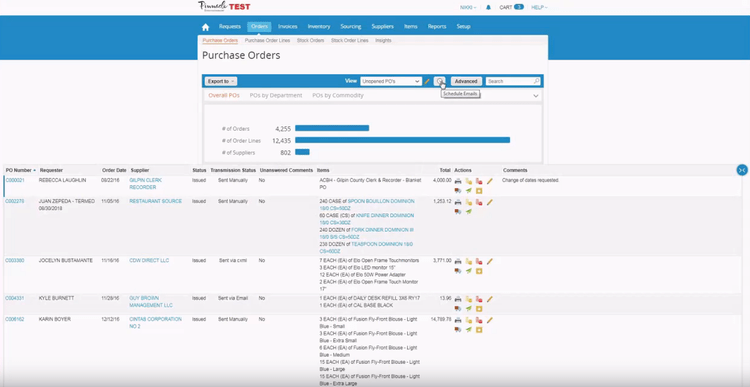 Accountability in Procurement Software
Procurement software adds security and accountability to your ordering processes. Rules can be created authorizing who can make purchases. Centralized purchasing records let you track any purchase your company has made. You can ensure that each order is legitimate, accurate, and authorized. Comparing vendor invoices to your own documentation enables you to eliminate vendor payment errors before cutting the check.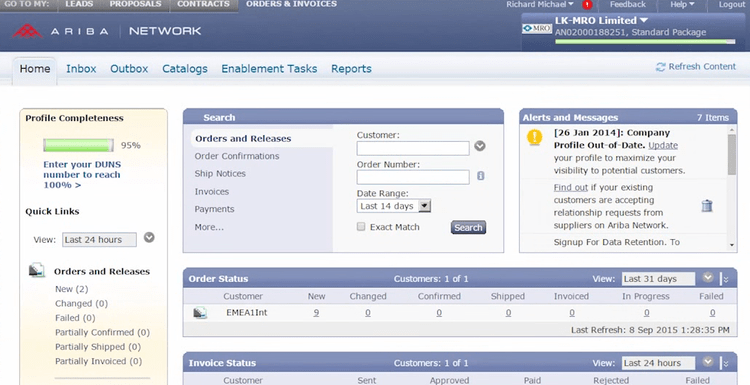 Meeting Customer Demands Quicker With Procurement Software
Automating your purchase order creation is also an effective way to manage your stock to meet customer demands. Integrating a purchase order module with inventory control allows you to do away with the inexact and error-prone practice of "eyeballing the shelves." By linking your purchase order application to your inventory control application, you will have instant access to your exact stock quantities, movement history, seasonal trends, and supplier lead times.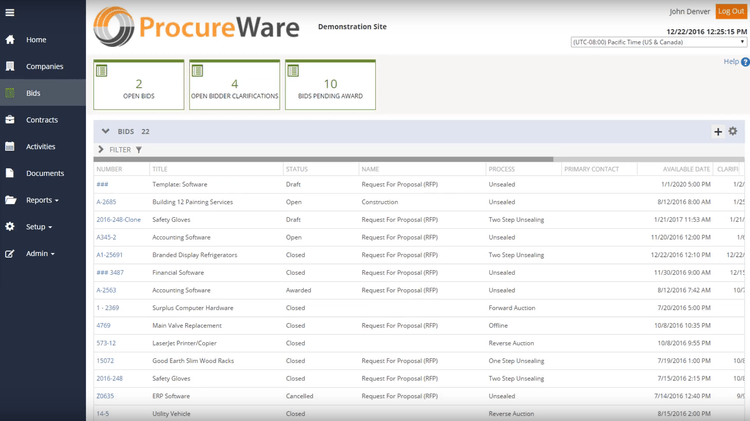 Procurement Software Pricing
The cost of procurement software starts between $11 to $19/month/user. This is for web-based solutions that have a subscription-based pricing model.
Included in the monthly costs are services offered by the vendor, such as ongoing support. The true cost of owning the software will depend on how many users need access and what level of access they need.
For example, an administrative user will receive the purchase requests from employees, create and send the purchase orders to the vendors, and coordinate the accounting involved with tracking these expenses in the budget.
A "simple user" may be a staff member who just needs the ability to submit a purchase request. This could include an employee on the inventory floor who notices the company running low on a commonly used item.
Procurement software can also be purchased outright for a one-time cost. These solutions will be owned by the company purchasing them, and thus have no ongoing subscription-costs.
Purchased solutions can start out at $3,000. Ongoing costs with your vendor will usually be for services they provide, such as ongoing support or annual updates to the software.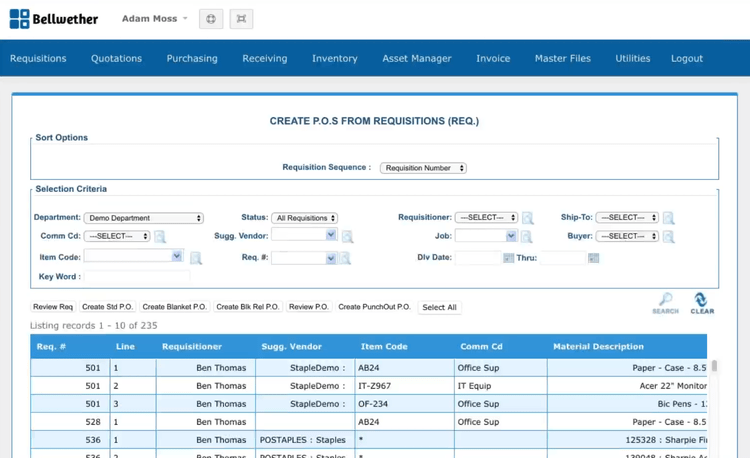 Types of Procurement Software
Depending on what functionality needs your business has, you may be looking for:
Purchase order software
Procurement software
Procure to pay software
Spend management software
What is the difference between procurement software and the rest? Many software vendors may interchange the names, or consider their software to fall under two or more types. While similar in functionality, they all can serve a distinct purpose, which makes it important to know what your business needs.
Purchase Order Software
Purchase orders are the financial document issued to vendors when you're buying suppliers or services. Purchase orders are the core of every procurement software and procure-to-pay software. Purchase order software helps automate the creation of these documents.
While it's true that every procurement software can create purchase orders, every purchase order software will not have a procurement process built right in. Due to this, purchase order software may be considered more simplistic in nature than a procurement system.
Some PO software will have an approval and requisition process, which in turn can make that software a procurement software. This is why people and businesses may commonly interchange the names together.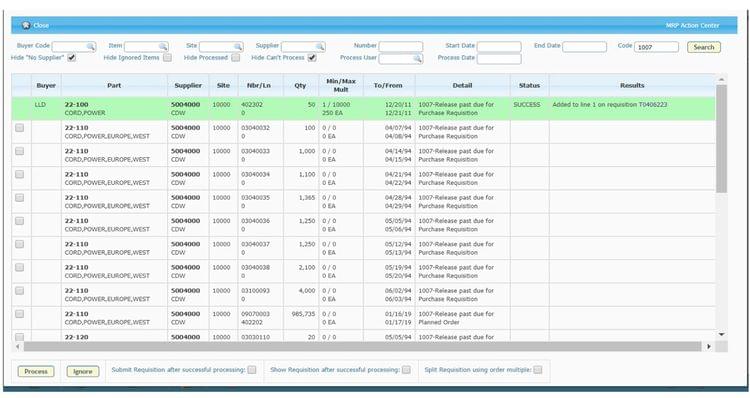 Procurement Software
In comparison to purchase order software, procurement software goes a step further by handling the approval and requisition processes. Management personnel needs to know when goods need to be purchased, to ensure their business can continue to operate. They also need to verify the validity of all purchase requests.
Compared to a purchase order software, a procurement software creates a document which notifies the purchase department of the need to order. These requests can be submitted from an employee via a portal, or as an alert when inventory is running low. These requests get routed to the decision makers, who give the final approval. Once approval is given, the purchase order is generated and sent out to the vendor/supplier.
Procure To Pay Software
A procure to pay software manages all aspects of the procurement process for a business, which includes requisitions, purchasing, receiving, paying, and proper accounting for received goods and services. There is little difference between a procurement software and a procure to pay software, as they both provide the necessary functionalities needed to manage a procurement process.
It can be argued that a procure to pay software is more of an "end to end" solution that goes a step further than procurement software. This is because procure to pay software is known as the link between the purchasing department and the accounts payable department. This link can provide analytics on the buying habits of your company, which will lead to improved cash-flow. However, many procurement software offerings will also include this functionality.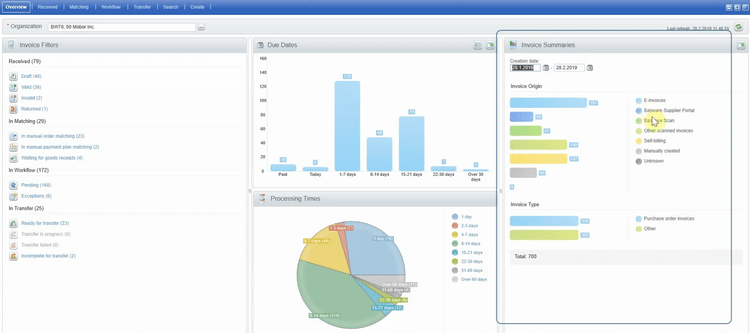 Will QuickBooks Handle Procurement?
QuickBooks products (such as QuickBooks Online) do not have a purchase requisition or purchase approval workflow functionality built in to the base package. It also does not include vendor catalogs, supplier performance tracking, and budgets and spending plans related to the purchasing of a company.
Every version of QuickBooks does have the ability to create purchase orders. These can be fitted with custom PO numbers, your company logo, addresses, and a variety of custom fields.
QuickBooks also lets you convert POs into bills. If a PO was created to help fulfill a customer order, and the cost will be passed on to the customer, QuickBooks can pick up on items, quantities, and rates to help with your payment processing. QuickBooks also does provide a vendor dashboard, which lets you track your POs, monitor open bills, and see the expected delivery of items.
For some businesses, the purchase order functionality offered by QuickBooks will meet their needs. For others, third-party add-ons are available, which let you continue to use QuickBooks as your primary accounting software, while enjoying added tools for procurement management.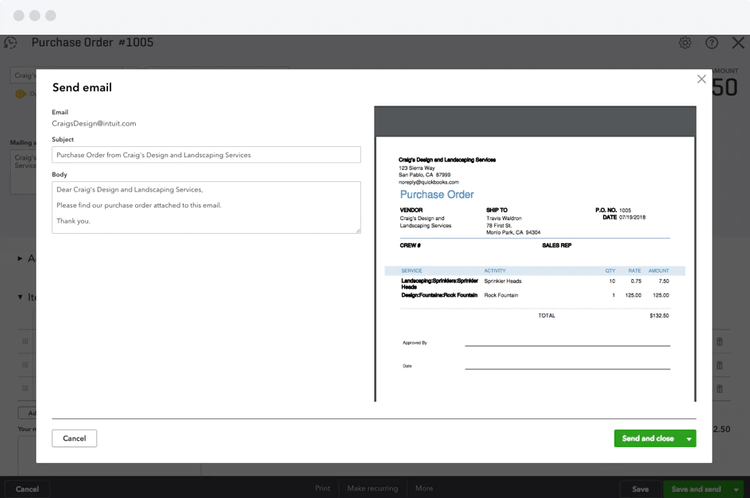 Integrating Procurement Software Into QuickBooks
To compliment your Quickbooks accounting functionality, you need a complete procurement software that is just as simple to use and feature rich, to ensure full visibility into your company's spending.
Some solutions, such as TRADOGRAM, offer a complete set of functionalities to handle your entire procurement process. These cloud-based procurement systems are simple to use platforms that are made up of varying functionalities, such as:
Purchase to Pay
Strategic Sourcing
Supplier Management
Contract Management
Spend Analysis
Order Management
These solutions may refer to themselves as a business spend management platform, which are great compliments to any accounting system, like Quickbooks. Finding the right out of the box seamless integration means you'll no longer have to worry about data transfers between systems.