Tableau is business intelligence software that allows anyone to connect to data in a few clicks, then visualize and create interactive, sharable dashboards with a few more. It's easy enough that any Excel user can learn it, but powerful enough to satisfy even the most complex analytical problems. Securely sharing your findings with others only takes seconds.
The result is BI software that you can trust to actually deliver answers to the people that need them.
UPDATE: On 6/10/2019, Salesforce announced the acquisition of Tableau. Salesforce said Tableau will operate independently and under its own brand post-acquisition, with a focus on bringing together CRM and data analytics in the future.
Source: TechCrunch.com
Video Overview
Benefits of Tableau
Tableau will let you use the force of your data and the abilities of your workforce to give actionable insights into your business.
Business Intelligence Software in Harmony With IT
Tableau installs take minutes. Configuring the installation is straightforward–since business users can manage the software and the userbase on their own.
Find Answers in Seconds
Tableau Desktop is a powerful data discovery and exploration application that allows you to answer pressing questions in seconds. Tableau's drag and drop interface lets you visualize any data, explore different views, and even combine multiple databases together with ease.
Share Dashboards and Enable Exploration
Tableau Server is business intelligence software that allows you to publish the visualizations you create in Tableau Desktop to a common and secure place on your network. This enables anyone with permissions to view and interact with each other's dashboards and answer their own questions.
Tableau for Individuals
Tableau Prep
Tableau Prep is a self-service data preparation solution. This option comes in both a Prep Builder and Prep Conductor format.
Tableau Prep Builder will give a complete view of your data for analysis and allows you to mold and improve your data into easy to understand formats, charts, columns, and more. Values can be edited easily and quickly and duplicates can be created to let you test out scenarios without disrupting the actual data set.
Smart features such as grouping by pronunciation will speed up any replacement process needed to be done to improve the quality of your records.
Tableau Prep Builder can connect to information on-premise or in the cloud, such as data from Excel or data in any top market software option such as your SAP or Oracle product.
Tableau Prep Conductor will stay on top of scheduling, monitoring, and administering data flows. Information can be published in your own operating environment and shared amongst others in your organization.
Flows can be scheduled whenever you need them. Tableau tries to provide a level of automation to ensure your data is available for analysis on your time.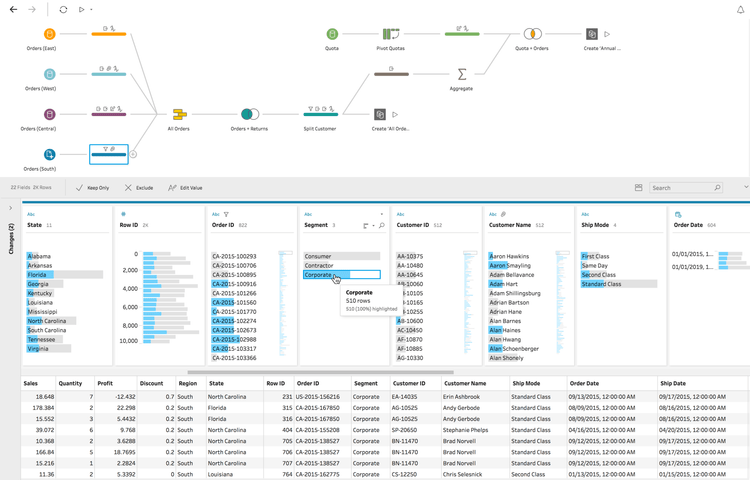 Tableau Desktop
Tableau Desktop is available as a part of Tableau Creator. Live visual analytics gives you unlimited capabilities for data exploration. There are interactive dashboards that help spot visual patterns.
Tableau Desktop can be connected with data from your SQL database, spreadsheets, or other cloud apps such as Salesforce.
Tableau Desktop lets you build powerful calculations from your data. Drag and drop capabilities let you adjust data on the fly to create the forecasts you need with trend analyses, regressions, correlations, and more. You can also create interactive maps to answer the "where".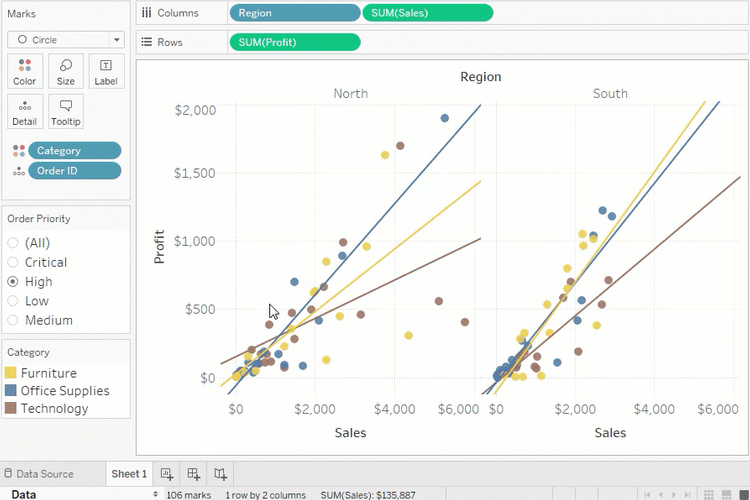 Tableau Online or Server
Tableau Online lets you access your analytics from anywhere you may be. Let all employees have access and grab the data they need, whether at the office, working from home, or out in the field.
Tableau Online lets your team collaborate on data in the cloud from a browser or a mobile app. It requires no setup time or any hardware investment.
The natural language interface, Ask Data, lets you ask questions and get answers in the form of a visualization. You can interact, edit, and author insights found on the web and let people explore interactive dashboards from existing published datasets.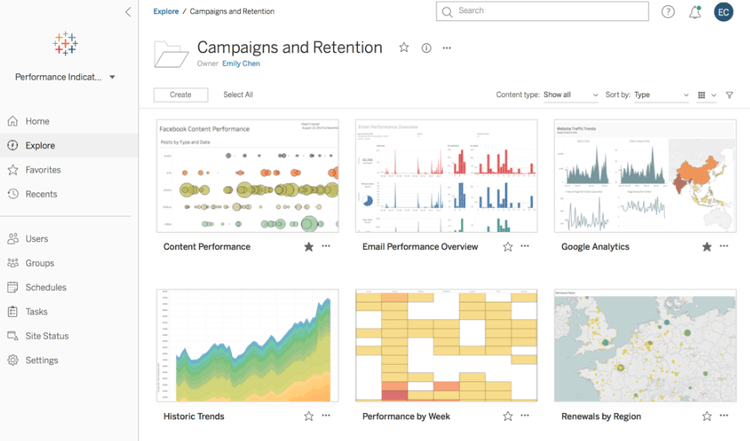 Tableau for Teams and Organizations
Tableau promises to be a powerful, secure, and flexible analytics platform for your data. Tableau for Teams and Organizations lets you access your data from a web browser, a desktop applications, or your mobile device.
Tableau for Teams and Organizations provides the following Extensibility and APIs:
Collaboration: Share interactive dashboards, set alerts and subscriptions
Analytics: Advanced analytics and calculations generated from questions as they occur
Content Discovery: Organize resources by project and allow for revision history
Governance: Centralized data sources, data certification, row-level permissioning, and usage analytics
Data Prep: Federated joins or blend. Automatic data modeling.
Data Access: Connect your data on-premise or in the cloud
Tableau for Teams and Organizations provides unique features depending on what department will be using the solution, such as IT, Sales, or Marketing.
Embedded Analytics
Embedded Analytics integrates your data into external facing applications to provide analytics, dashboards, and reporting to people outside of your company such as partners, customers, or suppliers.
Embedded Analytics gives data to your clients that lets them customize and integrate it as they please, letting you focus on your work while your customers get the data they desire.
Pricing
The cost of Tableau starts at $70/user/month, billed annually. The cost will be highly dependent on the number of users you have. Varying pricing levels may exist depending on the user type (a report creator or just a viewer). Other factors to consider will be the size of your data files, what type of updates you need for the software (and how frequently).
Tableau for Individuals Pricing
Tableau Creator starts at $70/user/month
Billed annually
Meant for individuals
Includes Tableau Desktop, Tableau Prep Builder, and one Creator license of Tableau Server or Tableau Online
Tableau for Teams and Organizations Pricing
Pricing will vary depending on your deployment model. Companies that deploy with a Tableau Server (on-premise or public cloud) will pay less ongoing costs than if you deploy with Tableau Online (fully hosted by Tableau).
On-premise or Public Cloud–Pricing
Tableau Creator starts at $70/user/month (billed annually)
Tableau Explorer starts at $35/user/month (billed annually; minimum 5 users)
Tableau Viewer starts at $12/user/month (billed annually; minimum 100 users)
Fully hosted by Tableau–Pricing
Tableau Creator starts at $70/user/month (billed annually)
Tableau Explorer starts at $42/user/month (billed annually; minimum 5 users)
Tableau Viewer starts at $15/user/month (billed annually; minimum 100 users)
Embedded Analytics Pricing
Pricing based on individual needs of each company
No hidden costs of additional products needed
Easy scalability
Buying (purchase existing product) or building (customizations) available
Features List
| Features | CREATOR | EXPLORER | VIEWER |
| --- | --- | --- | --- |
| Web and mobile | × | × | × |
| Embedded content | × | × | × |
| Interact with visualizations and dashboards | × | × | × |
| Download visualizations as images (.pdf, .png) | × | × | × |
| Download summary data | × | × | × |
| Download full data | × | × | |
| Create and share custom views | × | × | |
| Comment on a dashboard or visualization | × | × | × |
| Create a subscription for yourself | × | × | × |
| Receive data-driven alerts | × | × | × |
| Create subscriptions for others | × | × | |
| Create data-driven alerts | × | × | |
| Edit existing workbooks and visualizations | × | × | |
| Create and publish new workbook from existing published data source | × | × | |
| Explore an existing published data source with Ask Data | × | × | |
| Create and publish new workbook with a new data source | × | | |
| Create and publish new data sources | × | | |
| Create new workbooks based on pre-built Dashboard Starters | × | | |
| Create new data flows (.tfl) | × | | |
| Edit and modify a data flow (.tfl) | × | | |
| Export data (.tde, .hyper or .csv) | × | | |
| Publish and run flows | × | | |
| Schedule flows | × | × | |
| Monitor flow performance and health | × | | |
| Manage users and permissions | × | × | |
| Manage content and certify data sources | × | × | |
| Server administration | × | | |