The saying goes, "Past performance is the best indicator of future performance". Investors will tell you to look at a 5-10 year performance of a stock or a mutual fund to determine whether or not you should invest. The same goes for your business. It is important to know where you have been as a company (sales data, expenses, revenues) to help plan for future growth and expansion of the business. Business Intelligence software will certainly help analyze the necessary data in a streamlined fashion.
In this guide you will find information on:
What Is Business Intelligence Software?
Business intelligence software is designed to gather the data, sort the data, create visuals, help you analyze and report. For most systems, it is easy to extract data and dump into a spreadsheet. However, it is what you do with that data that is important. For the most part, business intelligence software is geared toward higher levels of management. The idea is to give key decision makers the ability to make decisions based on relevant business data, rather than just instinct.
Business intelligence modules were initially designed for large companies. The focus was to take all the raw data locked up in financial and operations systems and turn it into useful business information. While this software has been readily available for many years for large companies, BI modules targeted toward small to mid-sized businesses are fairly new to the market.
What sets business intelligence software apart from standard reporting is the ability to report on financial and non-financial data alike. Not only do you want to see your profit margin on each widget you built, however, you also want to see the time it takes to produce each widget, parts and materials used to produce the widget, waste or scrap, how many were produced per hour by each employee, etc. This information will help management make decisions going forward such as: Do we hire more employees? Can we afford to take on a new customer that will double the output? Will a new machine speed up the processes and efficiencies of the manufacturing process?
Features
Successful companies are always planning, analyzing and reporting on practical activities in order to top out your efficiency, lower expenses and gain greater market share. The following features can be a part of any BI tool and help your business achieve just that:
| Feature | Definition |
| --- | --- |
| Online analytical processing (OLAP) | Performs a multidimensional analysis of business data. Allows companies to conduct complex calculations, evaluate trends, and work with data modeling. |
| Data analysis | Inspect, cleanse, transform, and model data with the goal of discovering useful information, informing conclusions, and supporting decision-making. |
| Predictive analytics | Uses historical data to predict what will happen in the future. Examples in everyday business include identifying customers likely to upgrade or remove services and focusing marketing campaigns on the right targets |
| Big data | A large data set that can be analyzed via computers to reveal patterns, trends, and associations |
| Data mining | A practice of examining large databases in order to generate new information. |
| Data discovery | The process of collecting data from various databases and consolidating it into a single source that can be easily and instantly evaluated |
| Dashboard | A visualization tool that displays the current status of metrics and KPIs for your business, usually based on your preferences (what numbers to show, what metrics to display, etc.) |
| Key Performance Indicator (KPI) | Describes non-financial data that is still quantifiable information that is critical to gauging overall business performance. KPI's help assess the present state of the business and its key activities. |
| Data visualization | Patterns, trends, and correlations that place data into a visual context to help people understand. |
| Financial modeling | The act of building an abstract representation of a financial situation |
| Data integration | The ability to import whatever data deemed necessary to analyze and create into visualizations, reports, or other forms of business intelligence |
Benefits
Business intelligence software boosts efficiency, reduces costs, provides data integration and integrity, provides easy access to decision-making tools, allows for quicker recognition of critical information, gives managers the information needed to be more information, and provides the ability to predict events in the future based on historical analysis. Below are some of the best benefits of BI tools.
Key Performance Indicators (KPI's)
These are commonly used by organizations to evaluate the success of a particular activity in which it is engaged. These assessments often lead to the identification of potential improvements. It's the inclusion of the modifier "key" that matters most when it comes to qualifying for KPI status. "Ultimately, a KPI is a business metric which has been deemed particularly useful in reflecting the achievement of an important business outcome. Because different employees have responsibility for different outcomes, different metrics will qualify for KPI status as a function of the strategic role of the dashboard user within the organization."
As stated in the previously cited link, there are a few stages in identifying KPI's including:
Having a pre-defined business process. Without a predefined business process, you don't have measurable data.
Having the requirements for the business processes.
Having a quantitative/qualitative measurement of the results and comparison with set goals
Investigating variances and tweaking processes or resources to achieve goals.
Companies often find using the SMART acronym will help with the key performance indicators.
Specific purpose. Answers the who, what, where, why and which to make the goals specific.
Measurable. Concrete criteria for measuring progress toward the attainment of the goal.
Attainable. Is the goal attainable? Do you have the resources to reach the goal?
Relevant. Are the goals relevant to your boss, team, and organization?
Time. Set a time frame for reaching the goals.
Once the goals have been identified and you have solid key performance indicators, a business management system will help track those goals. Graphical reports and sorting/filtering capabilities keep managers updated as to the progress of those goals.
Financial Indicators
Financial indicators allow management to see where they stand for the day, month, quarter, and year. Through a business intelligence software, management will also have the ability to review the financial data for the year but also look at and compare the current year to previous years. In addition to looking at past data, the business intelligence software also creates projections based on the past performance showing potential outcomes.
Quantitative indicators are a measurable characteristic, resulted by counting, adding, or averaging numbers. Operational systems that manage inventory, supply chain, purchasing, orders, accounting, financial systems, all gather quantitative data by means of KPIs.
Qualitative indicators are not as easily measured. Qualitative indicators are a descriptive characteristic, an opinion, a property or a trait. The most common ones gauge customer or employee satisfaction through surveys. While the survey data itself is quantitative, the measures are based on a subjective interpretation of a customer's or employee's opinions.
Common Comparisons of Terms
There's a lot of jargon thrown out there when it comes to Business Intelligence. What does one term mean in relation to another? Don't some of these terms mean the same thing?
Business Intelligence vs Data Analytics: Think of business intelligence as the decision making phase, while data analytics is the process of asking questions. You first need to have analytics before you end up with business intelligence. Once this step has been taken care of, BI tools help make sense of what the analytics have told you.
Big Data vs Business Intelligence: You can think of business intelligence as a knife and big data as a loaf of bread. Big data is as the name implies; data, and is a substance that won't be of much value without anything being put into action. BI is just that& action! BI becomes the process that takes your big data and arrives at conclusions or valuable business insights.
Enterprise Performance Management (EPM) vs Corporate Performance Management (CPM): Both evolving from BPM (business performance management) in the early 2000s, EPM vs CPM may seem like a useless debate, but the differences exist. Simply put, CPM is a corporate-wide solution that focuses strongly on finance, while EPM focuses on performance across all areas of an enterprise. EPM is a field of business performance management which considers the visibility of operations in a closed-loop model across all facets of the enterprise. In the world of software, it helps the end-user (company) tie together their plans, strategies, and execution. This includes budgeting, consolidating, reporting, and analyzing. CPM solutions manage a corporations performance based on KPI's such as revenue and ROI.
What Does Your Business Need?
Business intelligence software is used in virtually every industry. Consulting firms need to track project information. They need to see productivity by employee along with statistical data about each project. Retailers need to track profitability by SKU, set goals of how many units to sell per hour to be profitable on a given day. Financial institutions set goals for their personal bankers as to how many accounts each banker opens during a month. Beyond just the number of accounts, what type of accounts and the amount of new money brought into the financial institution.
BI Tools used to be a privilege of big companies, as implementing analytics software required building data centers and hiring IT specialists. With the emergence of the cloud and more cost-effective methods become more available, BI has begun to rise in businesses of all sizes.
Nearly every accounting software available has reporting tools. Some solutions offer budgeting solutions integrated into their accounting software. There are many stand-alone solutions. Often times the financial reporting and budgeting modules are not integrated and often times gathering reports from these modules requires time-intensive data mining to obtain the necessary information.
Depending on the size of your business, you'll likely need to focus and prioritize on different aspects:
New buyers and small businesses: These type of buyers will likely focus on financial reporting that goes beyond what their existing general ledger reports can give them. Most small companies will struggle with implementing any big-name BI tool due to a lack of resources. Small companies will benefit the most from a software they can implement quickly in the short-term. This will likely be a SaaS-based tool that can easily integrate with their existing software, such as their accounting software. This type of solution may not be the best fit for a growing company but will usually be the most cost-effective method until a future time allows for the re-evaluation of company software methods.
Existing users desiring upgrades to functions beyond basic reporting: These buyers will move from simple reporting tools to complex analytical ones. Buyers generally look for a BI upgrade is their current solution provides insufficient reports, processes are running slow, or the reports and analysis are no longer viable due to an increase in the volume of data. The business may have also experienced a shift in the direction for revenue, which requires a change in their analytical approaches.
Large companies: The level of customization involved is often what sets enterprise-level BI software apart from small to midsize offerings. Often enterprise level BI systems will require the data warehouse to be custom designed to handle the quantity of data they desire. They may also require IT staff to be available just to handle the amount of hardware or in-house system integrations they need, possible with an ERP system. The best approach may be going with a handful of different BI platforms and consolidating them together to meet every department's needs, as standardizing enterprise BI has a number of challenges.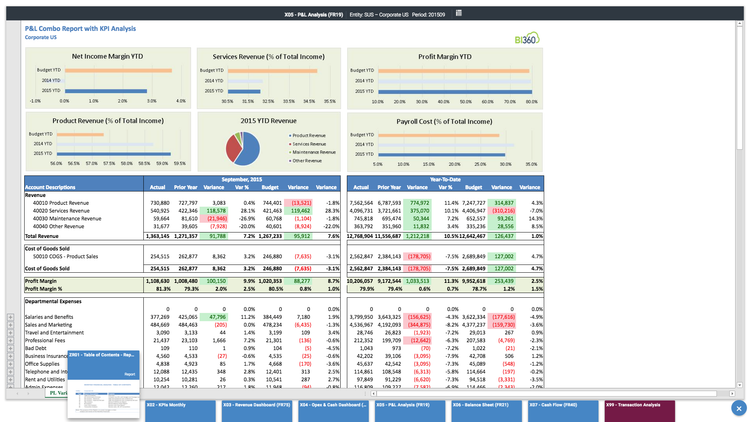 BI360 (pictured above) is a CPM solution for mid-market enterprises. The solution has deep ERP integrations and can handle functionalities such as reporting, budgeting, provides dashboards, and offers data warehousing. The software is available both on-premise and online and has a number of integrations available with systems such as SAP, Acumatica, Microsoft Dynamics, NetSuite, QuickBooks, and more.
myFiO BI is a tool that partners with Logi Analytics for analyzing data and building KPI dashboards. Logi Info applications are fully customizable and easily embeddable to work alongside other applications its users may use each day.
Use in QuickBooks
QuickBooks does not have any built-in BI tools available. QuickBooks does have a number of recommendations for tools that integrate with their system, which will allow your data to be pulled and used in any evaluation. One of these solutions includes Tableau, that can visualize your data into shareable dashboards and prides itself on being an easy-to-learn solution (comparable to the learning curve of Excel). The solution starts at less than $50/month.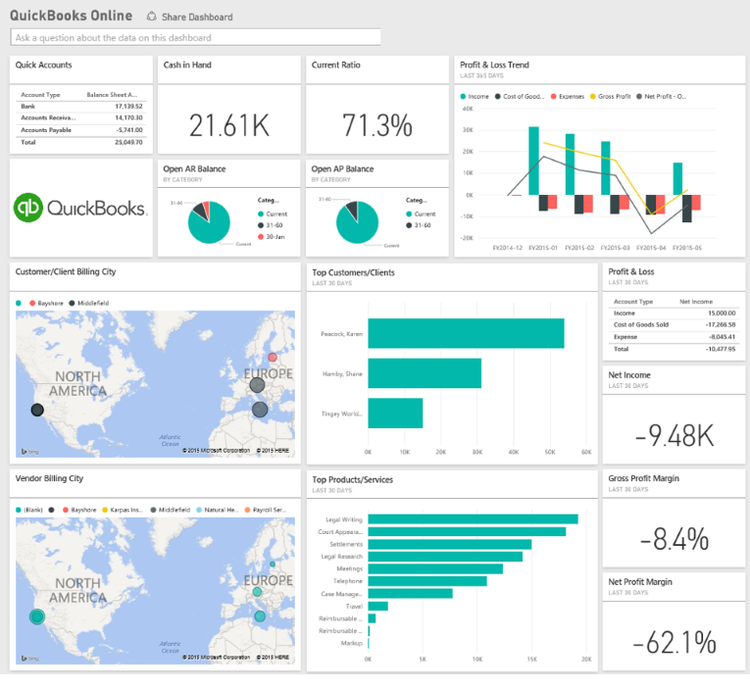 Other solutions such as Microsoft Power BI (pictured above) offer direct integrations with QuickBooks Online, as you can select the QuickBooks Online content pack and sign in with your credentials in order to get the data you desire. It helps create dashboards automatically based on the data that has been imported and can be adjusted to display whatever you desire.
Common Pain Points
Industry confusion. At times, much of the insight a business may be looking to gain from various BI tools may be very industry specific. The software option, or perhaps the vendor that implements it, may be unable to help a company achieve their full potential with the software.
Selecting the right visualizations. Half of the battle in reporting data is how you are presenting it to the individuals in your company. Your main goal should be to engage the viewer, clearly and quickly communicate data, and elicit appropriate responses from the target audience. This can be accomplished with many types of visuals. Choosing incorrectly could be the nail in the coffin that disengages your audience, and doesn't allow you to spread the desired message.
Visual BI must provide the following core common capabilities:
Aggregation of large data sets into a comprehensible whole,
An appropriate emphasis of top KPIs,
Clear display of data trends over time,
Support for logical data segmentation to convey the role of parts to the whole,
Comparisons of actual results to expected or desired standards, and
Support for combinations of data, text, and images which simplify the consumption of complex information.
Lack of mobile solutions available. Many businesses desire the ability to add storage capacity quickly. Others just look to have a wide user adoption at their company, which can be difficult for certain employees who are frequently on the go and don't have access to a desktop computer during the day.
Trends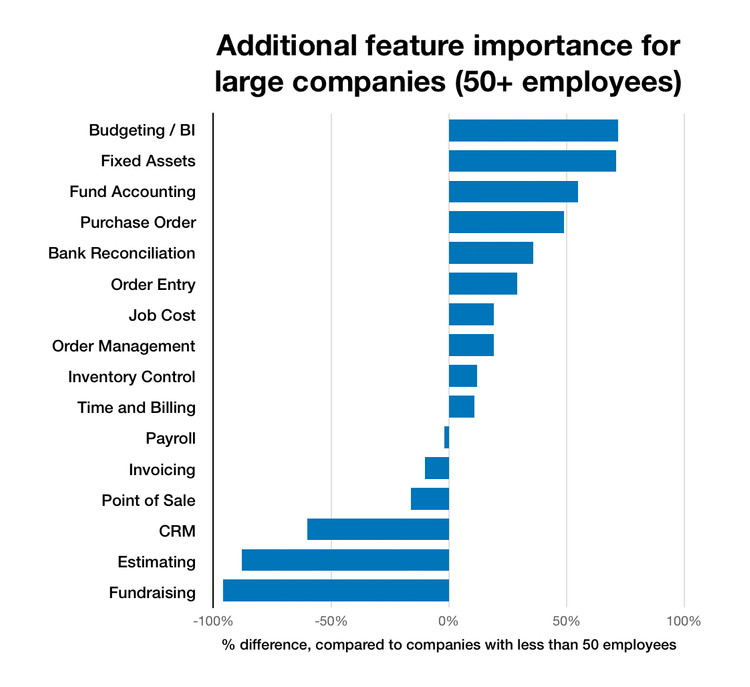 Large companies want business intelligence. In a recent review of over 3,000 software projects from 2017, businesses with 50+ employees are more than 70% more likely to need software that handles budgeting/business intelligence (BI) and fixed assets.
Strong inventory BI features. BI tools have expanded immensely to break down more than just your financials. In the world of inventory, it can help answer questions such as "Which brands are the most popular? What colors or sizes tend to move the most? What products to people buy in tandem and should be recommended for upselling?" From there, you can improve your product-handling to faster address things like pending RMA's, transfers, back orders, and more.
Big Data is on the rise. Wikibon projects the Big Data market will surpass $84B by 2026. This was after the Big Data market reached $27.36B in 2014, up from $19.6B in 2013.