What Is Enterprise Performance Management (EPM) Software?
Enterprise Performance Management software, sometimes referred to interchangeably as corporate performance management (CPM) software or shortened to EPM, helps monitor key performance indicators (KPIs) and other data sources to track your company's progress towards whatever metrics your business is working towards.
Traditionally, business processes analyzed through EPM systems are related to a company's financials, but over time this software has turned into an enterprise-wide option to streamline forecasting, budgeting, scorecards, and dashboards for numerous departments, including sales, marketing, operations, and human resources (HR).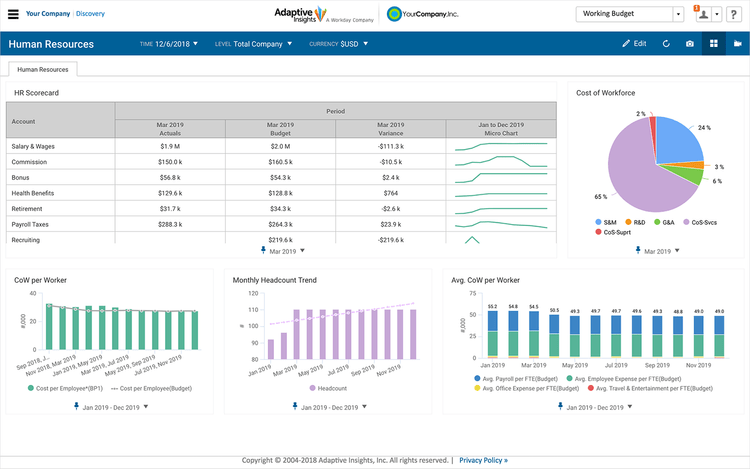 Best EPM Software Features
| Feature | Description |
| --- | --- |
| Budgeting and Forecasting | Use real-time data to drive your operations and make both short-term and long-term decisions dealing with financial budgeting, forecasting, scenario modeling, and more. |
| Financial Consolidation | Combine real-time financial data on all assets, income, and expenses generated by your company. |
| Financial Reporting | Create reports on a daily, monthly, or any other timespan you're looking to monitor. Provides real-time financial statements, spreadsheets, management reports, and a level of automation to ensure decision-makers receive reports in a timely fashion. |
| Performance Management | Monitor personalized dashboards, KPIs, profitability analysis, OLAP Analysis, and benchmarks to analyze key metrics in a context your corporation understands. |
| Strategic Planning | Configure your EPM solution with specific methodologies being used by your business such as Balanced Scorecard, Strategy Map, Six Sigma, SWOT Analysis and more, whichever is most relevant to your goals. |
| Tactical Planning | Add user specific initiatives that can combine different goals and members into a clear pathway of movement needed to achieve said goal. This can include a requisition system where users can approve or deny certain initiatives from being changed. |
| Risk Management | Ensure the integrity of your reports through proper audit trails. |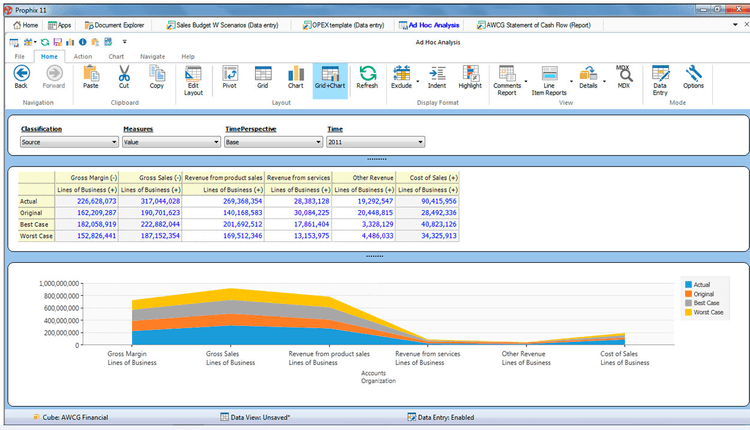 Best Enterprise Performance Management Benefits
Businesses looking to improve their financial planning process and their overall organizational strategy will find EPM software highly beneficial:
Streamline your financial forecasting and budgeting: By analyzing financial data with an EPM solution, your company can better plan ahead when forecasting and budgeting.
Set your own key performance indicators: The metrics which indicate success or failure for your company will vary depending on your industry, market share, and more. Measure only those KPIs which matter most.
Clarify your company goals: By analyzing your financial data and KPIs, you can ensure your company is on track to meet stated goals.
Increase visibility and transparency: Remain compliant when reporting on real-time data from multiple departments.
The Cost of EPM Software
Pricing of enterprise performance management software can vary based on several variables. The total cost of an EPM solution is dependent on the size of the business, the number of functionalities or modules required, how many concurrent users are needed, and the overall size of the company itself.
Developers may advertise costs as low as $10 per user per month, though these price plans are entry-level and extremely limited in functionality. Companies should expect to start spending anywhere from $70 to $200 per user per month. You'll also want to consider additional costs that will be important to factor in when evaluating purchasing a solution, such as implementation, training, data migration, and on-going support with annual updates.
New Trends in EPM Software
Some of the latest trends in EPM are related to how financial planning and budgeting is being done at differently sized businesses today. For instance, a Mint Jutras put out an enterprise solution study which found a majority of both small businesses (under $250M in annual revenue) and large enterprises were using a combination of software, apps, and Excel spreadsheets to get their financial planning done (47% and 43% respectively):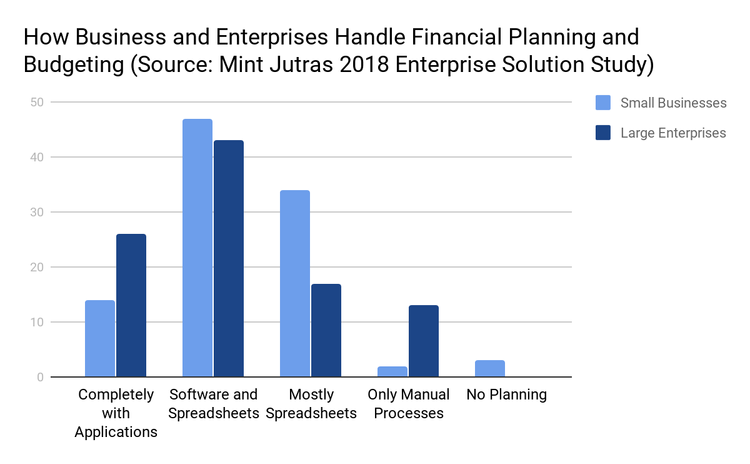 Some in the business community feel EPM software may have run its course. With a renewed focus on financial performance, managers and decision-makers alike understand the need for budgeting and forecasting software for better financial planning, and many wanted to fill this need by letting managers test what-if scenarios. EPM software was thought to be the best approach, given the ability to test these what-if scenarios. However, due to the time and cost investment for most EPM solutions, many companies may agree the need for management methodologies and processes is second to that of improved financial performance, which can simply be provided with budgeting, forecasting, and BI tools that are far easier to implement.
Further, cloud-based BI tool availability is set to increase. A previous market research report by MarketsandMarkets predicted cloud analytics would grow from $7.5 billion to $23.1 billion from the 5-year timespan of 2015 to 2020; a growth of 25%. Oracle's 2018 EPM Trends Report found that 62% of companies have or had plans to implement a cloud EPM solution within 12 months. That number grew to as high as 79% if you expanded the goal date to 24 months (2 years). Some of the biggest drivers of growth are the emergence of big data and the ease of installation for cloud-based options. The same Oracle report found that the primary reason for moving EPM to the cloud was equally split between being able to avoid upgrades as well as avoid infrastructure investment.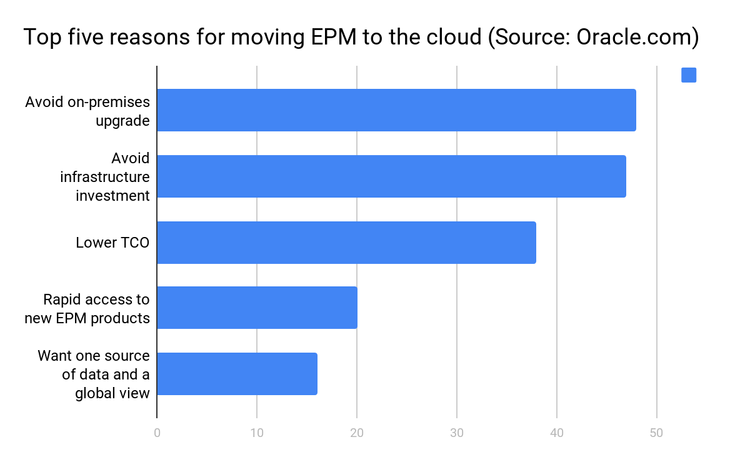 The final trend is integration with existing and legacy systems. The rise in popularity in cloud EPM solutions has seen an increase in the number of connections or integrations available with third-party on-premises solutions. Popular integrations include enterprise resource planning (ERP), BI tools, and project management software.
Pain Points of EPM Software
While EPM is popular, it's not without its drawbacks. For starters, organizations seeking software may be misled on what some EPM solutions can and can't do. This can lead to a company implementing one software for strategy management, another for collecting departmental budgets, and a third to provide the reporting. In reality, finding a complete EPM option from the start could prevent this integration nightmare.
Another common issue with the evolution of SaaS EPM software, as discussed in this webinar for finance professionals, is the need for better accuracy in planning for the future of a business. The second most common is the delay from data-entry in a financial system to when this data is in decision-makers hands, which can have some businesses making decisions on older data.
As such, it's important to know what functionality is included before you select a software. Fortunately, EPM systems can also integrate with popular ERP and business intelligence software systems to cover additional workflows.
Wondering what the difference is between EPM software, a CPM system, and BI tools? There is a lot of overlap, to the point where EPM and CPM are often used interchangeably when seeking software. Most of the time it's safe to treat them all as synonyms, yet there are times where a distinction is necessary, such as financial planning and analysis (FP&A) services, which should be seen as a subset of EPM rather than a synonymous term.
EPM vs CPM
Enterprise performance management (EPM) software can sometimes be referred to as corporate performance management (CPM) software or even business performance management (BPM). The main difference here is scope: a corporate solution may focus on just one financial department at a company while an EPM can incorporate finances, sales, supply chain, and more at every level of the organization.
When it comes to differentiating EPM to business intelligence, simply put BI tools help provide the visualizations needed to make decisions, while EPM uses the data accumulated with BI and links that data to the critical goals of the organization. BI functionality can only go so far and typically have an end-point, while EPM solutions generally pick up the slack where a BI tool has left off.
BI tools traditionally collect data to present in a manner that lets your key decision makers easily decipher it, either on a dashboard or through a visualization of some sort. What BI tools lack is where EPM comes in, as EPM systems can help take the metrics BI tools find and pair them with the vital goals of the company. Essentially, EPM options let a business plan towards business objectives.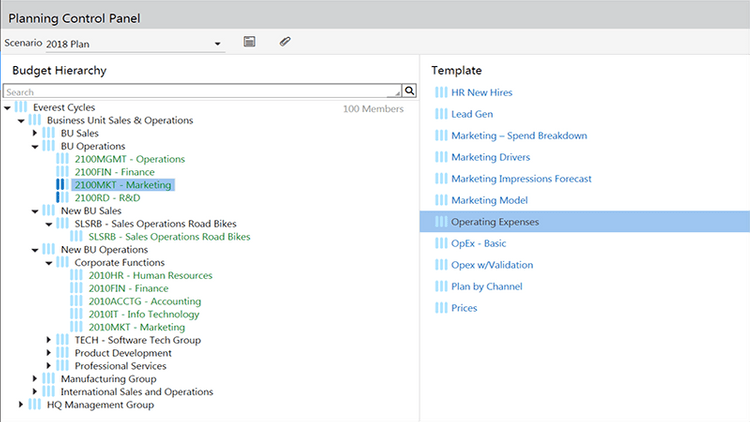 Some companies argue EPM will eventually split into a strategic category and an operational category, but until then, EPM software vendors will attempt to meet any and all needs an organization may have.