The world of business intelligence helps organizations get insight into how certain areas or departments of their operations are functioning. Enterprise performance management software takes a step beyond monitoring financial performance. It also provides complete insight into business processes that a company may succeed in or potentially needs to improve on. These technology-driven management processes analyze data and present them into actionable pieces of information to help upper management make an informed decision.
Organizations may look to budgeting and forecasting software to get a complete picture of their financials. Outside of financials, it will need to rely on enterprise performance management software tools to get information on performance related to the blueprints and enterprise strategies your company has (or is looking to) put into action.
This guide will include information on the following topics:
What Is Enterprise Performance Management (EPM) Software?
Enterprise Performance Management software, or EPM software, helps monitor business performance according to key performance indicators (KPIs) and tracks your progress towards whatever performance metrics your business is working towards.
Traditionally the business processes analyzed through EPM systems has related to a company's financials, but overtime EPM software has turned into an enterprise-wide option to provide forecasting, budgeting, scorecards, and dashboards for numerous departments. These include sales, marketing, operations, and HCM (human capital management) departments such as human resources (HR). A company will be able to better understand their EPM if they treat financial planning and analysis (FP&A) as a subset of EPM, rather than being synonymous with the term.
Businesses and corporations looking to improve their financial planning process and improve their overall organizational strategy will find EPM software the most beneficial of the large number of business intelligence tools available on the market.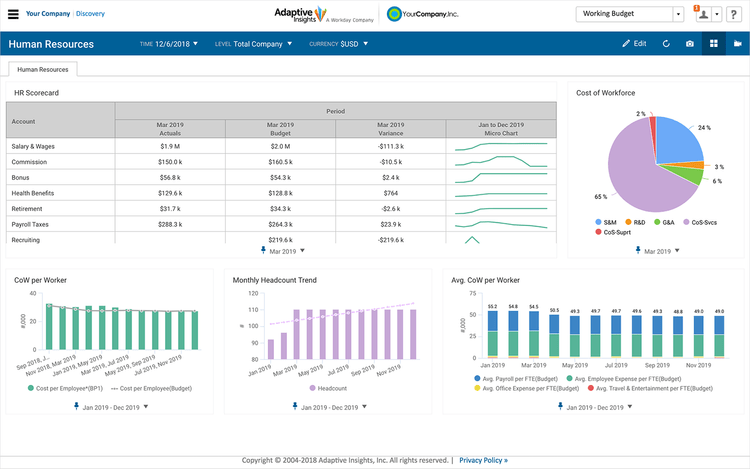 EPM Software Features
| Feature | Description |
| --- | --- |
| Budgeting & Forecasting | Use real-time data to drive your operations and make both short-term and long-term decisions that deal with financial budgeting, forecasting, scenario modeling, and more. |
| Financial Reporting and Consolidation | Create reports on a daily, monthly, or any other basis you're looking to monitor. Provides real-time financial statements, management reports, and a level of automation to ensure decision-makers receive reports in a timely fashion. |
| Performance Monitoring, Measurement, and Analytics | Personalized dashboards, KPIs, profitability analysis, OLAP Analysis, and benchmarks will let you interpret the metrics in the context your corporation understands. |
| Strategic Planning | Configure specific methodologies being used by your business such as Balanced Scorecard, Strategy Map, Six Sigma, SWOT Analysis and more. This will let your EPM solution speak in the language most relevant to your goals. |
| Tactical Planning | Add user specific initiatives that can combine different goals and members into a clear pathway of movement needed to achieve said goal. This can include a requisition system where users can approve or deny certain initiatives from being changed. |
| Risk Management | Ensure the integrity of your reports through proper audit trails. |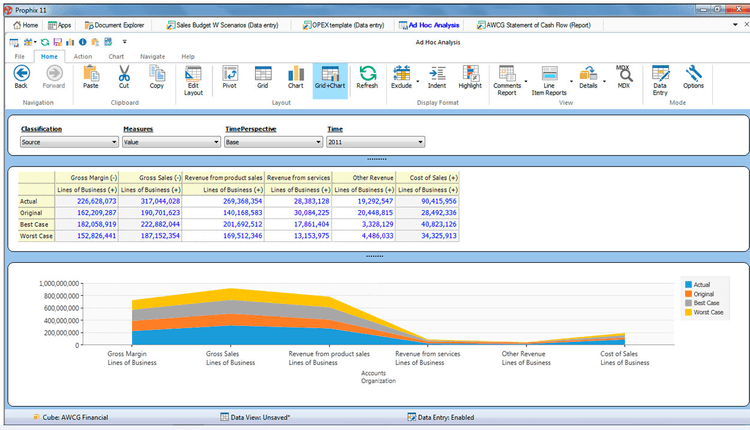 EPM Software Cost
Pricing of enterprise performance management software can vary. Software developers and resellers may advertise costs as low as $10/user/month, but these price plans are entry-level and extremely limited in functionality. To get the minimum level of functionality needed, companies could expect to start spending anywhere from $70/user/month to $200/user/month for a lower-tiered option.
The cost of an EPM solution is dependent on the size of the business (whether you are a small business or at an enterprise-level). As it is with other types of software solutions, pricing is usually related to the number of functionalities, how many concurrent users are needed, and the overall size of the company itself.
EPM system vendors will warn about the dangers of selecting solutions based on purchase price alone. Like with most big purchases your company will make, simply picking the lowest priced option for a good or service can often lead to regret when that small amount of money saved does not outweigh the headaches and risks your company has been exposed to.
Choosing the lowest-cost option rather than the best long-term fit can lead to your business paying more to rectify the shortcomings of the low-cost option or the costs that may go with having to retrain employees, improve ease of use, or fix the messy implementation that your business felt it could handle on its own. You'll also want to consider additional costs that will be important to factor in when evaluating purchasing a solution, such as implementation, training, data migration, and on-going support with annual updates.
EPM Software or CPM Software?
Enterprise performance management (EPM) software can sometimes be referred to as Corporate Performance Management (CPM) software or even Business Performance Management (BPM) software. The industry has not been able to agree on a specific term that encompasses everything these software solutions are capable of. Rather, they tend to use the name that best describes the need at hand (i.e., is this software needed to help a corporation, an enterprise, or a small business?). Most of the time it's safe to treat them all as synonyms.
Some companies argue that EPM will split into a strategic category and an operational category, but until then, EPM software vendors will attempt to meet any and all needs an organization may have.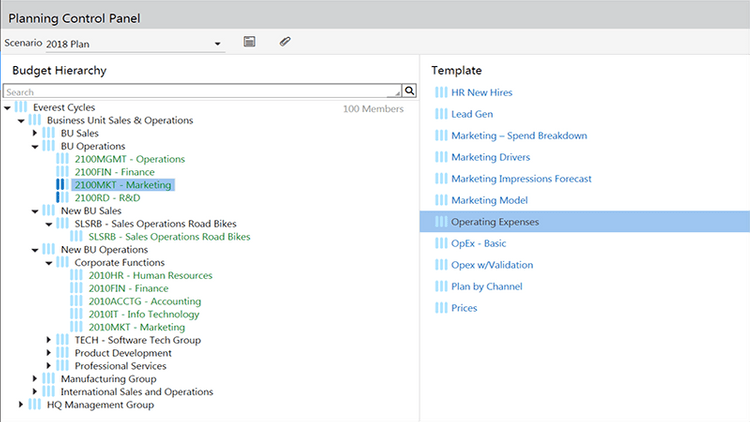 What's the difference between enterprise performance management software and business intelligence tools? Simply put, BI tools help provide the visualizations needed to make decisions, while EPM uses the data accumulated with BI and links that data to the critical goals of the organization. BI tools can only go so far and typically have an end-point, while EPM solutions generally pick up where a BI tool has left off.
BI tools traditionally will collect data and present it in a manner that lets your staff and decision makers decipher it. It accomplishes this by creating a dashboard or a visualization of some sort that can make it easier for management to come to a realization.
Where BI tools lack is where EPM comes in, as EPM systems let a business plan towards business objectives. EPM options can help take the metrics that BI tools find and pair them with the vital goals of the company.
Trends in EPM Software
How Is Financial Planning and Budgeting Being Done Today? Mint Jutras put out an enterprise solution study in 2018, which found that a majority of both small businesses (under $250M in annual revenue) and large enterprises were using a combination of software and spreadsheets to get their financial planning done (47% and 43% respectively).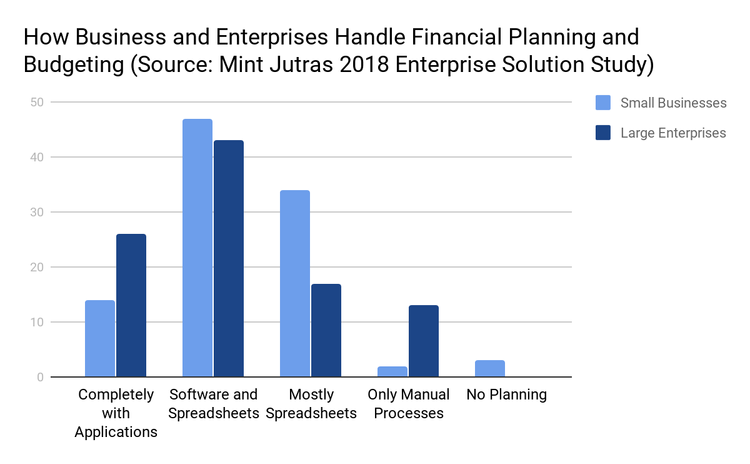 A renewed focus on financial performance. Some in the business community feel EPM software may have run its course. Managers and decision-makers alike understand the need for budgeting and forecasting software for better financial planning, and many wanted to fill this need by letting managers test what-if scenarios. EPM software was thought to be the best approach, given the ability to test these what-if scenarios. However, due to the time and cost investment for most EPM solutions, many companies may agree that the need for management methodologies and processes is second to that of improved financial performance, which can simply be provided with budgeting and BI tools that are far easier to implement.
The cloud BI market is set to increase. A previous market research report by MarketsandMarkets predicted that the cloud analytics market would grow from $7.5 billion to $23.1 billion from the 5-year timespan of 2015 to 2020; a growth of 25%. Oracle's 2018 EPM Trends Report found that 62% of companies have or had plans to implement a cloud EPM solution within 12 months. That number grew to as high as 79% if you expanded the goal date to 24 months (2 years). Some of the biggest drivers of growth are the emergence of big data and the ease of installation for cloud-based options. The same Oracle report found that the primary reason for moving EPM to the cloud was equally split between being able to avoid upgrades as well as avoid infrastructure investment.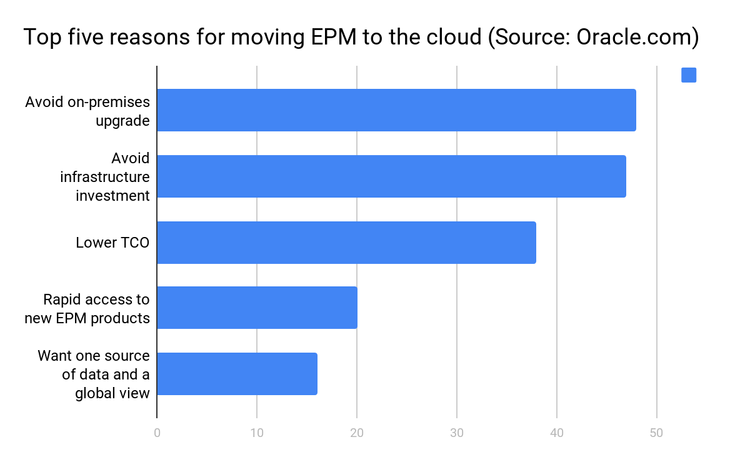 Integration with existing systems. The rise in popularity in cloud EPM solutions has seen an increase in the number of connections or integrations available with third-party on-premises solutions. Organizations seek out this configuration so they can have a "best-of-breed" situation that lets them combine the features and functionalities they desire out of both locally installed and cloud-based software options.
Pain Points of EPM Software
What functionality is included? As mentioned above, enterprise performance management (EPM) software can often be referred to as CPM software or BPM software. Others may confuse it with budgeting and forecasting software or even as a BI tool. Because of this confusion, organizations that want to implement a complete EPM solution may often be misled on what some solutions can and can't do. This can lead to a company implementing one software for strategy management, another software for collecting departmental budgets, and a third that provides the reporting. In reality, finding a complete EPM option from the start could have avoided this integration nightmare.
The motivation for change. Paul Hamerman, a former industry analyst and consultant for Forrester Research, previously discussed the evolution of SaaS EPM software in a webinar for finance professionals. Paul has pointed to a few pain points commonly found in some business EPM software. The most common is the need for better accuracy in planning for the future of a business. The second most common is the delay from data-entry in a financial system to when this data is in decision-makers hands, which can have some businesses making decisions on older data.