Enterprise resource planning (ERP) and enterprise performance management (EPM) solutions help companies automate and improve business processes. More specifically, ERP solutions streamline management of day-to-day business processes and transactions. EPM solutions analyze, report, and optimize business key performance indicators (KPIs).
Discover how ERP and EPM are different and how to best use them to improve business operations. Then, explore examples of popular solutions to help automate your operational and management processes.
What Is ERP?
ERP refers to a modular and integrated suite of business applications from financials to human resources. These solutions originated from the inventory control and material requirements planning systems of the 1960s. Today all-in-one ERP software automates the essential processes for inter-departmental collaboration in businesses of all sizes.
These systems also offer visibility into workflows by keeping all data in a single, connected database. Whether they're deployed on-premises or in the cloud, they also improve data security. In recent years, cloud-hosted ERP systems have increased in popularity.
Key Features
The following features make it possible to streamline back-office processes:
Accounting: Track company revenue and expenses with modules for a general ledger, payroll, and accounts payable and receivable.
Budgeting and forecasting: Create detailed financial plans and manage departmentalized budgets.
Customer relationship management (CRM): Build relationships with customers using tools for contact management, conversation history, and invoice generation.
Human resources (HR): Manage current employees and streamline the new hire onboarding process.
Inventory and supply chain management: Manage the flow of inventory from raw materials to finished goods.
Add-on modules offer even more industry-specific functionality. For example, some ERP solutions target construction contractors, manufacturers, and supply chain businesses.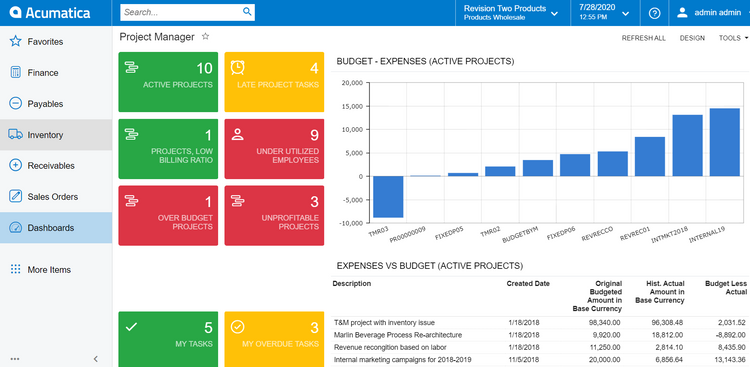 What Is EPM?
EPM solutions monitor select KPIs to measure a company's progress toward its business goals. Also known as corporate performance management (CPM), EPM helps develop business strategies by analyzing what worked in the past and attempting to replicate that success. These reporting processes were done manually in the past, usually through in-person meetings or shared spreadsheets. However, since the 1970s, EPM software has automated most of this work.
Successful EPM depends on selecting the right KPIs based on the specific industry and market share. By knowing which goals matter the most, businesses can develop effective strategies. They can make plans by using the following methodologies, depending on the one that best suits the business:
Balanced scorecard
Strategy map
Six Sigma
SWOT analysis
Like ERP solutions, EPM solutions can create financial reports. They can also create visuals, like dashboards and scorecards, to show relevant KPIs for sales, marketing, operations, and HR departments in an easy-to-understand way.
Key Features
The following feature help improve company strategies for long-term success by using proven data analysis to inform better decision-making:
Budgeting and forecasting: Plan efficient budgets based on accurate forecasting methods.
Performance management: Monitor KPIs to ensure the company is on track to meet business goals.
Modeling: Use strategic and tactical planning methods that allow companies to create detailed models.
Risk management: Forecast and plan for "what-if" scenarios to minimize potential risk.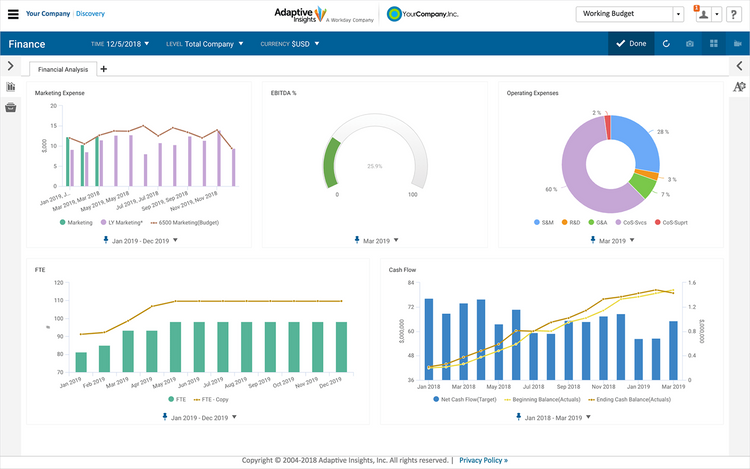 How Are ERP and EPM Different?
ERP and EPM solutions overlap in both budgeting and forecasting. However, ERP solutions focus on actual business processes, while EPM analyzes the results. The relationship between the two systems is cause and effect: how your company uses an ERP determines the metrics your EPM measures.
Key differences include:
Focus area: ERP solutions focus on the back-end business processes. EPM solutions focus on measuring current or past KPIs to find better processes in the future.
Operating scope: ERP solutions have a wider scope than EPM solutions, which are limited to analysis and planning. Where management-level workers in finance departments tend to use EPM solutions, employees in multiple departments within a company use ERP solutions.
Complexity: ERP solutions might seem more complex than EPM solutions because they involve in-depth collaboration between different business departments. However, the complexity of EPM solutions is in how they perform large-scale data analysis, with a primary emphasis on finances.
Implementation timeline: A full ERP system can take 6–24 months to fully implement, depending on the size of the company, deployment method, and required add-ons. In contrast, a standalone EPM software can be up and running in under 3 months.
Despite these differences, ERP and EPM solutions work well together. Both focus on improving efficiency, minimizing risk, and increasing performance. Many businesses implement software to further automate ERP and EPM functions.
Notable Examples of ERP Software
Examples of Popular EPM Software
FAQs
Q: How do ERP and EPM overlap? A: Both ERP and EPM can generate financial reports businesses can use to measure performance and inform decision-making.
Q: Can ERP and EPM software work together? A: Yes, ERP and EPM software can work together. In fact, some ERP systems include modules for EPM.
Q: Which is faster to implement? A: EPM software is faster to implement than ERP systems.
Streamline Your Business Processes
Because ERP and EPM systems complement each other, businesses often integrate both solutions to fully cover planning and execution. In fact, some ERP software includes EPM functionality as an optional add-on.
As you seek ways to automate and improve your business processes, check out our software recommendations. Find the best ERP and EPM solutions for your business needs.