Businesses of all sizes need reliable expense management software to stay profitable, plan for growth, and stay in compliance with tax laws. Aside from the enormous operational benefits of diligently tracking expenses, your company will be much safer in the event of an audit. For detailed information on tax-deductible business expenses, review IRS Publication 535.
This guide will cover a range of topics to help you choose the right expense management software:
What is Expense Management Software?
Expense management software gives you visibility into the costs associated with each service or project by keeping records of when and how expenses were incurred. With an easier expense reporting system, you can better analyze your current spending habits to shape your future expense policies. Additionally, this accounting software streamlines the reimbursement process so employees aren't frustrated by a long wait time to get their money back.
Expense management software helps companies manage costs related to:
Employee pay
Travel expenses
Personal equipment
Retirement contributions

Startup costs
Property rent
Business loan interest
Taxes paid

Asset purchasing
Inventory storage
Renovations
Raw materials
Expanse management solutions are best suited towards administrators and accounting specialists who review, approve, and report on employees' expenses.
Key Functionalities of Expense Management
| Functionality | Description |
| --- | --- |
| Expense Recording | Input and save important information about the expense like amount, date/time of purchase, and a description of what the expense is for. Track individual employee or department-wide expenses. |
| Expense Report Management | Employees can submit expenses and create entries for the report. The software will process the report and automates the approval process. You'll also be able to see real-time reports that give you visibility into how money is being spent and expense trends. |
| Receipt Scanning and Management | Scanned images of receipts are uploaded and stored into the expense tracking software for better organization and easy access. Allow employees to submit expenses themselves for reimbursement. |
| Reimbursement Management | Expense tracking software automates the reimbursement process. When an expense report is submitted, the software checks the report against your company's policies like pre-approved expenditures and spending caps. |
| Corporate Credit Card Monitoring | Company credit cards can be linked with expense management software to automate monitoring of these accounts. The software will alert management of suspicious activity and automatically approve recurring expenses that have been authorized previously. |
The Most Important Benefits of Expense Management Software
Streamline reimbursement approval process: Employees can submit a reimbursement request from anywhere with expense tracking software. Information about the request is available to management immediately to be approved, questioned, or denied.

Flag or deny invalid business expenses: Expense tracking software protects your business from employee fraud by flagging or denying invalid business expenses. You can set dollar amount limits on travel expenses like hotels and food, or flag items that shouldn't be charged to the company.

Currency conversion for international expenses: If you or your employees need to travel for work, expense tracking software can automatically convert currency for internationally-incurred business expenses.

Increased productivity: Expense tracking software saves tons of time by automating time-consuming tasks, allowing you to spend more time on profit-generating endeavors like sales and marketing. You'll be able to spend less time tracking down receipts, managing expense claims, and putting together expense reports.

Accurate documentation for taxes: Come tax time, you'll have all of your receipts and expense documents in one place. Some expense tracking systems can notify you of potential inaccuracies. You won't have to worry getting audited about a missing receipt or incorrect data for your taxes.
Can I Use QuickBooks to Manage Expenses?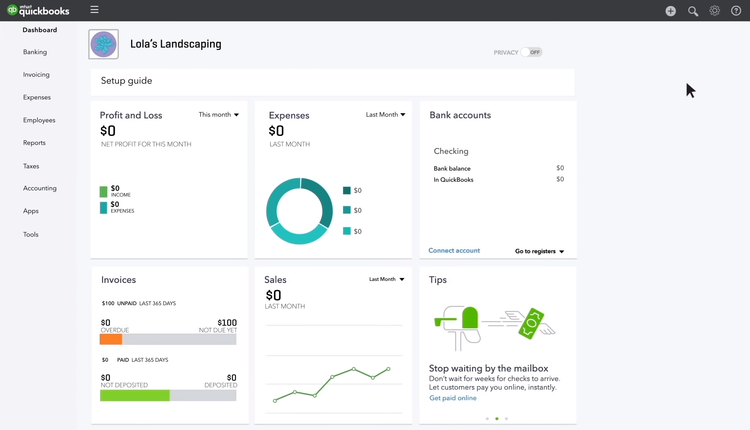 QuickBooks can be used by startups and small businesses for basic time and expense tracking. You'll be able to save photos of your receipts, keep track of tax deductions, connect bank and credit card accounts, and access built-in expense reports. Choose from QuickBooks Online, QuickBooks Pro, or QuickBooks Premier.
Medium to large businesses will need a more solution with more in-depth features like corporate account card monitoring or expense approval/denial claims.
Free Expense Tracking Software
Free expense tracking software is best for individuals and home use. Some very small businesses can get away with using the basic features in free software but often outgrow the solution quickly. Some popular free expense tracking systems include:
Zoho Expense offers a free small business expense tracking software plan for 3 users that lets you auto-scan 100 receipts per month, track projects, import card transactions, convert currency, and store up to 5 GB of receipt documents. Zoho Expense's Premium and Enterprises are not free but can accommodate more users, allows for an unlimited number of auto-scans, and business trip expense management (including travel allowance, cost approval, itinerary management.
Expensify has free expense tracking software functionalities for home or small business use. However, you are limited to only 5 SmartScans per month if you want to track and submit expenses. Expensify's Track and Submit plans can be upgraded to include unlimited SmartScans and automatic mileage tracking. These plans are ideal for home expense tracking, self-employed, and very small business owners. Larger companies are better off with either the Collect or Control plans that automate expense categorization and exporting to accounting software. The Collect and Control plans have a 6-week free trial.
Expense Tracking Software with Free Trials
FreshBooks has a variety of expense tracking solutions for freelancers and small businesses. A 30-day free trial is available for the Lite, Plus, and Premium plans. A Select plan is available for bigger businesses with custom pricing and a demo.
Xero has three plans for Early Businesses, Growing Businesses, and Established Businesses. The 30-day trial gives you unlimited access to the software, so you can see which features you need and make an informed decision about which package is the best fit for your business.
Rydoo Expense has three packages for expense tracking. The Team and Growth packages have a 14-day trial available. The third package, Enterprises is customized to fit your business and does not come with a free trial. Rydoo has another solution, Rydoo Travel, that helps manage business travel expenses. The Team package is free forever, and the Growth and Enterprises packages have custom pricing plans.
What Does Your Business Need?
Startups and small businesses: Seeing where expenses are coming from is critical for small businesses and startups. Look for expense tracking software with good reporting functionalities and receipt management. A popular lower-cost expense tracking software for companies with a tight budget is SAP Concur Small Business that starts at $8 per month per user. Abacus is another popular expense reporting and tracking software for small businesses that starts at $9 per month per user with a minimum of 2 users.

Medium-sized businesses: Automating some expense tracking processes give your staff more time to focus on other tasks like sales and customer service. Expense tracking software will record and report expenses, streamline the reimbursement process, and monitor corporate spending. Some popular expense tracking software solutions for medium-sized businesses include Replicon WebExpense and Deltek Maconomoy.

Large businesses: Reducing fraud is often a priority for large businesses. Expense tracking software will automate the approval process, keep electronic records of expenses, and monitor corporate credit card activity. If your company is a professional services business, look into a full PSA software solution that handles expense tracking in addition to tracking billable hours and track other real-time data to ensure your services or projects are profitable. Tenrox is a popular PSA software solution for large businesses that will also integrate easily with existing enterprise software.
Common Expense Pain Points Solved
Without expense management software, your company could be at risk of audits or fall behind on employee reimbursement. Use an expense solution to avoid these common issues:
Expense Fraud
A survey by Chrome River found that employee expense fraud costs $2.8 billion per year in the United States. While only approximately 6% of employees commit expense fraud, the average amount of false claims are $2,448 per year. A few individuals even claimed $25,000 per year. Expense management software will automatically deny or flag invalid expense requests and monitor corporate credit card usage, so you can spot fraud and take action to prevent it.
Misplaced Receipts
Keeping track of paper receipts is a major pain point for businesses of any size. Expense tracking software lets you store images of your receipts, so you can keep electronic records and easily access them anytime you need.
Delayed Employee Reimbursement
Expense tracking software can approve or deny reimbursement requests quickly, improving the turnaround for reimbursements.
Industry Trends
Expense management processes are always evolving, especially with the rise of real-time business transactions. Here are some of the industry trends:
Global Travel & Expense Management Software Market Growth
According to a report by Technavio, the global travel and expense management software market is expected to grow steadily to $3 billion USD by 2020. The report found that more businesses are adopting the software due to an increasing need to control and monitor travel expenses and other employee expenses.
Shifting Travel Expenses from Online Services
Recode gathered data about employee expenses from software companies - SAP Concur, Certify, and Egencia. The survey found that 93% of business travelers used Uber & Lyft compared to only 7% of travelers using taxis, food delivery grew 91% - employees are ordering meals using online platforms like GrubHub and Uber Eats, and 42% of business travelers book directly with an airline or hotel instead of through their workplace's travel software. More employees arranging their own travel and accommodation means more receipts to manage and reimburse. Expense management software lets employees submit their own receipts to expedite the process.