QuickBooks Online is the most flexible accounting software solutions to link multiple users and locations to their business finances-anytime, anywhere. It has the accounting functionality of QuickBooks desktop software, but instead of installing it on a hard drive, you and your clients access it from any PC with a high-speed Internet connection.
You'll also appreciate the time you can save–and the control you'll gain–by having each of your clients' complete financial information in one easy-to-reach place right on the Web.
Video Overview
Your clients will value how easy it is to manage their business finances–and the low investment of time and money required to do so!
QuickBooks Online Edition is ideal for your clients who:
Want to work on their finances from multiple locations
Have multiple users who need to access the books
Need access to their books while traveling
Have a high-speed Internet connection
Are service-based or don't track inventory in their books
Want their accountant, bookkeeper, or employees to have remote access
Invoice the same clients regularly (weekly, monthly, etc.)
What Version of QuickBooks Online Is Right For You?
QuickBooks Online comes in four different packages that vary in functionality offerings depending on your business needs. All versions will be able to track income and expenses, capture and organize receipts, maximize tax deductions, and invoice and accept payments.
What version your business needs depends on the number of required users, the size of your business (the number of invoices and payments you handle each month), and the type of reports you require.
QuickBooks Online Simple Start
As the name implies, QuickBooks Online Simple Start is great for businesses who are just getting started. With the exception of the Self-Employed version (for Freelancers), QuickBooks Online Simple Start is the most basic online version of QuickBooks available. The software will be able to handle the basic accounting capabilities users have come to expect within the brand.
With QuickBooks Online Simple Start, you'll be able to see your income, track your expenses, and know where your business stands, all in one place. The software is intended as a basic replacement for businesses using spreadsheets and looking to bring automation into their day to day operations.
Included with Simple Start include the ability to track miles, manage cash flow, run general reports, send estimates, track sales and sales tax, and manage 1099 contractors. Similar to it's desktop counterpart (QuickBooks Pro), Simple Start only allows access for 1 user. If your business desires bill pay capabilitiy, time tracking, or access for more users, you'll want to look at the Essentials version.
QuickBooks Online Essentials
QuickBooks Online Essentials gives you the ability to track bill status, record payments, and create recurring payments, all from the app. You can also pay multiple vendors and bills at the same time as well as create checks from anywhere to be printed when you're ready.
QuickBooks Online Essentials helps manage the growing small business through automated billing features. It includes all of the features of Simple Start along with the ability to manage and pay bills, track time, and allow access for up to 3 users.
Businesses looking for inventory tracking capabilities and project profitability reports will want to consider the Plus version.
QuickBooks Online Plus
QuickBooks Online Plus includes all of the features included with Essentials along with the ability to manage inventory and track project profitability. This makes the version a great fit for project-based businesses such as contractors, or for businesses dealing with difficulties managing their stock.
QuickBooks Online Plus helps you manage labor costs, payroll, and expenses with job costing–allowing you to see project profitability with clear dashboards and reports. The inventory capabilities will let you monitor product levels, cost of goods, and recieve notifications when inventory is low so you can order more.
QuickBooks Online Plus can handle up to 5 users. Businesses looking for advanced business analytics and insights, access for up to 25 users, batched invoices and expenses, and more will want to consider an upgrade to QuickBooks Online Advanced.
QuickBooks Online Advanced
The most powerful of the QuickBooks Online versions, QuickBooks Online Advanced has the most customization and power of any available plan. The accounting software will still let you manage bills, track income and expenses, invoice customers, manage contracts, pay workers, and track project time and costs. Yet it is a bigger and better QuickBooks for growing businesses that provides more tools, more users, and more supports than lower levels of QuickBooks Online.
This powerful version of QuickBooks Online is meant to rival QuickBooks Enterprise–the most advanced on-premise version QuickBooks has available. This is possible through powerful features not found in other versions of the online product, including smart reporting for charting and graphs that help make business decisions, accelerated invoice automation, and access for up to 25 users with user permission settings.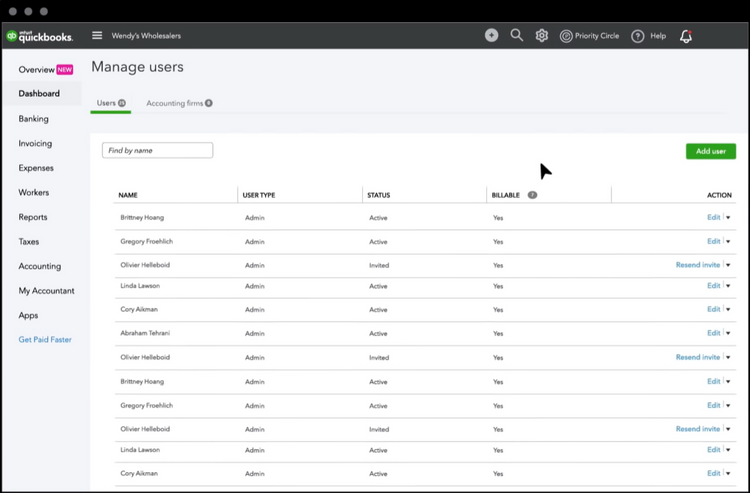 QuickBooks Online Feature Breakdown
These features can be found in a variety of packages offered by QuickBooks Online:
Accounts Payable
QuickBooks Online Basic offers you everything you will need to track your expenses and print professional checks. With QuickBooks Online Basic, you will simply need to assign the appropriate customer to each expense allowing you to invoice for all billable expenses. The system will automatically fill in all vendor information on each check you write, saving you countless hours. All information about checks written is then automatically stored for tracking, cleint billing and reporting purposes.
Capabilities Include:
Write and print checks
Enter and pay bills
Set the due date on invoices and bills
Track credit card use
Track cash purchases
Keep a list of vendors and their contact information
Accounts Receivable
QuickBooks Online gives you everything you need to invoice for your goods or services. The system will allow you to create customer accounts to store information for each customer, allowing invoices to be quickly made. The system will then allow you to customize your invoices with your own logo. After you are satisfied with the appearance of the invoice and print it, QuickBooks Online Basic will then track the invoice until it is resolved. QuickBooks Online Basic can ensure that all of your receivables are actually received and your business is capturing every dollar it has earned. You can even set up automatic invoicing for continuous customers, saving even more time for your staff. Recurring invoices can be setup to bill daily, weekly, monthly or yearly, or by any other date range you choose. If it is your desire, the system is capable of automatically emailing these invoices.
QuickBooks Online also gives you the ability to classify income and expense accounts into various ýclasses.ý This is perfect for any business that would like to categorize Income and expenses by department, type of business or any other way. This in turn, allows you to create Profit & Loss Statements by class.
Capabilities Include:
Create, print, and email invoices that are right for your business
Customize the style of your invoices, to include your company logo.
Create automatic or recurring invoicing schedules.
Create charges, billable expenses, and time activities that flow on to invoices
Compute discounts on invoices
Setup recurring invoices for continuous customers
Set the due date on invoices and bills
Keep a list of customers, contact information, and detailed notes
Track expenses by customer
Access customer information quickly and easily
Create a recurring template for invoices
Employee Time Tracking by Customer
The Employee Time Tracking by Customer feature of QuickBooks Online enables you to allow an unlimited number of employees to have time-entry access, meaning they are able to enter their time independently in the system. This allows you to easily track time so that you can accurately bill for that time worked and pay your employees.
Your employees or contractors will simply fill out their time sheets via any Internet connected PC. You can choose to assign each particular time activity to a project or customer and choose whether to bill your customers for that time. Based on whether or not hours are billable, and the rate that you assign, time information will automatically appear on customer invoices, automating the cumbersome process of finding the right data to bill for and billing for it.
General Ledger
QuickBooks Online has a general ledger that will give you the ability to track your transactions, report on results and produce budgets. Information on both income and expenses is collaboratively recorded. This information can then be used for a variety of functions.
With QuickBooks Online you are able to better understand your business through the use of budgets. These budgets can be used to estimate future expenses and revenues. Furthermore, using ýwhat if?ý scenarios you are able to find where your business is most vulnerable and what areas require the most improvement. Budgets are created in just a few minutes using transactional data. You can create budgets for any way you choose (e.g. location, class, customer, etc.). To further help save time you can base your budget on any past fiscal year or any past budget. All you are required to do is enter a few annual or quarterly amounts and let QuickBooks Online calculate the monthly averages in-between them.
Reporting with QuickBooks Online is the simplest way to achieve true insight into your business' finances. Online reports can be customized to fit your unique business needs in a matter of minutes. Every entry on every report can be drilled down to the transactional level, meaning you can analyze the numbers that make up every number on a report. Reports can be created on both a cash or an accrual basis. Some of the reports available in this system include:
A/P Aging
A/R Aging
Account Listing
Balance Sheet
Bill Payment List
Check Detail
Collections Report
Customer Balance
Customer Contact List
Customer Phone List
Deposit Detail
Employee Contact List
Employee Phone List
Expenses by Vendor
General Ledger
Income by Customer
Invoice List
Journal
Profit & Loss
Recent/Edited Transactions
Reconcile Reports
Sales by Customer
Sales by Product/Service
Statement of Cash Flows
Terms Listing
Transaction Detail by Account
Transaction List by Customer
Transaction List by Date
Transaction List by Vendor
Transaction List with Splits
Trial Balance
Unbilled Charges
Unpaid Bills
Vendor Balance
Vendor Contact List
Vendor Phone List
Payroll for QuickBooks Online
Payroll for QuickBooks Online is an add-on solution that allows you easily process payroll with either QuickBooks Online Basic or QuickBooks Online Plus. As is the case with QuickBooks Online, Payroll is available at anytime from anywhere you have an Internet connection. The system is available for $19.95.
Payroll for QuickBooks Online will give you a step by step guide instructing you how to process payroll. The system will allow you to easily print paychecks or use the free direct deposit portal. The system will automatically calculate employee earnings, payroll taxes and deductions. You can always ensure that your taxes are paid on time, with the automatically updated federal and state payroll tax tables. All taxes are then instantly calculated when processing payroll, eliminating what could be hours of calculations. Some of the additional features of this add-on include:
The system will track the amount of payroll taxes you owe to the federal government.
Tracks and alerts you as to when you should file tax forms.
File Federal tax forms electronically using E-File
Email reminders available.
Username and Password secure sensitive payroll data.
Phone support available from a team of payroll specialists
Reports Include:

Payroll Summary by Employee
Payroll Summary Totals
Payroll Liability Balances Summary
Paychecks by Employee
Paycheck Detail
Payment and Deduction Detail
Federal Tax Summary
State Tax Summary
Vacation Plan Summary
Vacation Plan Detail by Employee
Sick Plan Summary
Sick Plan Detail by Employee
Employee Contact List
Employee Taxes Listing
Employee Payments and Deductions Listing
Compensation Listing
Tax Listing
Other Payments and Deductions Listing
Pay Schedule Listing
Recent/Edited Time Activities
QuickBooks Mobile
Create invoices and access customer data on the go
Add and view customer information
Manage outstanding balances
Create & email invoices, estimates, and receipts
Available for iPhone and Android.