The debate of the best accounting software can't be complete without a mention of QuickBooks. In some way, shape, or form, QuickBooks has been one of the leading small business accounting software solutions since it's inception.
This post will discuss the differences and similarities between QuickBooks Enterprise and QuickBooks Online, including the features, pricing, number of users, and other frequently asked questions you may have.
Quick Comparison
QuickBooks was developed by Intuit in 1998 as a double-entry accounting program meant to be used by small businesses. This was a follow-up to the success of Quicken, which was more of a personal finance and home-office accounting solution. Today, QuickBooks is the most popular accounting software on the market.
QuickBooks Enterprise Overview
The most advanced offering in the family, QuickBooks Enterprise, is the closest thing to an ERP software that Intuit provides. While not an ERP software in the traditional sense, QuickBooks Enterprise brands itself as an "ERP alternative" and is truly an all-in-one solution for business management.
The software attempts to let smaller businesses get ERP-level functionality at a small business software price and offers an easy transition from their more simple options (Pro, Premier, or Online) to a business that is suddenly in need of more advanced functionality.
Read more: Best Small Business ERP Software.
QuickBooks Enterprise includes all features of QuickBooks Pro/Premier as well as more advanced features than what is offered in QuickBooks Online. This includes the features QuickBooks is most known for, such as financial management, sales orders, inventory cost tracking, and pricing. It also offers 13 predefined user roles, which lets you control access into the program for each employee. This includes accounts payable, accounts receivable, inventory management, payroll processor, and more.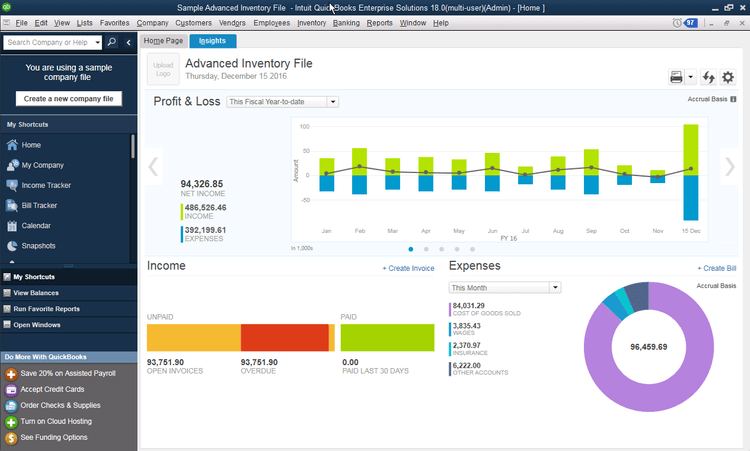 QuickBooks does have a 30-user cap, which for a growing small business may be more than enough. For a business looking to set up multiple users with predefined roles, they may find themselves eventually wishing they had a system that allowed for unlimited users.
QuickBooks Enterprise offers both locally installed and cloud-hosted offers, which is in contrast to having to pick one or the other via QuickBooks Online or QuickBooks Pro/Premier.
QuickBooks Online Overview
When you think of the most popular online accounting software, QuickBooks Online will always be in the conversation. Their easy-to-use web-based platform means you can access it from anywhere at any time. It also is routinely one of the least expensive solutions for a business looking for simple bookkeeping or accounting for their entire organization.
QuickBooks Online lets you track sales and expenses, create estimates, manage customers, and collaborate with an outside accountant. The software lets you create invoices via the invoicing module and lets your customers pay via credit card or ACH bank transfers.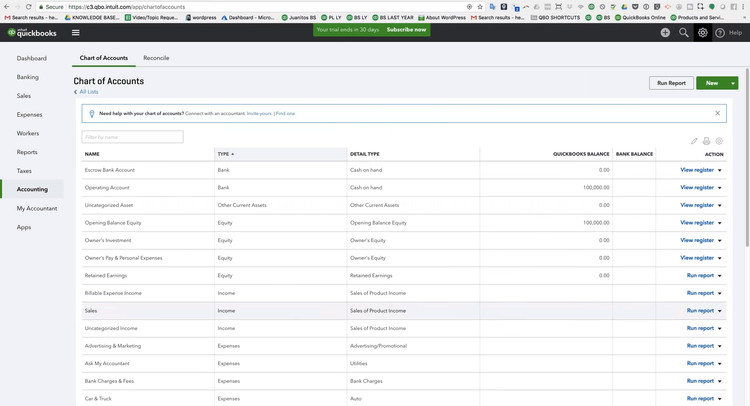 For any area that QuickBooks Online falls short in, the QuickBooks Apps store has hundreds of apps and add-ons available. These add-ons typically allow for non-financial functionality that QuickBooks doesn't provide in their base package. This includes expense management, time tracking, CRM, and cash flow forecasting. Due to the flexibility these apps provide, QuickBooks Online can be as simple or as advanced of a program you want it to be.
QuickBooks Online comes in four different packages that vary in functionality offerings depending on your business needs. All versions will be able to track income and expenses, capture and organize receipts, maximize tax deductions, and invoice and accept payments.
What version your business needs depends on the number of required users, the size of your business (the number of invoices and payments you handle each month), and the type of reports you require. They include:
QuickBooks Online Simple Start
QuickBooks Online Essentials
QuickBooks Online Plus
QuickBooks Pricing Guide
Determining which pricing structure your business can afford is one of the biggest deciding factors a business may use in shopping for software. Sometimes, it's the only determining factor. QuickBooks Enterprise and QuickBooks Online have two very different pricing structures.
How Much Does QuickBooks Enterprise Cost?
The price of QuickBooks Enterprise starts at $1,577/year. This is for the "Gold" version which should give your business all you need to get started with accounting. This price reflects the cost of 1 user. This annual subscription can sometimes include a 10% discount for the first year of service.
Contrary to popular belief, all versions of QuickBooks (not just Enterprise) that are traditionally thought of as desktop options have a subscription-based pricing model. You no longer are able to purchase a version of the software and use it indefinitely.
You can view a table of the varying pricing levels for each version of QuickBooks Enterprise for 1 user:
| Deployment | Gold | Platinum | Diamond |
| --- | --- | --- | --- |
| Local Install | $1,577/year (billed annually) | $1,940/year (billed annually) | $3,825/year (billed monthly) |
| Cloud Hosting | $175/month (Billed monthly, annual agreement) | $206/month (Billed monthly, annual agreement) | $363/month (Billed monthly) |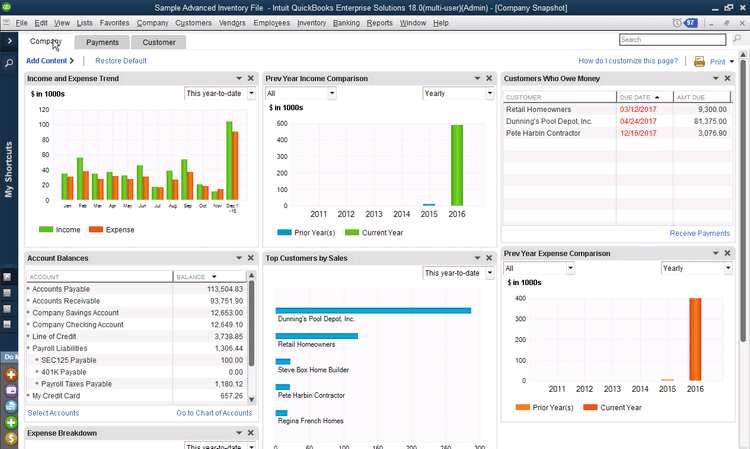 How Much Does QuickBooks Online Cost?
The price of QuickBooks ONline starts at $15/month. This is for the "Self-Employed" version that is intended for use by freelancers. This simple version will help track income and expenses, organize your receipts, and help you invoice customers. You'll also be able to create basic reports.
Many versions of QuickBooks Online will include a 50% discount off the first 3 months if you buy now. A free 30-day trial is available otherwise, but you will give up any discounted pricing for starting with a trial.
You can view a table of the varying pricing levels for each version of QuickBooks Online for 1 user:
| Self-Employed | Simple Start | Essentials | Plus | Advanced |
| --- | --- | --- | --- | --- |
| $15/month | $25/month | $40/month | $70/month | $150/month |
The Advanced version does not have a 30-day free trial available. A product demonstration guided by a QuickBooks VAR (value-added reseller) is available.
Payroll is available as an add-on to any version of QuickBooks Online. This price for payroll starts at an extra $45/month plus $4/employee/month. A Premium and Elite version of payroll exists for an increased monthly and employee/month cost. These versions cover more powerful tools and on-demand experts to assist you with daily tasks.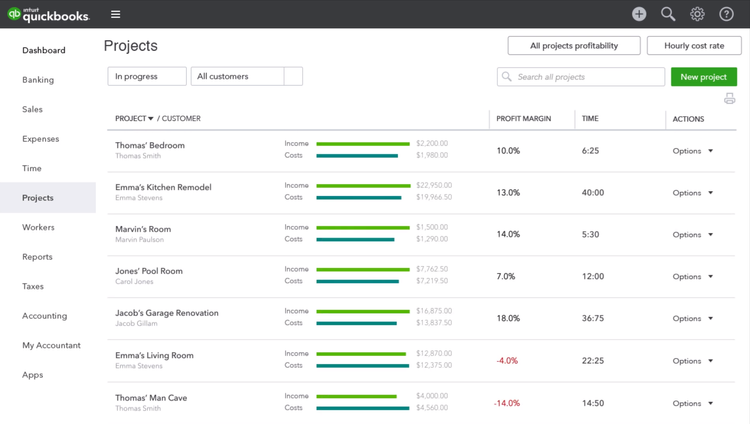 Feature Comparison
Do QuickBooks Enterprise and QuickBooks Online have the same features? Making a guess based on their names, you might assume that one product is an enterprise accounting software, while the other is online accounting software. But that doesn't explain much about the differences in features being offered.
The closest comparison that can be made would be between QuickBooks Enterprise and QuickBooks Online Advanced. This powerful version of QuickBooks Online rivals QuickBooks Enterprise through powerful features not found in other versions of the online product, including smart reporting for charting and graphs that help make business decisions, accelerated invoice automation, and access for up to 25 users with user permission settings.
The following table shows a feature comparison between QuickBooks Enterprise and QuickBooks Online:
| Feature | QuickBooks Enterprise | QuickBooks Online | Quickbooks Online Advanced |
| --- | --- | --- | --- |
| Sales Order Management | Yes | Yes | Yes |
| Credit Card Processing | Yes | Yes | Yes |
| Fixed Asset Management | Yes | No | No |
| Excel Import | Yes | Yes | Yes |
| Bank Reconciliation | Yes | Yes | Yes |
| Inventory Management | Yes | Yes | Yes |
| Bin Location Tracking and Bar Code Scanning | Yes | No | No |
| Multi-entity Accounting | Yes | No | Yes |
| Batch Invoicing | Yes | No | Yes |
| Sales Forecasting | Yes | No | No |
| Custom Reports | Yes | No | No |
Typically the features found within QuickBooks Online will be more basic or well-rounded, meaning it's better suited for a wide range of businesses. Desktop versions of QuickBooks such as QuickBooks Enterprise have tools that have been developed for specific scenarios and industries over the years. QBE may lack the mobility of QBO, but it more than makes up for it with the comprehensive feature set it offers within it's offering. You may or may not be able to find the missing tools within the QuickBooks app store.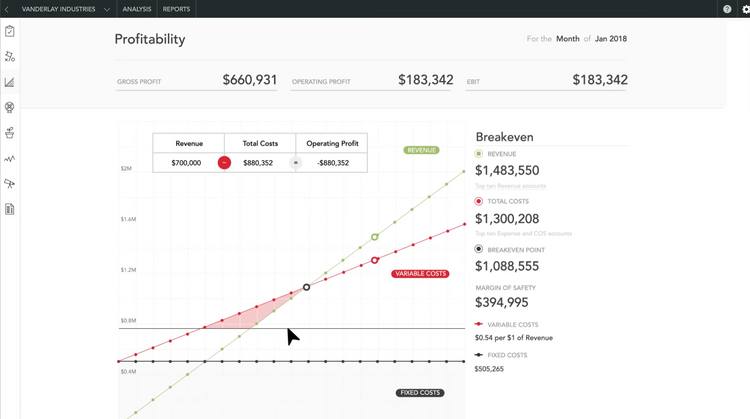 Number of Users
How do these two options stack up when it comes to the number of users? This may be an important deciding factor for your business as you try to ensure every staff member gets the access they need to the program.
QuickBooks Online Plus: Up to 5 users
QuickBooks Online Advanced: Up to 25 users
QuickBooks Enterprise: Available in 1-10 or up to 40 users (Enterprise Diamond is sold in increments of 1-10, 20, 30, and 40 users).
Keep in mind these are for concurrent users, or users that require access at the same time. It is completely possible (and even encouraged) to have users share the same logins in order to save on software expenses. However, this may not be the type of audit trail your company desires.
While QuickBooks Online can handle a high volume of users (depending on the version you have), it performs the best when you are using 5 or fewer users. If you require more, your needs have likely grown beyond what QuickBooks Online will offer you long-term, and it may be time to consider upgrading to QuickBooks Enterprise or a QuickBooks replacement.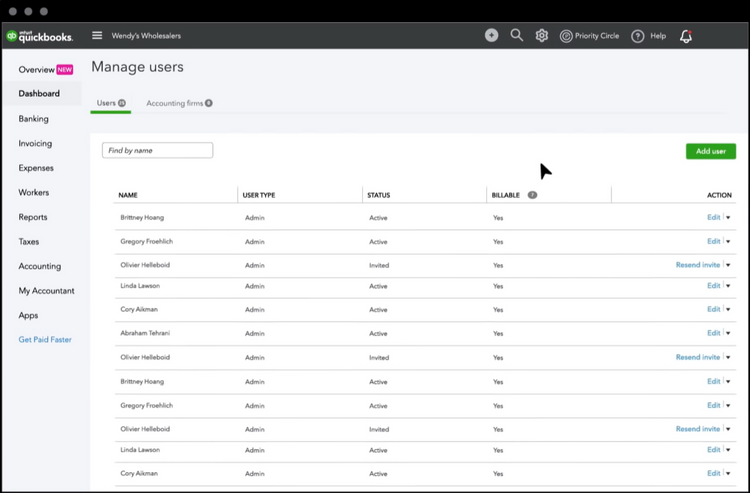 QuickBooks Enterprise vs QuickBooks Online: Which is Best?
After extensive hands-on testing, our editorial review staff, having used, demoed, and reviewed both products, concludes that QuickBooks Enterprise generally takes the lead for most businesses because of its in-depth features and scalability.
QuickBooks Enterprise, with its more advanced functionalities, caters to businesses looking for deeper insights, detailed reporting, and higher user limits. Conversely, QuickBooks Online offers exceptional mobility, being accessible from any device with internet connectivity. This makes it perfect for businesses that require on-the-go access.
However, when it comes to intricate financial management, predefined user roles, and capacity for growth, QuickBooks Enterprise does hold an edge. That said, businesses just starting out or those who prioritize mobility might find QuickBooks Online a better fit.
Check out our complete roundup of the best accounting software for other options, or read more about the best QuickBooks alternatives.
Frequently Asked Questions
Your business has a number of deciding factors to choose between QBE or QBO. If our guide hasn't helped you arrive at a conclusion as of yet, perhaps some of these other answers to common questions may help.
What is the difference between QuickBooks Enterprise and Quickbooks Online?
QuickBooks Enterprise is intended for use by larger-small businesses and can be used by manufacturing and distribution businesses with its advanced inventory features. QuickBooks Online is for more accounting-focused businesses looking for a web-based system, and/or a business that wants access to the large app-based ecosystem QuickBooks offers.
Is QuickBooks Enterprise available online?
Yes, QuickBooks Enterprise does have a cloud-hosted option that gives you access to the software at any time, anywhere, and with any device. QuickBooks Desktop Enterprise with Hosting is a subscription-plan and incurs an additional cost on top of the standard Enterprise licensing costs. Hosting for QuickBooks Enterprise is provided via Right Networks, who also perform all data backups on a nightly basis. The cloud-hosted version of QuickBooks Enterprise operates as you would expect most remote desktop services.
Is QuickBooks Online Advanced the online counterpart to QuickBooks Enterprise?
Both QuickBooks Online Advanced and QuickBooks Enterprise are intended to be used by small businesses with complex needs (such as manufacturers or distributors) who also require advanced inventory. The main differences come in deployment preference and pricing plans. However, businesses with ever-changing needs may prefer the freedom offered the applications offered within QuickBooks Online.
What is the difference between QuickBooks Enterprise and Accountant?
QuickBooks Enterprise is best used in any small to mid-sized business that requires a large amount of transactional data. QuickBooks Accountant is specifically designed for accounting firms and bookkeepers, with the goal of handling accounting transactions for companies that are not their own. The Accountant's version provides bookkeeping services that can import accountant copy files from clients, batch enter transactions, and run a working trial balance report.
Can you buy QuickBooks Enterprise without a subscription?
No. As of late 2015, QuickBooks Enterprise requires an ongoing subscription to gain access to the software. This is independent of your deployment method (whether running the software on-premise or in the cloud).
Is QuickBooks Desktop being phased out?
No. QuickBooks still offers 3 core versions that are locally-installed on your desktop:
However, these versions (for the most part) have moved to a subscription-based pricing model that requires a yearly payment in order to continue using the software with included support. A QuickBooks Pro/Premier/Enterprise license is good for three years after purchase, but Intuit will drop any included support beyond that, on top of limiting your software to 1-user license, if you do not continue to pay the annual fees.
Why is QuickBooks desktop better than online?
Users of desktop versions of QuickBooks say that you'll experience faster run times, fewer bugs, and better customer support in comparison to the online counterpart. Desktop versions of QuickBooks consistently receive higher ratings across review websites, although this could be due to the history of QuickBooks Desktop vs Online. QuickBooks Desktop is usually preferred if you are looking for industry-specific features or have more complex accounting needs.
What are the pros and cons of QuickBooks Online vs desktop?
QuickBooks Online is easier to learn and use on a daily basis with the accessibility of offers across multiple devices and the number of available automations and applications. However, the program is more "generic" and won't give you the most industry-specific capabilities. It also lacks the level of customization that some companies may prefer.
Do you have to renew QuickBooks Enterprise every year?
In order to keep ongoing support with Intuit, yes. Once purchased, the licensing of QuickBooks Enterprise is good for 3 years. If you fail to renew your solution each year, you are still welcome to continue using the solution on your desktop, but you will be limited to 1 user license and not have any ongoing support.
Do I have to buy QuickBooks every year?
If you have a desktop version of QuickBooks, please see the answer to our previous question above. If you subscribe to an online version of QuickBooks, then yes, you will need to pay the annual/monthly subscription cost to continue using the software. Failure to do so will prevent you from accessing your data.
How many users can QuickBooks Enterprise have?
QuickBooks Enterprise can have as many as 40 simultaneous users.
Does QuickBooks Enterprise work on a Mac?
No. QuickBooks Enterprise is intended to be used on a Windows O/S and requires a native application to run. QuickBooks Online runs in your web-browser and thus is compatible on either a Windows or a Mac. Intuit also offers QuickBooks for Mac for Mac users looking for an on-premise option.