There's a large quantity of accounting software and financial management products on the market today. Specially designed accounting systems are available for nearly any permutation of organization size, and industry you can think of. From a small-business that may require an off-the-shelf option to a larger enterprise that desires a vast amount of customization, this buyer's guide will cover everything you should care about when reviewing accounting systems.
This guide will provide you with information on the following topics:
What Is Accounting Software?
Accounting software at a minimum keeps track of financial transactions. Core functionalities include general ledger (GL), accounts payable (AP), and accounts receivable (AR). Common additional functionalities include payroll, billing, and inventory management.
Many industries have customized functionalities/requirements like fund accounting for nonprofits, job costing for construction firms, or DCAA compliance for government contractors. In larger organizations, the terms "accounting software" and "ERP" are often used interchangeably.
Features of Accounting Software
Accounting software has features and functionalities that can be broken down into basic categories, such as common (typically found in all accounting software), industry-specific (only found in certain types of accounting software), and advanced (only used by mid-sized to larger businesses). While many top accounting software features exist to benefit your business, lets focus on some of the essentials.
| Feature | Description | |
| --- | --- | --- |
| Core accounting | Tracks revenues and expenses and creates financial reports for your business. Includes modules such as accounts payable, accounts receivable, and a general ledger. | |
| Payroll | Manages employee compensation: wage calculation, direct deposits, check printing, and compensation tax reports. | |
| Billing & invoicing | Create, send, and manage outbound invoices for client work. Collect payments online via credit card or ACH bank transfers. | |
| Bank reconciliation | Imports bank records, often in real time, and attempts to auto-match bank and accounting records. | |
| Inventory management | Record inventory as current assets on the balance sheet. Track the cost of goods sold on your income statement. | |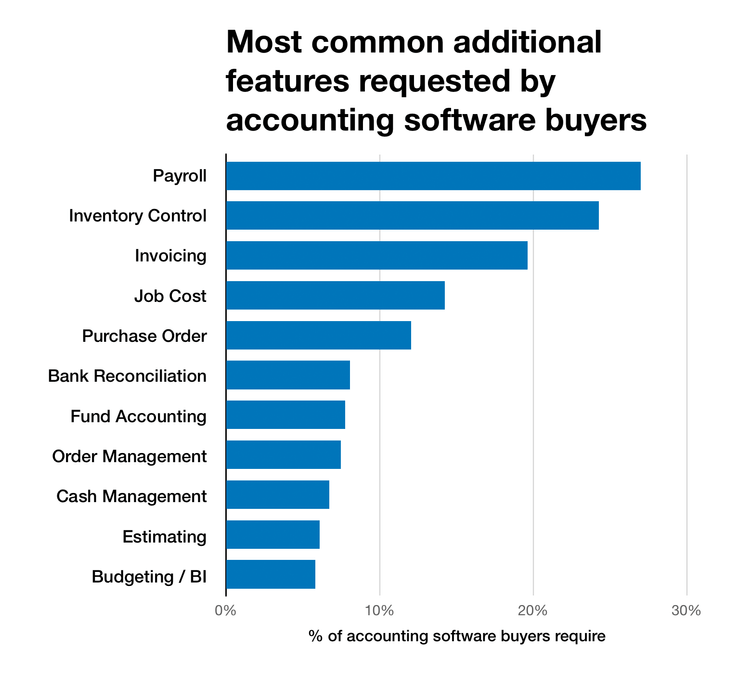 Our 2018 accounting software buyer trends report found that payroll, inventory control, and invoicing were the most requested additional features to buyers looking for more than the "core accounting" of accounts payable, accounts payable, and a general ledger.
What Accounting Software Does Your Business Need?
The buyer trends report mentioned above reviewed more than 3,000 accounting software projects and found the needs and motivations of many buyers. While many types of buyers exist, most can fit into these common categories below.
New buyers and small businesses: 37% of the companies we surveyed are buying accounting software for the first time. Many small businesses were looking for increased functionality over their current methods, which ranged from a manual bookkeeping method (pen and paper) to a popular starter solution such as QuickBooks or Sage 50c (Peachtree).
Existing users desiring functions beyond core accounting: Over 20% of buyers said they need software that handles payroll, inventory, and invoicing.
Growing companies: Companies that require a healthy amount of users or manage multiple entities are more commonly shopping for small business ERP software that will include a full suite of functionalities to go along with their accounting. More than 70% of larger businesses surveyed desired software that handles advanced budgeting and forecasting or a business intelligence (BI) package for better analytics. Larger businesses also expressed a desire for fund accounting capabilities and a way to manage their procurement.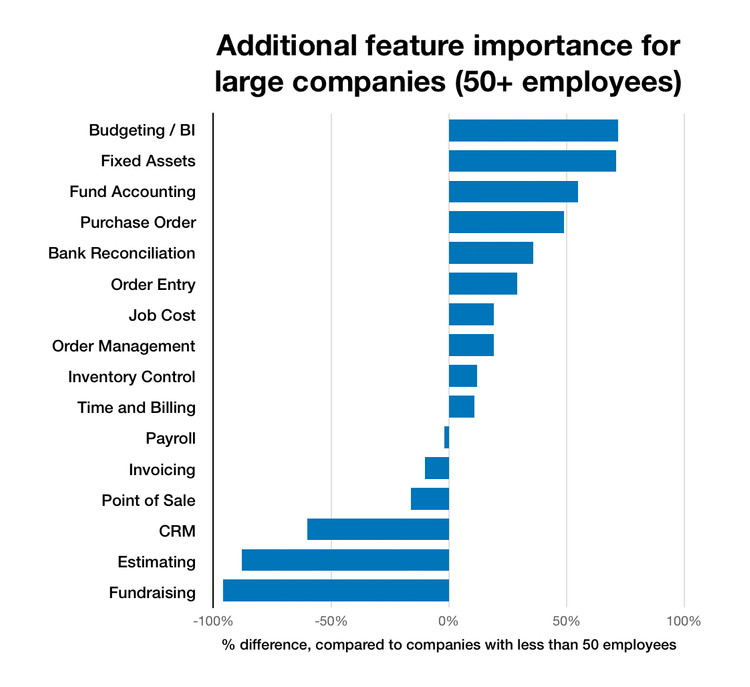 Best Small Business Accounting Software
Small businesses crave an accounting software that's easy to use, easy to implement, and most importantly, inexpensive. Whether you're self-employed or manage a business with a good number of employees, you'll want to pick a software that helps automate accounting as much as possible so you have more free time to grow your business.
FreshBooks is a true all-in-one accounting software that automates your administrative tasks such as invoicing, organizing expenses, and tracking your time worked on projects. It also features a large quantity of reports that help monitor the financial health of your business.
The biggest benefit of FreshBooks is what you get included for the price. Rather than offer a limited base version of their software (such as only invoicing), their "Lite" package includes a full suite of unlimited invoices, expense entries, estimating, and time tracking. It can also accept credit card payments and ACH bank transfers and has an automated bank import feature built in.
AcountingSuite is intended for the growing small business. Due to including an integrated suite of banking, sales, purchasing, inventory, and accounting in it's base package, the solution encourages you to continue to use it as you grow and not require 3rd party applications or stand-alone options.
AccountingSuite includes unlimited CPA/bookkeeper seats so your accountant can help you use the program. The solution starts at $19/month for 1 user and the pricing is mostly dependent on the number of users…
Want more options? Check out our list of best small business accounting software.
Best Free Accounting Software
Freelancers and start-ups will look to get their business up and running as quick as possible for the lowest price point. In doing so, it may be hard to budget for a tool that helps you budget. Free accounting software is a great way to get your foot in the door when it comes to tracking income and expenses, and getting a snapshot of your business performance.
Wave is a forever-free accounting software that provides accounting, invoicing, payments, payroll, and receipts. Wave is very transparent into their pricing structure. The accounting, invoicing, and receipt scanning is 100% free. Collecting payments via credit card or bank transfers, or running payroll for your employees, does come at a price, however.
Wave is not only one of the most popular free accounting solutions, it can also be thought of as one of the most popular accounting solutions period. Because of this, it's a great choice for freelancers and start-ups who are strapped for cash.
CloudBooks is marketed as an online invoicing and billing software, but it can also provide full accounting for freelancers and micro-businesses. The free version includes unlimited users, 5 invoices, 1 client file, cloud data storage, and email support. Small businesses that have more than one client or require more than 5 invoices a month will want to look into their paid option that includes unlimited clients and invoices for $10/month.
Best Accounting Software for Invoicing
Billing and invoicing capabilities in your accounting software help customers pay you on time through automatic payment reminders and notifications. Some software can distinctively be an invoicing software, while others provide full bookkeeping functionality behind a strong invoicing feature set.
Kashoo is a complete bookkeeping solution for small business owners, providing invoicing, income/expense tracking, and credit card payment processing. However, Kashoo has it's roots as primarily a powerful invoicing tool, which provides unlimited invoices and unlimited users. You can brand your invoices with your company logo, include payment instructions, and create recurring invoices.
The dashboard was designed to quickly enter income and expense transactions. There are some key metrics found on the right-hand side, but the home screen is mainly a form for entering income and expenses.
BQE Core is one of the best time and billing software options available. The solution works great for overall project management, as the solution lets you track billable time, assign it to a customer, and later invoice the customer appropriately.
While it does lack other core accounting features, it can integrate with a number of basic acocunting solutions such as QuickBooks. This makes BQE Core best used as a stand-alone invoicing tool for billable time rather than a complete accounting system.
Want more options? Check out our list of best billing and invoicing software.
Best Online Accounting Software
Online accounting software provides a "log in from anywhere" approach, which is intended to increase usage given the ease of access. On top of being able to access your financial information from anywhere you have access to a web browser, many online accounting software have mobile apps via Android or iOS devices, which can provide accounting features such as receipt scanning.
Over 1.3 million users have chosen Xero as their primary accounting software. Xero is very scalable, meaning many small businesses continue to use Xero as they grow into larger enterprises and upgrade to more advanced versions.
Xero learns and categorizes your transactions to help save your business time. Xero also has a large support network and an online "checkup tool" that lets the support team run some system checks to identify issues.
Zoho Books is a simple online accounting software that manages financials and automates your workflows. End to end accounting, tax compliance, and integration with over 40 apps on Zoho's marketplace lets Zoho become the type of software you need it to be.
Zoho Books provides a free 14-day trial and can let you get started for as low as $9/month.
Want more options? Check out our list of best online accounting software.
Best Accounting Software for Mac
Due to the widespread popularity of PCs, many software developers have a "Windows-first" approach when it comes to creating their software. While it can be challenging to find an accounting software with a Mac-specific UI, there are still a solid amount of options to consider.
QuickBooks for Mac is the Mac-exclusive version of one of the most widely used accounting products ever, QuickBooks Desktop. New in 2020, the Mac version includes modernized reporting, an improved customer snapshot, a dark mode, electronic invoices with online ACH, credit card, or e-check payment options, and bounced check processing.
QuickBooks for Mac primarily serves small businesses and starts at $299 for a one-time purchase.
SapphireOne provides a "one-stop-shop" for all your business needs (not just accounting). Beyond managing receivables and payables, SapphireOne also records inventory, document management, and CRM functionality. This fully-integrated option is supported on both Mac and Windows, and can also be managed online or with mobile applications.
SapphireOne serves businesses of all sizes and includes a free trial demo so you can get started right away.
Want more options? Check out our list of best mac accounting software.
Upgrading From QuickBooks?
Undoubtedly, QuickBooks is a massively popular product. While QuickBooks can serve many needs, it's also the most commonly replaced accounting software on the market. Our previously mentioned buyer trends survey found that 33% of upgraders are coming from QuickBooks.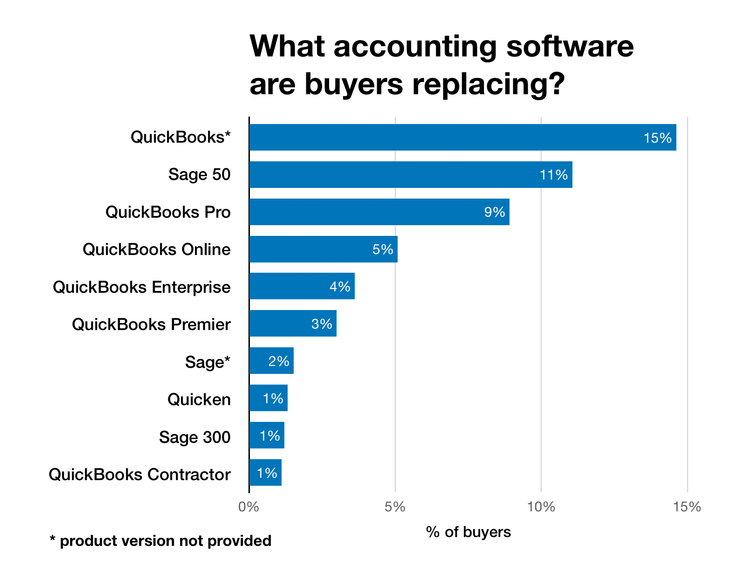 QuickBooks Replacement Options
We also conducted a study on over 4,000 previous users for their most popular quickbooks replacement options. The solutions will vary by industry, but these options were found to be the most common choices for companies to review: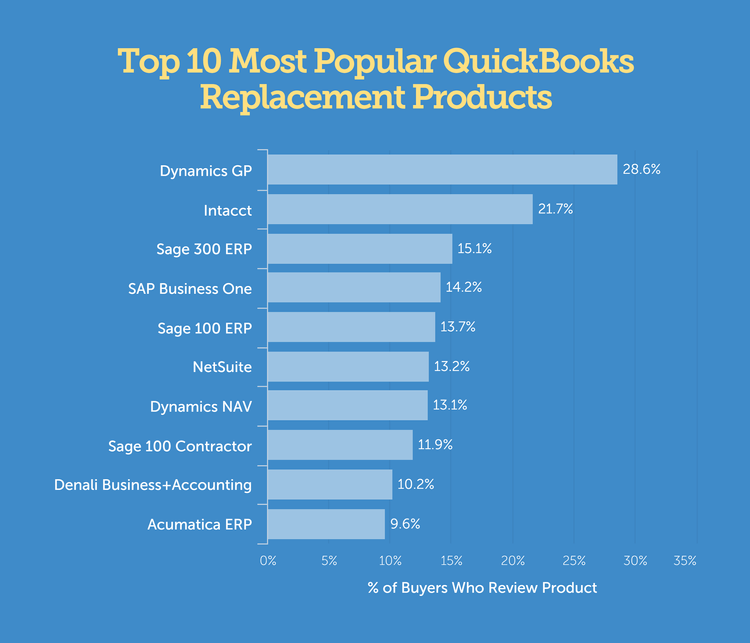 Accounting Software Pain Points
Integration with other business software. Companies that do not have a complete (all-in-one) software will look to combine more than one software to meet all of their functionality needs. An off-the-shelf software that handles core accounting may lack additional functionality such as payroll, advanced reporting, or more involved inventory. Once the need for these features arrives, many buyers may lack the means necessary to integrate the programs together.
Difficulty finding industry-specific tools. As consumers demand functionality more in-tune with their industry needs, software developers are doing everything they can to make those dreams a reality. While a super-niche industry may not have a software option exclusively developed for them, be on the lookout for specialized vendors. These are companies that pride themselves in implementing specific software solutions into certain environments, and will offer customizations or add-ons for a generic-product that will make it more in line with what the business expects on a day to day basis.
Low levels of customization available. Many companies will try to make due with a lower-cost solution at the expense of advanced functionality. Options such as Sage 50c and Quickbooks are great low priced options for new businesses, but they'll lack ways to customize the software towards your business. Popular accounting software customizations include tailored reports, role-based dashboards, custom data fields that can be added to invoices and reports, and more.
Trends in Accounting Software
The landscape of features and technology offered by software vendors is constantly changing. And as software changes, so do the demand for specific features.
Increased adoption of cloud software. Also known as software-as-a-service (SaaS), cloud adoption rates have picked up over the past decade. In 2015, 76% of the buyers we spoke to indicated a receptiveness have their software hosted externally, off-premise. In 2017, this percentage rose to 84%. With cloud-based software, products are leased, rather than licensed, which becomes more attractive for smaller businesses with limited funds. The software industry has responded by making software more available on a cloud basis.
More tablet & mobile applications. In 2016, mobile web browsing surpassed desktop browsing in user counts. Naturally, usage has translated into business demands. Accounting software developers have responded in kind, especially within fields that require on the site analysis such as construction & field service.
Developer & product acquisitions. As markets mature, often companies will acquire, reposition, and/or consolidate their product lineups. This is especially frequent as of late. Sage's acquisition of Intacct is a notable example.
More data. More intelligence (BI). Over the past five years (2012-2017), we've seen a whopping 42% increase in end users looking to evaluate Business intelligence software. Business intelligence software is used in virtually every industry. Consulting firms need to track employee productivity by project/company. Retailers need to track profitability by SKU. Financial institutions set new account goals for personal bankers.
More integrations and APIs. Integrations, or APIs, allow distinct products to talk with one another. Your payroll system could update your HR team in Slack of any processing errors. Your payment processor might automatically push new receivable entries to your accounting system. Your accounting software could share available funds with BI systems. Expect inter-software communication abilities to increase in most products.
Lease accounting standards update. In an effort to improve financial reporting, the Financial Accounting Standards Board (FASB) issued a new standard on lease accounting. Each asset with a 12+ month lease term needs to be included on balance sheets. This includes equipment, buildings, vehicles, and other assets your company leases. The new standard went into effect for public companies for fiscal years & interim periods beginning after Dec 15, 2018, and for private companies for fiscal years beginning after Dec 15, 2019 and interim periods within fiscal years after Dec 15, 2020.