A realistic budget will help your business plan for the future. You'll be able to improve business decision-making with accurate and relevant financial information. Being able to anticipate demand and expected revenue will help you decide how many new employees to hire, how many products to manufacture, or how many materials to purchase.
Budgeting and forecasting software coordinates financial planning activities, as well as tracks and reports on actual financial progress. This guide will help you select the right budgeting and forecasting software to improve the predictability of corporate expenses and create efficiency in the budget creation and tracking processes:
What Is Budgeting and Forecasting Software?
Budgeting and forecasting software assists with the creation and management of detailed corporate financial plans. Historical data and estimates of future market conditions are used to approximate a company's future revenues and expenses.
Budgeting and Forecasting Software Features
| Functionality | Definition |
| --- | --- |
| Departmentalized budgeting | Departmentalized budgeting provides the ability to create hierarchically categorized budgets organized by units such as business department, location, or cost center |
| Budgeted versus actual comparisons | The ability to compare budgeted figures versus actuals relies on the import of GL data and enables improvement monitoring of corporate performance against goals |
| Collaborative budgeting | Collaborative budgeting features supports document management functionality that allows multiple individuals to contribute to budget creation |
| Budget approvals | Budget approvals functionality allows for the authorization of budgetary plans by users at pre-defined user privilege levels |
| Versioning | Versioning capabilities allow for non-destructive storage of multiple budget versions and tracking features to document changes to budget plans |
| Rolling budgets | Rolling budgets allow for dynamic revision/extension of budgets to refresh budgets for a consistent period of time from the present moment |
Types of Financial Forecasting Methods
Quantitative Forecasting: With quantitative forecasting, historical data is used to calculate predicted future demand. Types of quantitative methods include time series and causal methods.

Qualitative Forecasting: Qualitative forecasting methods are subjective and based on judgment and opinions from the sales team, consultants, or industry experts. Types of qualitative forecasting include the consensus method, Delphi technique, survey or research method, and sales force estimates.
Static Budgets vs. Rolling Forecasts
Static Budgeting: Static budgets are typically set once a year and are not intended to deviate for the remainder of the budget period. An estimate of the upcoming fiscal year's expenses and revenue is formulated before the year starts.

Rolling Forecasting: Rolling forecasts predict revenue and expenses over a set period of time. The time period continuously rolls over, adding on another month after the current month passes, so it always covers the same timeframe (i.e. 12, 24, or 36 months). The predicted results are based on data from year-to-date results and your original budget. Rolling forecasts are constantly updated to reflect events and sudden changes in your business.
What Does Your Business Need?
Startups and Small Businesses: Startups and small businesses should look for a lower cost budgeting solution that will help manage and track revenue and expenses. Most startups won't have historical data, so forecasting functionality isn't a requirement. As your business grows, however, forecasting will become a more important feature. If you already have an accounting software system in place, you'll also need a solution that will easily integrate with it.

Medium-Sized Businesses: Mid-sized businesses should look for a software solution that has predictive budgeting, forecasting, and financial reporting capabilities, so you can track business performance and plan ahead.

Large Businesses: Large companies with multiple departments or facilities to manage should look for software featuring departmentalized budgeting and collaborative budgeting. With departmentalized budgeting, businesses create a separate budget track and report on financial progress of specific departments or locations. Collaborative budgeting allows multiple individuals to contribute to the creation of budgeting plans - this is useful if you have multiple locations nationwide or even worldwide.
Can QuickBooks Handle Budgeting and Forecasting?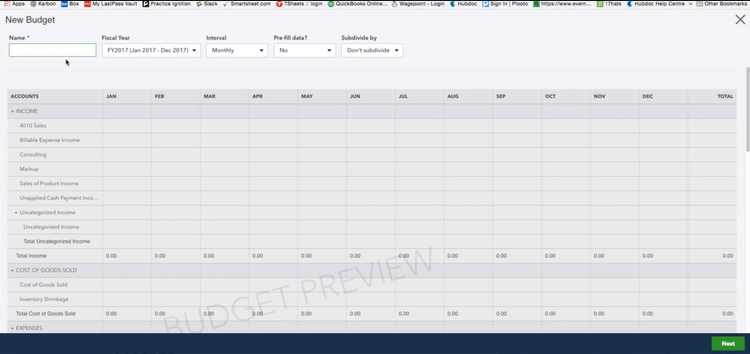 QuickBooks can handle basic budgeting and forecasting. Startups and small businesses looking to move away from Excel spreadsheets can get away with using QuickBooks Online Plus or Advanced to set up budgets to monitor current and historical data for the business's revenue and expenses - the Budget vs Actual reports will help you make informed business decisions.
QuickBooks Desktop Premier, Accountant, and Enterprise feature cash flow forecasting to help businesses predict incoming future revenue over a specified period of time. Currently, QuickBooks Online does not handle cash flow forecasting.
Free Budgeting Software
While free budgeting software options do exist, they are typically for personal budgeting. These solutions are used for personal finance and help people achieve savings and retirement goals. Some popular free budgeting solutions include Mint, BudgetPulse, and Personal Capital.
When you consider budgeting software for your small business, you'll be hard-pressed to find a free option that includes all of the functionalities you need like credit card processing and year-end reporting. Most of the information found in this guide will refer to business budgeting and forecasting software and their importance.
Budgeting Software vs. BI Tools
Budgeting software uses financial information to plan future budgets based on expected revenue and expenses, as well as track financial progress.
BI tools also analyze financial data. However, BI tools also take into account non-financial data to plan for future growth. Examples of non-financial data include: how long it takes for a product to be built, the parts or materials used to create the product, and how many products were produced per hour per employee. Advanced reporting functionalities in BI tools will also help you make informed decisions for hiring, taking in new customers, and buying new equipment.
Common Pain Points Solved
Human error in the data entry process: Budgeting and forecasting software streamlines the budgeting process. Recurring expenses can be saved in the system to be included in the reports as needed and calculations are automated to reduce human error. Budgeting software also keeps data more secure and data can't be overwritten or deleted easily compared to budgets in Excel.

Creating budgets is time-consuming: The right budgeting and forecasting software solution will save time in the budget cycle. You'll be able to reuse relevant data from previous years, as well as quickly import data from integrated accounting software.
Budgeting Software Trends
Cloud-based budgeting and forecasting software: Financial planning and analysis (FP&A) are predicted to continue to move to cloud-based, software-as-a-service (SaaS) solutions. An article from Jedox predicts that by 2020 there will be more expenditures on cloud-based software than on-premise solutions.

Replacing annual budget processes: According to a 2013 article on ThomasNet.com, 60% of business spend more than 3 months putting together their annual budgets. Companies are replacing annual budget processes with rolling forecasts to save time by continuously planning for the future.

Automating planning, budgeting, and forecasting processes: FSN's study: The Future of Budgeting, Planning and Forecasting, found that 82% of CFOs listed automating planning, budgeting, and forecasting processes as a top technology priority for their business over the next 3 years.
Benefits of Budgeting and Forecasting Software
Create Reliable Forecasts
Budgeting and forecasting software will give you a better handle on expected revenues and expenses. Software modules use a combination of approaches to create financial forecasts. The key components of creating a budget are inputting accurate historical information and querying users for estimates of future financial conditions. Budgeting software programs provide a framework for reinforcing budgeting best practices. Ensuring the inclusion of all relevant data and collecting information from distributed sources can be deceptively difficult tasks.
Any budget relies on user-created estimates. Budgeting programs can help turn guesses into expectations by requiring estimates at a more granular level and integrating margin of error controls. Once data has been translated into predictions for financial outcomes, actual earnings and expenses can be compared against the predictions to monitor business progress.
Avoid Time-Consuming Manual Processes
Manually creating effective budgets can be very difficult and time-intensive. Companies have limited confidence in hand-created budgets due to concerns that the historical information is incomplete or inaccurate.
Budgeting software allows direct data imports from integrated applications such as the general ledger and other key accounting applications. Automatic data entry prevents the kind of errors introduced by manual re-keying.
Planning for unexpected external factors is a difficult task. Budgeting software can help you easily correct for external factors like inflation.
One of the main advantages of using budgeting software is the cost savings. Creating budgets can be one of the most time-intensive tasks for executives. Budgeting software will help you eliminate the reliance on cumbersome spreadsheets. For anything but the most basic budgeting needs, spreadsheets use dozens if not hundreds of formulas and macros. One mistaken keystroke can spoil weeks of careful preparation.
Increase Collaboration in the Budgeting Process for More Accurate Forecasts
Budgeting software also promotes collaboration.
Each employee may have responsibility for different segments of your financial data. If you need to receive input from multiple employees, using a manual approach to creating budgets can easily become impractical. You'll likely be spending unnecessary time standardizing information into normalized formats. Furthermore, creating a budget is often a process that depends on working through multiple versions. Passing information back and forth multiple times can easily drain resources and generate costly delays. Instead, you need one single updatable version of the truth.