The best budgeting and forecasting software includes:
Workday Adaptive Planning
Budgyt
Planful
Xero
Budget Maestro
PROPHIX
But which will work best for your business? You'll want to ensure your choice streamlines the financial planning process but also helps make data-driven decisions for optimal resource allocation.
We've reviewed 20+ options, and our expert picks showcase top solutions that enable businesses to predict future revenue, expenses, and growth trends with accuracy, while minimizing human error.
1

Workday Adaptive Planning - Best Overall

Primarily considered a corporate performance management (CPM) solution with budgeting and forecasting tools, Workday Adaptive Planning stands out as a robust solution for companies seeking to enhance their budgeting and forecasting processes.

One of its most commendable features is its ability to break free from the limitations of traditional, siloed systems, offering users the flexibility to plan, budget, and forecast with increased agility. This is further complemented by its rolling forecasts, which provide a continuous view of business operations, enabling companies to react promptly to any discrepancies.

The software's versatility is evident in its range of budgeting methodologies, from top-down and bottom-up budgeting to incremental and zero-based budgeting. This ensures that organizations can tailor their budgeting approach to their specific needs, whether they're relying on historical data or starting afresh for the upcoming fiscal year. Furthermore, the driver-based expense planning, coupled with an intuitive rules engine, allows for more accurate and relevant expense projections.
2

Budgyt - Best Cloud-Based

Budgyt is an easy to use, intuitive budgeting and forecasting tool for any industry. This cloud-based solution replaces clunky spreadsheets with an intuitive budgeting tool to create budgets faster, more accurately and more reliably. This solution works for clients in any industry who have multiple stores, units or divisions. Budgyt creates a roll-up of individual budgets and generates reports and analyses. Budgyt also imports and exports data from your existing general ledger accounting software.

This solution is popular with enterprise, mid-market, and small businesses alike in for-profit and non-profit sectors. There are separate pricing plans depending on if you are for- or non-profit.
3

Planful - Best Invoicing Features

Planful, formerly known as Host Analytics, is a cloud-based FP&A platform. This enterprise performance management (EPM) suite uses web-based applications for continuous planning, budgeting, forecasting, and financial consolidation functionality which is tightly integrated with its business intelligence analytics and reporting software.

The planning tools help you create financial plans with interactive queries, financial modeling, and spotlight reporting.
4

Xero - Best for Small Businesses

Xero is an online accounting solution for small businesses that is known for its ease of use. Financial reporting tools offer instant, up-to-date reporting with quick links to all the original transactions. And with online accounting, see cashflow in real-time anytime, anywhere.

At its core Xero is an easy-to-use but powerful accounting system designed from the ground up. It uses simple language for users unfamiliar with accounting terminology, making it all you need to run your small business.
5

Budget Maestro - Best for Mid-Sized Businesses

Budget Maestro is an ideal solution for mid-market and even enterprise level companies looking to reliably manage budgeting and forecasting. The software automates many of the time consuming and error-prone tasks associated with using spreadsheets to generate more accurate budgets and financial forecasts.

Budget Maestro's built-in financial intelligence and business rules, which are based upon your assumptions and workflow, ensure continuous budget accuracy. Working from a centralized database eliminates potential data disparities caused by human error. And any changes to estimates or assumptions are automatically updated, so you are always working with a single version of the truth.
6

PROPHIX - Best Free Trial

PROPHIX offers a free trial to start budgeting and forecasting software, which includes a centralized database, periodic forecasts, i.e. monthly, mid-year, multi-year, and other forecasting needs all just a click away. This software brings income statements, balance sheets, cash flow and other company specific budgeting requirements to your desktop, for accurate analysis and management.

PROPHIX offers a number of options to improve forecasting accuracy. What-if analysis, inter-period forecasts, comparing actual to forecasts/budgets, developing rolling forecasts or based on various key performance indicators are all possible with PROPHIX's flexible modeling capabilities.
What is Budgeting and Forecasting Software?
Budgeting and forecasting software coordinates long-term financial planning activities, as well as tracks and reports on real-time financial progress. The two sides of this software work together to automate your company's financial planning and analysis (FP&A). On one side, budgeting software assists with the creation and management of detailed corporate financial plans. On the other side, forecasting software uses historical data and estimates of future market conditions to approximate a company's future revenues and expenses.
As a combined strategic planning software, these solutions allow you to spend less time on tedious tasks related to making important financial statements so you can focus on improving your business. Selecting the right budgeting and forecasting software can improve the predictability of your corporate expenses and make better decisions in your budget creation and tracking processes.
Can Budgeting and Forecasting Software Handle Demand Planning?
These solutions are sometimes confused with sales forecasting software, which specifically predicts expected sales. If you need a way to measure inventory metrics to forecast customer demand, you're better off looking at demand planning software.
Key Features of Budgeting and Forecasting Software
The three key features offered by budgeting and forecasting software include:
Budgeting: Calculate what your company's budget(s) should be based on historical data and future projections
Forecasting: Make future projections on how funds should be allocated at your company
General Ledger: Track Accounts Payable (AP) and Accounts Receivable (AR) finances through easy to use income and balance sheets
Accurate financial modeling cannot truly be achieved without both budgeting and financing, hence why they so frequently operate together as one software. The key difference lies in their intended purposes: budgets try to determine what a company can afford to spend while forecasts predict potential income. Since both are aimed at improving business financials, they have important features like:
| Functionality | Purpose |
| --- | --- |
| Departmental budgeting | Departmentalized budgeting provides the ability to create hierarchically categorized budgets organized by units such as business department, location, or cost center; Can be extra specific to differentiate budgets for multi-company or multi-department projects |
| Budgeted versus actual comparisons | Compare budgeted figures versus actuals by comparing imported general ledger data against income or profit/loss statements; Enable real-time monitoring of corporate performance against goals |
| Collaborative budgeting | Support document management functionality to allow multiple individuals to contribute to budget creation |
| Budget approvals | Allow for the authorization of operational planning budgets by users at predefined user privilege levels |
| Version control | Use versioning capabilities to create non-destructive storage of multiple budget versions and track document changes to budget plans |
| Rolling budgets | Generate dynamic revision/extension of budgets for a consistent period of time from the present moment for real-time accuracy |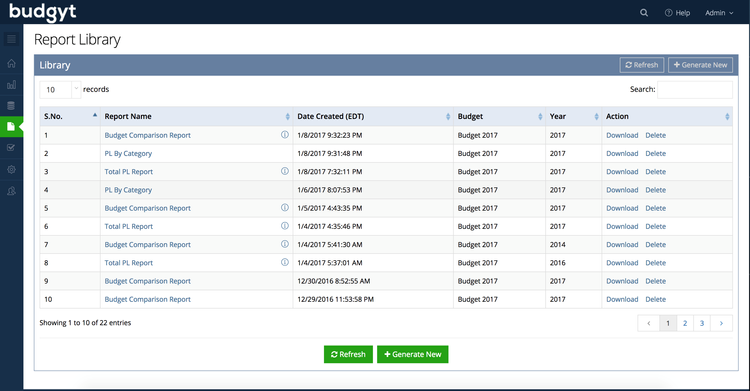 Benefits of Budgeting and Forecasting Software
A realistic and accurate budget is how your business plans for the future. With the benefits offered by budgeting and forecasting software, you'll be able to improve business decision-making with relevant financial information and minimize risk from human error. Reviewing key performance indicators (KPIs) to anticipate demand and expected revenue will help you decide how many new employees to hire, products to manufacture, and materials to purchase while staying on or below budget.
Create Reliable Forecasts
Crafting an accurate forecast can be incredibly tricky. A single error in your scenario planning can lead to costly shortages further down the road. Budgeting and forecasting software gives you a better handle on expected revenues and expenses. These modules use a combination of approaches to create financial forecasts which are as accurate as possible. The key components are past historical information, then querying expert users for estimates of future financial conditions. Budgeting software programs provide the framework for reinforcing budgeting best practices. Ensuring the inclusion of all relevant data and collecting information from distributed sources can be deceptively difficult tasks.
All budgets rely at first on user-created estimates. Financial management and budgeting programs turn these guesses into realistic expectations by calculating estimates at a more granular level with error controls. Once data has been translated into predictions for financial outcomes, actual earnings and expenses can be compared against the predictions to monitor business progress.
Avoid Time-Consuming Manual Processes
Manually creating effective budgets, whether with pen and paper or on Excel spreadsheets, can be very difficult and time-intensive. And most companies have limited confidence in these hand-created budgets due to concerns about human error from incomplete or inaccurate historical information. The right budgeting and forecasting software solution will save time in the budget cycle. You'll be able to reuse relevant data from previous years, as well as quickly import data from integrated accounting software.
For instance, this software allows direct data imports from integrated applications such as the general ledger and other key accounting applications. Automatic data entry prevents the human kind of errors introduced by manual re-keying.
Adjusting budgets due to changing world circumstances is another time consuming task. Planning ahead for unexpected external factors can mitigate some of the damage, but it's better to be flexible by using budgeting software which can easily correct for external factors like inflation as they occur in real-time.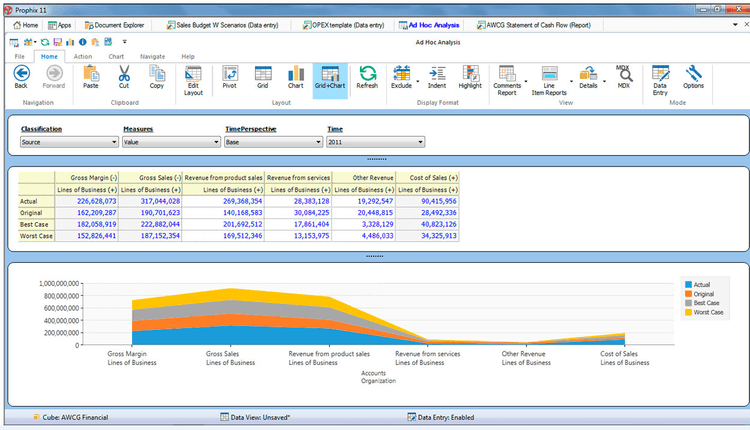 Cut Down on Costs
One of the main advantages of using budgeting software is the cost savings. Creating budgets can be one of the most time-intensive tasks for executives. For anything but the most basic budgeting needs, spreadsheets use dozens if not hundreds of formulas and macros. One mistaken keystroke can spoil weeks of careful preparation. Budgeting software will help you eliminate the reliance on cumbersome spreadsheets.
Increase Collaboration in the Budgeting Process With Enterprise Performance Management Systems
An individual employee may have responsibility for specific segments of your financial data. If you need to receive input from multiple employees, using a manual approach to creating budgets can easily become impractical. You'll likely be spending unnecessary time standardizing information into normalized formats. Furthermore, creating a budget is often a process that depends on working through multiple versions. Passing information back and forth multiple times can easily drain resources and generate costly delays. Instead, you need one single updatable version of the truth.
Budgeting software promotes this interdepartmental collaboration by offering one solution for financial consolidation. Keep all the latest data together in one accessible place your employees can share. As a result, this software often pairs well with enterprise performance management systems as a way of keeping companies moving towards shared goals.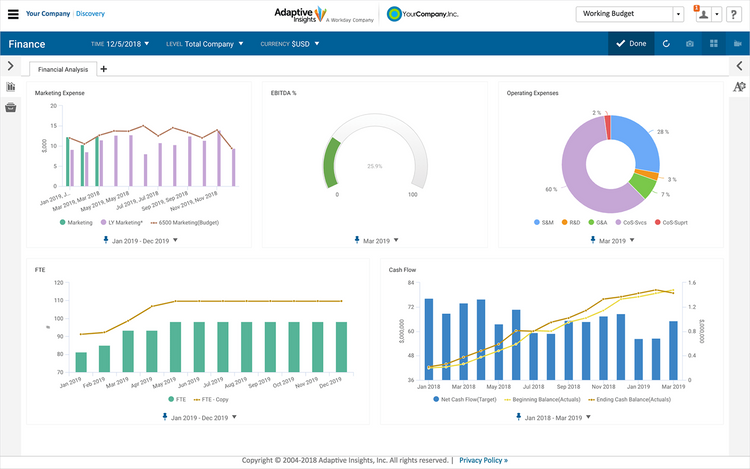 Budgeting and Forecasting Software Trends
Cloud-based platforms: Financial planning and analysis (FP&A) are predicted to continue to move to cloud-based, software-as-a-service (SaaS) solutions. An article from Jedox predicts that by 2020 there will be more expenditures on cloud-based software than on-premise solutions.
Replacing annual budget processes: According to an article on budgeting by ThomasNet.com, 60% of business spend more than 3 months putting together their annual budgets. Companies are replacing annual budget processes with rolling forecasts to save time by continuously planning for the future, particularly by using:
Automating planning, budgeting, and forecasting processes: Forecasting software streamlines the budgeting process by automating the basic processes. For example, recurring expenses can be saved in the system to be included in the reports as needed. And FSN's study: The Future of Budgeting, Planning and Forecasting, found 82% of CFOs listed automating planning, budgeting, and forecasting processes as a top technology priority for their business over the next 3 years.
Types of Financial Forecasting Methods
Budgeting and forecasting software includes all the tools necessary for measuring and predicting financial performance. The most well-known financial forecasting methods compile important information about past, current, or upcoming financial decisions.
Static Budgets vs. Rolling Forecasts
Static Budgeting: Static budgets are typically set once a year and are not intended to deviate for the remainder of the budget period. An estimate of the upcoming fiscal year's expenses and revenue is formulated before the year starts.
Rolling Forecasting: Rolling forecasts predict revenue and expenses over a set period of time. The time period continuously rolls over to always cover the same timeframe (i.e. 12, 24, or 36 months). The predictions are based on year-to-date results and your original budget. Rolling forecasts are constantly updated to reflect events and sudden changes in your business.
Regardless of method, templates included with budgeting and forecasting software make it easy for users to compile the resulting data into visualizations which can be shared with key decision-makers throughout the financial planning process.
What Software Does Your Business Need?
Startups and small businesses should look for a lower cost budgeting solution that will help manage and track revenue and expenses. Most startups won't have historical data, so forecasting functionality isn't a requirement. If you already have an accounting software system in place, you'll also need a solution which will easily integrate with it.
Mid-market companies should look for a software solution with predictive budgeting, forecasting, and financial reporting capabilities, so you can better track business workflows to plan ahead.
Large enterprise-level businesses with multiple departments or facilities to manage should look for software featuring departmentalized budgeting and collaborative budgeting. The former creates a separate budget to track and report on financial progress of specific departments or locations. The latter allows multiple individuals to contribute to the creation of budgeting plans - particularly useful if you have multiple locations worldwide.
Can QuickBooks Handle Budgeting and Forecasting?
QuickBooks, a popular accounting solution, can handle basic budgeting and forecasting. Startups and small businesses looking to move away from Excel spreadsheets can use this to set up budgets then monitor current and historical data for the business's revenue and expenses.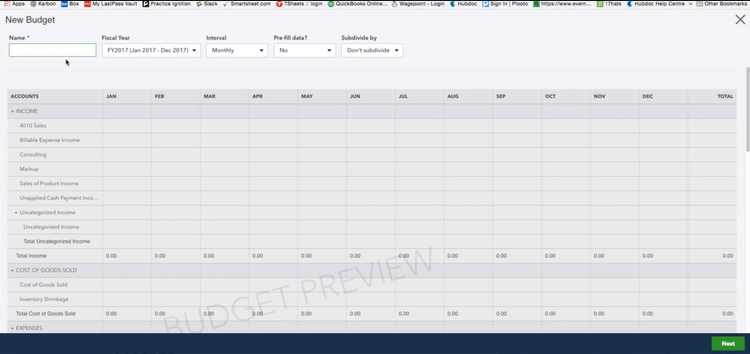 Budgeting and Forecasting Software Pricing
Budgeting and forecasting software pricing begins around $99 per month and goes up to $1,150 per month. Some charge per user, increasing the total cost, while others have tiered pricing options based on the number of proposed users. For instance, these plans may charge between $10 to $50 per user on a monthly basis. Finally, there are some SaaS plans which charge annually in order to reduce total costs.
While free budgeting software options do exist, they are typically for personal budgeting. These solutions are generally used for personal finance and help people achieve savings and retirement goals. When you consider budgeting software for your small business, you'll be hard-pressed to find a free option which includes all of the functionalities you need like credit card processing and year-end reporting.