We've evaluated the best demand planning software on the market, including GoFreight, Magaya, and Soloplan.
1

Intuendi - Best Overall

Why we chose it: Intuendi is the best overall demand planning software because of its AI-powered forecasting and advanced algorithms. Intuendi leverages artificial intelligence to streamline the planning process, making forecasting more accurate and efficient. The software's AI also helps in purchase order management, including real-time container space estimates and order suggestions.

Intuendi offers both top-down and bottom-up forecasting options, and users can further customize how data is used. Beyond forecasting, Intuendi provides strong inventory management tools and continuous online support.
2

Avercast - Best for Customization

Why we chose it: We think Avercast is the best in terms of customization due to its tailor custom screens, features, and functions to meet the unique demands of businesses. With extensive forecasting algorithms, Avercast offers more precise inventory planning.

In addition, it offers tools like ABC analysis, exception management, safety stock optimization, and service level optimization that can be fine-tuned to user perferences.
3

Netstock - Seamless ERP Integration

Why we chose it: We found Netstock best for integrations because it connects with the largest ERPS, including Acumatica, NetSuite, Microsoft Dynamics, and SAP Business One. It offers improved forecasts by considering trends, seasonality, promotions, and events. Automated planning and collaboration across departments enhance the forecasting process.

However, we found a few aspects of Netstock limiting; the high learning curve and lack of flexibility for lower packages are definite drawbacks. You also can't edit previous spikes in demand. However, it integrates well with ERP systems, and provides deep granularity in planning. We did wish for a bit more customization in reports, but the ability to run "what-if" scenarios and the ability to have a single dashboard view of inventory KPIs seemed like it would aid well in decision-making.
4

Slim4 - Extensive Industry Coverage

Why we chose it: We found that Slim4 is suitable for inventory holding companies across all industries due to its versatility and simple integrations. One of Slim4's strengths is its ability to be easily integrated with most ERP solutions on the market. This ensures that businesses can leverage its capabilities without major disruptions to their existing workflows.

Additionally, it has a relatively quick implementation timeline, with many users operational within three months. We like that Slim4 commits to delivering a return on investment within one year or less, making it an attractive option for any type of business seeking fast results.
5

Stock IQ - Most Comprehensive Feature Set

Why we chose it: We found StockIQ's feature set notable because it covers demand planning, inventory analytics, supplier performance, and replenishment planning. We also liked its multi-functional reporting and filtering options, enhancing data analysis.

Another feature worth mentioning is its dynamic forecasting system. It uses an advanced forecasting algorithm to account for historical sales data, trends, seasonality, and special events to predict future demand.
What Is Demand Planning Software?
Demand planning and forecasting software is a sales and operations planning (S&OP) technology that meets customer demand with the necessary level of supply. This is accomplished by coordinating data from separate units of the business (primarily sales, marketing, and operations) to make more informed supply chain planning decisions that directly relate to inventory optimization.
Accurate demand planning involves collecting historical data on order volumes and inventory turns while mixing it with continually updated forecasts from your sales personnel.
Demand Planning Software vs. Business Intelligence Software
Demand planning solutions can be thought of as a business intelligence software specifically for supply chain analytics. The software can estimate future sales to improve the accuracy of inventory management and its replenishment, better plan purchases, and ensure proper stocking levels.
The goal of demand planning software is to manage your supply chain more effectively to increase inventory turns and fill rates beyond what your ERP suite or supply chain management software can do for you.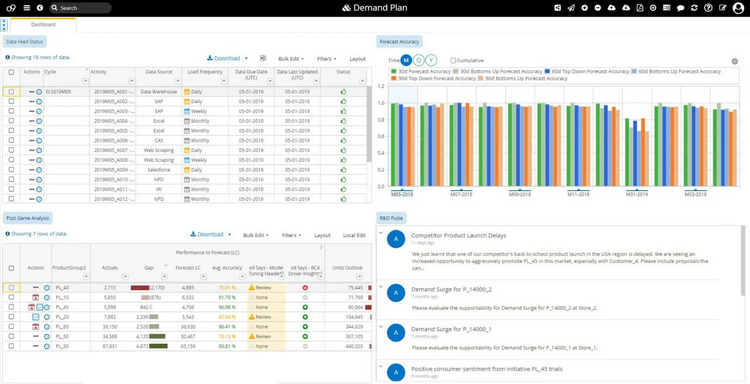 Features of Demand Planning Software
| Feature | Description |
| --- | --- |
| Sales and Operations Planning (S&OP) | The overall management of your sales plan and operations plan, which includes tracking sales per month by product family, demand management (such as new product promotions and special offers), production per month by product tracking, workforce and inventory level tracking, and backorder management |
| Demand Planning | Forecast demand for a product so it can be developed and shipped in as efficient as possible of ways |
| Inventory Planning | Identify non-performing inventory SKUs and avoid overstocking. Scale for error to ensure under and over-forecasting situations even each other out. |
| Supplier Management | Helps strategically plan and manage interactions with any vendors or suppliers of goods. Set reminders for reorders and reduce risk in your supply chain. |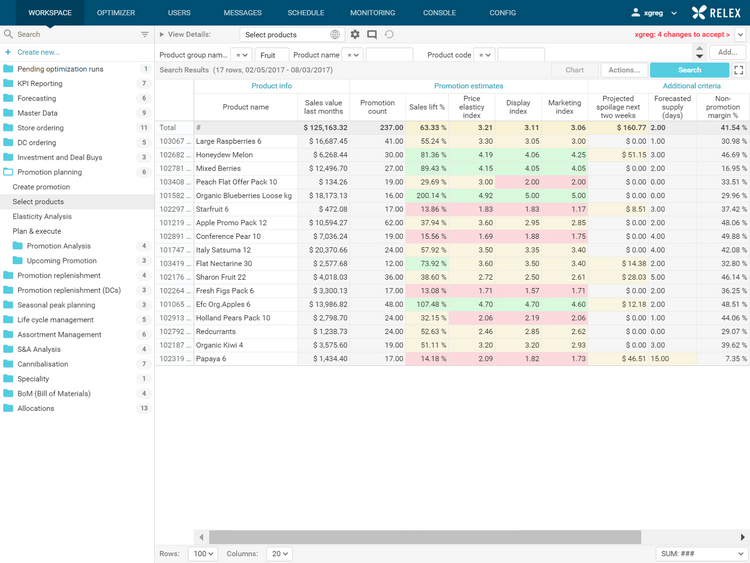 How Much Does Demand Planning Software Cost?
Demand planning software pricing can vary widely. The monthly subscription cost can range from $1,000 to over $4,000. The setup or implementation fees can vary even more widely, from $30,000 to over $100,000. The specific pricing may depend on factors such as organization size, the complexity of the demand planning processes, and the level of customization required.
Benefit #1: Improve Sales and Operations Planning
The sales and operations planning process help businesses create plans to maintain current business and take on new customers with new products through proper management of the supply chain. The process can help merge insight from all departments of a business (such as sales, marketing, manufacturing, and more) to create an all-inclusive business plan intended to balance supply and demand. Execution between these departments centered around sales forecasts to make sure goods flowing through your supply chain is as optimized as possible.
The sales and operations planning process is something a business will want to conduct each month in various phases. This includes moving along the following processes:
Sales forecasting: This is the generation of historical data (past sales) to analyze trends and create proper expectations (demand forecasts)
Demand Planning: What are your current sales? What did your business forecast? Now, what did your business plan for? Demand planning in the sales and operations planning process is about validating your forecasts. Where does your demand typically come from? You'll need to account for variability and adjust your inventory structure to account for it (if any).
Supply Planning: Your business will need to ensure your production levels are as close as possible to what you previously planned for (via demand planning). This step is about assessing your ability to meet demand, by reviewing available capacity and scheduling your production/output to the necessary level.
Reconciliation of plans: This stage will help balance your demand and supply with any financial considerations, and also ensure that the previous steps have been accounted for.
Finalize and link to the implementation: The execution stage of the process, and the final step in the sales and operations planning process. Usually, for larger (global) companies, the process is put into place and funnels down to regional supplies (depending on if the operation produces items globally or sold and produce at a regional level)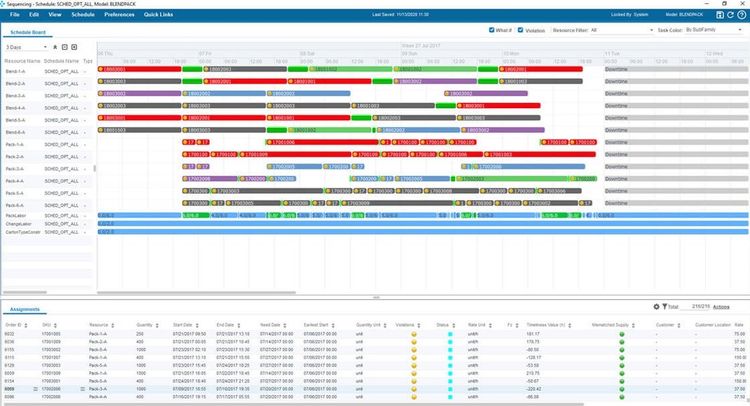 Benefit #2: More Accurate Stock Data With Inventory Optimization
To ensure proper inventory levels are in place to meet your demand, you need proper inventory optimization. Inventory optimization software automates the analyses of your entire inventory cycle.
An optimized inventory optimization solution will look at the differences between demand forecasts and historical sales data to come up with appropriate stocking levels. An incorrect forecast can lead to your business not being able to meet demand, which leads to products sitting idle, or even worse, that you aren't able to fulfill sales orders on time.
Effective demand planning software will lead to your inventory being at its most optimal level by creating multiple what-if scenarios. This includes analyzing all parts of your supply chain, such as sourcing, production, warehousing, and transportation.
How does one change affect the other? What sort of impact does each change have on various types of inventory? Since inventory optimization can be seen as a form of predictive analytics, demand planning systems will give an accurate prediction of the amount and type of stock to carry.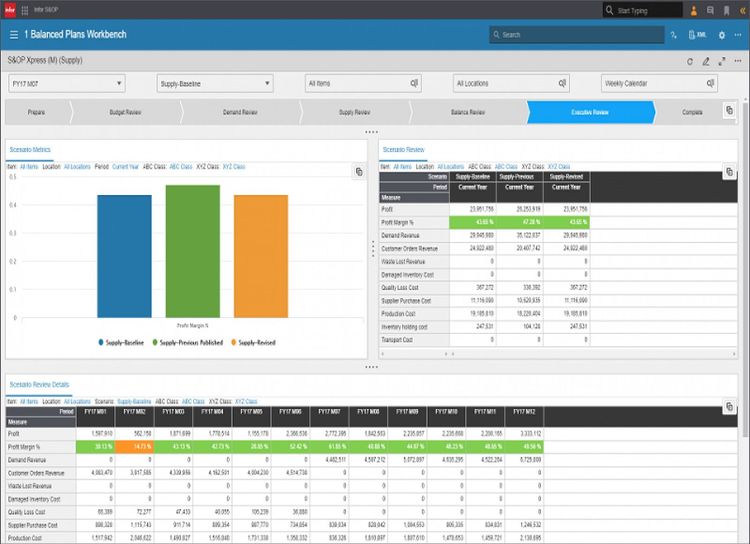 Benefit #3: Optimize Labor Management
Demand planning software can also be used to plan for labor demand rather than inventory optimization. This type of demand planning will accurately determine the number of workers available, which can influence costs and the quality of service provided to customers. The end goal of labor-management via demand planning software will be to drive employee engagement and performance to enhance business results.
Workload analysis capabilities allow decision-makers to determine the standard time to produce a unit. This is opposed to a traditional and more subjective method of estimating the number of employees required for upcoming production periods.
By using workload analysis, you can determine the estimated number of workers by dividing the estimated number of hours needed to meet annual production by the workability of your workers.
Workers can also be incentivized for good performance. By establishing benchmarks, you can maximize workforce potential by recognizing good performances. Conversely, this lets you get visibility into completed tasks and any employee downtime.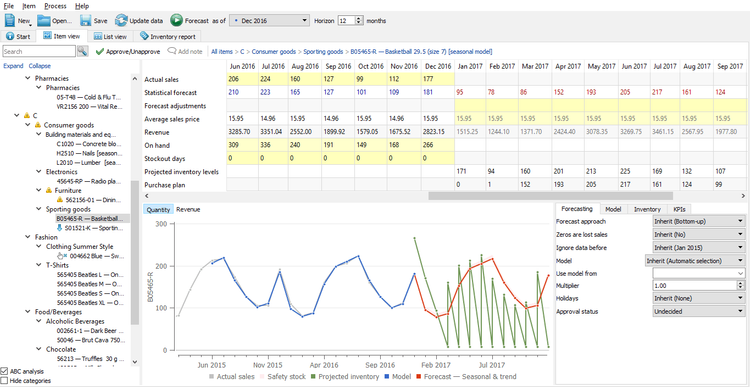 Benefit #4: Integrated Cash Flow Management
By including financials into your sales and operations planning processes, your entire organization will be able to better understand the data and how it can help plan and shape your financial goals. This includes planning capital projects effectively and scheduling maintenance repairs efficiently–all while knowing how it affects your bottom line.
Demand planning software can also improve cash flow by providing insight into how current inventory is impacting finance. Too much inventory can disrupt cash flow–leaving you unable to meet demand.
By forecasting financials along with demand, you'll be able to have a more sophisticated budgeting process. Depending on how far ahead into the future you forecast, you'll be able to use financial projections based on projected demand when creating budgets or when speaking to executives and decision-makers–giving you increased credibility with stakeholders.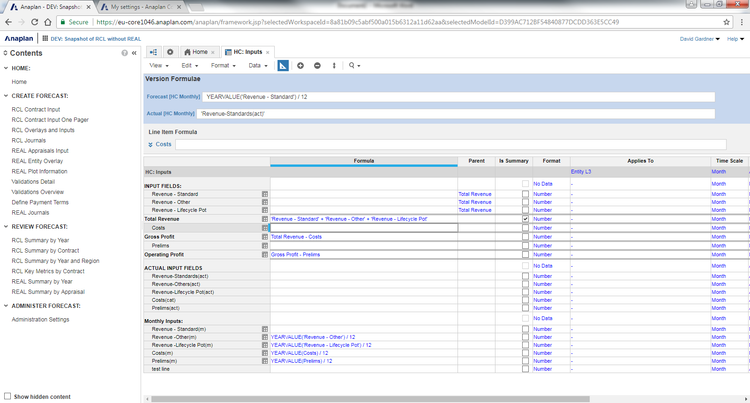 Types of Demand Forecasting Methods
As demand is the biggest factor used when creating sales forecasts, you'll want to make sure your business is using the most appropriate type of demand forecasting for the products you manufacture, the market you're involved with, the staff you have on hand, and more.
Most demand planning and scheduling software will use predictive analytics capabilities to determine (to ascertain of a possibility as possible) how scheduling, production, inventory, and staffing should be allocated for production. However, there are other methods of demand planning to consider:
Delphi Method
Known as being one of the more time-consuming methods of demand planning, the Delphi Method surveys experts anonymously. The surveys are administered in multiple rounds of questions, each new question being generated based upon the summary of results received thus far.
The end goal of the Delphi Method is to get these experts to arrive at a consensus opinion. In the supply chain process, this consensus opinion is used in development for the ideation of new products, which can affect the inventory kept on hand.
Conjoint Analysis
This survey-based statistical technique takes into account perceived value and relies heavily on asking customers what they want. This is more of a judgemental approach to demand planning, as the survey planners (the forecasters) will ask the participants to make trade-offs when conflicts arise.
If a customer wants product A, will they take product B that has similar benefits/features? In a supply chain, conjoin analysis helps businesses determine the importance of the attributes and price of a product. This can let businesses shift in the features offered or adjust pricing to hit certain benchmarks in their overall sales. It can also let them know when a customer may consider buying a competitor's product over theirs.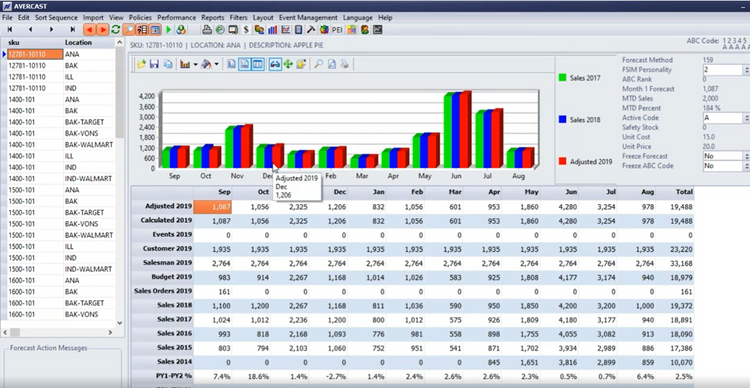 Demand Planning vs Supply Planning
The difference between demand planning and supply planning is that demand planning forecasts customer demand, while supply planning manages inventory to meet this demand.
Demand planners use extensive data, including past sales, to produce both constrained and unconstrained demand forecasts, indicating potential demand with and without limitations. These forecasts help businesses manage orders efficiently and reduce inventory costs.
Supply planning aims to fulfill demand forecasts efficiently, focusing on manufacturing lead times, order quantities, production leveling, and safety stocks. It operates based on the demand plan, using it to generate a master production schedule. The supply plan then assesses capacity and resource impact, making necessary adjustments.
Read more: Demand Planning vs Supply Planning: What are the Differences?