What Is Supply Chain Planning Software?
Supply chain planning software develops real-time demand forecasts, establishes supplies needed to fulfill orders, plans and schedules manufacturing operations, and develops key performance metrics to monitor the lifecycle of your operation. A properly implemented system will fulfill requirements created from the demand plan, and streamline supply and demand to achieve the financial objectives of the business and improve overall decision-making.
Supply chain planning is a key part of the overall supply chain management software process because it's the first step in the overall supply chain execution process. The strategic planning involved includes planning a product from raw material all the way to the customer. This ties in closely with production scheduling, demand planning, and overall sales and operations planning.
If you were to look at a flowchart of an overall supply planning process, it may look like this:
Demand Planning > Inventory Optimization > Replenishment Planning > Master Production Scheduling and Procurement > Finite Scheduling
This sales and operations planning (S&OP) process not only deals with supply chain planning but also the finance and sales involved. With supply chain planning systems, you'll be able to create a forecast, determine the inventory necessary to support the forecast, determine the time needed to acquire this inventory, figure out what factories are capable of completing these plans, learn what your purchasing department needs to buy, and finally schedule out the work at your factory.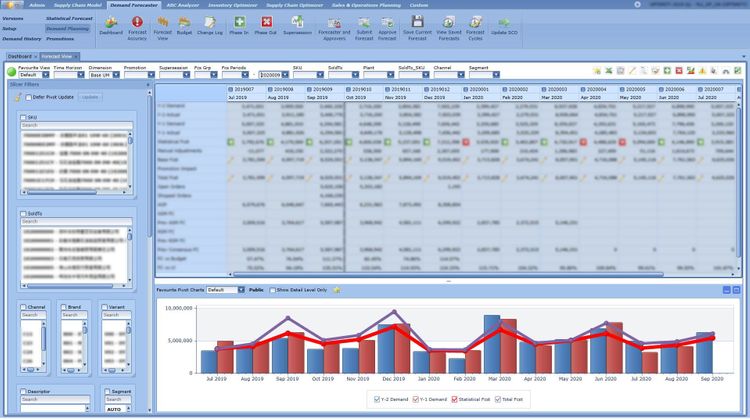 Features of Supply Chain Planning Software
Sales Forecasting: Creates financial reports of expected sales based on historical trends, economic conditions, industry behavior, changes within your company, and selected time periods.
Demand Planning: Coordinates data from separate units of the business (primarily sales, marketing, and operations) to make more informed supply chain decisions. Collects historical data on order volumes and inventory turns while mixing it with continually updated forecasts from your sales personnel.
Sales and Operations Planning (S&OP): Create plans to maintain current business and take on new customers with new products through proper management of the supply chain. Assists in increasing the speed of planning to improve forecast accuracy and on-time delivery.
Inventory Optimization: Creates optimal product storage and distribution conditions by aiding in supply/demand forecasting, product traceability, and overall warehouse management.
Order Fulfillment: Automates order processing via sales order entry, inventory management, picking and packing items, and tracking shipments of goods to customers.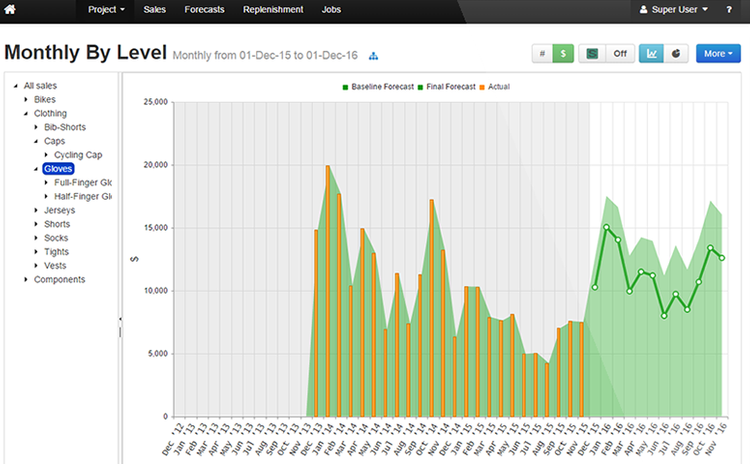 Benefits of Supply Chain Planning Software
The top benefits of supply chain planning software include:
Decrease Costs and Improve Efficiency
The goal of any supply chain software will be to make your business more efficient. But at what cost? Many businesses strive to find the sweet spot of not only becoming a more efficient business but also saving costs on their supply chain planning. If software can help cut costs, great. If new strategies may cost more in the short-term but lead to a more profitable operation, it's definitely an option that should be explored.
Supply chain planning software will help you create a network design with as little conflicts as possible. It's important to be concerned about conflicts, as costs associated with some SCM services can indirectly affect others.
For example, it could be as simple as spending more during product sourcing may mean less money to spend on manufacturing costs. If your raw material sourcing times run high, then you may impact the run time of your manufacturing. This may have an effect on logistics (i.e. the space in your warehouse) and leads to customers not getting goods they ordered on time.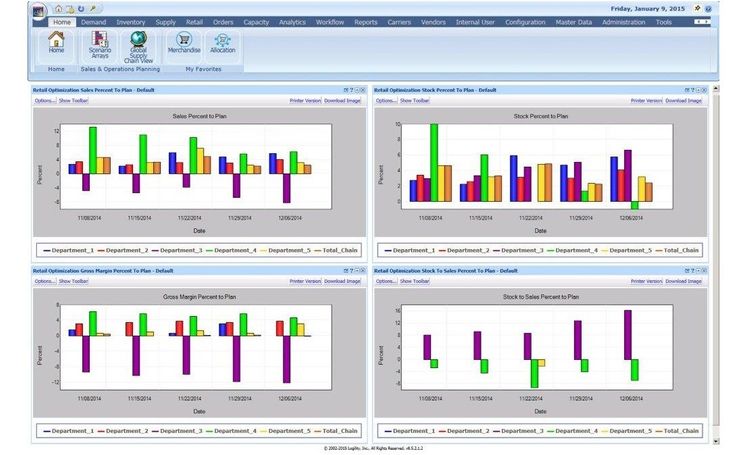 Integrate Supply Chain Planning With Your ERP Software
A supply chain planning solution on its own may help you answer some questions, but its real potential can be realized once integrated with your enterprise software. Alternatively, some businesses may think that a supply chain planning module offered by their ERP software vendor means they can do without a stand-alone option.
ERP solutions, or even just spreadsheets, used for supply chain planning will rely heavily on historical data, and allow for less variance and "what-if" analysis should any disruptions happen. Therefore, it's hard to do the "planning" part of supply chain planning. Where ERP software becomes beneficial is providing you with material management (inventory), production planning, and controlling your SCM performance.
For example, ERP systems with integrated supply chain planning can control and manage their inventory levels better:
Your SCP software may be indicating your inventory needs to be at a specific threshold.
Your inventory management module of your ERP software will know when this shipment has arrived and the quantity.
You'll be able to better organize and categorize this inventory and record any movements that your SCP software is indicating needs to be done, such as if another location of your business requires more raw materials to complete an order.
Integrating MRP software capabilities will only improve the strength of transactions, material planning, and more.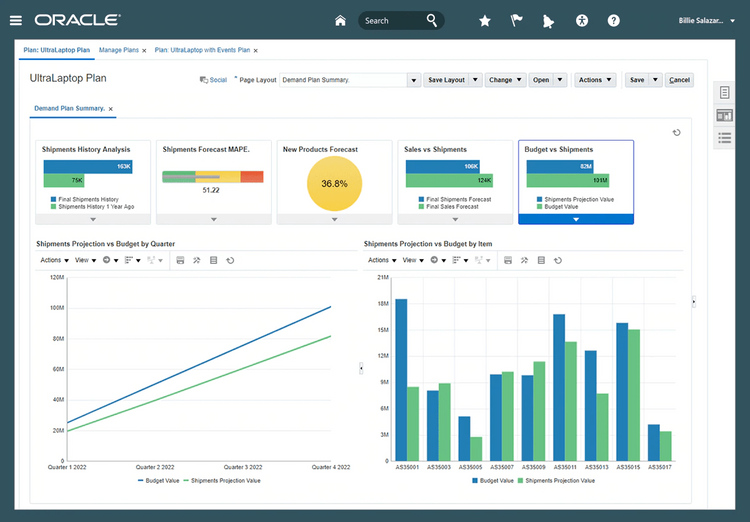 Harness Your Demand Management Strategies
Supply chain planning software differs from traditional supply chain management (SCM) software due to the weight it puts into demand planning strategies. This includes channel demand, inventory optimization (rather than simply stock count tracking via inventory control), and advanced analytics via KPIs that drive intelligent responses.
Incorporating a supply chain planning software into your logistics environment may be a rough start, but it will lead to a longterm return on your investment. Some benefits of improved demand management include increased adaptability to demand volatility, better collaboration between your departments and any external vendors, and more efficient resource allocation.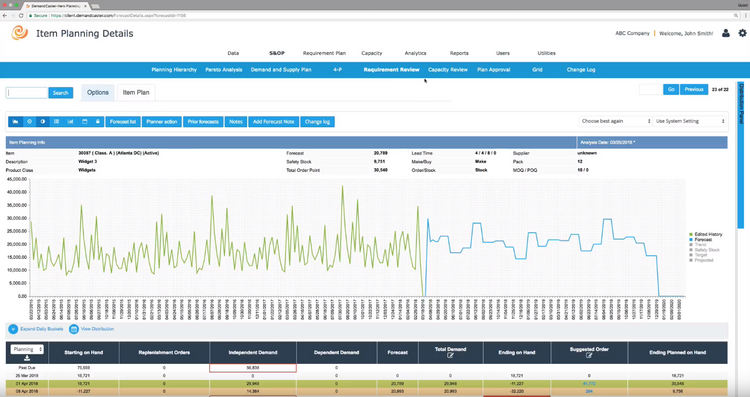 Demand Planning vs Supply Planning
Demand planning aids in forecasting customer demand while supply planning manages inventory to meet targets of the forecasted customer demand. This means demand planning is meant to guide supply chain operations, while supply planning relies heavily on demand forecasts.
Supply planning is used to fulfill the demand plan while meeting the benchmarks of the organization, as it relates to inventory production and logistics. In short, it tries to meet the demand forecasts as efficiently as possible. Supply planning has a bigger focus on manufacturing lead times, minimum order quantities, leveling production, and managing safety stocks.
Supply Chain Planning Software Pricing Guide
The cost of supply chain planning software starts at $150/user/month for cloud-based systems. However, it's important to be aware of advertised pricing over what your true cost may be. If the software has a minimum user count of 5, the real cost of owning the software would be $750/month.
The cost of your investment will be dependent on a number of factors, such as how many users you'll need, the level of integrations needed with any supply chain management or ERP software, and the number of services required upfront (such as for implementation and training).
Many supply chain planning solutions will have hefty setup costs, which can start at $30,000 depending on how complex your supply chain operations are. The best way to determine not only your setup costs but also your ongoing costs (for subscriptions or annual maintenance) is to have a needs-analysis interview with a qualified supply chain planning software provider.