The best production scheduling software will streamline inventory management and optimize capacity planning for manufacturers. After examining over 20+ products across 7 metrics, we've ranked our top picks in production scheduling software.
1

Katana Manufacturing ERP - Best Overall

Why We Chose It: Katana Manufacturing ERP is a cloud-based platform designed with small to mid-sized businesses in mind. Flexible and affordable, the platform helps optimize:
Sales order management
Inventory control
Purchase management
Supply chain management
Shop floor control
Katana supports both made-to-order and made-to-stock workflows simultaneously. Its user-friendly dashboards use color-coded boxes to indicate task progress. Features like placing purchase orders directly from the product planning dashboard elevate the overall user experience.
2

Monday.com - Most Affordable

Why We Chose It: Monday.com is a modern, full work operating system designed to streamline the complexity of production scheduling and make it more efficient. The platform allows manufacturers to easily plan, route, schedule, dispatch, and execute their production schedules, providing a comprehensive solution.

Core functionalities include:
Workflow automation
Task management
Resource and production scheduling
Reporting and analytics
Document management
Project planning
3

Visual Planning - Most Versatile

Why We Chose It: Visual Planning is a resource scheduling software designed to plan jobs, projects, and tasks. Visual Planning measures current capacity, available time, and associated costs to identify the best course of action for businesses.

This versatile tool finds its place in a range of industries and can adapt to various uses, including HR, construction project management, manufacturing, and more. The software helps companies track crews, machines, processes, and supplies effectively. Functionalities include:
Work orders
Machine scheduling
Inventory management
Supplier management
Delay alerts
4

Fishbowl Inventory - Best for Inventory Control

Why We Chose It: Fishbowl is often thought of as just an inventory solution but has strong manufacturing and warehousing capabilities. Specifically, Fishbowl has a production scheduling system that can automate the inventory process and lead to overall production forecasting, resource planning, and order fulfillment.

Fishbowl aims to improve your production scheduling process through priority assignment and automated job tracking and production reporting.

Price: Fishbowl starts at $4,395 upfront which gives you permanent access to the software (no ongoing service costs). Annual renewals include continued support and software updates.
5

Plex Cloud ERP - Best for Advanced Planning and Scheduling

Why We Chose It: Plex Systems has a robust APS module found within its manufacturing ERP system. The production scheduling module enables production resource planning and extends into finite scheduling and a production dispatch that goes down to your work centers.

The resource planning feature means that Plex can create jobs for forecasts or customer releases. Finite scheduling helps you manage the finite resources of material, equipment capacity, and other resource constraints. The production dispatch feature keeps jobs linked to the control panel for job management.

Price: Plex Cloud ERP starts at $3,000/month and is meant to be used as a complete manufacturing system.
6

IQMS - Best for Integrated ERP

Why We Chose It: A subset of EnterpriseIQ, IQMS provides a manufacturing scheduling and production planning tool within their popular manufacturing ERP solution. As the application goes hand in hand with their ERP system, the production scheduling module updates in real time due to events that occur during the supply chain process.

IQMS improves production scheduling by looking at all the resources and costs needed in order to meet the demand levels. It dives into any generated forecasts, current and expected future sales orders, and work orders.
7

MRPeasy - Best for MRP

Why We Chose It: MRPeasy is a single, comprehensive suite of features that cover all aspects of production planning, inventory management, and shop-floor tracking on one user-friendly platform. This mix of functionalities simplifies operations, reduces data fragmentation, and streamlines decision-making processes.

MRPeasy can easily create, reschedule, and track manufacturing orders and operations with a simple drag-and-drop interface, adding flexibility to changing production demands. Additionally, monitoring capabilities keeps users informed about materials availability, order status, and potential issues in real-time.
8

Wrike - Best for Gantt Charts

Why We Chose It: Wrike uses Gantt chart functionality to help businesses effectively plan and visualize project schedules. Each chart shows task assignment, and can be customized with adjusting deadlines or task dependencies. The result is a clear and visual representation of the production schedule.

Wrike's use of AI-driven project risk prediction can help businesses proactively identify potential scheduling conflicts and bottlenecks, allowing for more efficient production planning and management. Additionally, the ability to collaborate seamlessly within the platform, manage tasks, and track project progress in real-time enhances productivity and transparency in production scheduling.
9

QT9 ERP - Best for ERP

Why We Chose It: QT9 ERP is an ERP with production scheduling capabilities. A wide range of modules, available both for the on-premise and cloud version, includes manufacturing operations and inventory control, which are essential for efficient production scheduling. The integration of various business functions, from accounting to quality management, into a single platform ensures seamless data flow and coordination, streamlining the scheduling process.

One highlight of QT9 ERP is its scalability and cost-effective pricing structure, which allows businesses to accommodate unlimited users without per-user seat licenses. The feature-rich and cost-effective approach makes it an attractive choice for businesses seeking effective production scheduling software that can grow with their needs.
10

Odoo - Best for Customization

Why We Chose It: Odoo is a modular and highly customizable ERP, allowing companies to gradually expand their production capabilities as needed. This scalability is particularly advantageous for businesses with varying production needs, enabling them to seamlessly integrate production scheduling features when required without the need for a full-scale ERP overhaul.

Additionally, Odoo's extensive integration capabilities make it a versatile choice for production scheduling. It easily connects with third-party apps and Odoo's own suite of applications, from point-of-sale to warehouse management. This flexibility means companies can tailor their ERP solution based on their specific production workflows and requirements. While implementing and customizing Odoo may require technical expertise or external support, its comprehensive documentation and support resources ease the transition.
Our Methodology for Selecting Production Scheduling Software
At Software Connect, we personally review software to help you find the best software on the market. We tested features such as real-time progress tracking and automated production planning to better determine the top options on the market today. Here is our review methodology for production scheduling:
1

Features

The first thing we looked at during our evaluation was the type of features offered. The top commonalities we found amongst the best products included capacity planning, and the ability to prioritize different jobs. In particular, Gantt charts are very popular for easily visualizing different tasks.
2

Price

Second on our list was pricing options for this type of software. Since one of the goals of production scheduling is to cut down on workplace inefficiencies, it's crucial that the cost won't break the budget. During our review, we found some are available for as little as $50 per user per month. Others scale up to $5,000 per month. There are also forever-free options to consider.
3

Performance

Last, we tested out the software ourselves to judge performance first-hand. No one wants overly complicated software when the whole point of production scheduling is to streamline work. We tried our best to see how intuitive the user interface was, how easy it was to reach support, and the ideal conditions for operating the software.
What Is Production Scheduling Software?
Production scheduling software helps plan production on your shop floor by determining the need for materials and capacity in order to complete a manufacturing production order. Production scheduling software enables manufacturers to create a highly detailed master production schedule that accounts for resource, staffing, and inventory needs in order to complete and optimize production.
Production scheduling software helps you convert customer orders into manufacturing orders. It will look at the bill of materials, purchase orders, and current stock, to ensure you have the proper items reserved or the purchase order generated to complete the order.
Also known as advanced planning and scheduling software (APS), production scheduling software for job shops is used in situations where traditional methods of demand forecasting and production planning (such as MRP software) have fallen short.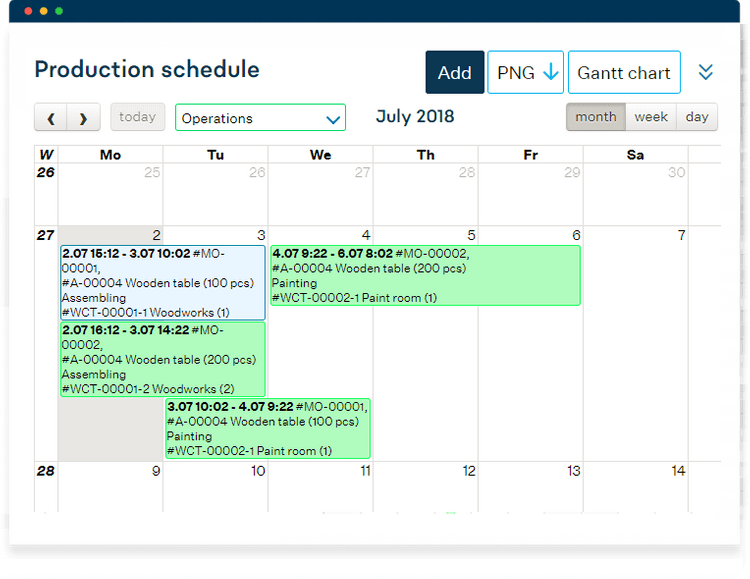 Features of Production Scheduling Software
Gantt charts: Create bar charts that show a project schedule illustrating the dependency relations between pending jobs, ongoing jobs, and the employees scheduled to work during those times.
"What-if" analysis: Test out various production schedules by moving orders to different time slots via drag-and-drop functionality. Find the one most efficient for your business by syncing resource availability and any constraints. Find the production window that will push orders out the fastest without strain on your employees or resources.
Drag-and-drop capabilities: A visual approach to scheduling lets you drag and drop orders to different time slots throughout your schedule to see if your production team can fit the manufacturing job at that time or what possible effects it may have on your bottom line.
Capacity planning: Determine the production capacity needed to meet the demand for your products. Adjust schedules in real-time when unexpected bottlenecks occur.
Priority scheduling: Determine the profitability of each manufacturing job in order to establish priority levels and work on the most important jobs first.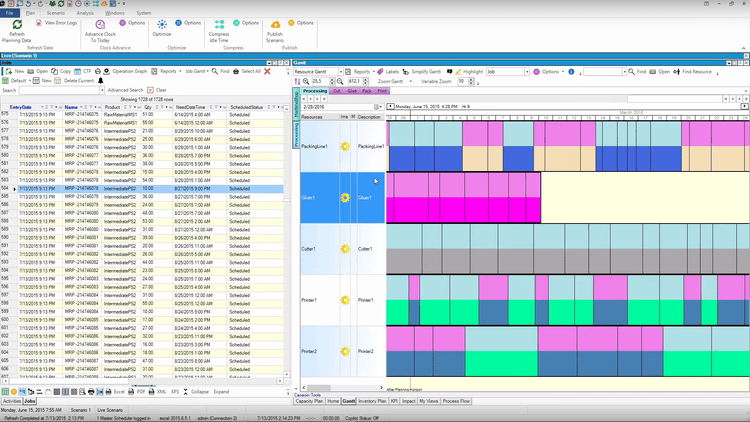 Benefits of Production Scheduling Software
On-time delivery: Ensure customers receive products when promised by optimizing your production so there are no interruptions and that new orders don't bottleneck your production line.
Optimized use of resources: Check the availability of workstations, monitor what materials are available, and let the software do the scheduling for you. Ensure you're getting the maximum value out of your machines by ensuring they are continuously in use and not collecting dust. Prioritize using machinery that has a lower cost to operate to increase profitability over the long-term.
Reduced cycle times: Lower the time it takes to perform the manufacturing process and push out more manufacturing orders.
Cost of Production Scheduling Software
Production scheduling software pricing ranges from $50 per user per month up to $5,000 per month, depending on the scale and features required. For smaller operations, you'll likely pay between $50 and $99 per user per month. Mid-range options usually cost $175 to $410 per user per month. If you're running a large or complex operation, high-end solutions can cost up to $5,000 per month.
How to Do Production Scheduling
Traditional production scheduling meant using manual methods, such as spreadsheets, to organize production. Someone had to fill in when tasks needed to be completed and who should be doing them. While spreadsheets are a great tool to use when you're first starting to become organized, overall they can be:
Hard to update
Error-prone
Not reflect real-time statuses of orders
Today, large and small manufacturing businesses alike use production scheduling software to reduce inefficiencies by optimizing production as much as possible. Some of the best production scheduling software show when orders are being prepared and instruct employees to complete tasks further down their list, so idle time is reduced and no time is lost.
When looking for functionality in a production scheduling software, small manufacturers should focus the most on organizing tasks for your staff and having a visual interface. Each employee will have a better idea of what is expected from them, and know what orders need to be prioritized. And without a dedicated employee to manage the software, they may be better suited to consider a cloud-based platform.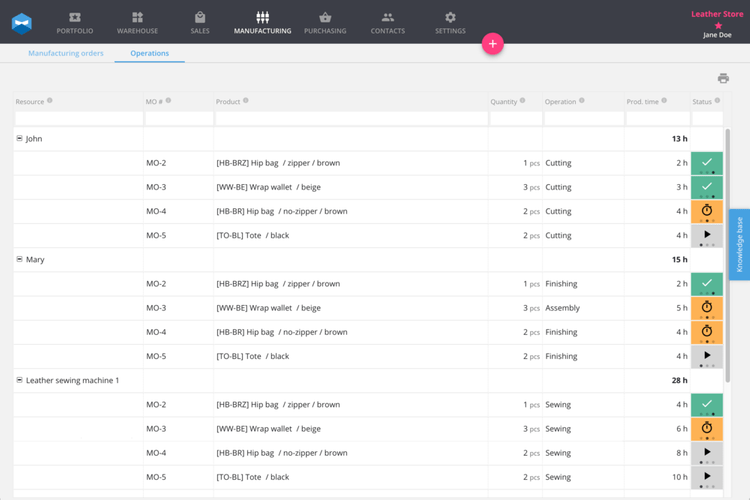 Are There Any Free Production Scheduling Options?
The best free production scheduling software can be hard to find, since so few truly free software options out there. Many vendors offer a free trial of their solution to get started, but only for a 7-day or 30-day trial. While free trials are great to test the ins and outs of a program before making the commitment, many businesses still want free software when moving away from their reliance on spreadsheets.
DYNAMIC 3i from System Dynamics Corporation is a free ERP/MRP software that provides master scheduling, rough-cut capacity planning, and links with other functionalities your business may be using such as inventory, MRP, and order processing. The solution can help you forecast sales and production levels while making updates to your master schedule whenever necessary. The free version of DYNAMIC 3i provides access for up to 2 users.