What Is Production Scheduling Software?
Production scheduling software helps plan production on your shop floor by determining the need for materials and capacity in order to complete a manufacturing production order. Production scheduling software enables manufacturers to create a highly detailed master production schedule that accounts for resource, staffing, and inventory needs in order to complete and optimize production.
Production scheduling software helps you convert customer orders into manufacturing orders. It will look at the bill of materials, purchase orders, and current stock, to ensure you have the proper items reserved or the purchase order generated to complete the order.
Also known as advanced planning and scheduling software (APS), production scheduling software for job shops is used in situations where traditional methods of demand forecasting and production planning (such as MRP software) have fallen short.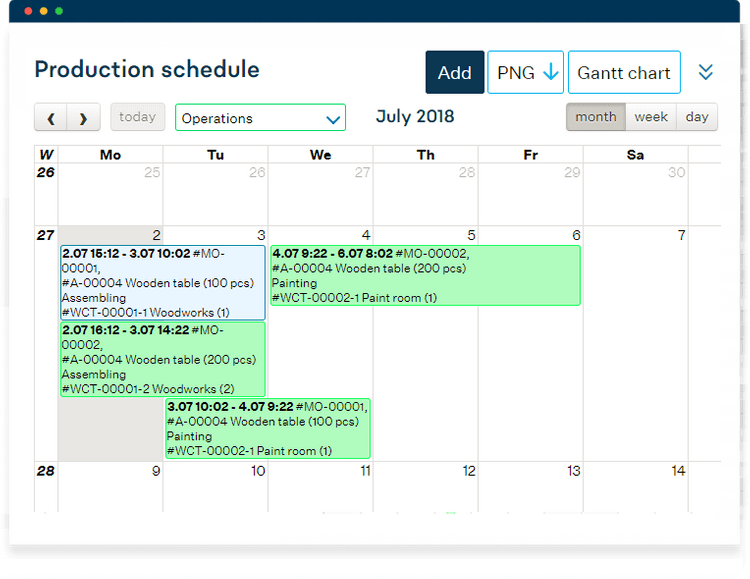 Production Scheduling Software Features
Gantt charts: Create bar charts that show a project schedule illustrating the dependency relations between pending jobs, ongoing jobs, and the employees scheduled to work during those times.
"What-if" analysis: Test out various production schedules by moving orders to different time slots via drag-and-drop functionality. Find the one most efficient for your business by syncing resource availability and any constraints. Find the production window that will push orders out the fastest without strain on your employees or resources.
Drag-and-drop capabilities: A visual approach to scheduling lets you drag and drop orders to different time slots throughout your schedule to see if your production team can fit the manufacturing job at that time or what possible effects it may have on your bottom line.
Capacity planning: Determine the production capacity needed to meet the demand for your products. Adjust schedules in real-time when unexpected bottlenecks occur.
Priority scheduling: Determine the profitability of each manufacturing job in order to establish priority levels and work on the most important jobs first.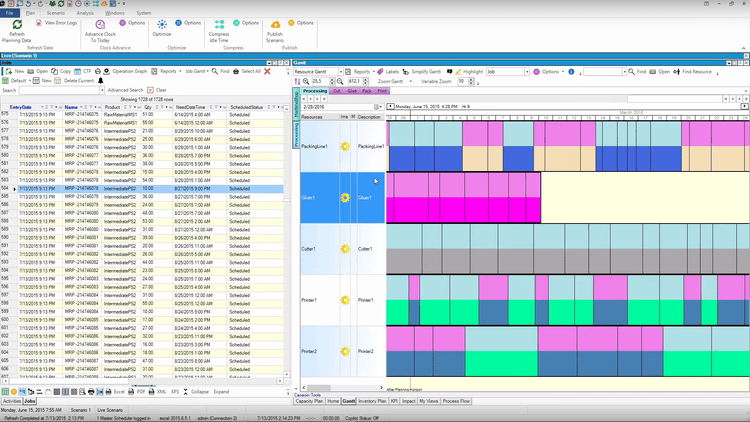 Benefits of Production Scheduling Software
On-time delivery: Ensure customers receive products when promised by optimizing your production so there are no interruptions and that new orders don't bottleneck your production line.
Optimized use of resources: Check the availability of workstations, monitor what materials are available, and let the software do the scheduling for you. Ensure you're getting the maximum value out of your machines by ensuring they are continuously in use and not collecting dust. Prioritize using machinery that has a lower cost to operate to increase profitability over the long-term.
Reduced cycle times: Lower the time it takes to perform the manufacturing process and push out more manufacturing orders.
Production Scheduling Software for Small Manufacturers
Small manufacturing businesses will look for production scheduling software that reduces inefficiencies in their production at the most minimal cost possible.
As small businesses generally have less IT infrastructure, such as a dedicated employee to manage the software, they may be better suited to consider a cloud-based or online tool that can meet their needs. Generally, these solutions are priced on a subscription-based pricing model, whose monthly charges make them easier to afford over-time instead of requiring an upfront investment.
Small manufacturers may be coming over from manual methods, such as spreadsheets. While spreadsheets are a great tool to use when you're first starting to become organized, overall they can be:
Slow
Error-prone
Not reflect real-time statuses of orders on your plant floor
This is due to the level of manual data-entry that is required, your staff can be spending more time keying in information (and potentially committing errors).
When looking for functionality in a production scheduling software, small manufacturers should focus the most on organizing tasks for your staff and having a visual interface. Each employee will have a better idea of what is expected from them, and know what orders need to be prioritized.
Some of the best production scheduling software for small manufacturers will know when orders are being prepared and instruct employees to complete tasks further down their list, so idle time is reduced and no time is lost.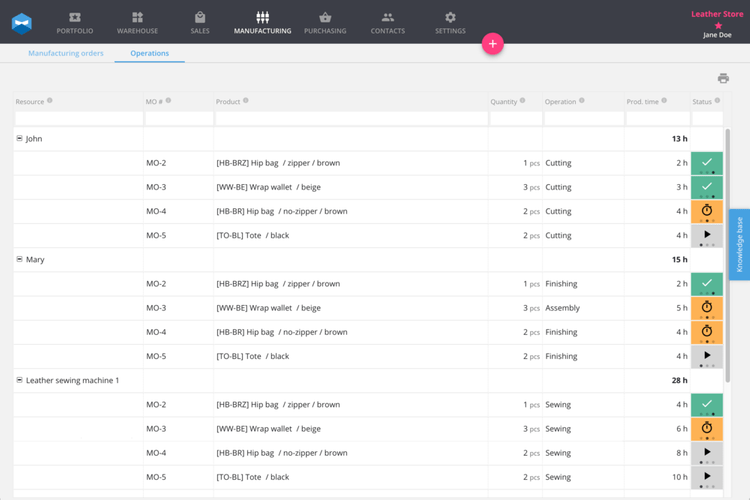 Best Production Scheduling Software
While not an extensive list, here are some of the top production scheduling software we've helped recommended to manufacturers over the years:
Fishbowl is often thought of as just an inventory solution but has strong manufacturing and warehousing capabilities. Specifically, Fishbowl has a production scheduling system that can automate the inventory process and lead to overall production forecasting, resource planning, and order fulfillment.
Fishbowl aims to improve your production scheduling process through priority assignment and automated job tracking and production reporting.
Price: Fishbowl starts at $4,395 upfront which gives you permanent access to the software (no ongoing service costs). Annual renewals include continued support and software updates.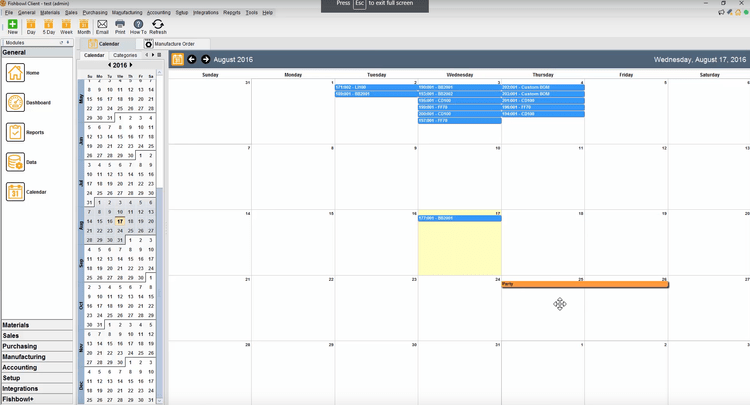 Plex Systems has a robust APS (advanced planning and scheduling) module found within its manufacturing ERP system. The production scheduling module enables production resource planning and extends into finite scheduling and a production dispatch that goes down to your work centers.
The resource planning feature means that Plex can create jobs for forecasts or customer releases. Finite scheduling helps you manage the finite resources of material, equipment capacity, and other resource constraints. The production dispatch feature keeps jobs linked to the control panel for job management.
Price: Plex Cloud ERP starts at $3,000/month and is meant to be used as a complete manufacturing system.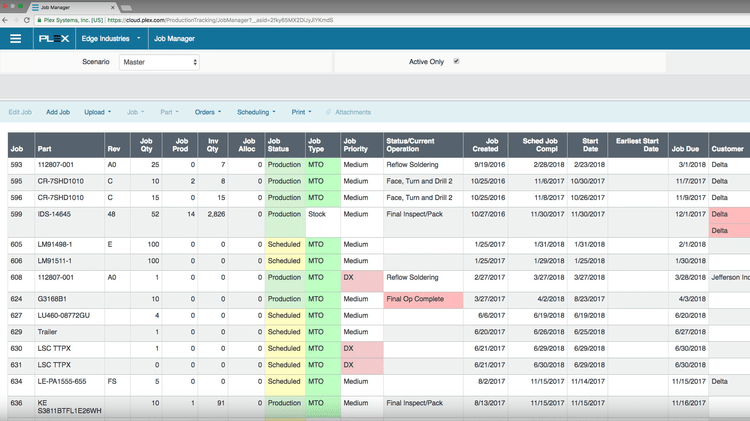 A subset of EnterpriseIQ, IQMS provides a manufacturing scheduling and production planning tool within their popular manufacturing ERP solution. As the application goes hand in hand with their ERP system, the production scheduling module updates in real time due to events that occur during the supply chain process.
IQMS promises to improve production scheduling by looking at all the resources and costs needed in order to meet the demand levels. It dives into any generated forecasts, current and expected future sales orders, and work orders.
Price: Pricing has not been provided by the vendor.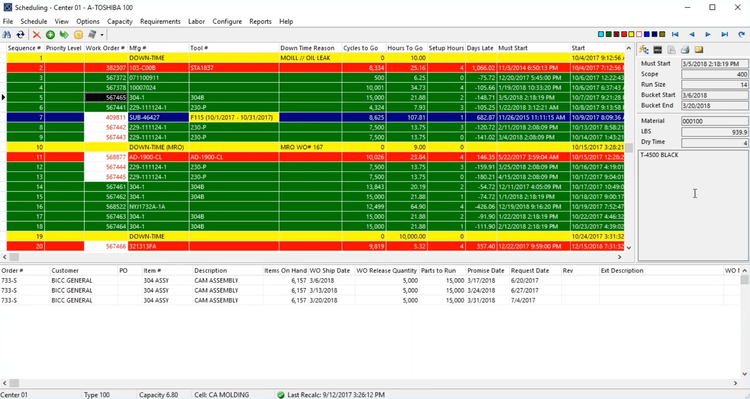 Free Production Scheduling Software
The best free production scheduling software can be hard to find, just because there are so few truly free software options out there. Many production scheduling software solutions will offer a free trial of their solution to get started, but this is only in the form of a 7-day or 30-day trial. Some software vendors may not even provide free trials, and instead, require you to sit through a guided walkthrough in order to see if their solution is the best fit.
While free trials are great to test the ins and outs of a program before making the commitment, many small businesses will desire a free software to be the first step in moving away from their reliance on spreadsheets.
Preactor Express is a free to download production scheduling software that lets your business still an unlimited amount of products and scheduled operations. You can create custom fields for whatever order and production operational attributes are needed for your manufacturing business.
Many manufacturers getting started with production scheduling software will enjoy the integration with Microsoft Excel. Preactor Express lets you import spreadsheets so you can easily import your order data. Preactor Express an also create reports by exporting production schedules back into Excel, which takes advantage of the report building features in Excel.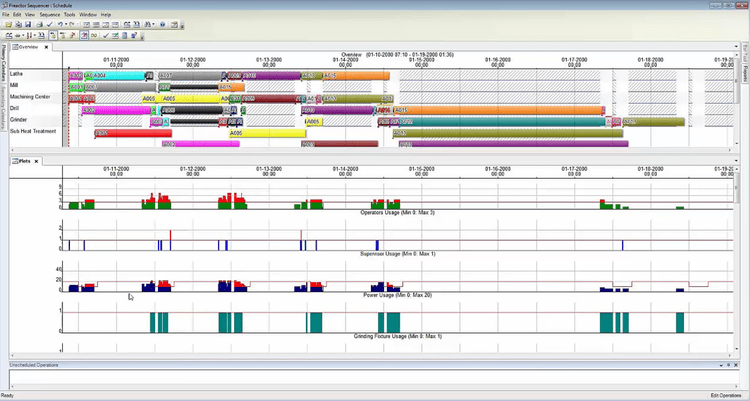 Efficient Software is a free production scheduling software that lets you plan and manage tasks from your desktop. The solution includes to-do lists, a task manager, and the combination of project management tools that can help you get a better grasp on your calendar and scheduling needs.
DYNAMIC 3i from System Dynamics Corporation is a free ERP/MRP software that provides master scheduling, rough-cut capacity planning, and links with other functionalities your business may be using such as inventory, MRP, and order processing. The solution can help you forecast sales and production levels while making updates to your master schedule whenever necessary. The free version of DYNAMIC 3i provides access for up to 2 users.