MRP enables manufacturers to take greater control over the manufacturing process. But for manufacturers looking to purchase their first set of MRP tools or upgrade an existing software package, choosing the right solution can seem overwhelming. It doesn't help that many similar software solutions, such as ERP software, often have overlapping functionality with MRP.
This guide will offer information on the following topics:
What Is MRP Software?
Manufacturing resource planning (MRP), also known as material requirements planning software or MRP II software, manages the manufacturing process through production planning, scheduling, and inventory control. MRP allows manufacturers to plan and calculate material requirements, coordinate personnel and machine workloads, and optimally plan purchasing to meet customer demands.
MRP also aids in inventory and production schedules to produce products and complete manufacturing jobs. An MRP system determines which assemblies must be built, what materials must be purchased, and the order in which to build products to meet customer due dates.
Most Common Functionalities
The functions of an MRP platform enable manufacturers to manage, coordinate, and account for all steps of the production process. Here are some of the most common functionalities included in MRP:
| Functionality | Definition |
| --- | --- |
| Master production scheduling | MRP enables manufacturers to create a highly detailed master production schedule that accounts for resource, staffing, and inventory needs in order to complete and optimize production. |
| Purchasing planning | With the master production schedule, manufacturers can accurately estimate the amount of components and raw materials they must purchase to complete manufacturing projects. |
| Demand forecasting: | Manufacturers use MRP to forecast the demand for inventory. This includes inventory items based on independent demand (such as finished products) and dependent demand (components required in order to build products). Inventory reservation and availability management: To ensure proper resources are available for production, MRP allows manufacturers to check all available resources and reserve inventory to carry out specific tasks. |
| Shop floor control: | For an overview of the daily work in process, shop floor control helps track, schedule, prioritize, evaluate, and report on the status of materials and production. |
| Equipment maintenance scheduling: | MRP helps prevent downtime by scheduling, organizing, and tracking preventive and critical equipment maintenance tasks. Production cost reporting: Throughout the manufacturing process, MRP can produce accurate and detailed primary and secondary cost reports that can account for labor, overhead, storage, waste, and other manufacturing expenditures. |
Best Products
MRP software can be highly specific to an organization's size, scale of manufacturing, or industry. Because every manufacturing operation is different, there's no one-size-fits-all solution; instead, there are dozens of great MRP products available to help manufacturers meet their specific needs.
An example of an MRP software is MRPEasy, a software-as-a-service production planning and warehouse management tool popular among small and medium-sized organizations. The main goal of this solution as well as many other MRP options is "What is the actual production cost, and when will the order be ready?"
Trends
Two noticeable trends have emerged in MRP: the evolution from MRP I to MRP II, and the evolution from MRP II to ERP. The major differences among MRP I, MRP II, and ERP come from technological advances that have led to systems that offer greater functionality and control.
What's the Difference Between MRP I and MRP II?
MRP I is named for the first sets of manufacturing resource planning software tools originally developed in the 1970s and 1980s. Limited by the technology at the time, MRP I software offered basic accounting for master production scheduling, inventory tracking, and the Bill of Materials.
MRP II developed out of the need to link MRP I software to inventory management software and accounting software. Far more capable than MRP I, MRP II adds the ability for manufacturers to oversee the actions of the shop floor, forecast demand, and carry out robust cost reporting.
What's the Difference Between an ERP and an MRP?
Enterprise resource planning (ERP) software is a large suite of tools that helps plan and account for the resources of an entire organization. While incorporating some of the functionality of MRP, ERP handles more of an organization's data management, including customer relationship management (CRM) tools, supply chain management tools, and accounting tools. ERP can be fully integrated into an organization's data operations to handle most major aspects of the business. It is often utilized by large businesses.
MRP, in comparison, is a narrow but highly specialized set of tools designed specifically for manufacturing purposes. More nimble than a full ERP suite, smaller manufacturers or businesses looking for complete control over their manufacturing often select MRP to oversee their manufacturing operations.
Common Pain Points
The MRP Software Buyer Trends Report was published in 2018, and found the following key findings:
Three MRP features are head-and-shoulders above the rest on manufacturers' must-have lists. More than 70% of buyers are looking for purchase planning, demand forecasting, and master production scheduling.
More than 65% of MRP software buyers are actually looking for a full blown ERP system that includes core accounting features. Order management is a close second.
MRP buyers are 45% less likely to have a preference for hosted systems.
29% of MRP software buyers are replacing QuickBooks.
Over 70 percent of the manufacturers spoken with identified three features to help address common manufacturing pain points: purchase planning, demand forecasting, and master production scheduling. MRP offers specific features to alleviate each of these manufacturing pain points, making the manufacturing process more organized and transparent.
Why Are Manufacturers Choosing Software?
The five key reasons manufacturers are seeking to purchase MRP:
25% wish to increase their manufacturing software functionality.
23% are buying an MRP system for the first time.
14% are businesses seeking to replace outdated systems.
12% are pursuing the benefits of consolidating multiple MRP systems into a single package.
9% have outgrown their current system.
Upgrading QuickBooks?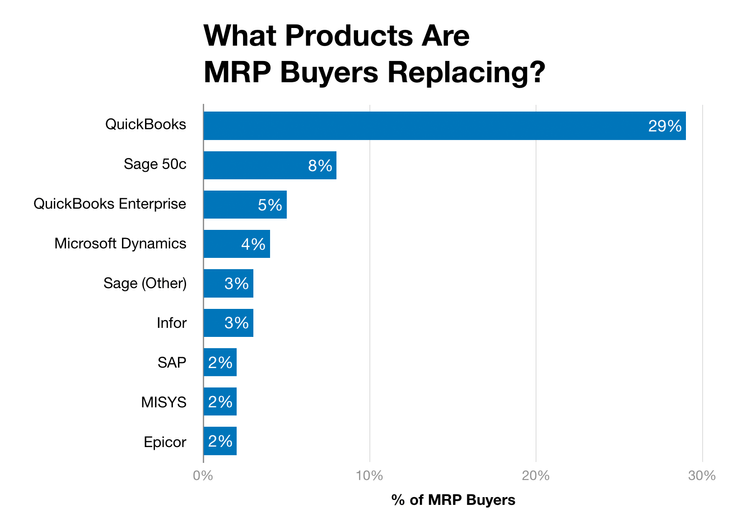 Many manufacturers continue to use QuickBooks and QuickBooks Enterprise to handle manufacturing and accounting needs. 29% plan to replace QuickBooks with a different software solution, while 20 percent stated their next MRP system will not be replacing existing software. Whether it's standalone MRP solution or an integrated QuickBooks app like MRPEasy, there are many options to consider when adding MRP into your business.
If MRP doesn't exactly fit your needs or you need additional software to support your manufacturing systems, more options are available. For software that can assist across all aspects of the business, including manufacturing, logistics, payroll, CRM, HR, and more, ERP many different operations that can be tailored to any industry. To handle specific manufacturing needs, like a manufacturing execution system (MES) or a quality management system (QMS), many different types of manufacturing software also exist.
Choosing the right solution for your manufacturing operation can feel overwhelming. If you're looking to upgrade your MRP or need exploring the manufacturing software landscape, Software Connect is here to help your business determine the right software for your specific needs.