The best MRP software will manage inventory and schedule production based on supply and demand–letting you deliver the right product on time and at optimal cost.
We've examined 20+ providers across 7 metrics to rank the best MRP software. We tested features such as bill of material creation and demand planning to better determine the top options on the market today.
1

MRPEasy - Best Overall

MRPEasy helps small and medium-sized manufacturers streamline their production processes. It offers features such as:
Production planning with automatic scheduling and dynamic rescheduling
Inventory management with stock movements, batch and serial number tracking, and optimized stock levels
CRM for sales management including product cost calculation, quotation and invoice preparation, and end-to-end sales process tracking
Real-time shop floor reporting and overview of human resource availability
Purchasing management with pre-filled purchase orders and supply chain statistics
Accounting with real-time monitoring of cash flow, balance sheet, and profitability.
MRPEasy stands out as one of the best MRP software options due to its affordability, ease of use, and comprehensive functionality. Its integrated system allows manufacturers to manage all aspects of production in one place, reducing the need for multiple software solutions. Additionally, its cloud-based platform allows for remote access, making it a flexible and convenient solution for manufacturer
2

Fishbowl - Best for QuickBooks Users

Fishbowl is a manufacturing and material requirements planning (MRP) software that provides a comprehensive solution for managing inventory, production, and sales for small to mid-sized businesses. It offers features such as inventory management, manufacturing management, and order management, all in a user-friendly interface.

Fishbowl stands out as a great choice for manufacturing and material requirements planning due to its extensive functionality and ability to integrate with popular accounting software such as QuickBooks. Its inventory management capabilities allow businesses to keep track of inventory levels, set reorder points, and manage multiple warehouses. Its manufacturing management features include bill of materials (BOM) management, work orders, and custom manufacturing options. Fishbowl's order management features enable businesses to manage sales orders, purchase orders, and shipping orders.

Overall, Fishbowl is a great choice for businesses looking for a comprehensive MRP software that can streamline their inventory management, production, and sales processes. Its integration with popular accounting software and user-friendly interface make it a top choice for small to mid-sized businesses.
3

JobBOSS - Best for Production Planning

Why We Chose It: JobBOSS is a good fit for manufacturing businesses looking to effectively manage their inventory and production processes. This is accomplished through the material requirements planning, streamlined production processes, and robust inventory management modules.
Demand: Helps manufacturers forecast demand, plan their production schedules, and manage inventory levels. This feature ensures that businesses have the right materials available when they need them, reducing waste and improving efficiency.
Production: Streamlines their production processes by providing tools for job scheduling, workflow management, and machine tracking. This feature allows manufacturers to optimize their production processes, improve quality control, and reduce lead times.
Inventory: Includes real-time inventory tracking, automated reordering, and barcode scanning. This feature allows manufacturers to manage their inventory levels effectively, reducing stockouts and minimizing the costs associated with carrying excess inventory.
Reporting: Track key performance indicators (KPIs) and make data-driven decisions. This feature helps businesses identify areas for improvement, such as reducing waste, improving productivity, and optimizing inventory levels.
4

Katana MRP - Best for Seamless Manufacturing

Why We Chose It: Having tested Katana MRP, it quickly emerged as an MRP standout tailored for small to mid-sized businesses. The seamless integration of production planning, inventory, and sales order management was evident. Unlike some systems where you're jumping between tabs, Katana's unified platform simplified the process, making real-time data accessibility a breeze.

A client who juggles both online Shopify sales and offline store orders can benefit greatly with Katana's multichannel sales management. In this hypothetical scenario, any earlier inventory hiccups could be replaced with accurate, timely stock updates.

We appreciated the barcode scanning and SKU management. It made tracking specific product variants effortless, a significant boon for businesses with expansive product lines. However, a slight drawback was the limited full access in the basic plans, nudging users toward pricier options for comprehensive features.

Integrations with platforms like QuickBooks and WooCommerce further amplified its utility, though I felt a more integrated approach to other business operations would've been a nice touch.
5

JobBOSS² - Best for Small Businesses

After diving into JobBOSS², it's clear this tool is designed for small to mid-sized manufacturers. Its modern, user-friendly interface and automation, particularly in job scheduling and purchase orders, are standout features. The customizable dashboards enable quick access to key metrics, aiding businesses in their transition from basic tools like QuickBooks.

The customizable dashboards allow users to zero in on relevant KPIs and real-time data, which should enhance decision-making. Any user desiring a move from manual spreadsheets to more sophisticated management, would find JobBOSS² easy to use for job scheduling and tracking.

However, there are areas for improvement. The lack of 24/7 support can be challenging, and while its interface is sleek, some visual cues can be confusing. It's ideal for job shops but might not fully cater to process manufacturers.
6

Plex Manufacturing Cloud

Why We Chose It: Plex ERP is built from the ground up for manufacturers. The interface has a clean coordination between shop floor operations, financial management, and human capital management. Where other systems may segregate these modules, Plex ERP offers a unified experience.

A manufacturer overseeing multiple production plants can use Plex's real-time view to view current company insights. The system's approach to financial management, especially centralized accounting and global financial consolidation makes Plex a better option for larger manufacturers. On the downside, some users might find the interface a bit lacking in modern aesthetics, and there's feedback on a need for a more responsive support team.

Integration with Industrial IoT (IIoT) adds another layer of enterprise visibility. While Plex ERP nails the manufacturing aspect, a more holistic integration with other business facets could elevate its standing further.
What Is MRP Software?
Manufacturing resource planning (MRP), also known as material requirements planning systems or MRP II software, helps streamline the manufacturing process through production planning, scheduling, and inventory control. Known as a leading type of manufacturing software, MRP systems allow manufacturers to plan and calculate material requirements, coordinate personnel and machine workloads, and optimally plan purchasing to meet customer demands.
MRP also aids in inventory and production schedules to produce products and complete manufacturing jobs. An MRP system determines which assemblies must be built, what materials must be purchased, and the order in which to build products to meet customer due dates.
MRP software can work for all types of companies in the manufacturing industry, including in make to order, engineer to order, and a discrete manufacturing process.
Read more: What is Material Requirements Planning (MRP)?
Common MRP Software Features
The functions of an MRP platform enable manufacturers to manage, coordinate, streamline, and account for all steps of the production process and overall increase productivity and efficiency. Here are some of the most common functionalities included in MRP:
| Functionality | Definition |
| --- | --- |
| Master production scheduling | MRP enables manufacturers to create a highly detailed master production schedule that accounts for resource, staffing, and inventory needs in order to complete and optimize production. |
| Purchasing planning | With the master production schedule, manufacturers can accurately estimate the amount of components and raw materials they must purchase to complete manufacturing projects. |
| Demand forecasting | Manufacturers use MRP to forecast the demand for inventory. This includes inventory items based on independent demand (such as finished products) and dependent demand (components required in order to build products). Inventory reservation and availability management: To ensure proper resources are available for production, MRP allows manufacturers to check all available resources and reserve inventory to carry out specific tasks. |
| Shop floor control | For an overview of the work in process, shop floor control helps track, schedule, prioritize, evaluate, and report on the status of materials and production. |
| Equipment maintenance scheduling | MRP helps prevent downtime by scheduling, organizing, and tracking preventive and critical equipment maintenance tasks. |
| Production cost reporting | Throughout the manufacturing process, MRP can produce accurate and detailed primary and secondary cost reports that can account for labor, overhead, storage, waste, and other manufacturing expenditures. |
Can My Existing ERP Software Perform MRP Tasks?
Your company may have already made a significant investment into an ERP software. ERP systems tend to be industry-neutral, and thus can work with a large number of industries. However, ERP vendors offer specialized services that can help implement the solution into a manufacturing environment, or perhaps include an add-on they've developed themselves that provides a more focused MRP approach then the base package allows.
MRP Software Trends
Two noticeable trends have emerged in MRP: the evolution from MRP I to MRP II, and the evolution from MRP II to ERP. The major differences among MRP I, MRP II, and ERP come from technological advances that have led to systems that offer greater functionality and control.
What's the Difference Between MRP I and MRP II?
MRP I is named for the first sets of manufacturing resource planning software tools originally developed in the 1970s and 1980s. Limited by the technology at the time, MRP I software offered basic accounting for master production scheduling, inventory tracking, and the Bill of Materials.
MRP II developed out of the need to link MRP I software to inventory management software and accounting software. Far more capable than MRP I, MRP II adds the ability for manufacturers to oversee the actions of the shop floor, forecast demand, and carry out robust cost reporting.
Learn more about the difference between MRP I and MRP II.
What's the Difference Between ERP Systems and an MRP?
Enterprise resource planning systems (ERP) are large suites of tools that help plan and account for the resources of an entire organization. While incorporating some of the functionality of MRP, ERP systems handle more of an organization's data management, including customer relationship management (CRM) tools, supply chain management tools, and accounting tools. ERP solutions can be fully integrated into an organization's data operations to handle most major aspects of the business. It is often utilized by large businesses.
MRP, in comparison, is a narrow but highly specialized set of tools designed specifically for manufacturing purposes. More nimble than a full ERP suite, smaller manufacturers or businesses looking for complete control over their manufacturing often select MRP to oversee their manufacturing operations.
Read More: ERP vs MRP: What are the Key Differences?
Cloud MRP
In our latest MRP Software Buyer Trends Report, "manufacturers claimed to be very flexible in how they are willing to deploy MRP software, with nearly three-quarters (71 percent) indicating they would be open to reviewing either hosted or on-site installation options. Only 15 percent insist on a hosted solution."
Pain Points Solved By MRP Software
The MRP Software Buyer Trends Report mentioned above (published in 2018) found the following key findings:
Three MRP features are head-and-shoulders above the rest on manufacturers' must-have lists. More than 70% of buyers are looking for purchase planning, demand forecasting, and master production scheduling.
More than 65% of MRP software buyers are actually looking for a full blown ERP system that includes core accounting features. Order management is a close second.
MRP buyers are 45% less likely to have a preference for hosted systems.
29% of MRP software buyers are replacing QuickBooks.
Over 70 percent of the manufacturers spoken with identified three features to help address common manufacturing pain points: purchase planning, demand forecasting, and master production scheduling. MRP offers specific features to alleviate each of these manufacturing pain points, making the manufacturing process more organized and transparent.
Why Are Manufacturers Choosing Software?
The five key reasons manufacturers are seeking to purchase MRP:
25% wish to increase their manufacturing software functionality.
23% are buying an MRP system for the first time.
14% are businesses seeking to replace outdated systems.
12% are pursuing the benefits of consolidating multiple MRP systems into a single package.
9% have outgrown their current system.
Is QuickBooks an MRP?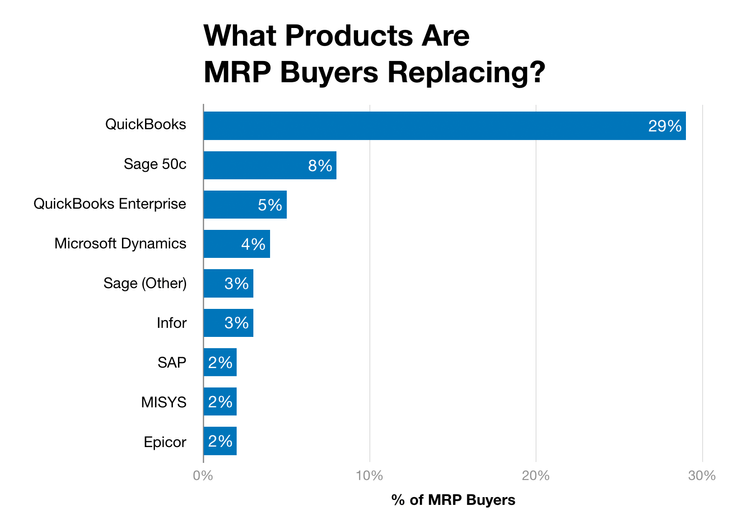 At this time there is no QuickBooks MRP. However, some manufacturers continue to use QuickBooks and QuickBooks Enterprise to handle manufacturing and accounting needs. 29% plan to replace QuickBooks with a different software solution, while 20 percent stated their next MRP system will not be replacing existing software. Whether it's standalone MRP solution or an integrated QuickBooks app like MRPEasy, there are options to consider when desiring to implement MRP into your business.
Free MRP Software Options
Some of the top MRP software options offer free 30-day trials of their solutions, which should give you enough time to fully evaluate an option and decide if implementation is right for you. Other times, vendors may be able to provide guided walkthroughs in the form of a webinar or a product overview video while answering any questions you have about the software.
If you are looking for a true free mrp software for small business, your best bet is to explore open-source ERP software such as Odoo, which provides manufacturing, maintenance, PLM, and quality management functionalities.
MRP Software Pricing
The starting price of MRP software will range from $48/month to $200/month. Some products such as Katana MRP are subscription-based, and can start at $48/month. In a subscription model, you'll need to take into account the amount of users, the level of included support, and any additional features included with your base package.
Other options may require more of an upfront investment such as E2 Shop System, which start at a one-time cost of $4,995. These solutions tend to be locally hosted and may include one-year of support included in the cost. On-going costs will include future support, and any additional services you may need for the software.