The right manufacturing software will give you a competitive edge by increasing operational efficiency, shortening order cycles, and making it easier to open new revenue streams. Manufacturing software can help you understand and control your processes to make the business run more smoothly.
You'll get a feel for the range of software options suited to your manufacturing business in this buyer's guide. Topics we cover include:
What Is Manufacturing Software?
Manufacturing software is a tool meant to prevent machine downtime and improve upon the quality and efficiency of the products being created. Manufacturing software tracks your purchased materials as well as current stock levels to ensure you always have what you need on-hand and don't have to wait on materials to come in to start a new order. Manufacturing systems can also keep records of works-in-progress and finished products.
When companies refer to a manufacturing ERP software, they are referring to a material resource planning solution, or MRP software). This type of solution provides purchase planning, demand forecasting, and overall shop floor control.
Production planning and scheduling helps estimate the quantity and timing of material and labor inputs you need to complete jobs as efficiently as possible. This is typically used for made-to-order/engineer-to-order/custom products and large amounts of small or limited runs of products.
Manufacturing software covers a wide range of applications and functionalities. The tools available for managing the manufacturing process can be even more varied depending on the type of manufacturing software your business needs.
Common Features of Manufacturing Software
| Feature | Description |
| --- | --- |
| MRP | Provides complete integration and visibility of the order to cash process. Includes purchase planning, demand forecasting, shop floor control, and equipment maintenance scheduling. Ties in with a broad range of functionalities including accounting (for monitoring job costs and purchase orders for proper inventory control) and order processing (demand forecasting). |
| MES | Improves performance and quality with functionalities like scheduling, corrective action guidance, and shop-floor control. Typically purchased as a standalone software to be used alongside an MRP software. |
| Quality Control | Includes features like compliance control, risk analysis, quality objectives, workflow management, monitoring and reporting, parts non-conformance, corrective action management, and approval management to ensure regulatory compliance and reduce the risk of defects and errors. This functionality can be offered within most MES systems. |
| Bill of Materials | Provides instructions on the materials and assemblies needed to manufacture a product. |
Best Manufacturing Software
Acumatica is a cloud-based ERP system for small to medium-sized businesses. The video provides a short demo and overview of the functionalities available in Acumatica.
Bluestreak is a manufacturing execution system (MES) and quality management system (QMS) in one, developed for the service-based manufacturing industry. This system is designed to integrate easily with existing ERP and MRP software.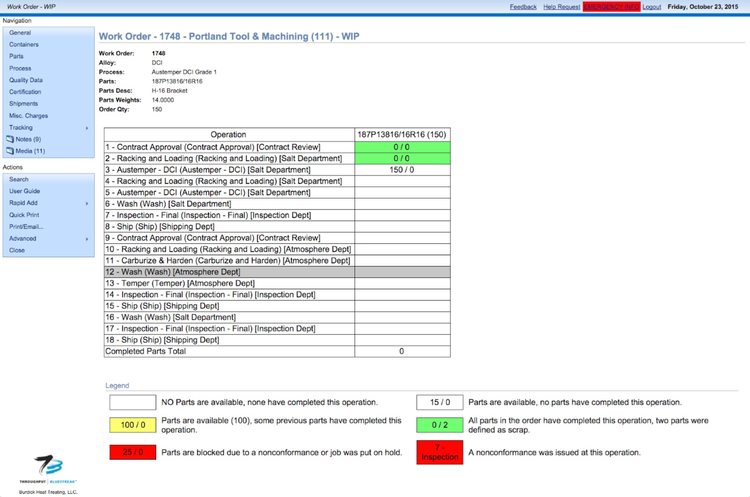 MISys Manufacturing is a fully integrated, scalable MRP system that streamlines processes for manufacturers. The video showcases the "Favorites" feature in v6.4+ of MISys Manufacturing.
Cost of Manufacturing Software
The pricing of manufacturing software varies greatly depending on the functionalities you need, the size of your business, and the industry you're in.
Other factors that affect price include:
Module additions
Training
Initial implementation
Additional users
Ongoing support
Example of a lower-end priced software: Q-INMASS is a cloud-based ERP designed for manufacturers and distributors that starts at $50 per month per user.
Example of a higher-end priced software: Infor SyteLine is a full ERP system for manufacturing companies and has a one-time starting price of $25,000 per user.
Manufacturing software is an investment that will greatly benefit your business from improving processes to reducing waste. When you have a solution that fits the needs of your business, you'll see a high return on your investment.
Out of the small to midsize manufacturers we surveyed, 40% of those looking to purchase MRP software found functionality to be the most important buying decision. As MRP is one of the most commonly sought after types of manufacturing software, one might expect that manufacturing software buyers, in general, want to focus on functionality above all other considerations.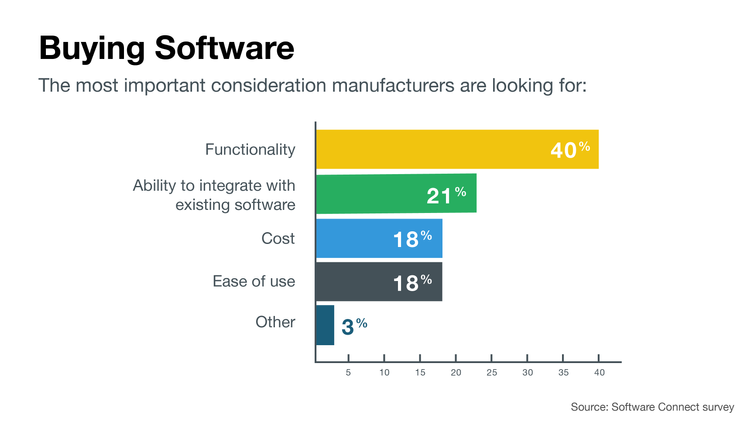 When you're looking for manufacturing software solutions, the functionality has to cater well to your particular processes. It also has to be able to scale with the growth of your business - you don't want to run up against the constraints of your solution as soon as it starts helping you grow!
While cost is important, don't discount a solution based on price point alone if it has what you need. An ill-fitting system will make you lose more money in the long run.
Benefits of Manufacturing Software
Enterprise-Wide Visibility.
Decision-makers for manufacturing companies are looking to gain better visibility into key performance indicators both in the back office and on the manufacturing floor. After all, it is difficult, if not impossible, to improve processes that you arent able to measure.
An integrated manufacturing accounting software program provides the ability to share critical operational information across the enterprise. Synchronizing manufacturing controls with purchasing, sales, and receivables gives you the ability to appropriately plan production runs, meet delivery dates, order inventory without over or under-stocking, and forecast future revenues and expenses.
Gaining a Competitive Advantage.
While many service-based companies can rely on carving out a local market, manufacturing companies typically compete on a regional, national, or global level. For manufacturing companies, the pressures of the global economy require a constant commitment to establishing competitive advantages.
Manufacturing accounting software systems provide a systematic approach to data management that allows for the discovery, refinement, and adoption of best practices across the operation. The ability to increase profitability relies on reducing costs and lead times, utilizing technology to bring products to market faster, and leveraging information resources to manage advanced services such as return, warranty, and repair programs.
Growing the Business With Manufacturing Software.
Access to technology that fosters business growth without the costs associated with adding staff or risky asset investments has never been more important than now. Consequently, picking the right integrated manufacturing accounting software is crucial. To ensure the survival and growth of your company, it is imperative to identify the manufacturing software programs providing the lowest possible total cost of ownership with the quickest return on investment. Which software package you select is likely to be one of the most critical capital expenditure decisions your manufacturing company will make.
Is QuickBooks Useful As Manufacturing Software?
QuickBooks Enterprise is referred to as an alternative to ERP and is a common solution for smaller manufacturing businesses as well as wholesalers. However, many manufacturing companies outgrow QuickBooks, finding they need support beyond core accounting including:
Advanced material requirements planning
Quality control
Production management
Bill of materials
The top three QuickBooks replacement for manufacturers found in our recent survey include: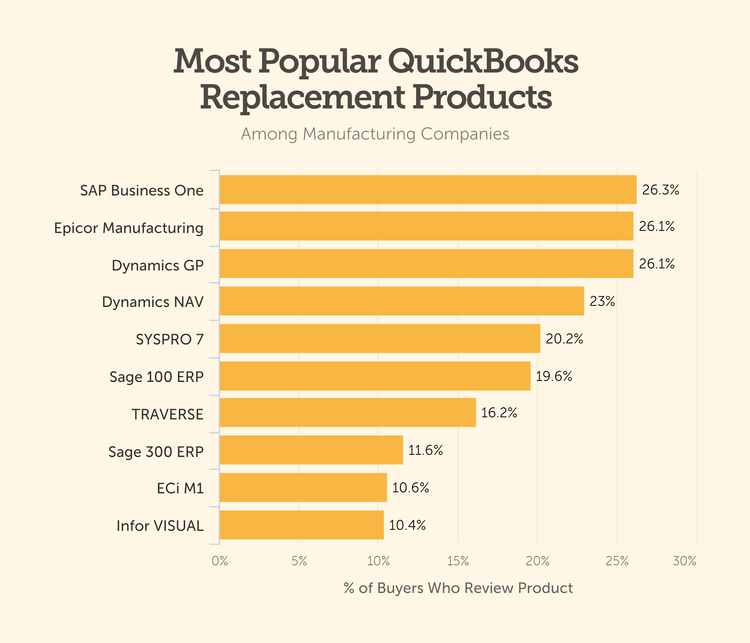 What Does Your Manufacturing Industry Need?
Business Type
You need:
Apparel and textile manufacturers
An apparel and textile ERP solution will have industry-specific features like an apparel matrix inventory system for organizing products by size, color, and style variants, as well as planning for apparel lines and seasonal products to help manage when products should go on sale or be produced for an upcoming season.

Other beneficial features include order processing, customer relationship management, MRP, logistics, and quality control.
Food and beverage manufacturers
Food and beverage manufacturers need to be able to comply with FDA, cGMP, and HACCP standards. An industry-specific food and beverage manufacturing software will create reports in compliance with those standards.

Other essential features you need include food traceability, quality assurance, recipe management, ingredient tracking, and recall tracking.
Chemical manufacturers
Chemical manufacturing software will assist in tracking and reporting compliance with regulatory agencies including the FDA, EPA, DEA, ATF, and FSIS.

Your software solution needs to feature recipe management, quality assurance, inventory storage planning, expiration tracking, and recall management.

Chemical manufacturing facilities that are part of a big organization should find a solution that integrates easily with the company's existing ERP software or other systems in use by the company.
Medical devices manufacturers
Medical device manufacturers need an ERP solution that ensures products meet ISO 13485 standards including implementation of a quality management system, risk management, statutory and regulatory compliance, process validation, product traceability, and recall systems. Your system needs to track product planning, inspections, documentation, product specifications, parts approval, and deviation.

Medical device manufacturing software can also track costs and help you find where improvements need to be made in the research and development process.
Pharmaceutical manufacturers
Pharmaceutical manufacturing software will help you effectively manage tracking ingredients and products, quality control, regulatory compliance standards, and research and development. Important functionalities to look for include production management, formula tracking, quality control, compliance management, production scheduling, MRP, and reporting.
Job shops and machine shops
Job shop software will make it easier to provide accurate estimates, plan material and equipment requirements, and determine ROI on your projects.

Features to look for include job costing, work order management, purchase order management, quoting, MES, MRP, and bill of materials.
Discrete manufacturing
Discrete manufacturing software gives you more control over the manufacturing process.

Key features include inventory control, supply chain management, bill of materials, workload planning, engineering change management, and recall management.

If your business has an automated shop floor, consider a discrete manufacturing software that also includes MES.
Process manufacturing
Process manufacturing software keeps product formulas secure, consistent, and accessible to ensure ongoing quality control. This software is often used by food and beverage, chemical, cosmetic, paint, oil and gas, pharmaceuticals, biotechnology, and consumer packaged goods industries.

Some features to look for include MRP, inventory management, and formulation and recipe management.
Common Pain Points
Keeping up With Rapidly Advancing Technology.
Keeping up with ever-changing technology is a challenge for many manufacturing companies. It may seem like as soon as you get caught up on one solution, something even more advanced comes out. The Internet of Things (IoT), automation, and augmented and virtual reality are expected to continually advance and become more commonplace over the coming years. According to Manufacturing Global's article "Top 10 Manufacturing Trends for 2019", "It is widely accepted that the Internet of Things (IoT) market is growing at an exponential rate and becoming the norm for many, with 3.6B connected devices used for daily tasks this year. In 2019, we can expect this growth to continue to spread."
Finding the Right Solution for Your Business.
There are thousands of types of manufacturing software solutions out there, and most of those can be further customized, making finding the right system a daunting task. Start by looking at industry-specific solutions and narrow down your search by comparing the functionalities with what your business needs. You should also keep in mind features that you will need in the future as your business grows - you can find a solution that lets you add modules on later when you expand.
Integration With Existing Systems.
Some manufacturing software developers want their solutions to be fully integrated and all-inclusive for your organization. If you're going to keep an existing system like accounting software, you'll need to find a solution that easily integrates with what you have.
Replacing Older, Legacy Systems.
If you're using an outdated manufacturing software system, it could be coded in an old language that's no longer used by most developers or the developer might no longer support it. You'll find it more expensive and difficult to find someone to assist you if problems arise with the software.
Manufacturing Software Buyer Trends
Among the software buyers we surveyed looking for MRP solutions, over 70% of buyers listed purchase planning, demand forecasting, and master production scheduling as required features.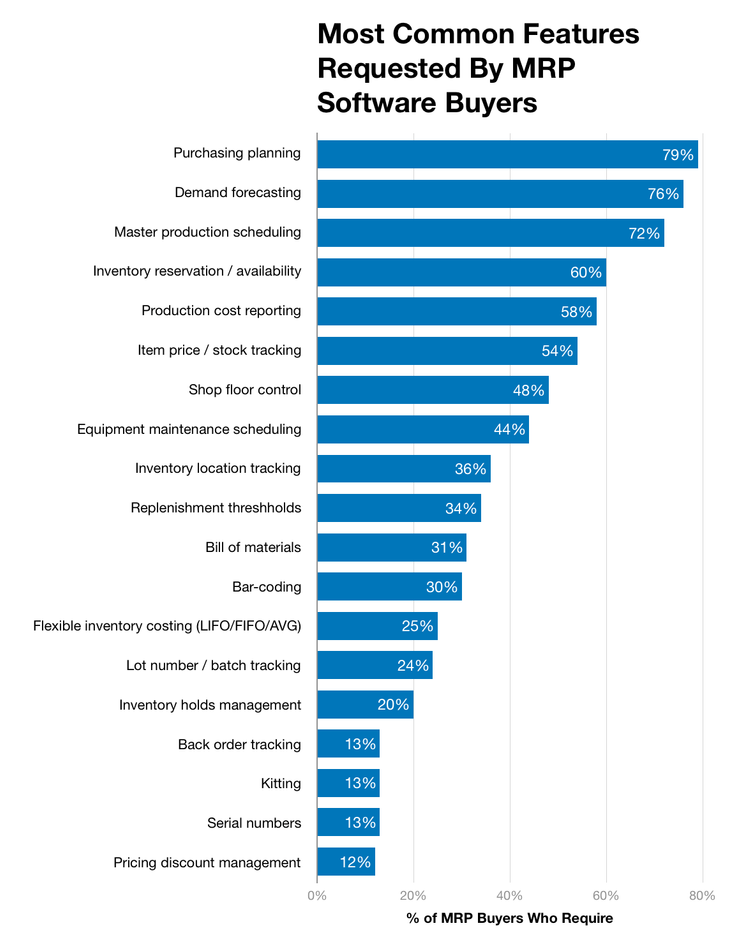 MRP software buyers also look for functionalities not specific to their manufacturing process as well.
Over 60% of buyers listed core accounting (general ledger, accounts payable, and accounts receivable) and order management as requirements.
54% of buyers listed purchase order capabilities as a requirement.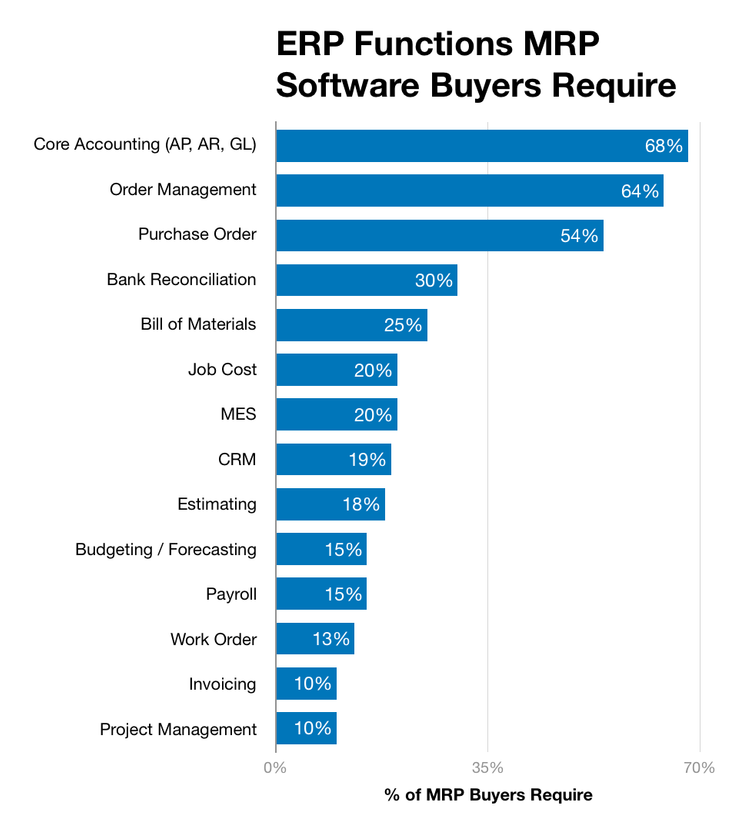 Industry Trends
3D Printing
Additive manufacturing and new technologies now allow manufacturers to build parts and products that were once deemed too difficult to make. The additive manufacturing market value is projected to grow over $6 billion by 2022 according to MarketWatch.
Cloud Hosting
According to Manufacturing.net's article "10 Ways Cloud Computing Will Drive Manufacturing Growth in 2018", "global spending on Cloud Enterprise Resource Planning (ERP) software is predicted to increase from $19.1B in 2017 to $28.8B in 2028". Cloud software makes it possible to see real-time data from anywhere, allowing staff and technicians to access important data like customer and order information.
Technology Use
The use of specialized technology in the manufacturing industry has been growing steadily. According to Forbes' article, "The Future of Manufacturing Technologies, 2018", the "top technology investment areas for manufacturers include advanced analytics, cloud computing, modeling and simulation, Internet of Things (IoT) platforms, and optimization and predictive analytics." Forbes also reports that spending on advanced robotics is expected to grow from $92 billion in 2016 to $225 billion in 2021.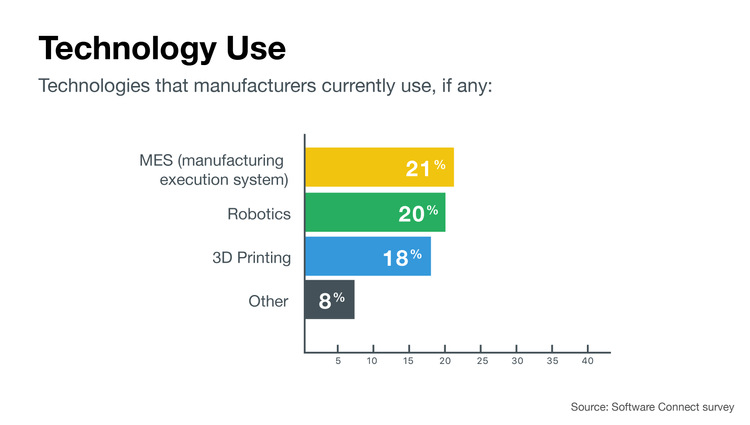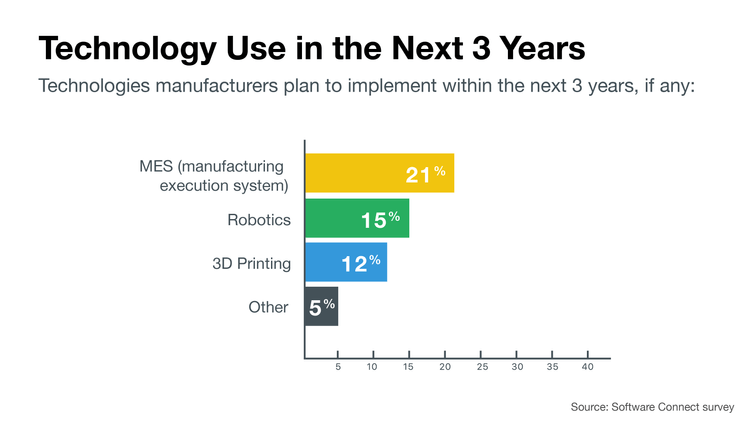 Taking the Next Steps
There are dozens of solutions available on the market designed for manufacturers, however, finding the right solution for your specific type of manufacturing can be a time-consuming and challenging adventure. Whether you are looking for a complete ERP system or particular functionality to augment existing software, through a brief phone call, our software specialists will look to better understand your business and software needs to help you locate the most relevant solutions for your requirements. Get started today!