Navigating the crowded landscape of manufacturing software can be overwhelming, especially when your goal is to boost productivity and customer satisfaction. That's where Enterprise Resource Planning (ERP) systems come in. These comprehensive solutions often include modules for everything from inventory management to quality control, making them ideal for addressing the complex challenges of manufacturing.
We've evaluated top ERP solutions based on key criteria like cost, functionality, ease of use, and customer support.
1

Kinetic - Best Overall

Epicor Kinetic has a product configurator that provides business rules to manage sub-assemblies–something that can streamline the entire production process. This is useful for businesses operating in make-to-order and engineer-to-order manufacturing environments.

A product configurator will lead to a more customizable product output, which enables you to meet customer demands more accurately and efficiently. By letting the configurator manage sub-assemblies, you can take complexity out of product customization, allowing you to focus on quality and delivery. We would recommend it for manufacturers looking to scale operations or diversify product lines without getting bogged down by the intricacies of product configuration.
2

Infor SyteLine - Best Cloud-Based

One feature that really caught our attention in Infor CloudSuite Industrial (formerly SyteLine) is its robust Bill of Materials (BOM) capabilities. This feature allows users to quickly create or edit existing BOMs with a high level of flexibility.

The Engineering Board feature further enhances their BOM capabilities by offering accurate scheduling and cost visibility. This is useful for those in a manufacturing environment where product specifications change frequently or are highly customized, This is because they allow for real-time adjustments, ensuring that your manufacturing process is as efficient and cost-effective as possible.
3

ECI M1 - Best for Inventory

One feature that stood out for us in ECI M1 is its multi-location inventory management. This feature provides instant visibility into order statuses, shipment tracking, and transfers between locations.

For small to mid-sized businesses that operate across multiple warehouses or locations, having real-time insights into your inventory allows for better planning, reduces the risk of overstocking or understocking, and ultimately can lead to cost savings and improved customer satisfaction. If inventory management is a critical aspect of your manufacturing operations, ECI M1's capabilities in this area are worth your attention.
4

Acumatica - Best for ERP

Acumatica is an ERP which is an ideal choice for manufacturing operations. Its open architecture allows for seamless integrations with various manufacturing tools and equipment, streamlining production processes and enhancing efficiency. The support for multi-entities is particularly beneficial for manufacturing companies with global operations, enabling easy financial consolidation across different locations.

Acumatica's mobile accessibility empowers manufacturing teams to oversee operations from anywhere, facilitating real-time decision-making and responsiveness. The multi-warehouse inventory management feature ensures that manufacturers can maintain optimal stock levels, minimize waste, and meet production demands effectively.
5

xTuple - Best for Hybrid Support

xTuple is an excellent choice for manufacturing operations due to its competitive pricing and wide breadth of functionality. Coupled with its flexible hybrid manufacturing support, this software accommodates a range of manufacturing processes, from job-shop and discrete manufacturing to made-to-stock and more.

However, it's important to note that xTuple is best suited for SMBs, as it may not meet the needs of larger manufacturers.
6

JobBOSS² - Best for Shop Management

JobBOSS²'s modern and intuitive interface enhances usability makes it easier for manufacturing teams to navigate and manage their operations efficiently. The high level of automation for purchase orders and job scheduling streamlines production processes, reduces manual workload, and helps maintain optimal production schedules.

JobBOSS²'s affordability, logical database structure, scalability, and comprehensive modules for accounting, CRM, scheduling, inventory management, quality control, and job costing make it a well-rounded manufacturing ERP solution. Its accessibility via the cloud and mobile apps further enhance its suitability for modern manufacturing operations.
7

SYSPRO - Best for Discrete Manufacturing

SYSPRO stands apart from other manuafacturing ERP solutions apart is by its extensive integration capabilities with AI and IoT technologies, allowing discrete manufacturers to harness the power of data-driven insights for optimizing processes and making informed decisions.

While there may be some limitations in terms of third-party add-ons and customization flexibility, SYSPRO's comprehensive suite of modules covering accounting, inventory control, planning, scheduling, supply chain management, and CRM caters to the core needs of manufacturing operations.
What Is Manufacturing ERP Software?
Manufacturing ERP software is a tool meant to prevent machine downtime and improve upon the quality and efficiency of the products being created by your business. Sometimes known as manufacturing resource planning (MRP) software, most manufacturing software tracks your raw materials against current stock levels to ensure you always have what you need for production on-hand and don't have to wait on materials to start a new order. Manufacturing systems can also keep records of in-progress work orders and finished products.
Over 70% of buyers listed purchase planning, demand forecasting, and master production scheduling as required features when seeking a software solution. Manufacturing ERP software buyers also look for functionalities related to general business processes as well, with 54% of buyers wanting purchase order capabilities and 60% looking for accounting and order management.
Manufacturing ERP software for production planning and scheduling helps estimate the quantity and timing of material and labor inputs you need to complete jobs as efficiently as possible. This is typically used by manufacturers which specialize in made-to-order/engineer-to-order/custom products and large amounts of small or limited runs of products.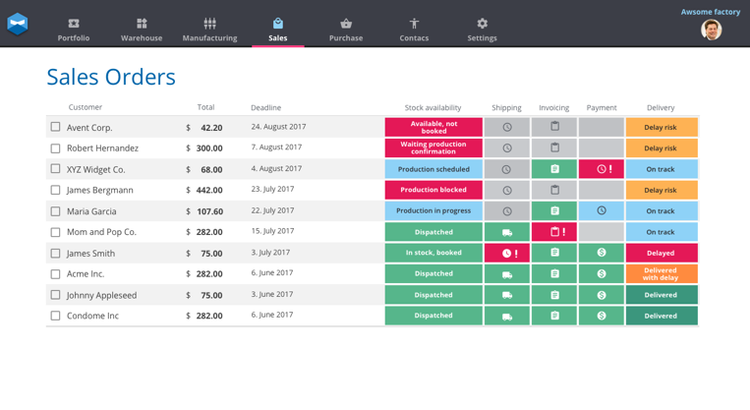 Are MRP and Manufacturing ERP Software The Same?
When some businesses refer to manufacturing ERP software, they are actually referring to a manufacturing or material resource planning solution, shortened to MRP software. Though there are similarities, MRP provides purchase planning, demand forecasting, and overall shop floor control. Some will also include business management applications such as accounting, human resources, and payroll.
In contrast, manufacturing ERP software covers a wide range of applications and functionalities which together can be thought of as an industry-specific ERP software. The user-friendly tools available for managing the manufacturing process can be even more varied depending on the type of manufacturing software your business needs.
Unfortunately, businesses started to refer to any manufacturing products as "MRP", which has blurred the lines between what the software truly is, if it's a general manufacturing software, or a completely separate ERP software. In fact, some providers may refer to their product as a manufacturing ERP software, which simply means it's a manufacturing solution that can handle a variety of tasks. Not sure what you need? Talk with a software expert at Software Connect.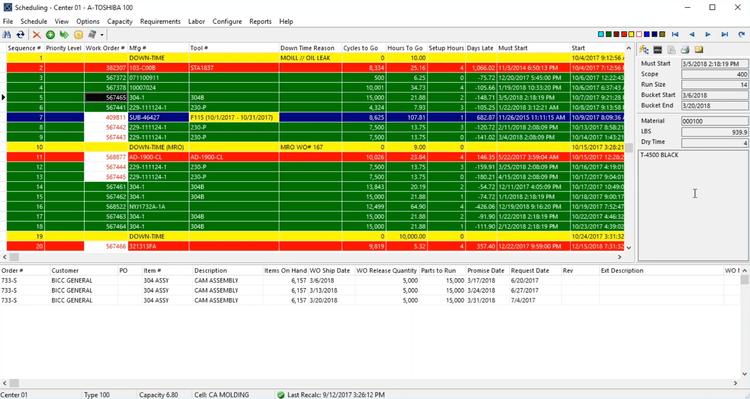 Features of Manufacturing ERP Software
| Feature | Functionality | |
| --- | --- | --- |
| MRP | Provides complete integration and visibility of the production process. Includes purchase planning, production planning, demand forecasting, shop floor control, and equipment maintenance scheduling. Ties in with a broad range of financial management functionalities including accounting (for monitoring job costs and purchase orders for proper inventory control), invoicing, and order processing (demand forecasting). | |
| MES | Improves performance and quality with functionalities like scheduling, corrective action guidance, and shop-floor control. Occasionally purchased as a standalone software to be integrated alongside MRP systems. | |
| Inventory Management | Keeps track of the on-hand physical inventory levels of raw materials and finished goods for manufacturing production orders. | |
| Quality Management | Includes safety and quality control features like compliance and risk analysis, quality objectives, workflow management, monitoring and reporting, parts non-conformance, corrective action management, and approval management to ensure regulatory compliance and reduce the risk of defects and errors. | |
| Bill of Materials | Provides instructions on the materials and assemblies needed to manufacture a product. | |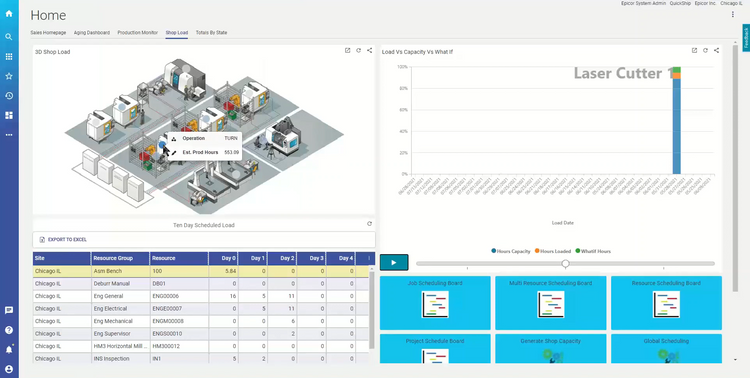 Benefits of Manufacturing ERP Software
The right manufacturing ERP software can give your shop a competitive edge by increasing operational efficiency all along the production lifecycle. A manufacturing management software solution can further improve your manufacturing operations via a strong supply chain management. And a better supply chain process starts with a strong production management tool:
Company-Wide Visibility and Collaboration
Decision-makers for manufacturing companies need better visibility into key performance indicators (KPIs) both in the back office and on the manufacturing floor. An integrated manufacturing accounting software program provides the ability to share critical operational information across departments. Synchronizing manufacturing controls to better plan production runs, meet delivery dates, order inventory without over or under-stocking, and forecast future revenues and expenses.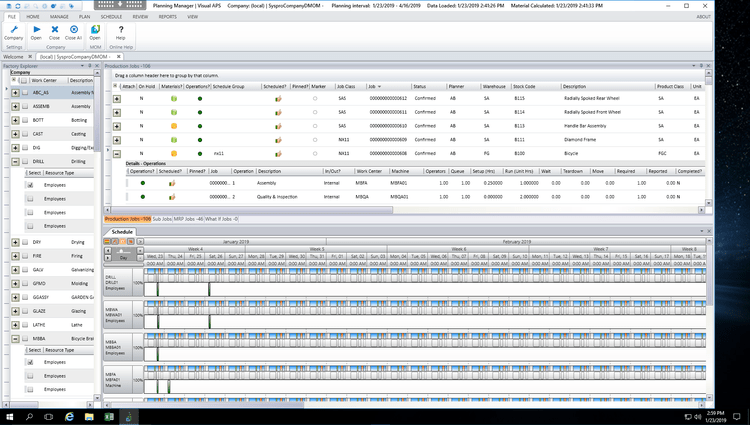 More Efficiency and Productivity
The ability to increase profitability relies on reducing costs and lead times, utilizing technology to bring products to market faster, and leveraging information resources to manage advanced services. Manufacturing software systems provide a systematic approach to data management that allows for the discovery, refinement, and adoption of best practices across your operation.
Grow Your Business with Scalability
While many service-based companies can rely on carving out a local market, manufacturing companies typically compete on a regional, national, or even international level. For manufacturers, the pressures of the global economy require a constant commitment to establishing competitive advantages.
Access to new technology fostering business growth has never been more important than now. To ensure the healthy growth of your company, it is imperative to identify the best manufacturing ERP software for your current and future production processes. Fortunately, many can scale to grow with your expanding operations. Which software package you select is likely to be one of the most critical business decisions your manufacturing company will make.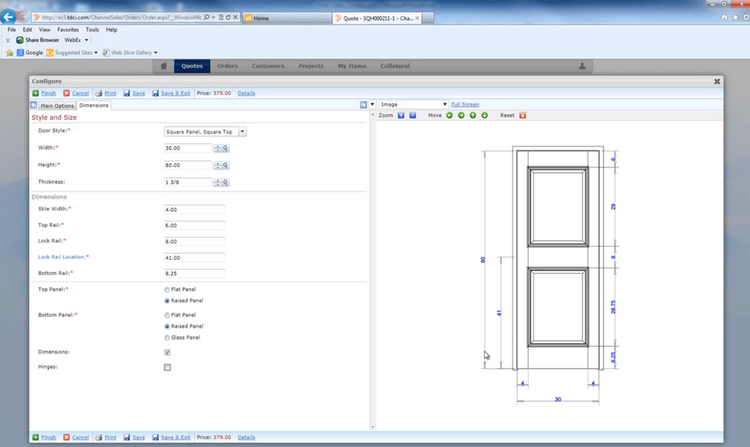 What Does Manufacturing ERP Software Cost?
The price of manufacturing software varies greatly depending on the functionalities you need, the size of your business, and the industry you're in. Key factors that affect price include:
Module additions
Training requirements
Initial implementation
Number of total users
Ongoing support and maintenance
A low cost software intended for small businesses often starts around $49 per month and includes production planning and scheduling modules, basic inventory management features, and shop floor tracking. The solution may not provide accounting functionality but can integrate with popular programs such as QuickBooks Online and Xero.
A more expensive software would be a full ERP solution built exclusively for manufacturers. These solutions will vary widely depending on the deployment:
On-premise software (locally installed) will have large upfront fees for licensing, implementation, and training. These solutions can start at $25,000 upfront.
Cloud-based options (SaaS) typically have lower upfront fees, as the cost of the software will be spread out over the course of ownership as an ongoing charge. These solutions may start at $10,000 upfront with $10,000/year thereafter for service and support.
What Does Your Business Need?
The best manufacturing software will provide automation to your manufacturing process via an equal mix of inventory management, production planning, shop floor control, and job costing modules. Given how broad the term is, there are many types of software considered to be a manufacturing program. There are:
Fully-integrated options that provide everything needed to manage your business (commonly referred to as ERP software, but sometimes as MRP software).
Application-specific tools such as manufacturing execution systems or quality management software.
Manufacturing management software to streamline your production scheduling and requires integration with other tools for accounting or inventory management.
Manufacturing Software by Type
Manufacturing Software by Industry
You should also take your specific industry into account when selecting a manufacturing ERP software:
Each industry has specific needs to address. For instance, medical device distributors need to meet ISO 13485 standards, meaning they need software which covers regulatory compliance and product traceability. Apparel manufacturers won't have those same standards and instead will want eCommerce functionality. By looking at industry-specific solutions, you can narrow down your search… You should also keep in mind functionality you will need as your business grows - you can find a solution that lets you add modules on later when you expand.
Additionally, small business manufacturing is designed for use by a small business. Generally includes basic features at a lower price point.
Is QuickBooks A Manufacturing Software?
QuickBooks Enterprise is referred to as an alternative to ERP and is a common solution for smaller manufacturing businesses as well as wholesalers. However, many manufacturing companies outgrow QuickBooks, finding they need support beyond core accounting including:
Advanced material requirements planning
Quality control
Production management
Bill of materials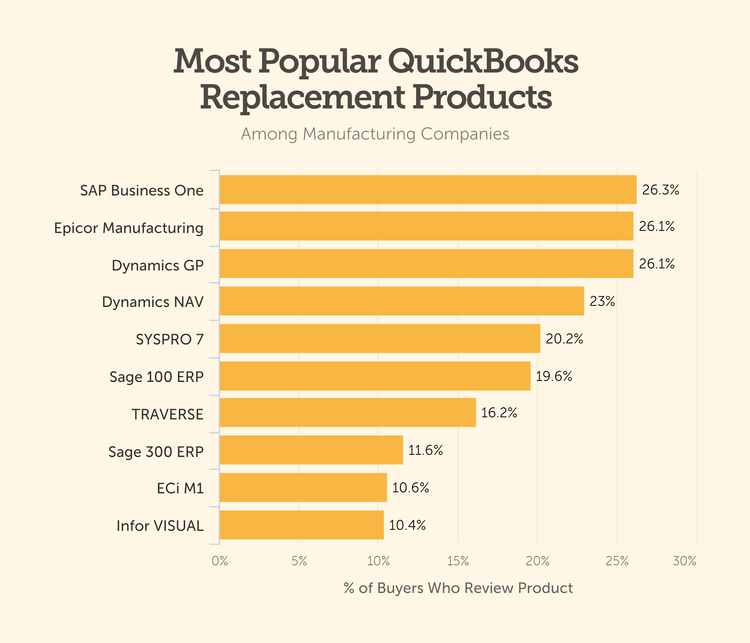 Technology Trends in Modern Manufacturing
Technology is always changing in the world of manufacturing, from the automation of the earliest assembly line to the rise of augmented and virtual reality. Today, manufacturing ERP distributors are always looking for new ways to incorporate evolving tech into software solutions.
3D Printing
Additive manufacturing and new 3D printing technologies now allow manufacturers to build parts and products that were once deemed too difficult or outright impossible to make. As a result, the additive manufacturing market value is projected to grow over $6 billion by 2022 according to MarketWatch.
Cloud Hosting
According to Manufacturing.net's article "10 Ways Cloud Computing Will Drive Manufacturing Growth in 2018", "global spending on Cloud Enterprise Resource Planning (ERP) software is predicted to increase from $19.1B in 2017 to $28.8B in 2028". Cloud ERP software makes it possible to see real-time data, like customer details and order information from anywhere and at any time.
Whatever your industry, you can opt for cloud manufacturing software which is accessible on any computer connected to the Internet or through mobile apps on smartphones and tablets. These options typically offer lower upfront costs via subscription-based SaaS pricing.
Growing Technology Use
The use of specialized technology in the manufacturing industry has been growing steadily. Along with 3D printing, there are an increasing number of robotics, augmented/virtual reality R&D, and more pushing the limits of manufacturing. According to Forbes' article, "The Future of Manufacturing Technologies, 2018", the "top technology investment areas for manufacturers include advanced analytics, cloud computing, modeling and simulation, Internet of Things (IoT) platforms, and optimization and predictive analytics."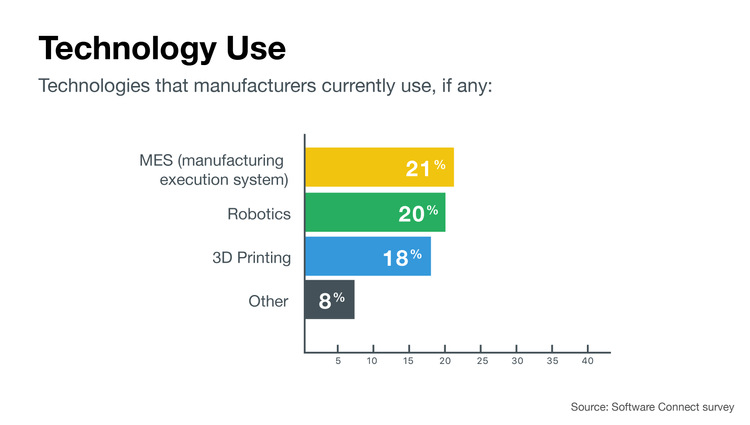 Some examples of the most widely used manufacturing software options include:
←
→
Global Shop Solutions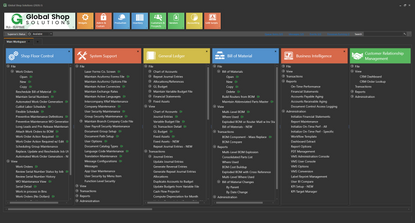 Client OS
Windows, iOS, Android, Web
Deployment
Cloud or On-Premises
What We Like
Support for 30 industries and more than 25 countries
Windows and cloud deployment
Mixed-mode manufacturing support
What We Don't Like
Need for extensive training
Occasional system lag
Traditional user interface
Global Shop Solutions is an ERP system for all sizes of business. The solution has been successfully implemented into dozens of industries. The software is a great choice for companies looking for a fully-integrated manufacturing ERP system.
Bluestreak

Starting Price
$600/month
Deployment
Cloud or On-Premises
Bluestreak is an MES and quality management system (QMS) in one, developed for the service-based manufacturing industry. This system is designed to integrate easily with existing ERP and MRP software.
MISys Manufacturing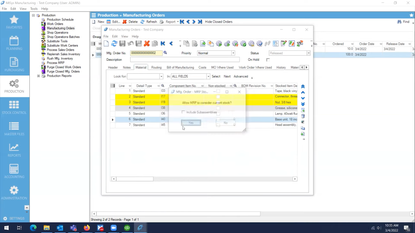 Starting Price
$3,995 (perpetual license)
Deployment
Cloud or On-Premises
MISys Manufacturing is a fully integrated, scalable MRP system that streamlines processes for manufacturers. This system works best for material resource planning.