Here are some of the best software options for jewelry manufacturers:
1

PIRO Fusion - Best Overall

PIRO Fusion is appealing for jewelry manufacturers due to capabilities, including workflow setup, manufacturing tracking, job duration and material tracking, and labor costing. The web-based platform is highly flexible, so users can tailor their experience to their exact needs without expensive customization.

Users of PIRO Fusion have reported improved inventory management, reduced production errors, streamlined customer interactions through the Customer Portal, and efficient integration with QuickBooks. Pricing for 2 uses starts at $299 per month. The Pro and Enterprise packages allow more users. A custom pricing plan is available for companies with more than 10 users.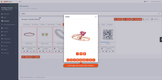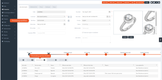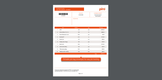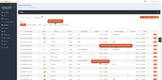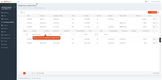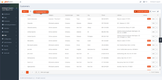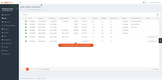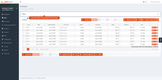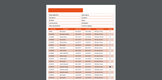 Starting Price
$299/month
2

wJewel - Best for QuickBooks

wJewel offers a comprehensive feature set tailored to the unique needs of the jewelry industry. It encompasses every aspect of jewelry operations, making it an ideal solution for retailers, manufacturers, refineries, and wholesalers. One key strength is the inventory management capabilities, which include RFID and barcode tagging, multi-store inventory tracking, and auto-reordering of low-stock items.

Additionally, its integration with QuickBooks streamlines accounting processes, making it a seamless choice for businesses seeking to manage their finances effectively. The user-friendly point of sale system is complete with sales, returns, exchanges, and trade-ins, as well as customer management functionalities.


What We Like
RFID and barcode tagging
Multi-store inventory tracking
Auto-reordering of low-stock items
Overview
Price Range: $$
Starting Price: $3,500 (perpetual license)
Client OS: Windows, Web
Deployment: Cloud or On-Premises
3

E-Jewel - Best for eCommerce

E-Jewel includes eCommerce functionality, allowing businesses to sell their jewelry products directly from their websites, catering to the modern retail landscape. Support for multi-currency transactions and payment processing ensures that the software can accommodate international business operations.

Another notable strength lies in its cloud-based and customizable nature, making it an excellent choice for jewelry businesses with multiple offices or stores.

What We Like
Offers payment gateway integration
Supports multi-currency transactions
Cloud-based solution
Overview
Client OS: Web
Deployment: Cloud Hosted
What is Jewelry Manufacturing Software?
Jewelry manufacturing software manages casting, production planning, inventory control, and quality assurance in the jewelry manufacturing process. The manufacturing system helps jewelry manufacturers track purchased raw materials like diamonds and metals used for crafting jewelry, as well as current stock levels of finished items. This allows you to keep track of what you have on-hand, so you don't run out of materials or finished goods.
Advanced systems include material resource planning (MRP) to help jewelers streamline the manufacturing process with functionality like demand forecasting, purchase planning, and shop-floor control. These systems can also include manufacturing execution systems (MES) that include scheduling and corrective action guidance to improve quality control and overall performance. Scheduling and production planning is generally utilized by made-to-order jewelers that create custom jewelry.
Jewelry Manufacturing Software Features
| Feature | Description |
| --- | --- |
| Manufacturing Inventory Management | Track quantities and prices of raw materials and finished jewelry. Send purchase orders to vendors when supplies run low. |
| Casting Management | Automate temperature controls based on the type of metal being used. Manage batches of jewelry pieces being cast with the same metal. Track estimated vs. actual weights of metals used during casting. |
| Sales Order Management | Automate invoicing and convert sales orders to manufacturing job orders to begin manufacturing and fulfilling the order. |
| Production Planning | Determine the materials and employees needed for each manufacturing job. Schedule the work according to your available resources. |
| Bill of Materials (BOM) | Instructions on assembly and required materials to manufacture the jewelry piece. |
| Quality Control | Track defects and manage corrective actions to improve overall quality. |
Advanced Features
| Feature | Description |
| --- | --- |
| MRP | Streamline the manufacturing process with inventory control, production planning, and scheduling. Calculate material requirements, coordinate workloads, and plan purchasing. |
| MES | Improve quality and performance with features like scheduling, shop-floor control, and corrective action guidance. |
Inventory Control in Jewelry Manufacturing Software
Jewelry manufacturing software keeps track of the inventory levels of your raw materials and finished products. Raw materials like diamonds, stones, and metals that are used to make your jewelry are tracked within the system. When these materials are running low, the system can automatically create and send a purchase order to the vendors.
The jewelry software will also track finished products along with details about each item. The product details can include pricing, quantity, material composition, and available variants. Some of the product variants include different color stones, types of metal, and sizes. Jewelry manufacturing software also supports image storage. An image of each product can be paired with the corresponding inventory item, making it easy to quickly identify a product.
Many solutions also include RFID or barcode tagging. The software will generate the barcodes to be placed on the jewelry pieces. Scanning the barcodes gives you real-time information on the quantities, location, and details of the products.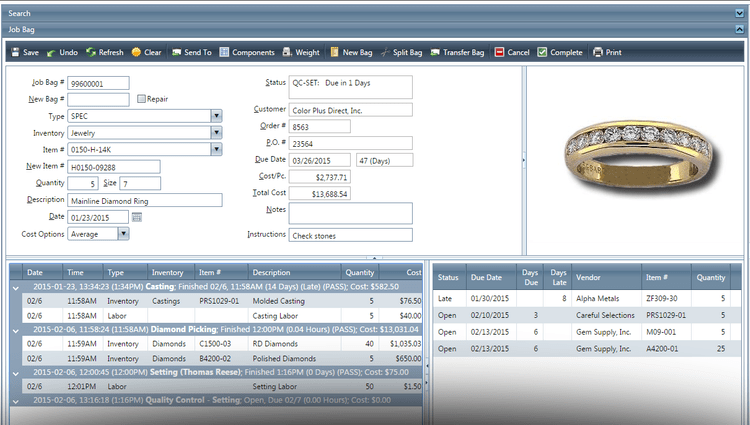 Accounting with Jewelry Manufacturing Software
Jewelry manufacturing software keeps track of all revenue and expenses throughout the manufacturing process. The accounts receivable module allows you to track income from sales orders, as well as open invoices. The accounts payable module will track payments to vendors for raw materials including metals, diamonds, and precious stones, as well as other business expenses. The system also includes vendor and customer management, so you know who to pay, who owes money, and contact information.
Jewelry manufacturers can create invoices for custom jewelry pieces within the software. The software will take into account the labor time, material cost, sales tax, and current market values to calculate the final cost. The invoice can then be printed or emailed to the customer. Some solutions allow customers to submit payments online with a credit card when the invoice is approved.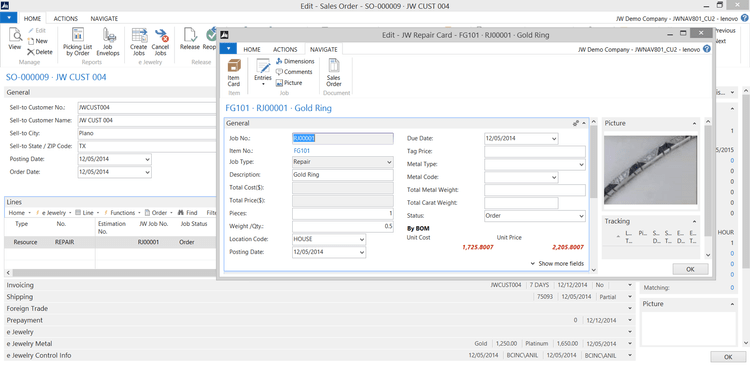 Casting Management in Jewelry Manufacturing Software
Jewelry manufacturing software helps manage the casting process. When the work order is ready to move into the casting stage, the caster can set the metal type, batch codes, and project status. Orders with the same materials can be automatically assigned to similar batches, allowing you to get more done at one time.
The software will automatically set the casting temperature based on the type of metal and other preset parameters. This reduces the chance of human error when setting the temperature for the metal being used. If metals are being overheated, they can burn away, causing you to lose materials. Jewelry manufacturing software ensures metals are being heated at the right temperatures, so you don't lose money.
The system will keep track of estimated vs. actual weights of the metals used during casting. Knowing how much metal you're using for each work order helps you have better control over inventory costs. You'll save time and money by ordering the right amount of materials without over-ordering or running out during the manufacturing process.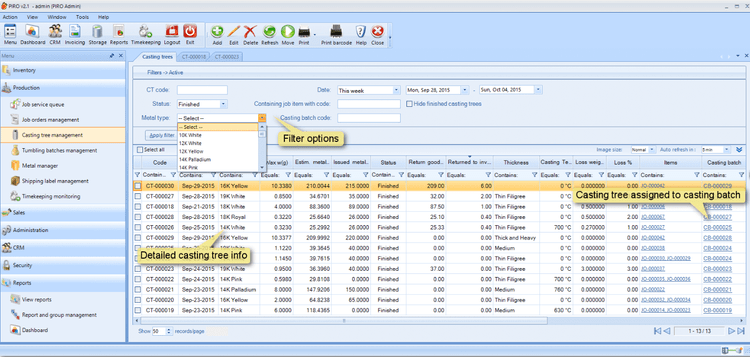 Jewelry ERP Software
ERP software helps the jewelry industry manage manufacturing processes in addition to other business processes. The ERP system will handle manufacturing processes like quality control, sales order management, and workflow management. Additionally, ERP software can include customer relationship management, budgeting and forecasting, human resources, payroll, and more.
Some all-in-one solutions integrate jewelry retail features with manufacturing. This allows jewelry businesses to integrate their customer management system, e-commerce platform, or point of sale solution. All-in-one ERP systems are ideal for multi-store retailers with manufacturing shops and large-scale jewelry manufacturers that need to manage many business processes.
Often times ERP systems can integrate with other solutions if needed. For example, if you have existing accounting software like QuickBooks, some solutions will integrate with it. This way, you won't have to give up a system you're already comfortable with.