We've conducted in-depth research and put together our best picks for discrete manufacturing software:
1

Epicor Kinetic - Best Overall

Epicor Kinetic is a single, end-to-end software solution for manufacturing businesses. The Kinetic platform is available on-premise or through cloud-hosting, each offering a modular approach. Choose from a wide selection of robust capabilities focused on reducing costs, streamlining processes, and improving responsiveness across your business.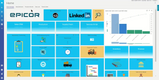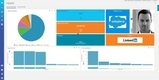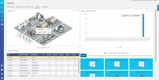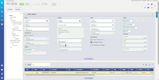 What We Like
Offers end-to-end functionality
Tracks, measures, and monitors your entire business
Streamlines processes
What We Don't Like
Not ideal for multinational organizations.
High learning curve.
Overview
Price Range: $$$$
Starting Price: $175/user/month
Client OS: Windows, macOS, iOS, Android, Web
Deployment: Cloud or On-Premises
2

Acumatica Cloud ERP - Best Cloud-Based ERP

Acumatica Cloud ERP utilizes leading-edge technology, best-in-class business functionality, and customer-friendly business practices to deliver unparalleled value to small and midmarket manufacturing organizations.

A series of integrated workflows span the full suite of business management applications, from Financials, Project Accounting, and Inventory Management to CRM. The specialized Manufacturing Edition includes Bill of Material, MP, APS, estimates, and more. Acumatica is built on a future-proof platform for scalability, ease of use, and rapid integrations.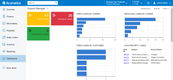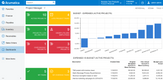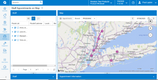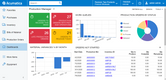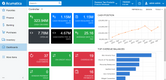 What We Like
Cloud-based ERP
Future-proof platform with scalability
Multiple editions
What We Don't Like
Must schedule a consult for pricing calls
High learning curve
Tedious setup
Overview
Price Range: $$$$
Starting Price: $1,800/month
Client OS: iOS, Android, Web
Deployment: Cloud or On-Premises
3

ECI M1 - Best Mid-Market Option

ECI M1 is an enterprise resource planning (ERP) solution made for manufacturers. This software is capable of integrating and automating jobs ranging from basic quoting all the way through to final invoicing. A business system designed for small-to-medium manufacturers, M1 serves job shops, custom, mixed-mode and make-to-order manufacturers.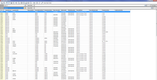 What We Like
Fully configurable dashboard
Controls inventory of raw materials, finished goods, and assemblies
For mid-market and small manufacturers
What We Don't Like
Complicated navigation.
Steep learning curve.
Not ideal for batch manufacturing.
Overview
Price Range: $$$$
Starting Price: $5,000/month
Client OS: Windows
Deployment: Cloud or On-Premises
What is Discrete Manufacturing Software?
Discrete manufacturing software streamlines the manufacturing process by managing supply chains, reducing waste with lean manufacturing techniques, tracking inventory, and planning & scheduling production.
Many companies find a full manufacturing ERP system works best for managing these business processes, while some smaller businesses get by with solutions that can be integrated with existing accounting systems. Companies with automated shop floors should consider discrete manufacturing software with manufacturing execution system (MES) capabilities.
Discrete vs. Process Manufacturing: What's the Difference
Discrete manufacturing is the production and assembly of distinct individual products that can be counted. The individual units are often made up of a number of parts and components to be assembled or even created by the manufacturer. The manufacturers use a bill of materials for instructions on product assembly. Different types of discrete manufacturing include made-to-order, engineer-to-order, and made-to-stock. Industries like job shops, apparel and textile manufacturers, and medical device manufacturers use discrete manufacturing.
Process manufacturing uses recipes and formulas to create products that can be packaged as individual units The final product usually cannot be broken back down to the original ingredients, because irreversible chemical reactions occur during manufacturing. Industries including food and beverage, chemical, and pharmaceutical use process manufacturing.
Discrete Manufacturing Software Functionality
| Feature | Functionality |
| --- | --- |
| MRP | Streamline the manufacturing process with production planning, inventory control, scheduling, material requirement calculation, labor/machine workload coordination, and purchase planning. |
| Manufacturing Inventory Management | Track current stock levels of products and purchased materials. |
| Bill of Material | Provide instructions on required materials and assemblies to manufacture a product. |
| Work Order Management | Outline work that has to be completed and provides instructions on how the work needs to be done. Includes scheduling management, rules-based approval management, change orders, and reporting. |
| Job Costing | Assign costs to materials, labor, and equipment needed to manufacture a product to improve cost control and profitability. |
| Manufacturing Accounting | Handle budgeting, financial reporting, and tracking expenses, accounts payable, and accounts receivable. |
| Supply Chain Management | Coordinate raw materials, vendors, purchase orders, warehouse management, and distribution. |
| MES | Streamline manufacturing operations with shop-floor control, master production scheduling, order prioritization, traceability, workload projections, rules-based routing, and job tracking. |
| Production Planning and Scheduling | Calculate estimates of the material and labor inputs you need to manufacture a product. Usually used for make-to-order, custom products, as well as large amounts of limited runs of products. |
| Quality Control | Reduce the risk of defects and improve customer satisfaction with features including risk analysis, workflow management, monitoring and reporting, compliance control, parts non-conformance, corrective action management, quality objectives, and approval management. |
Best Discrete Manufacturing Software Benefits
As a discrete manufacturer, you need consistent control and visibility into your manufacturing processes to increase ROI. Choosing the right discrete manufacturing software can shorten order cycles and improve operational efficiency to make your business run smoothly, along with other benefits:
Improved communication with enterprise-wide visibility. Integrated discrete manufacturing software gives you and your staff the ability to see everything from back-office to manufacturing floor operations. You will be able to synchronize manufacturing controls with sales and purchasing, so you can plan production runs, order the right amount of inventory, and meet delivery dates.
Reduced order fulfillment errors. Discrete manufacturing software keeps you organized with features including a bill of materials, production planning and scheduling, supply chain management, work order management, and inventory management. You'll have detailed records of current stock levels, materials you have on hand and information on materials needed to complete a project, as well as any other critical information you need to ensure products are made correctly and finished on time.
Improved delivery cycle times. Production planning and scheduling through discrete manufacturing software tracks production deadlines and automates reporting on your current projects. You'll have insight into whether or not a project is running behind, so you can make corrections to avoid delays.
Lowered order processing and delivery costs. Improved warehouse management and logistics from discrete manufacturing software save you money on order processing and delivery costs.
Reduced machine downtime with preventative maintenance. Some discrete manufacturing software solutions have preventative maintenance scheduling capabilities, so you know when to perform critical maintenance work on your machinery. Keeping up-to-date on preventative maintenance will reduce machine downtime and prevent unexpected issues from arising.
** Remain compliant with regulations.** There are manufacturing ERP solutions on the market that ensure your raw materials and products meet the requirements for conflict minerals legislation, Restriction of Hazardous Substances (RoHS), and Registration, Evaluation, Authorization, and Restriction of Chemicals (REACH).
Anticipate customer demand. Supply chain management modules include demand planning, so you can use data from things like social media, your warehouse, and even the weather to get a sense of what customers might be ordering in the future.
What Does Your Business Need?
Small to medium-size discrete manufacturing businesses. Small to midsize discrete manufacturers should look for software that offers supply chain management to keep track of raw materials, vendors, and purchase orders. You should seek a module-based solution so you can add functionalities as you grow to include features like customer relationship management (CRM). The discrete manufacturing software solution needs to easily integrate if you're planning to keep an existing system like QuickBooks (see below).
Large discrete manufacturing businesses. Large enterprise discrete manufacturing companies should look for a customizable discrete manufacturing ERP system that features MES and MRP to improve workflow management, quality management, and production planning.
Trends In Discrete Manufacturing Software
Lean manufacturing. More discrete manufacturing ERP software solutions have been adding lean manufacturing features to help businesses cut down on wasted time and resources. The thought is that these lean manufacturing functionalities will implement a more lean manufacturing philosophy to the company which is to reduce waste without sacrificing productivity. These functionalities include real-time ordering of low-stock materials and workflow management.
Partner ecosystem optimization. According to Manufacturing.net's article "Discrete Manufacturers: Prepare for These Five Impactful Trends in 2019", "manufacturers will return to reconsider and optimize their network of suppliers, distributors, and manufacturing facilities with a focus on service level."
Technology use and the Internet of Things (IoT). More manufacturers are investing in specialized technology to grow their business and get ahead of the competition. According to HTF Market Intelligence Report, "the 'Worldwide IoT in Discrete Manufacturing Market' is expected to reach $49.85 billion by 2022, growing at a CAGR of around 25.1% during the forecast period 2016-2022."
Cloud software. International Data Corporation (IDC) forecast that the discrete manufacturing industry would spend $19.7 billion on cloud software in 2018, more than any other industry. Cloud software is popular among discrete manufacturers due to the ability to see real-time data from any computer or mobile device, allowing engineers, technicians, and staff to see important orders and customer information from anywhere.
Can QuickBooks be Used as Discrete Manufacturing Software?
QuickBooks Enterprise, one of the most popular accounting software products on the market, is used by some small discrete manufacturers to manage basic inventory, sales orders, and purchasing. However, can it be used as a discrete manufacturing solution? It depends.
There are some third-party add-on software solutions that are designed for small to medium-sized manufacturing companies. For example, Acctivate is a system designed for growing small to mid-sized discrete manufacturers that features a bill of materials for made-to-stock and made-to-order products, workflow management, barcoding, traceability, order fulfillment, and mobile warehouse management.
Medium and large businesses often outgrow QuickBooks. Some of the functionalities QuickBooks can't handle (either at all or efficiently enough) include material requirements planning, engineering, production management, and equipment maintenance scheduling.