What is Aerospace Manufacturing Software?
Aerospace manufacturing software helps aircraft and parts manufacturers manage the complex processes inherent to the aerospace industry. The aerospace manufacturing industry needs everything from supply chain management and production planning to compliance management and quality control. The evolving software landscape is fueling competition in the aerospace market by giving manufacturers greater control and visibility over their processes.
Software needs can vary based on the type of aerospace manufacturing market you're in. These markets include military and defense, commercial air transport, general aviation for civilians, and space technology. These markets have different manufacturing regulations to follow. The right aerospace manufacturing software will help ensure your processes and finished products are in line with the regulations for your market.
Many aerospace manufacturers opt for ERP software to handle manufacturing processes alongside other business processes like human resources or customer relationship management. The customer relationship management functionality is most important for manufacturers of restricted or classified products that need to send product information like shipment notifications and change requests directly to customers. ERP systems can also integrate with warehouse management to assist with overseeing all warehouse operations.
Features of Aerospace Manufacturing Software
| Feature | Description |
| --- | --- |
| Supply Chain Management | Track the flow of goods from raw material acquisition to final product delivery. |
| Quality Management | Keep track of defects in supplied materials or finished products. Manage corrective actions to ensure the manufactured parts are up to code. |
| Manufacturing Project Management | Create task lists, manage schedules of employees and material deliveries, and set deadlines. |
| Inventory Management | Track quantities and prices of raw materials, assemblies, and finished parts that are currently on-hand. Purchase orders can be automated when supplies are running out. |
| Production Planning](/production-scheduling/) | Set schedules of the labor and resources needed for each job. |
| Compliance Management | Ensures manufacturers in the aerospace industry meet federal and international regulations including ITAR and AS9100 |
| Document Control | Securely store and maintain important documents for aerospace manufacturing jobs. |
Advanced Features
| Feature | Description |
| --- | --- |
| Business Intelligence (BI) Tools | Provides detailed reports on financial and non-financial data including profitability, parts used for each manufacturing job, scrap materials, employee productivity, and more. |
| MRP | Includes shop floor control, demand forecasting, equipment maintenance scheduling, and purchase planning. |
| EDI | Automate secure data transfer between your business and vendors including invoices, shipping status, and customs information. |
Benefits of Aerospace Manufacturing Software
Software offers many benefits for the aerospace manufacturing industry including:
Improved Lead Times and Reduced Costs with Production Planning
Production planning for airframe and aerospace part manufacturing helps bridge personnel scheduling and material ordering while remaining flexible enough to respond to changing plans. Having the right amount of resources on-hand allows manufacturers to improve lead times and cut costs overall.
Production planning also allows you to have better control over engineering change orders. Unexpected changes need to be scheduled and planned for to avoid manufacturing delays.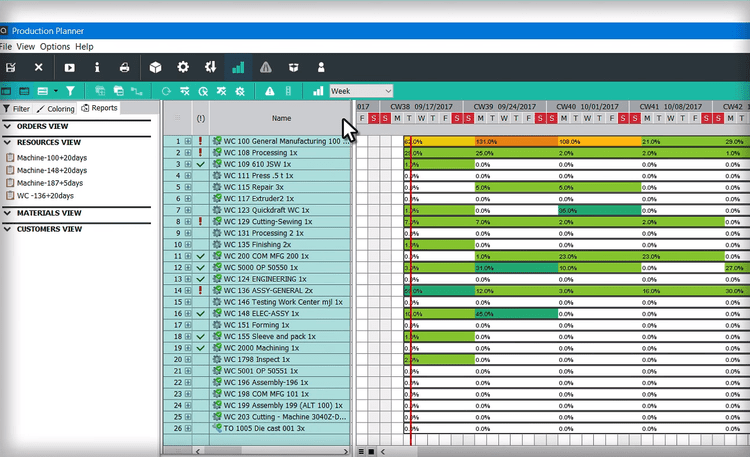 Maintain Regulatory Compliance
Maintaining regulatory compliance is of prime concern to aerospace manufacturers, who operate in one of the most tightly regulated industries in the world. Some of the regulatory compliances that software assists with include:
ITAR International Traffic in Arms Regulations (ITAR) governs the export of US military technology to foreign nations. Enterprise resource planning (ERP) software is an important part of maintaining an export compliance program.
AS9100 The AS9100 standard expands upon ISO 9001 requirements for the FAA and other federal agencies. A well-implemented quality management system (QMS) is vital to maintaining compliance for commercial and government contracts.
Markets for Aerospace Manufacturers
Each sector of the aerospace industry has its own unique challenges. Aerospace manufacturing software is available for these markets:
Commercial Air Transport
Commercial aerospace manufacturers deliver products for:
Wide-body and narrow-body jet airliners
Regional or short-haul airliners
Commuter aircraft
Manufacturers of commercial airliners, parts, tooling, and support equipment feed a hyper-competitive market. They need robust software systems to cut out waste and eliminate risk throughout all of their processes.
General Aviation
Aerospace manufacturers for non-scheduled civil aviation focus on:
Single-engine propeller aircraft
Multi-engine propeller aircraft
Very light jets
Ultralight and unpowered aircraft
Software for general aviation manufacturing helps manufacturers and distributors streamline customer interactions due to the higher volume and lower value of each customer. A software solution designed for commercial air transport suppliers won't deal with the unique challenges of the general aviation market.
Military/Defense Contractors
The aerospace defense industry builds airframes, systems and parts for:
Fixed-wing and rotary aircraft
Rockets and military spacecraft
Missile systems
Defense manufacturing contractors deal with very stringent regulations governing the quality, supply chain security, labor and contract compliance. Poorly selected, built, or maintained software can threaten lucrative defense contracts and your relationship with governmental agencies.
Space Technology Manufacturing Software
Software for space technology manufacturing industries including:
Private
Government
Military
Commercial spaceflight is a growing industry that is set to expand rapidly into space tourism and transport over the next few decades. Businesses trying to create these markets have to meet high standards in terms of agility and process controls that are practically unparalleled.
Software for Aerospace Replacement Part Manufacturers
OEMs and PMA part manufacturers can gain an edge over each other in the replacement aerospace part industry with the right software.
Original Equipment Manufacturer (OEM) Parts
OEMs need robust software to manage the supply of replacement parts for their customers. When aircraft operators are considering changes to their fleet, the reliability of the replacement parts supply chain is a serious concern. On-time production and delivery are vital to maintaining brand loyalty in an incredibly competitive market.
Parts Manufacturer Approval (PMA) Parts
PMA part manufacturers produce replacement and modification parts under the FAA. A fully-integrated software solution will track the relationships between the original components and the PMA parts. It should also help PMA manufacturers account for market trends, seasonality, and product life cycles to accurately predict demand.