1

Anaplan - Best Overall

Anaplan is a business intelligence tool that helps businesses connect people, data, and plans. This software helps inform more confident decisions that streamline planning processes while enabling collaboration among every facet of your company. Additional features include sales, marketing, and supply chain management.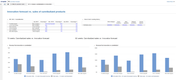 What We Like
Unified cloud-based software
Connected Planning platform
Hyperblock™ modeling and calculation engine
Overview
Client OS: Web
Deployment: Cloud Hosted
2

TIBCO Spotfire - Best for Data Visualization

TIBCO Spotfire is an analytics platform for predictive and visual streaming of unified analytics. Interactive real-time and historic data allows responsive views of disparate and multi-layer data sources to understand and predict current and future trends. TIBCO Spotfire is available on Windows, Mac, iOS, and cloud.





What We Like
On-Premise or Cloud
Enterprise scale analytics
Free 30-day trial
What We Don't Like
Complicated analytics require significant learning
Difficult to customize outside of rigid template design
More expensive compared to other data viz tools
Overview
Price Range: $$
Starting Price: $1,300/user/year
Client OS: Windows, macOS, iOS, Web
Deployment: Cloud or On-Premises
3

Odoo - Best for Full ERP

Odoo, formerly known as OpenERP, is an open-source ERP software that meets the needs of businesses with tools for sales, inventory, manufacturing, CRM, accounting, and more. Save hours of labor with seamless automation of processes in this fully-integrated software. Advanced reporting, full traceability, and a simple user interface makes Odoo the perfect software for inventory optimization.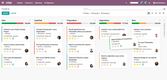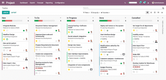 What We Like
Full suite of business apps
Double entry inventory system
Full traceability from customer to supplier
What We Don't Like
May have to build specific modules yourself
No centralized support
Upgrades not free
Overview
Price Range: $$$
Starting Price: $25/user/month
Client OS: Web
Deployment: Cloud or On-Premises
What is Inventory Optimization Software?
Inventory optimization is a multi-echelon supply chain management solution for creating optimal product storage and distribution conditions. This software assists small to medium size distribution centers with supply/demand forecasting, product traceability, and overall warehouse management.
Inventory optimization is beneficial to all sorts of businesses. Anyone dealing with perishable products will particularly benefit from these tools as they can reduce the chances of spoilage before the product reaches the buyer. Whether you're a manufacturer or retail supplier, this management software makes it easier to control your product stock from the time it arrives at your warehouse until it's distributed to the consumers.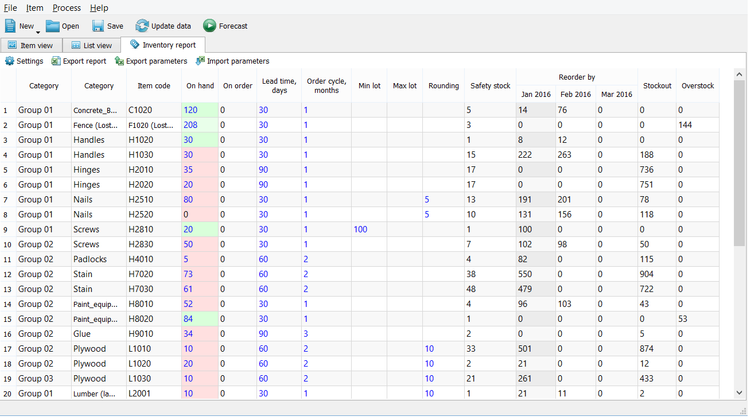 Features of Inventory Optimization Software
Inventory Management: Control all information about products your company builds, buys, stores, or sells.
Supply Chain Forecasting: Review what is currently in stock to plan for future orders. Schedule product replenishment before your shelves are empty.
Traceability: Track inventory along the supply chain using custom barcodes and RFID systems. Scan products in and out to get real-time inventory data.
Product Distribution: Handle order management directly from anywhere in your warehouse. Control the delivery of B2B or B2C sales orders.
Analytics Reporting: Measure key performance indicators (KPIs) to study the flow of inventory levels at your warehouse or distribution center.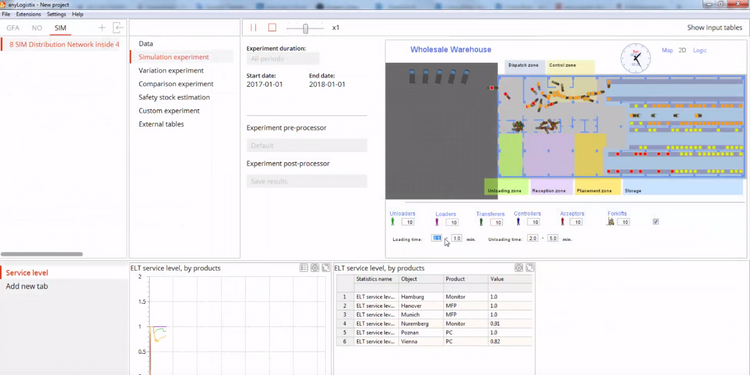 Benefits of Multi-Echelon Inventory Optimization
Some of the main benefits of inventory optimization:
More Accurate Stock Metrics
Like a warehouse management (WMS) software, inventory optimization makes it easier to track all of your product stock. Traceability methods like barcodes and RFID let you automate adding new stock into your tracking system. Create checkpoints throughout your warehouse to scan inventory and make sure everything is where it's supposed to be.
Accurate multi-echelon inventory tracking allows you to allocate safety stocks as well. These are the products you keep on-hand in case a shortage or delay occurs elsewhere on the supply chain.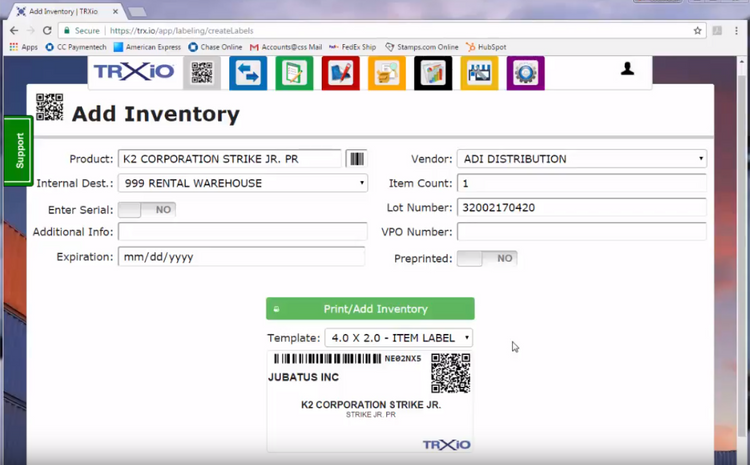 Real-Time Inventory Level Updates Anywhere
Inventory optimization software is usable on mobile devices like smartphones and tablets. Follow your entire multi-echelon supply chain from anywhere you are using Cloud-based solutions.
If you regularly travel to meet with investors and business partners, you've probably dealt with the hassle of printing out spreadsheets and reports in advance. What happens if you arrive and realize you're missing documents? Don't let a missing statistic jeopardize your business relationships. With mobile access to inventory levels, you can provide your partners, suppliers, and retailers with digital copies of real-time data.
Faster Stock Replenishing
By optimizing your inventory, you can better forecast stock replenishment. Follow real-time inventory level updates to determine when it's time to order replenishments. And use forecasting applications to identify emerging market trends.
Knowing when to replenish your stock can give you a big advantage over your competitors. You'll enjoy shorter lead times by placing your reorders early. And your customers will enjoy higher service levels as their orders are completed faster. Inventory optimization uses forecasting applications and real-time stock levels to provide accurate product predictions.
FIFO/LIFO Compliance Tracking
Certain products like food, beverages, and medications must be distributed according to FIFO rules. This means your warehouse has to make it easy to sort perishables based on their sell-by date. Optimize your inventory policies so you always know which batches are close to expiring and need to be sold next.
How is Inventory Optimization Different from Inventory Management?
While inventory optimization has some overlap with inventory management software, the two have several distinct differences. Inventory management is designed to track information about your products. While this can include some distribution data it's primarily aimed at pricing. Multi-echelon inventory optimization tracks the products themselves in order to find better ways to store, organize, and distribute stock across the entire supply chain.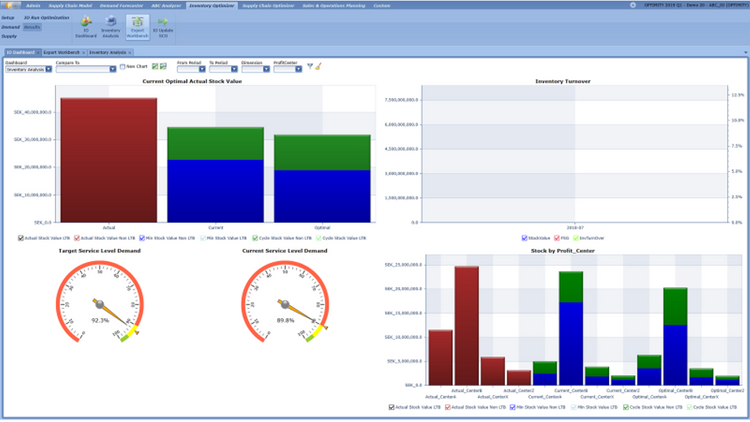 Pain Points of Inventory Optimization
When optimizing your inventory system, be aware of the following problems:
Unexpected Supply Chain Interruptions
Multi-echelon supply chains have multiple points of vulnerability. Is a manufacturer falling behind on orders? Did unusual weather cause a surplus of orders for normally seasonal products? There are all sorts of reasons your supply chain could be interrupted by outside factors. Inventory optimization solutions make it easy to recover from these unexpected difficulties without draining your safety stock.
For example, imagine a textile manufacturer has a dye error which ruins an entire batch of fabric. You can review your current stock levels to see how long you can wait for a new batch before having to access your safety stock.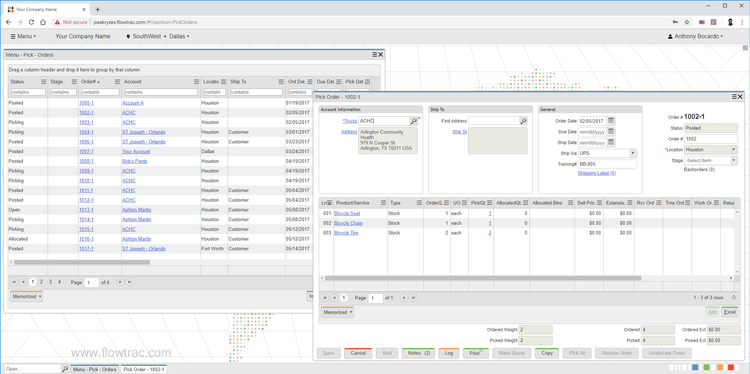 Overstock and Product Shortages
Predicting customer patterns isn't easy, even with forecasting tools. Inventory optimization software can give you real-time updates on which products are coming in and how they're being distributed. By adding this daily data into your forecasting you can get more accurate metrics and predict upcoming buyer trends. Then you can plan ahead to avoid getting stuck with unreasonable overstock. Or start replenishing popular products before your competition gets the chance.
Communication Failures
Related to supply chain interruptions, just because your distribution center is optimized doesn't mean your suppliers and buyers are. You could have every shelf perfectly stocked only to receive a surprise shipment from a supplier who doesn't know you're at capacity. Effective communication with your multi-echelon supply chain partners can prevent these costly mistakes.
Managing Recalls and Returns
Product recalls can be costly for everyone involved. While some defective products can be immediately destroyed others have to be returned to the manufacturer for testing. As the distributor, you may be responsible for taking in and storing recalled goods. Lower your losses by optimizing your warehouse to manage recalled stock.