Inventory management software extends beyond tracking your warehouse or retail store stock. The best inventory systems recognize combinable parts, sync with supply chain partners for consistent stock availability, and update customers with shipping estimates.
After researching multiple options, we've compiled a list of the best inventory management systems:
1

inFlow Inventory - Best Overall

inFlow Inventory is a powerful and easy to use inventory management solution. On top of managing inventory, the solution tracks sales and purchases and generates reports. inFlow Inventory hosts data securely in the cloud–letting your business access it anywhere you have access to the internet via their primary Windows app, or their mobile app found on iOS or Android devices.

Basic inventory features such as item name and description, cost and price, and inventory location/quantity are only the tip of the iceberg. Custom fields let you create the inventory product listing you want in case inFlow has left something out.

The purchase order module will keep track of past POs and autofill relevant vendor details. Implementing the barcode feature will let you easily scan items into a purchase order. This is a great tool that saves time having to locate a similar product in your item list when creating a purchase order for more.
2

Fishbowl - Good QuickBooks Integration

Fishbowl has long been the #1 inventory management software intended for integration with QuickBooks. This is due to it's ability to "fill in the gaps" with regards to QuickBooks inventory capabilities, which includes barcode scanning, part tracking, and advanced manufacturing tools. Fishbowl holds strong in the manufacturing community, as it provides sales order management, bill of materials, and shipment tracking all on top of it's base inventory features.

Fishbowl was one of the first third-parties to receive Gold Developer status from Intuit–a title they held for nearly a decade. This status with Intuit gave them key information to remain compatible with all new versions of QuickBooks that continued to roll out over the years. This show of commitment from QuickBooks helps illustrate how dedicated Fishbowl is to allow businesses to use the accounting system they are most comfortable with.

Fishbowl streamlines your work orders process into efficient work flows, helps generate bill of materials, monitor purchase orders, and control inventory levels in real-time. The solution als integrates with EDI software, eCommerce solutions, and shipping carriers.
3

Handifox - Best Mobile App

HandiFox is a mobile inventory control and sales management solution which allows users to receive items from suppliers, automate inventory counts, and more. Select from several pricing plans to fit your budget.
4

Logiwa - Best for Warehouse Management

Logiwa is a cloud-based warehouse management system providing inventory management tools for your supply chain. Logiwa markets themselves as a warehouse inventory management software for "new age" businesses looking to fulfill B2C and B2B sales in a highly mobile cloud environment.

This solution is favored by businesses with a multi-client or multi-warehouse environment, or simply by larger businesses with in-depth functionality needs. This is due to it's scalable nature, and ability to plug into a variety of marketplaces, ecommerce platforms, shipment carriers, and accounting and ERP systems.

The carrier management feature of Logiwa integrates with a number of shipping carriers that lets you compare rates. Capturing the tracking number lets you easily create a shipping label. The item management feature in Logiwa lets you edit product information and create unique barcodes for advanced traceability tracking.

The inbound process lets you create purchase orders and receive inventory against these purchases. Logiwa will show you expected quantity and what was actual received in the order. All of this can be handled via a mobile device hooked up with an industrial scanner that helps speed up the processing of inbound shipments.
5

Zoho Inventory - Best Free Option

Zoho Inventory is a free inventory management software designed for growing businesses with little to invest financially in a software. The free solution provides more than just inventory control by also offering stock management and order fulfillment features. The solution lets you manage stock flow across multiple channels, contacts, currencies, and locations.

The free version is best used by micro online sellers, drop-shippers, retailers, and distributors who deal with products on a daily basis. Since the solution was built for any size business, there are a variety of plans available to meet your needs and budget. The solution is cloud-based and can be accessed by virtually any mobile device with an internet connection.

Many free inventory tracking solutions may only focus on simple stock count tracking, which only provides a visual advantage over a simple spreadsheet method. Zoho Inventory lets you manage your sales process by adding in leads and prospects, creating sales orders, invoicing customers, and managing sales channels and inventory levels on online marketplaces. Some free solutions may also be very limited and slimmed down versions of the paid version. With Zoho Inventory, you'll have ecommerce integrations, automated workflows, and 1 Shopify store integration right off the bat.
6

TradeGecko - Best for Small Businesses

TradeGecko's inventory control software is a perfect choice for a small business that owns their own online store. Small businesses need all the help they can get when it comes to tracking sales channels, shipments, and their production level. These indicators can help you see what products are selling the best and improve your supply chain planning.

Most people using TradeGecko are coming from a time-consuming manual spreadsheet method and are looking to automate their inventory record keeping. What used to take hours to do weekly stock takes can now only take minutes and eliminate manual errors, double counting, and dealing with backorders.

The inventory control capabilities offered by TradeGecko work hand in hand with other features offered by the solution–such as accounting, backorder management, CRM, and order management/fulfillment. A business wanting to track sales and assets across multiple retailers (such as Amazon or eBay) will be best suited to use TradeGecko.
7

ecomdash - Best for eCommerce

ecomdash is a multi-channel inventory management software built for eCommerce businesses. The solution is best known for connecting the dots between inventory, shipments, and suppliers by consolidating the sales order information into one location. This helps avoid overselling items and lets you handle complex inventory needs such as kitting and bundling.

The core benefits of ecomdash include the ability to manage inventory across multiple platforms, consolidating multichannel orders from one dashboard, and better controlling your multichannel product listings. An order placed on one platform, such as Amazon, will automatically update your master inventory database, which will help reflect your stock count on other platforms (such as eBay).

In addition to handling sales channels, this type of inventory management software will also help you check stock levels across multiple fulfillment centers–allowing you to pick the location closet to your customer to ensure they receive their shipment as quickly as possible. Developed by Constant Contact, ecomdash can connect to over 50 platforms, such as Shopify, eBay, Amazon, Walmart, Etsy, WooCommerce, and more.
What is Inventory Management Software?
Inventory management software (also known as inventory control software) keeps track of all information about the items that your company builds, buys, stores or sells. Inventory management systems simplify pricing products and helps maintain the most effective stock levels.
Considered to be the key part of a distribution software, inventory management software lets you know exactly what you have on hand and where to find it. A smart inventory control module will also alert you when it's most advantageous to re-order stock.
Critical business benefits enabled by inventory management systems include:
Reduced stock level requirements and lower warehousing costs based on better understanding of stock movement and inventory items
Decreased expenses related to tasks such as picking, packing, kitting, and shipping of inventory based on more intelligent inventory movement management
Higher customer satisfaction via visibility to on-hand stock-levels and improved ability to set delivery expectations
Minimization of theft and loss based on improved visibility of stock counts and movement histories that make forensic inventory loss analysis easier to conduct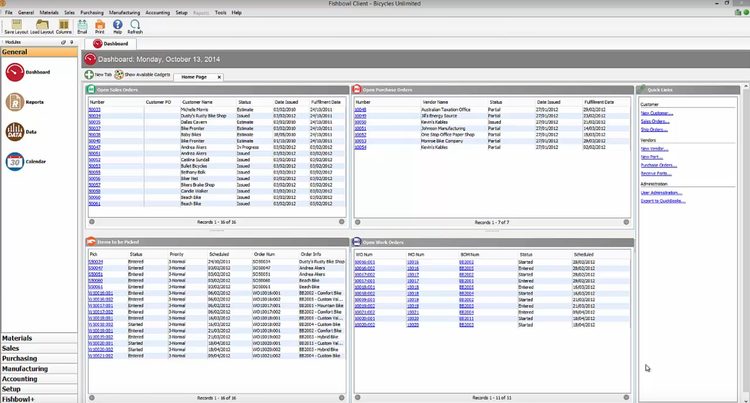 Features of Inventory Management Software
The features of inventory management software can be broken down into basic features, traceability features, and advanced features.
Basic Inventory Management Software Features
Inventory costing: Provides the means of establishing the cost value of inventory for profitability tracking and tax accounting (cost methods include: FIFO, LIFO, average costing, and others).
Location tracking: Aids in picking/packing/shipping tasks related to inventory items and helps improve inventory loss prevention
Stock count tracking: Provides a record of the on-hand units for each SKU and helps maintain accurate stock levels.
Traceability Inventory Management Software Features
Bar-coding: A scanning technology that allows for greater efficiencies in inventory look-up activities compared to systems that require manual part # entry.
Serial number tracking: Allows for identification of the particular unit being sold/repaired/built etc.
Lot number tracking: Allows for inventory tracking of groups of inventory and is often used for management of inventory that cannot be easily tracked as individual units.
RFID tracking: Radio Frequency Identification. Accurately track items via microchips. RFID readers send radio waves and interpret frequencies into inventory data.
Advanced Inventory Management Software Features
Kitting Allow for multiple items to be combined to form another item.
Pricing management Allow for the association of price info with particular SKUs and can be used for more sophisticated pricing tasks such as determining discount eligibility.
Bill of materials Lists material quantities and assemblies needed to manufacture an end product. Can be referred to as a "manufacturing recipe".
Inventory audit management Helps reconcile inventory records with actual item stock counts.
Color/size matrix Minimizes the number of records required to track different product combinations that vary by color or size.
Landed cost tracking Looks at all costs associated with acquiring inventory (including shipping, duties, and related fees) to provide for more accurate per product costing.
Unit of measure conversion Handles standard conversions (eg, yards to meters, pounds to kilograms) as well as user-definable ones (pallets to cases) allowing for greater flexibility in item quantity tracking.
Catchweight tracking Provides for a means of managing where items are tracked by one unit of measure (for example, packages or cases) but priced on the basis of weight (or another measurement).
Back order tracking Provides the ability to reserve incoming stock to meet the obligations of pending customer orders.
Inventory hold management Reserves existing stock to fill customer orders and helps prevent duplicate promising of inventory which can cause customer satisfaction issues and negatively affect customer retention.
Replenishment thresholds (reorder points) Provides a means of systematically specifying the stock count level which should signal re-order of the inventory item; can be connected with system alert/notification capabilities to ensure that out-of-stock situations do not occur.
Quality metrics Enables track information about the condition of individual inventory items, which can be used in supplier selection and other inventory related decisions.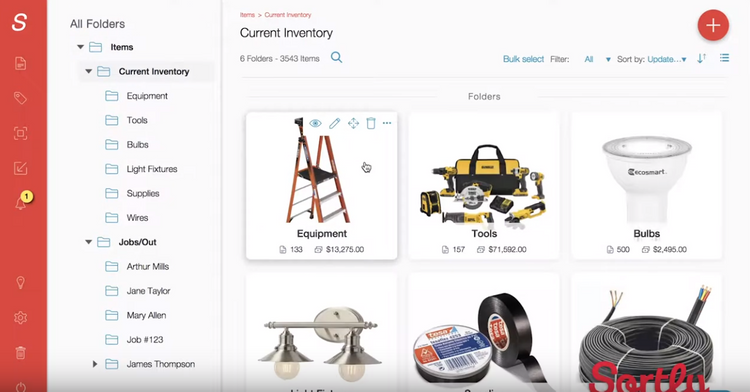 Benefits of Inventory Management Software
The top benefits of implementing an inventory tracking software include:
Managing Your Products for Sales Success
Maintaining the right amount of stock is critical to meeting customer demands. But it's not as easy as just having extra stock on hand. Over-purchasing stock can tie up valuable cash resources, incur warehousing expenses, and create losses on items with sell-by restrictions. Inventory management software provides comprehensive control of your products, including pricing lists, item counts, and location tracking.
Maintain Accurate Stock Counts
No matter what size your company is, you need to accurately track inventory and sales to maximize your profitability. When you automate your inventory you'll always have an up-to-date item count that allows you to quickly determine which products are selling and which are not. By understanding sales trends, you can accurately plan your purchases to lower costs associated with storing physical items. Stocking the right items at the right time is one of the main factors in ensuring you are meeting customer demands and enhancing your ability to increase revenues.
Save Time By Automating Inventory Tasks
Inventory management solutions offer a variety of tools for automating time-intensive tasks related to keeping track of stock. Bar-coding and RFID compatible options are available to allow you to gather individual item information by scanning the item rather than manually keying in data. Additionally, inventory management solutions can store precise information on item locations, so you always know where to find your products and don't lose time trying to locate stock in your POS system.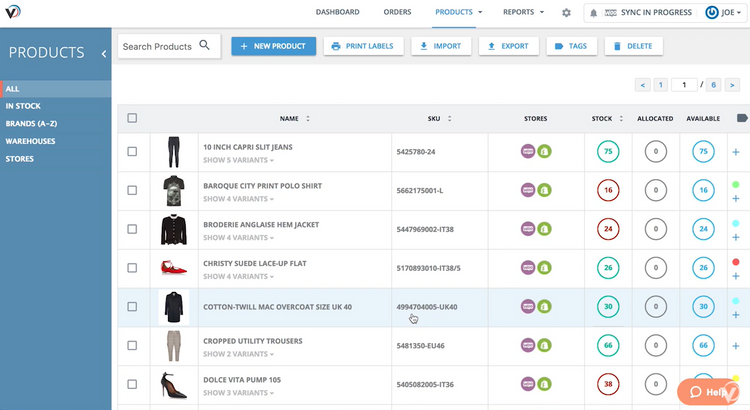 What Type of Inventory Software Does Your Business Need?
To determine which solutions to look into, you may look at options intended for your size of business:
New Buyers and Small Businesses
Most basic accounting software will have a straightforward inventory tool, primarily for inventory costing and simple stock count tracking. Most small businesses will look to have inventory as a feature included with an accounting software or POS systems, rather than purchase an expensive stand-alone.
Existing Users Desiring Functions Beyond Basic Inventory Management
Growing businesses with large enough inventory will look for stand-alone solutions to work alongside existing financial systems they already utilize for purchase orders. Manufacturers will desire a bill of materials that they can replicate for commonly produced goods. Distributors will desire a better track of their assets and an ability to automatically reorder materials in real time as it's depleted.
Large Companies
Enterprise-level organizations will typically have inventory solutions included in their enterprise resource planning (ERP software) as part of a fully integrated software solution. They may also manage multiple warehouses, in which case a warehouse management system (WMS) may be the better fit for them.
If you're looking for a more specific piece of inventory software, these related solutions may be worth looking into: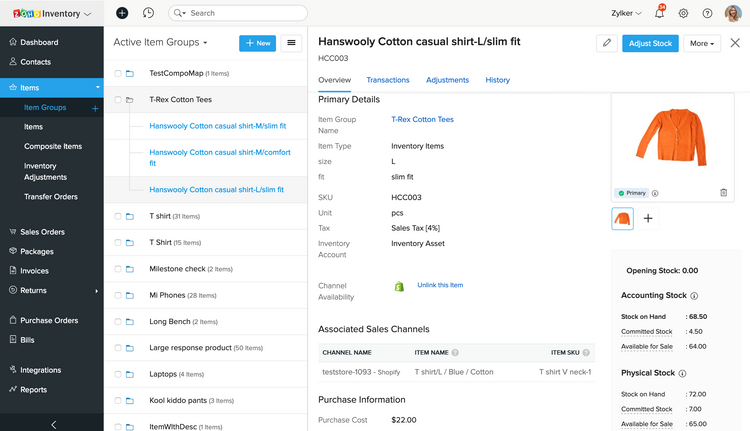 Inventory Management Software Pricing
The cost of inventory management software will depend on the:
Number of users
Deployment method
Number of warehouses
Level of inventory being tracked (total SKUs)
Any needed implementation or training
The cheapest inventory solutions will usually be add-ons for inexpensive accounting programs such as QuickBooks, with pricing starting at around $500 upfront for purchased solutions or around $40/month for a subscription-based option. Buyers looking at stand-alone inventory systems should expect costs to go up from there depending on the above criteria.
To figure out an honest price quote for you, software vendors will usually ask the following critical questions:
What do you need?
How big is your inventory?
How many employees do you have?
In the world of inventory, there is no one set price for an inventory product. You can imagine that an inventory system that is built with handling a few spare shelves in the back of an ice cream shop is not going to be able to manage the inventory of a company that needs 5 warehouses and has over 250,000 SKUs.