Accurate, up-to-date inventory management software is critical to business success. If you are looking to reduce costly inventory errors, improve your ability to meet customer demands, and lower your operational costs, the right inventory control software program is an indispensable business resource.
With so many choices, finding the right program to meet your particular needs can be difficult. Understanding the different features and capabilities available to you is the first step in making sure you make the right decision.
This guide offers information on the following topics:
What Is Inventory Management Software?
Inventory management software (also known as inventory control software) keeps track of all information about the items that your company builds, buys, stores or sells. Inventory management software simplifies pricing products and helps maintain the most effective stock levels.
Considered to be the key part of a distribution software, inventory management software lets you know exactly what you have on hand and where to find it. A smart inventory control module will also alert you when it's most advantageous to re-order stock.
Critical business benefits enabled by inventory management software include:
Reduced stock level requirements and lower warehousing costs based on better understanding of stock movement
Decreased expenses related to tasks such as picking, packing, kitting, and shipping of inventory based on more intelligent inventory movement management
Higher customer satisfaction via visibility to on-hand stock-levels and improved ability to set delivery expectations
Minimization of theft and loss based on improved visibility of stock counts and movement histories that make forensic inventory loss analysis easier to conduct
Features of Inventory Management Software
| Functionality | Definition |
| --- | --- |
| Inventory costing | Provides the means of establishing the cost value of inventory for profitability tracking and tax accounting (cost methods include: FIFO, LIFO, average costing, and others) |
| Location tracking | Aids in picking/packing/shipping tasks and helps improve inventory loss prevention |
| Stock count tracking | Provides a record of the on-hand units for each SKU |
Traceability Features of Inventory Management Software
| Functionality | Definition |
| --- | --- |
| Bar-coding | A scanning technology that allows for greater efficiencies in inventory look-up activities compared to systems that require manual part # entry |
| Serial number tracking | Allows for identification of the particular unit being sold/repaired/built etc |
| Lot number tracking | Allows for tracking of groups of inventory and is often used for management of inventory that cannot be easily tracked as individual units |
| RFID tracking | Radio Frequency Identification. Accurately track items via microchips. RFID readers send radio waves and interpret frequencies into inventory data. |
Advanced Features of Inventory Management Software
| Functionality | Definition |
| --- | --- |
| Kitting | Allow for multiple items to be combined to form another item |
| Pricing management | Allow for the association of price info with particular SKUs and can be used for more sophisticated pricing tasks such as determining discount eligibility |
| Bill of materials | Lists material quantities and assemblies needed to manufacture an end product. Can be referred to as a "manufacturing recipe" |
| Inventory audit management | Helps reconcile inventory records with actual item stock counts |
| Color/size matrix | Minimizes the number of records required to track different product combinations that vary by color or size |
| Landed cost tracking | Looks at all costs associated with acquiring inventory (including shipping, duties, and related fees) to provide for more accurate per product costing |
| Unit of measure conversion | Handles standard conversions (eg, yards to meters, pounds to kilograms) as well as user-definable ones (pallets to cases) allowing for greater flexibility in item quantity tracking |
| Catchweight tracking | Provides for a means of managing where items are tracked by one unit of measure (for example, packages or cases) but priced on the basis of weight (or another measurement) |
| Back order tracking | Provides the ability to reserve incoming stock to meet the obligations of pending customer orders |
| Inventory hold management | Reserves existing stock to fill customer orders and helps prevent duplicate promising of inventory which can cause customer satisfaction issues and negatively affect customer retention |
| Replenishment thresholds | Provides a means of systematically specifying the stock count level which should signal re-order of the inventory item; can be connected with system alert/notification capabilities to ensure that out-of-stock situations do not occur |
| Quality metrics | Enables track information about the condition of individual inventory items, which can be used in supplier selection and other inventory related decisions |
Benefits of Inventory Management Software
Managing Your Products for Sales Success. Maintaining the right amount of stock is critical to meeting customer demands. But it's not as easy as just having extra stock on hand. Over-purchasing stock can tie up valuable cash resources, incur warehousing expenses, and create losses on items with sell-by restrictions. Inventory control software provides comprehensive control of your products, including pricing lists, item counts, and location tracking.
Maintain accurate stock counts. No matter what size your company is, you need to accurately track inventory and sales to maximize your profitability. When you automate your inventory you'll always have an up-to-date item count that allows you to quickly determine which products are selling and which are not. By understanding sales trends, you can accurately plan your purchases to lower costs associated with storing physical items. Stocking the right items at the right time is one of the main factors in ensuring you are meeting customer demands and enhancing your ability to increase revenues.
Save time by automating inventory tasks. Inventory control software offers a variety of tools for automating time-intensive tasks related to keeping track of stock. Bar-coding and RFID compatible options are available to allow you to gather individual item information by scanning the item rather than manually keying in data. Additionally, inventory control software can store precise information on item locations, so you always know where to find your products and don't lose time trying to locate stock.
What Type of Inventory Software Does Your Business Need?
New buyers and small businesses: Most basic accounting software will have a straightforward inventory tool, primarily for inventory costing and simple stock count tracking. Most small businesses will look to have inventory as a feature included with an accounting or POS software solution, rather than purchase an expensive stand-alone.
Existing users desiring functions beyond basic inventory management: Growing businesses with large enough inventory will look for stand-alone solutions to work alongside existing financial systems they already utilize for purchase orders. Manufacturers will desire a bill of materials that they can replicate for commonly produced goods. Distributors will desire a better track of their assets and an ability to automatically reorder materials in real time as it's depleted.
Large companies: Enterprise-level organizations will typically have inventory included in their ERP software as part of a fully integrated software solution. They may also manage multiple warehouses, in which case a warehouse management software (WMS) may be the better fit for them.
Inventory Management Software Pricing
The cost of inventory management software will depend on the:
Number of users
Deployment method
Number of warehouses
Level of inventory being tracked (total SKUs)
Any needed implementation or training
The cheapest inventory solutions will usually be add-ons for inexpensive accounting programs such as QuickBooks, with pricing starting at around $500 upfront for purchased solutions or around $40/month for a subscription-based option. Buyers looking at stand-alone inventory systems should expect costs to go up from there depending on the above criteria.
To figure out an honest price quote for you, software vendors will usually ask the following critical questions:
What do you need?
How big is your inventory?
How many employees do you have?
In the world of inventory, there is no one set price for an inventory product. You can imagine that an inventory system that is built with handling a few spare shelves in the back of an ice cream shop is not going to be able to manage the inventory of a company that needs 5 warehouses and has over 250,000 SKUs.
What Are The Best Inventory Management Solutions?
While many top inventory management software options exist (as seen by the list of options at the top of this page), here are some select products we've dived into further to help better show you the capabilities of specific solutions.
This inventory management product that is best known for its integration with QuickBooks. It's popular for existing QuickBooks users so they do not need to switch away from an accounting system their staff may be proficient at but lacks in inventory functionality.
This solution works for inventory of all types, such as your own, consigned, or at a 3PL. The solution includes a slew of features to handle all aspects of inventory and warehousing alike such as replenishment, return merchandise authorization, pick/pack/ship labels, and EDI analysis.
Using QuickBooks As An Inventory Management Software
Given the popularity of the program, many companies choose to use the inventory feature included in most versions of QuickBooks. It allows you to see what's in stock and what's on order.
The main inventory benefits QuickBooks provides is the ability to view quantities on hand, get real-time inventory valuation, and stay on top of your purchase orders. Quickbooks Enterprise offers more in-depth features such as bin location tracking, barcode scanning, and FIFO inventory. QuickBooks recommends syncing with a handful of 3rd party apps for more advanced inventory tracking.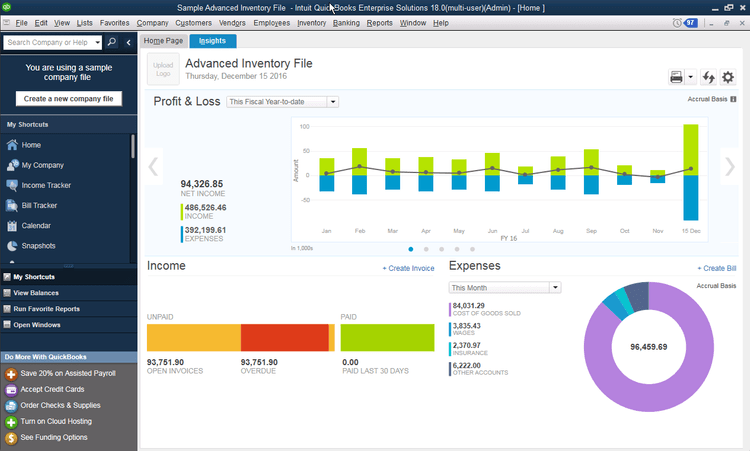 Common Pain Points Solved By Inventory Management Software
Missing functionalities based on your industry. Catchweight inventory is best used when the average weight of a unit may differ from the exact weight on an item by item basis. This makes sense in food distribution, where each case of the food product may weigh differently. A clothing distributor will strongly need a color/size matrix, which will allow them to more easily manage the inventory of one shirt design that can come in multiple colors and sizes. And businesses with high inventory turnover (such as grocery stores) will need to ensure their inventory system can handle the level of goods they have traveling through their location.
Manually entering data. Digital technology exists to helps make the lives of inventory managers a little easier. Rather than inputting in new shipments into the database, scanners and RFID trackers are available to be used, and have become much more affordable than years past.
An inefficient pick/pack process. Software can help plan routes better so employees know where to go to find what they need in your inventory. From something as small as 4 rows of shelves to a 10,000 sq foot facility, fulfilling orders will be a much smoother process with an efficient picking process.
Trends In Inventory Management Software
What new features are revolutionizing inventory management? Are there any new technologies taking the world of inventory by storm? These are some of the most current trends in inventory technology:
1. Successful Cycle Counting
End of year physical inventory counts can drive your business to a halt. Employees are often pulled off the line or asked to put in additional hours to handle it. This particular method of inventory stock verification splits the task over time in order to create greater process efficiency and inventory records accuracy. The business benefits of accurate inventory will be improved efficiency and service:
| Operational efficiency improvements | Service improvements |
| --- | --- |
| less spending on "safety stock" | fewer lost sales due to out-of-stock items |
| reduced warehouse & carrying costs | fewer delays due to back-orders |
| trust in records permits use of automation | increased sales confidence during ordering |
| fewer misplaced items lowers picking costs | fewer wrong item shipments |
2. Barcoding vs RFID in Inventory Management Software
73% of buyers prefer barcoding as a tracking method over RFID (7%).
3. Surprising Uses of RFID With Inventory Management Software
The world of RFID is constantly changing and evolving, and RFID can be used in far more situations than tracking inventory in a warehouse. So much so that we were able to create a list of unexpected and awesome used of RFID back in 2014, and gain in 2018. What will 2022 hold for RFID?
4. Using BI Knowledge With Inventory Management Software
Inventory data is as important as financial data, and luckily BI software has evolved to paint a picture in your inventory data to help you make a better business decision. Your inventory data can help you find out what your customers want, what areas need attention, and how much you can expect to sell.