What is Zoho Inventory?
Zoho Inventory is a cloud-based inventory management solution designed for small to midsize businesses, particularly those operating in online retail spaces. It features inventory management modules including reporting and analysis, vendor managed inventory and lot traceability. There are mobile compatible apps for Android and iOS devices to allow on-the-go inventory updates.
Pros
Cons

Intuitive, easy to use interface.
iOS and Android compatible apps for mobile inventory management.
Wide variety of Zoho add-ons and modules to build a custom system.

Requires additional apps and modules to handle certain tasks, like invoicing and POs.
Limited support on weekends.
Our Ratings
| | |
| --- | --- |
| Usability - 9.2 | Has a modern and responsive interface; intuitive navigation between different workflows. |
| Support - 9.0 | Includes free 24/5 support via phone, chat, and email, but not 24/7; there is a YouTube channel with a demo walkthrough and how-to videos. |
| Features - 8.6 | Straightforward and effective product management; tasks are divided into inventory, sales, purchases, and reports; connects with multiple sales and shipping channels; some features locked behind add-on modules. |
| Security - 8.8 | Data imports/exports can be done with CSV, TSV, or XLS files; it integrates with multiple shopping platforms and online payment gateways which might require additional security. |
| Value - 7.5 | Paid plans start at $79 per month or $59 per month (billed annually) and a free version is available; each tier offers more orders, labels, and Aftership tracking; Zoho modules increase the costs. |
| Performance - 9.0 | Functionality was fast and responsive; making changes was easy and instant; some performance limited by add-ons or integrations. |
| Scalability - 8.5 | Software can grow with business; it offers more features at higher price levels; user permissions can be changed to limit what others can see, create, or modify; might not be able to grow with enterprise-level businesses. |
Features
We focused on some key inventory management feature when evaluating Zoho Inventory:
Item, Customer, and Vendor Management
Adding new items to Zoho Inventory is easy, whether you do it manually one at a time or bulk import from a spreadsheet. The imports can be done from any CSV, TSV, or XLS files. If you have files in another format, you'll need to convert them first before importing.
When manually filling out details for a new product, you can also add a new manufacturer or brand at the same time. No jumping around between different tabs adding one or the other before adding in products. This was a great time saver.
From there, standalone items in Zoho Inventory can be arranged into groups for easier bundling when selling kits. This is also a small workaround for any businesses looking for minor manufacturing assemblies, although it won't be to nearly the same level as an MRP with a proper bill of materials.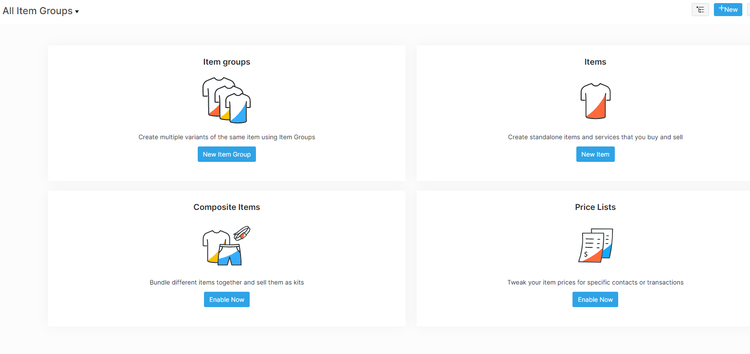 Putting together composite items went smoothly, especially since Zoho Inventory included ways to copy the selling and cost prices from the totals of items included in the bundle. When making the bundle, the software tells you how many units are available to use so you won't be over or under.
Adding a new customer or vendor to Zoho is equally straightforward. Entries can be added manually or through importing files.
Multichannel Sales
Since Zoho Inventory supports multichannel selling, you can reach customers on all sorts of sales platforms, including:
By integrating between these platforms, Zoho can gain send information to your Amazon store, like item SKUs, then instantly update your stock on hand. Sales orders made on Amazon can also update Zoho so you know if there are any new sales orders to package or invoice.
The exact marketplaces you can use will depend on which country edition you use. In addition to these popular platforms, a Google Shopping integration is currently in beta as well. You can even expand to international buyers by automatically converting multiple currencies into your base currency. That makes it easy to get started selling all over the world.
The included insights show which platforms are performing the best. I found this particularly helpful as retailers can quickly determine which avenues are worth expanding in the future. Updating stock in Zoho will update stock levels across all integrated sales channels.
Various payment gateways are also available, allowing you to get paid online via:
PayPal
2Checkout
WorldPay
And more
However, there are limitations to Zoho Inventory's customer management. If you want more advanced functionality, you'll need to incorporate Zoho CRM into the mix. This integration automates all sales activities from when a product is picked to the final customer interaction.
Build Vendor Relations
Finally, you can easily apply vendor credits to bills:

Vendor credits can be added manually or imported into Zoho from other sources. If you have these files in other formats than CSV, TSV, or XLS, you need to convert it to an accepted file format using a converter.
Just like when adding products, you can add customers or vendors on the fly when creating invoices or bills. If you try to send an invoice for a product which is out of stock, Zoho won't allow it until the missing product is restocked. While this is great if you want to avoid shortages, it can be tricky if you want to send the invoice anyway for any reason.
Unfortunately, there are limitations here as well because Zoho has their own Zoho Books module for handling more detailed purchase orders and bills. The separate Zoho Analytics also limits some of the reporting capabilities.
What Features Are Missing?
While Zoho Inventory has a lot of features, a few were missing were missing or could be improved:
Extra modules: Zoho offers a lot of separate modules to cover business tasks. Unfortunately, this means certain features can get locked behind paywalls. Want to fully review purchase orders or invoices? You'll need Zoho Books. Want more comprehensive customer management? Try Zoho CRM. Want a shopping cart? Zoho Commerce. All these extra modules can quickly add up. And using Zoho's official modules can mean you have to leave behind your current software, like QuickBooks.
Limited support: Zoho offers 24/5 support, so if you are dealing with international time zones or late hours you could be out of luck.
Pricing Plans
Plan
Pricing
Features
Free
Free
Offers 50 orders, shipping labels, and Aftership tracking per month plus:

1 warehouse
2 users
Composite items
Basic multi-currency handling
Customer portal
eCommerce integrations
Integrate 1 Shopify store

Standard
$79 per month or $59 per month (billed annually)
Includes everything from the Free plan offers along with 1,500 orders, shipping labels, and Aftership tracking per month, plus:
Professional
$129 per month or $99 per month (billed annually)
Includes everything from the Standard plan offers along with 7,500 orders, shipping labels, and Aftership tracking per month, plus:

5 warehouses
5 users
Vendor portal
Serial number tracking
Batch tracking
5 automated workflows/modules

Premium
$199 per month or $159 monthly (billed annually)
Includes everything from the Professional plan offers along with 15,000 orders, shipping labels, and Aftership tracking per month, plus:

7 warehouses
10 users
UoM conversion
Picklists
Integrates 5 Shopify stores
Contextual chat
10 automated workflows/modules

Elite
$299 per month or $239 per month (billed annually)
Includes everything from the Premium plan offers along with 25,000 orders, shipping labels, and Aftership tracking per month, plus:

15 warehouses
15 users
Advanced multi-currency handling

Ultimate
$399 per month or $329 per month (billed annually)
Includes everything from the Elite plan offers along with 25,000 orders, shipping labels, and Aftership tracking per month, plus:

Everything in Elite+, such as Zoho Analytics
FAQ
Here are some frequently asked questions about Zoho Inventory:
Does Zoho Inventory support manufacturing?
Zoho Inventory has some manufacturing features, although not as much as a manufacturing inventory management solution. Users can workaround this by bundling raw materials to indicate composite items, but it's not the same as a bill of materials.
Is Zoho Inventory free?
Zoho has a free version, though the features are limited compared to the paid plans. The Basic plan starts at only $79 per month, although paying annually reduces this cost to $59 per month. Various add-ons are available for only $2.50 to $8 to add more orders, scans, users, or warehouses.
A free trial is available for 14 days. Nonprofits are eligible for a 15% discount.
What integrations are available for Zoho?
Zoho Inventory integrates with multiple sales channels and shopping carts, including:
More than 25 shipping integrations are available, including:
Other integrations cover:
Alternatives to Zoho Inventory
Summary of Zoho Inventory
Based on our experience, we recommend using Zoho if you want a highly visual and straightforward inventory management system. Overall, Zoho is well-suited for eCommerce businesses looking to expand to multichannel selling to platforms like Shopify or Amazon. It's not suited for manufacturers.
Zoho Inventory has a variety of pricing plans, ranging from free to $400 per month. Each plan offers more features and expanded usability. And it's important to note Zoho has many additional modules and apps available to cover additional functions, though at an additional cost. We'd recommend this for any business already using other Zoho products and looking for seamless integration with the system they already have.