Find the best distribution software to manage day to day operations of your wholesale trade or distribution company. We ranked the top distribution ERP software by factors like core features, value for money, and customization options.
1

NetSuite - Best Overall

Why We Chose It: NetSuite software is our top pick for wholesale distributions, delivering real-time, detailed visibility into key inventory control and supply chain management measures.

Wholesale distributors using NetSuite can track every transaction with instant updates. Financial modules enable you to do payroll in-house. And support for multiple currencies means that expenses are paid in the currency in which they were incurred. Users can even list multiple currencies in a single report.
2

Acumatica - Great for Mid-market Businesses

Why We Chose It: We went with Acumatica's Distribution Edition for small and mid-market organizations. This is due to its industry-specific feature set, including inventory controls, requisition management, and WMS tools. These capabilities help mid-market companies handle increased operational complexities and larger inventories. Finally, Acumatica is built on a future-proof platform with open architecture which allows for scalability, ease of use, and rapid integrations.
3

Infor CloudSuite Distribution - Best for Large Enterprises

Why we chose it: Infor CloudSuite Distribution's capabilities support the complexities and scale of large enterprises. It can manage extensive product inventories and accommodate high transaction volumes. Infor also handles advanced distribution processes, like multi-location inventory management, demand forecasting, and supply chain optimization.

Additionally, Infor controls the complete inventory lifecycle. Users can start with order entry and customer order management, move through complex pricing and price management, rebates, and detailed unit of measure management.
4

Epicor Prophet 21 - Best Cloud-Based Option

Why we chose it: Epicor Prophet 21 is the industry leading cloud-based ERP solution built for distributors. Powered by Microsoft Azure, this software helps distributors innovate with insight, while also improving efficiency. With Epicor Prophet 21, you can easily scale your resources to meet your business demands in the web-based cloud. Use end-to-end visibility into the supply chain to create actionable data insights.

Epicor Prophet 21 provides you with choices to meet your current and future business needs. With both cloud and on-premises deployment options available, distributors can start with the on-premises version and easily migrate to the web as they grow.
The focus on technology improvement; rich distribution knowledge - they know how to talk distribution. User Jon
5

SYSPRO - Best for Manufacturing

Why we chose it: SYSPRO is an ERP solution primarily made for manufacturers and distributors. We chose it for its manufacturing-focused tool set, including quality control, compliance support, BOMs management, and production scheduling. SYSPRO can be deployed in the cloud, on premise, or through a hybrid model, in order to provide access from any device, at any time, anywhere.

SYSPRO gives single or multi-location distributors and wholesalers the software tools to optimize inventory management with 360 degree order visibility, serial number and lot tracking, inventory optimization, total order fulfillment and customer service throughout your supply chain. SYSPRO is licensed through a perpetual or subscription pricing model.
7

Kechie - Most User-Friendly Pick

Why we chose it: Kechie is one of our top choices because it's efficient and approachable while supporting complex distribution processes. Its intuitive interface simplifies navigation. This ease of use extends to various features like inventory management, order processing, and logistics coordination, ensuring smooth operation across all levels of the distribution chain.

Another significant aspect of Kechie is its scalability. The software adapts seamlessly to the growing needs of a business, offering customizable modules that can be tailored to specific operational requirements. This flexibility ensures that businesses can enhance their distribution efficiency without the need for constant software upgrades or switches.
6

Acctivate - Strong Batch Processing

Why we chose it: Acctivate includes a powerful batch processing feature, ideal for businesses dealing with large volumes of orders. They're processed in groups rather than individually, speeding up the overall workflow from order receipt to shipping. Additionally, its batch processing feature integrates with other functions like inventory management and shipping. This integration means that when a batch of orders is processed, the relevant inventory levels are automatically updated. Then shipping processes are initiated, creating a seamless workflow from start to finish.
What is Distribution ERP Software?
Distribution ERP software provides several functionalities to manage the day-to-day operations of a wholesale trade and distribution company. These end-to-end tools primarily include order management, inventory control, purchasing, accounting, and overall supply chain management. Larger distributors at an enterprise-level may need advanced features such as electronic data interchange (EDI) and warehouse management.
Many distribution-focused ERP software provide an industry-specific way for companies to receive all of these features in one fully-integrated option. With increasing competition from growing eCommerce stores, wholesale distributors are facing rising pressure to adapt. How can technology be leveraged to lower operational costs, raise profits, and better meet customer demands? By using cloud-based or on-premise distribution ERP software to streamline the business processes necessary for manufacturers and retailers to sell and deliver their products to consumers.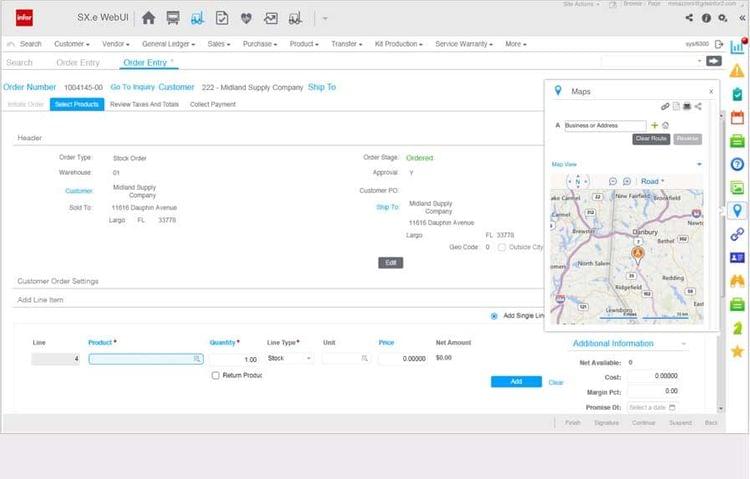 Recommendations for Choosing the Best Distribution Software
Here's how to choose the best distribution ERP software for your business:
Distribution-Specific Features: Prioritize tools like order management, route optimization, multi-location inventory management, demand forecasting, and SKU tracking.
Supply Chain Integration: Assess the software's ability to integrate with your supply chain partners, including suppliers, carriers, and third-party logistics providers (3PLs).
Inventory Visibility: Distribution often involves managing extensive inventories. Ensure that the software provides real-time visibility into inventory levels across multiple locations and helps prevent overstocking or stockouts.
EDI (Electronic Data Interchange) Support: If your business relies on EDI for communication with customers and suppliers, confirm that the software supports EDI integration and can handle the necessary transaction types.
Compliance and Regulatory Support: Depending on your industry, you may need to adhere to specific regulations and compliance standards. Verify that the software can assist you in meeting these requirements.
Mobility and Field Operations: If your distribution involves field sales or deliveries, assess the software's mobile capabilities. It should enable field staff to access information, update orders, and communicate effectively while on the go.
Cross-Docking and Transshipment: If you engage in cross-docking or transshipment operations, check if the software supports these advanced distribution strategies.
Performance Analytics for Distribution: Look for analytics and reporting features that specifically address distribution metrics, such as order fill rates, on-time deliveries, inventory turnover, and warehouse efficiency.
Multi-Channel Sales Support: If your distribution involves selling through multiple channels (e.g., online, B2B, B2C), ensure that the software can manage orders and inventory across these channels effectively.
Scalability for Distribution Growth: Distribution software should be capable of scaling as your distribution network and operations expand. Confirm that it can accommodate future growth without significant disruptions.
What Are the Key Features of Distribution Software?
Order Management: Capture, track, and fulfill orders across your sales channels. Improve sales visibility and increase the efficiency in your order processing. Includes order entry and order fulfillment of sales orders.
Customer Relationship Management (CRM): Manage your relationship with customers directly through prospect identification, intuitive marketing, and more connectivity with existing clients.
Purchasing and Procurement: Create financial documents issued to vendors when buying suppliers. Manage purchase requisitions and approvals to improve cost control.
Inventory Management: Store information on the items your company builds, buys, stores, or sells. Include inventory control costing, stock count and replenishment tracking, traceability via barcoding or RFID, kitting, bill of materials, audit management, and more.
Warehouse Management System (WMS): Manage actions throughout a warehouse or distribution center. Design an inventory picking and packing workflow, control stock, generate bills and reports, manage yards and docks, and more.
Supply Chain Management: Include vendor/supplier management, demand planning, and sales forecasting. Manage the flow of goods between locations by planning, controlling, and executing the supply chain processes.
Electronic Data Interchange (EDI): Facilitate the exchange of business documents from one computer to another in a standard electronic format between trading partners. Includes data such as shipping statuses, invoices, purchase orders, inventory documents, and customs information
Accounting: Manage the financials of your warehouse operations via modules for accounts payable and receivable.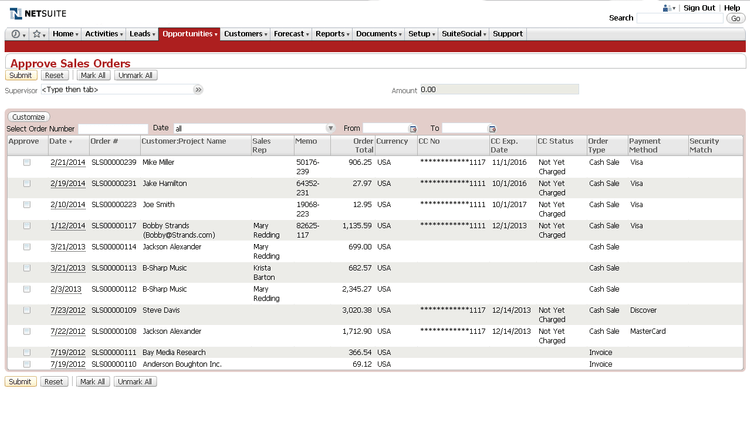 What Are the Benefits of a Distribution Management System?
Distribution ERP systems have been designed to address the unique business needs of wholesale distributors by increasing the automation of necessary tasks. This software is more than just an ERP for wholesalers: it provides the capability to track inventory, manage shipping logistics, and control warehouse operations.
Accurately forecasting purchasing needs is another important tool software offers to wholesalers as well–both to meet shifting customer demands and to make sure that valuable capital isn't tied up in inventory overstocks. As the profit margin on individual sales can be narrow, the distribution industry relies on a high volume of overall transactions to generate increased revenue. Other key benefits include:
Better Manage Financials
Aside from industry specific functionality that manages the distribution and wholesale of goods and services, distribution ERP software can contain all the normal modules you might expect in a standard back-office accounting package. Accounting features in distribution ERP software include the ability to print checks, pay bills, track expenses, manage payroll, create orders and invoices, manage receivables, establish budgets, perform bank reconciliations, and create top level financial reports.
A business can also keep their current accounting software and add on a distribution ERP software that fulfills additional needs. For example, a business that wants to keep QuickBooks for accounting can implement a distribution ERP software that provides inventory control, sales order entry, and purchase orders. This program will work as an extension of QuickBooks, as it provides the missing pieces the business wants out of it's software processes.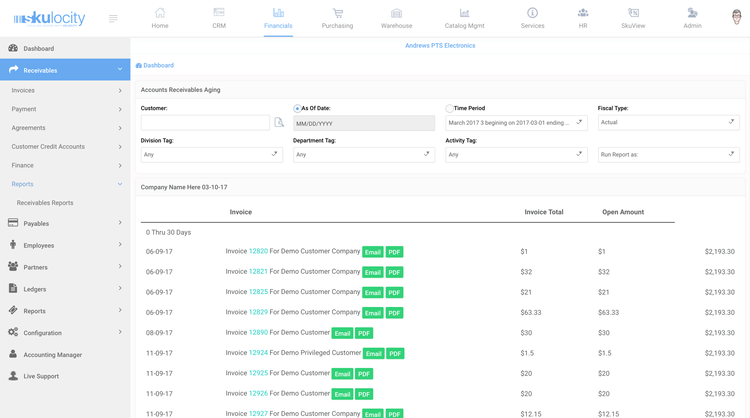 Optimize Inventory Control and Purchasing
Distribution ERP software provides predictive metrics to help optimize inventory. Maintaining excess inventory will eat away at profits by incurring additional storage expenses. Items that don't move often need to be liquidated at below ideal prices and sometimes even at a loss. Distribution ERP software with inventory management will be the cornerstone of processing and overseeing real-time data into your inventory conditions, levels, sales orders, and more.
Meet Customer Demands
Successful wholesalers and distribution businesses are looking more and more to try to keep the minimum amount of inventory to meet customer demands without wasting money on overstock. Yet when inventory is stocked too low, you may discover that the product is out of stock after accepting an order, resulting in long wait times and a decrease in customer satisfaction. In order to employ this strategy and reap the cost saving benefits associated with it, it is critical to have visibility into upcoming purchasing requirements.
Advanced distribution software tools are providing wholesalers with this capability. When inventory control, purchase order entry, and purchasing are fully integrated, distributors gain the ability to assess historical data, upcoming orders and forecasts, and predictable trends such as seasonal demand changes in order to plan their purchasing.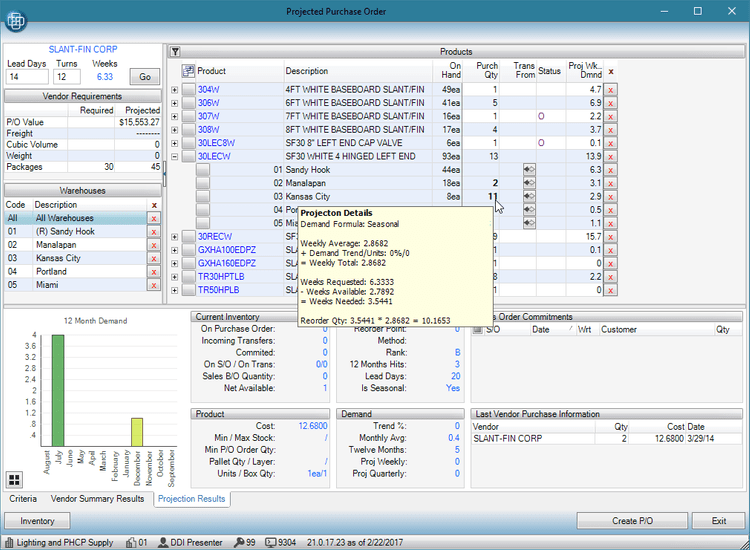 Promote a Customer-Centric Approach
With many delays to the supply chain, customers are increasingly looking at differentiators such as delivery time before making their buying decisions. By integrating information between the sales staff and the warehouse, distribution systems are providing better visibility into the order fulfillment process.
Aside from decreasing the time needed to process orders by making information available between departments in real-time, increased visibility allows for easier collaboration in resolving issues. All of these benefits come together to create a better customer experience.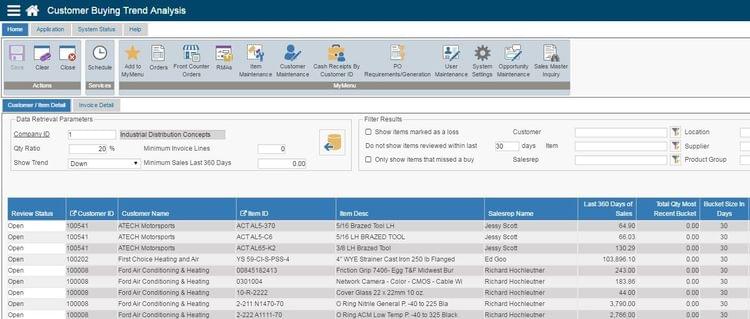 How Much Does Distribution Software Cost?
The cost of distribution ERP software starts at around $45 per month per user for software on a subscription-based pricing model. For purchased solutions, one-time license pricing start at $2,100 for purchase with implementation and training.
The biggest cost variables of distribution ERP software will be the:
Number of users
Number of functionality modules
Required integrations
Accounting features needed
Cloud-based or on-premise deployment
Scalable solutions let you add on pieces of the software as you need them. You may only need an inventory control feature right now, but will look to add on purchasing, sales orders, and warehouse management as you grow.
A fully-integrated distribution ERP software may also be known as a distribution ERP software. These solutions are intended to be a one-stop-shop for your business software needs, and will include financial accounting features. If accounting is not included in the software, integrations can be provided by skilled vendors for an additional fee.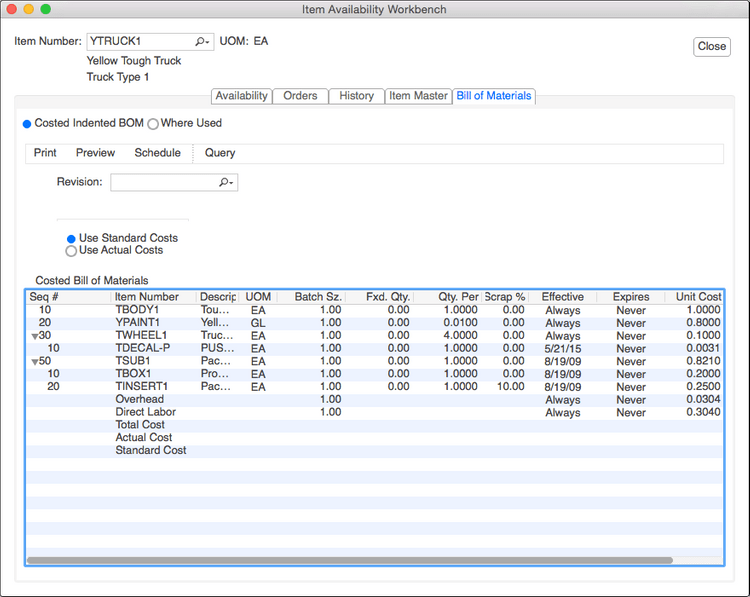 What Type of Distribution ERP Software Do You Need?
Most distribution ERP software will be marketed towards businesses of specific sizes:
Small Business Distribution Software
Small businesses may have a distribution element to their business which requires managing suppliers and inventory. These small businesses will face the same challenges as larger enterprises, so it's important to find a software that works for their needs but doesn't overwhelm them with too many features or too high of a price tag.
The most cost-effective route for a small business is using a generic small business accounting software in conjunction with a distribution ERP software. While these small business accounting solutions can provide some level of inventory and purchasing, a small business wholesale distribution software will provide additional capabilities such as:
Tiered pricing
Quantity break
Contract management
Upcharges
Discounts
Line level percentages
Cost-plus management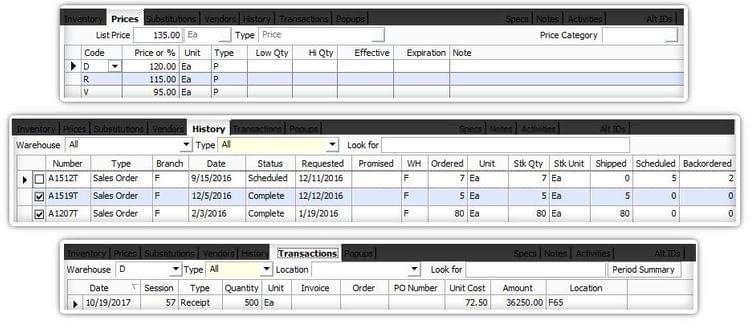 Mid-Sized Distribution ERP Software
A mid-sized wholesale distributor will prefer the ease of a fully-integrated distribution ERP software. This software can provide a seamless integration from sales order, to purchase orders, to inventory control, to order fulfillment. Company financials will be recorded along the way via an integrated accounting module.
A medium sized distribution ERP software can help automate your processes, reduce manual work, and grow your business through the core functionalities. It can also provide additional functions depending on your industry, such as lot tracking, advanced reporting and analytics, landed cost tracking, barcode scanning, and more.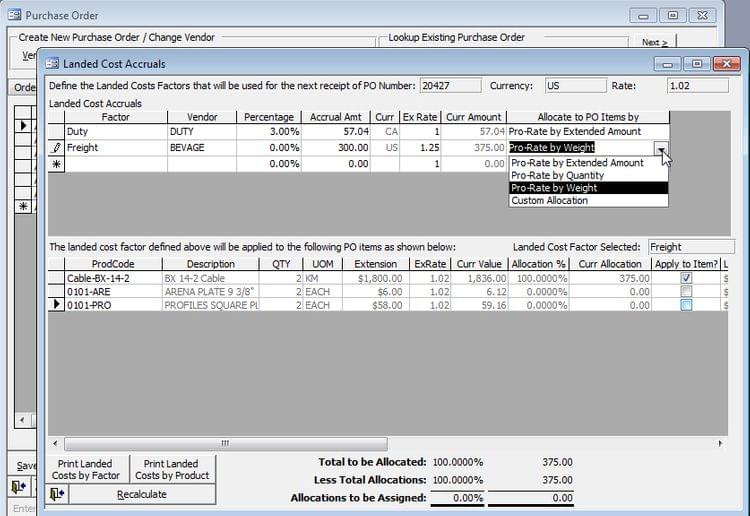 Enterprise Distribution ERP Software
Enterprise level software will be required for large distributors with over 50+ employees or multiple warehouse locations. This level of software can provide an unlimited number of user roles when it comes to access rights. This means management can make sure users only see the data or reports relevant to their distribution processes. These privileges can be adjusted depending on the department or organization complexity.
A distribution ERP software will be the sole software in use by the organization. This means that the enterprise solution will usually fill in the gaps with non-typical distribution features, such as CRM, payroll, and human resources. This helps make these solutions a complete business management tool.