With increasing competition often dictating smaller profit margins on a per-sale basis, wholesale distributors are facing rising pressure. Savvy wholesalers are asking themselves the same question: How can technology be leveraged to lower operational costs, establish new competitive advantages, and better meet customer demands? This article is designed to quickly acquaint you with the variety of distribution ERP software options on the market being used to meet these challenges.
What Is Distribution ERP Software?
Distribution ERP software provides the needed functionalities to manage the day-to-day operations of a wholesale trade and distribution company. These features include order management, inventory control, purchasing, accounting, and overall supply chain management. Many distribution ERP solutions provide an industry-specific way for companies to receive all of these pieces in one fully-integrated option.
Larger distributors may need a software capable of advanced features such as electronic data interchange (EDI) and warehouse management.
Distribution ERP software lets your company perform these needed activities to connect manufacturers and retailers who sell the products to consumers, or even sell products directly to them.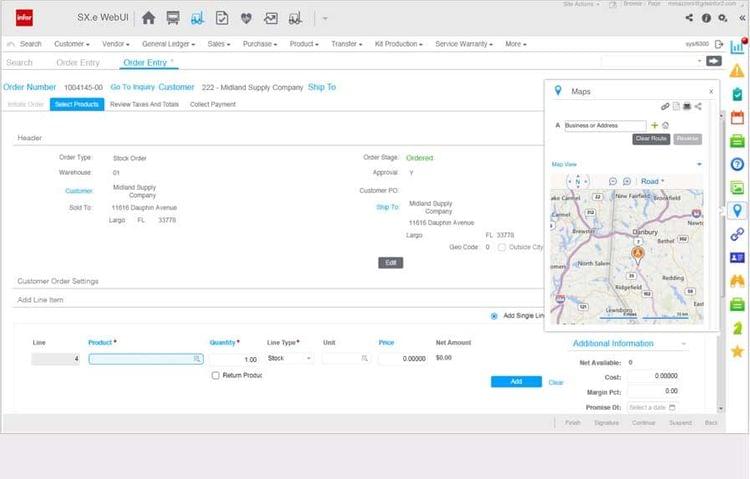 Features of Distribution ERP Software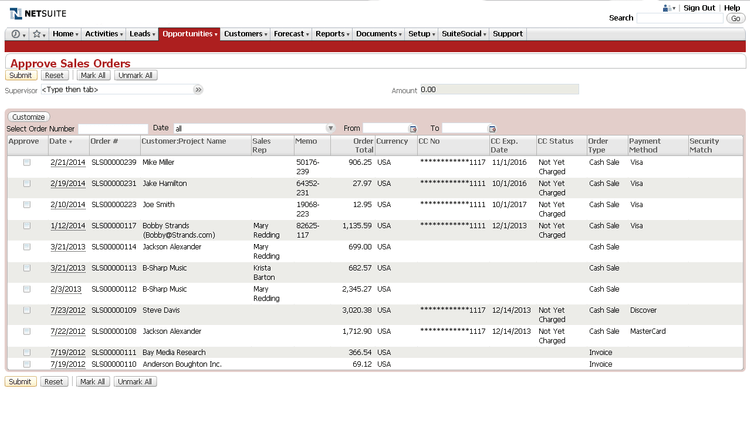 Benefits of Distribution ERP Software
Distribution ERP systems have been designed to address the unique challenges of wholesale distributors. As the profit margin on individual sales can be narrow, distributors rely on a high volume of overall transactions to generate revenues.
Distribution ERP software for wholesalers needs to have the capability to handle a large number of database records. The average distributor needs to maintain inventory records for each of the many products offered.
As wholesalers process numerous, repetitive transactions, it is imperative that the processing of orders is as efficient as possible, with a minimum of duplication of data entry. Accurately forecasting purchasing needs is important for wholesalers as well–both to meet shifting customer demands and to make sure that valuable capital isn't tied up in inventory overstocks. Distributors also require integrated tools to optimally manage shipping and logistics.
Manage Financials With Distribution ERP Software
Aside from industry specific functionality that manages the distribution and wholesale of goods and services, distribution ERP software can contain all the normal modules you might expect in a standard back-office accounting package. Accounting features in distribution ERP software include the ability to print checks, pay bills, track expenses, manage payroll, create orders and invoices, manage receivables, establish budgets, perform bank reconciliations, and create top level financial reports.
A business can also keep their current accounting software and add on a distribution ERP software that fulfills additional needs. For example, a business that wants to keep QuickBooks for accounting can implement a distribution ERP software that provides inventory control, sales order entry, and purchase orders. This program will work as an extension of QuickBooks, as it provides the missing pieces the business wants out of it's software processes.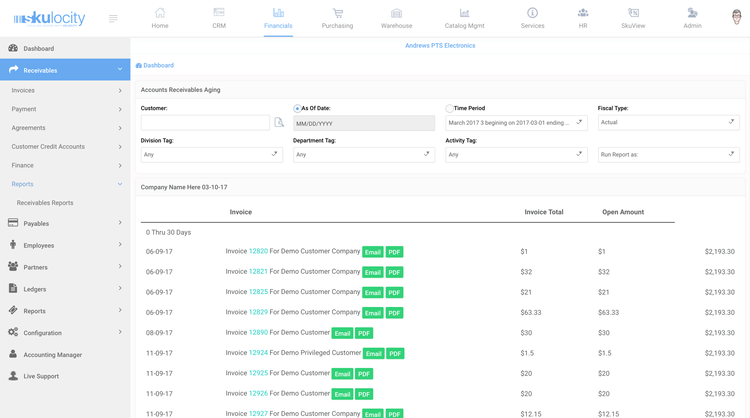 Optimize Inventory Control and Purchasing With Distribution ERP Software
Distribution ERP software provides predictive metrics to help optimize inventory. Maintaining excess inventory will eat away at profits by incurring additional storage expenses. Items that don't move often need to be liquidated at below ideal prices and sometimes even at a loss.
Keeping a large amount of inventory also means decreased agility and ability to meet changing customer needs. When a customer places an order, they expect to receive their order in a reasonable amount of time. When an order is sent back to a warehouse that is overstocked, workers may have difficulty sifting through the large quantities of items to find what the customer is looking for.
When inventory is stocked too low, you may discover that the product is out of stock after accepting the customer's order. This can lead to long wait times and a decrease in customer satisfaction.
Distribution ERP software with inventory management will be the cornerstone of processing and overseeing real-time data into your inventory conditions, levels, sales orders, and more.
Meet Customer Demands With Distribution ERP Software
Successful wholesalers are looking more and more to try to keep the minimum amount of inventory to meet customer demands. In order to employ this strategy and reap the cost saving benefits associated with it, it is critical to have visibility into upcoming purchasing requirements.
Advanced software tools for distributors are providing wholesalers with this capability. When inventory control, order entry, and purchasing are integrated, distributors gain the ability to assess historical data, upcoming orders and forecasts, and predictable trends such as seasonal demand changes in order to plan their purchasing.
Intelligent purchase order systems also provide the ability to perform complex calculations. These calculations provide insight into how to reduce costs by taking advantage of volume buying discounts and how to select the right supplier to both meet customer delivery dates and minimize expenses.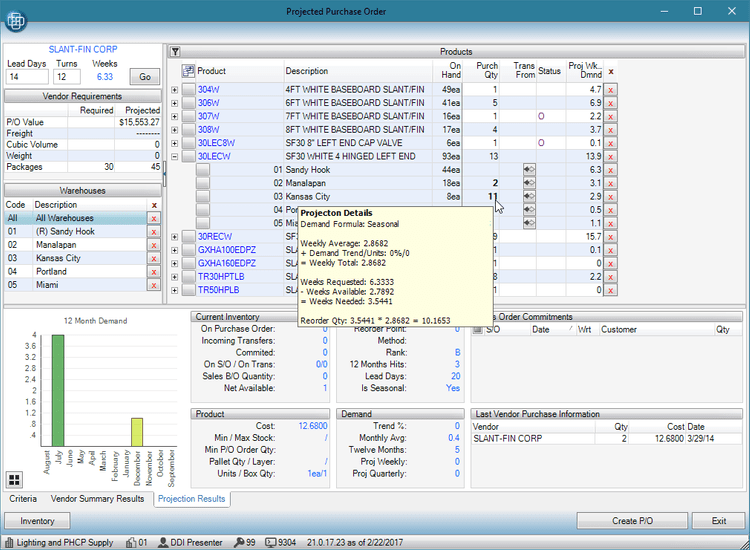 Another key driver for increasing customer satisfaction is improving turnaround time and shortening order cycles. This can help distributors create a competitive advantage.
Customers are increasingly looking at differentiators (such as delivery time) in order to make their buying decisions. By integrating information between the sales staff and the warehouse, distribution systems are providing better visibility into the order fulfillment process.
Aside from decreasing the time needed to process orders by making information available between departments in real-time, increased visibility allows for easier collaboration in resolving issues.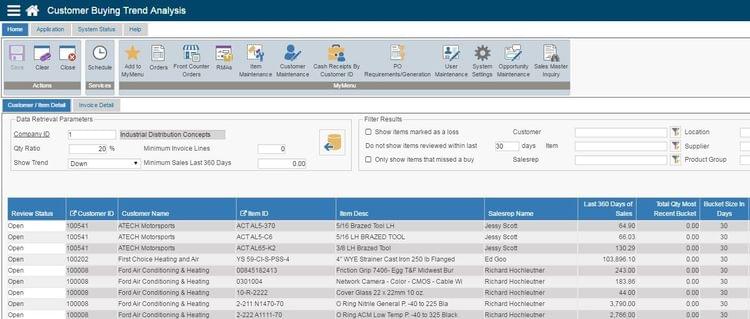 Distribution ERP Software Pricing
The cost of distribution ERP software starts at around $45/month/user for software on a subscription-based pricing model. For purchased solutions, the one-time costs start at $2,100 for purchase with implementation and training.
The biggest cost determinant of distribution ERP software will be the:
Number of users
Number of functionality modules
Required integrations
Accounting features needed
Some companies charge a flat rate per month per user. These companies may or may not have a minimum amount of users required. For example, if a company advertises $50/month/user, but requires a 5-user minimum, the effective minimum price is $250/month.
Companies may charge a cost per needed application. These scalable solutions let you add on pieces of the software as you need them. You may only need an inventory control feature right now, but will look to add on purchasing, sales orders, and warehouse management as you grow.
A fully-integrated distribution ERP software may also be known as a distribution ERP software. These solution are intended to be a one-stop-shop for your business software needs, and will include financial accounting features. If accounting is not included in the software, integrations can be provided by skilled vendors for an additional fee.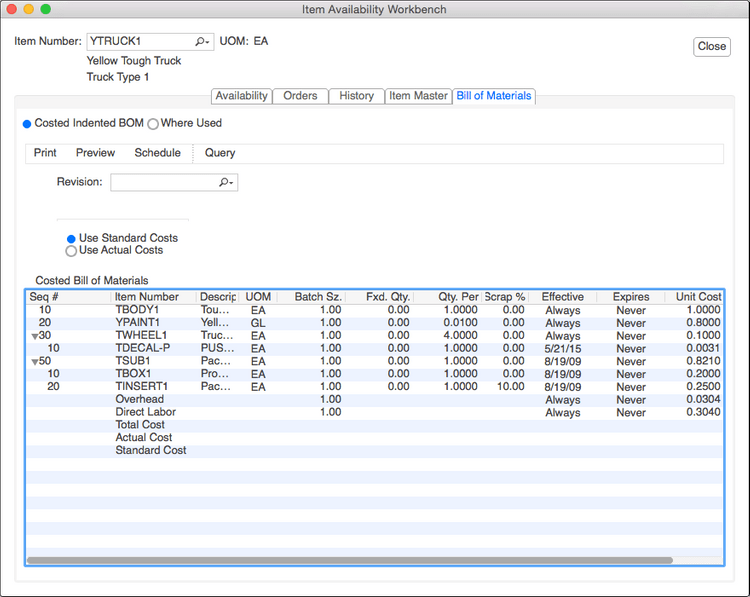 What Type of Distribution ERP Software Do You Need?
Whether you are an intensive, selective, or exclusive distributor, or use a direct or indirect approach to getting your products from point A to point B, there is a software developed with your needs in mind. Most distribution ERP software will be marketed towards businesses of specific sizes:
Small Business Distribution Software
Small businesses may have a distribution element to their business which requires managing suppliers and inventory. These small businesses will face the same challenges as larger enterprises, so it's important to find a software that works for their needs but doesn't overwhelm them with too many features or too high of a price tag.
The most cost-effective route for a small business is using a generic small business accounting software in conjunction with a distribution ERP software. While these small business accounting solutions can provide some level of inventory and purchasing, a small business wholesale distribution software will provide additional capabilities such as:
Tiered pricing
Quantity break
Contract management
Upcharges
Discounts
Line level percentages
Cost-plus management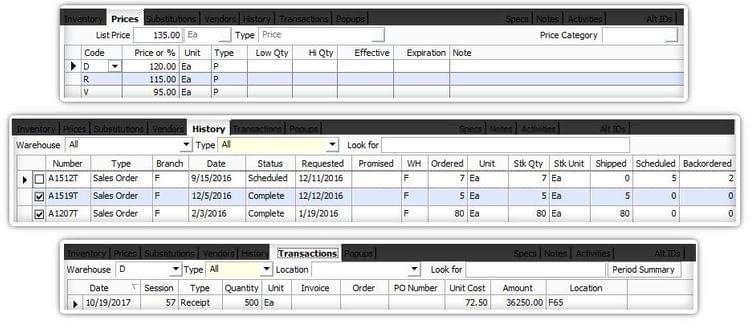 Mid-Sized Distribution ERP Software
A mid-sized wholesale distributor will prefer the ease of a fully-integrated distribution ERP software. This software can provide a seamless integration from sales order, to purchase orders, to inventory control, to order fulfillment. Company financials will be recorded along the way via integrated accounting module.
A medium sized distribution ERP software can help automate your processes, reduce manual work, and grow your business through the core functionalities. It can also provide additional functions depending on your industry, such as lot tracking, advanced reporting and analytics, landed cost tracking, barcode scanning, and more.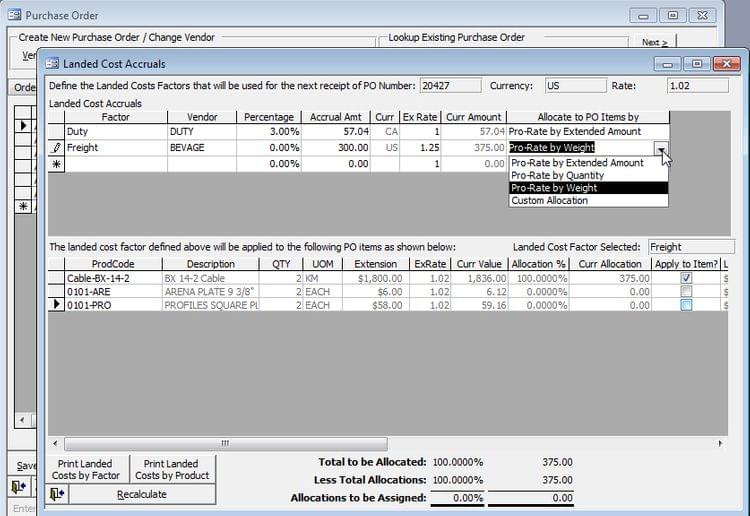 Enterprise Distribution ERP Software
Enterprise level software will be required for large distributors. This usually includes any distributor or wholesale company with over 50+ employees or multiple warehouses. They may also require support for centralized purchasing or transfers between warehouses.
This level of software can provide an unlimited number of user roles when it comes to access rights. This means management can make sure users only see the data or reports relevant to them. These privileges can be adjusted depending on the department or organization complexity.
A distribution ERP software will be the sole software in use by the organization. This means that the enterprise solution will usual fill in the gaps with non-typical distribution features, such as CRM, payroll, and human resources. This helps make these solutions a complete business management tool.