The pharmaceuticals industry has a lot of regulation. The manufacturing, sale, and distribution of medications, including controlled substances, is no exception. Pharmaceutical distributors need comprehensive systems to stay in compliance with the U.S. Drug Supply Chain Security Act (DSCSA), Food and Drug Administration (FDA), the Drug Enforcement Agency (DEA), and international regulatory agencies.
What is Pharmaceutical Distribution Software?
Pharmaceutical distribution software is designed to ease the movement of regulated medications and controlled substances along the supply chain. Unlike generic distribution systems, pharmaceutical software takes these regulations into account in order to keep distributors compliant during the packaging and shipping process.
As a type of healthcare supply chain software, this solution specifically optimizes the distribution of medication from the manufacturer to the suppliers then to the pharmacies and healthcare centers responsible for prescribing them to patients. Using this management software keeps the pharmaceutical industry compliant with ever-changing controlled substance and drug custody laws.
Features of Pharmaceutical Distribution Software
Traceability: Traceability is incredibly important when it comes to knowing where potentially dangerous drugs are at all times. Use barcode scanning to keep accurate records of all patient prescriptions.
Warehouse Management: Control where your medical supplies are stored and distributed. Streamline retrieval operations when new orders or refills are placed.
Medical Inventory Management: Track real-time medication inventory levels and automate purchase orders when the stock is running low. Automatically adjust your needs based on expiry dates.
Refill Management: Use forecasting tools to automate medication refills electronically, in person, or over the phone. Notify vendors when refills are running low to avoid running out.
Electronic Signature Capture: Record signatures electronically to establish a clear chain-of-custody of all medications in your possession.
Recall Management: With traceability tools, safely manage any recalls of pharmaceutical products, medications, drugs, and controlled substances.
EDI Applications: Electronic Data Interchange tools keep documents compatible across different agencies. Standardize shipping statuses, invoices, purchase orders, inventory documents, and customs information for your B2B manufacturers and suppliers.
Purchasing Reports: Generate reports to track vendors, prices, and shipping information. Strong purchasing controls are especially important for pharmaceutical manufacturers.
FIFO/LIFO/FEFO Tools: First-in, first-out (and its variations) sorting ensures medication moves in and out of your facility before it has a chance to expire.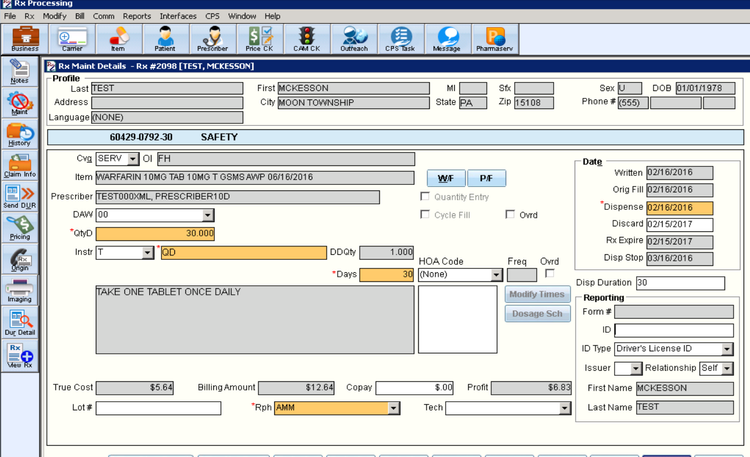 Pharmaceutical Distribution Benefits
Among the many benefits of pharmaceutical distribution systems:
Drug Tracking from the Manufacturer to the Patient
All pharmaceutical manufacturers need to add traceability to their wares in the event a problem is found and the drug needs to be recalled. As part of these safety measures, pharmaceutical distribution software includes tools for barcode scanning to continue tracking medications once they have left the manufacturer and arrived at warehouses and distribution centers.
If you operate a multi-location pharmacy chain, you'll need a pharma distribution system to track where all your meds are stored and shipped. Your inventory control application can show more than just what drugs you have in stock, but where it is at any given time.
Quality Control and Recall Management
Quality control tools are another benefit provided by pharmaceutical distribution software. During manufacturing, packaging, and shipping, drugs can be compromised in many different ways. In order to keep the medication you prescribe safe, use quality control modules to perform mandatory quality checks on your medical inventory.
In the event a drug does not pass quality control or is in any way unsafe for consumers, you need recall management applications to create safety measures. Pharma distribution software with individual lot tracking lets you identify the real-time movement of recalled meds. This will help you find out which pharmaceuticals are still in your inventory and which have been dispensed to patients.
FEFO Management to Reduce Expirations
Retailers who handle groceries are used to FIFO and LIFO systems. They're designed to make sure food and beverages don't expire before a customer has a chance to purchase them. Pharmacies have the same issue but on a much larger scale, since expired medications can actually hurt patients. Distribution systems designed specifically for pharmaceutical manufacturers will allow you to set inventory picking using a FEFO (first expiring, first out) process. A FEFO approach can help minimize the amount of products or materials expiring before they are dispensed to patients.
Integration with technologies such as handheld barcode scanners can further optimize your medication inventory. By scanning, you can automate updates to your inventory records and stay in regulatory compliance.
ERP Solution Integration for Data Reporting
Many pharmaceutical distribution systems are compatible with ERP solutions. As a result, you can easily categorize analytical data about your pharmacy performance. Keep your distribution business on top of order management and invoicing charges with ERP applications.
You also gain accurate accounting information on drug sales by using ERP tools. This may help you determine better ways to save when it's time to replenish medications. For example, with accounting tools, you may find your generics are selling better than their name brand competitors. You can then bulk buy generics to enjoy more savings you can use to improve patient care in other areas of your pharmacy.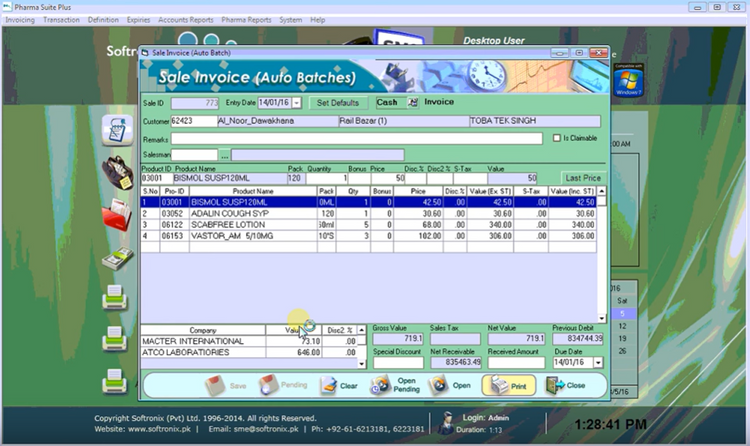 Controlled Substance Compliance
Since 2013, the United States has had the Drug Supply Chain Security Act (DSCSA) to make pharmaceutical distribution more accountable. This legislation, along with the FDA, DEA, CDC, and other agencies, control who can and cannot have access to dangerous pharmaceuticals. Whether you operate an independent pharmacy or work within a larger health organization, you need to remain compliant with all regulations.
The DSCSA is aimed at manufacturers, 3PL providers, wholesale distributors, dispensers, and all related pharmacy businesses. If you operate anywhere on the pharmaceutical supply chain, you need to follow procedures and protocols set out by this legislation to remain compliant and protect patients.