What is Pharmacy Software?
Pharmacy software primarily assists pharmacy businesses with filling and processing prescriptions, tracking inventory, and point of sale. The software stores important information about medications and patients to ensure the right prescriptions are given out in the correct dosage. Pharmacy management systems also automate repetitive processes like refill requests and insurance verification. This allows pharmacists to focus more on patient care and less time on paperwork.
Pharmacy Software Features
Prescription Processing Management
| Feature | Description |
| --- | --- |
| E-Prescribing | Send and receive prescription info electronically. |
| Prior Authorization Requests | Send prescription info to the patient's insurance company to verify if an Rx is covered and how much the insurance will pay. |
| Refill Management | Allow patients to request refills electronically, in person, or over the phone. Set up refills to be automatically filled upon request. Notify patients when refills are running low. Request additional refills from the prescriber when refills run out. |
| Medication Synchronization | Schedule automatic refills to be picked up at the same time to prevent patients from missing doses. |
| Interactive Voice Response (IVR) | Allow patients to submit refill requests over the phone with automated voice prompts. |
| New Prescription (nRx) Management | Get notified when a patient has a new prescription filled. Provide counseling on side effects, drug interactions, and administration instructions to improve medication adherence. |
| Electronic Signature Capture | Record signatures electronically when patients pick up their prescriptions. |
| Medication Administration Record (MAR) | Track medications and vaccinations administered to the patient. |
Point of Sale
| Feature | Description |
| --- | --- |
| Payment Processing | Accept credit card, gift card, cash, or check payments at the POS station or online. Setup automatic payment debits for recurring refills. |
| Over-the-Counter (OTC) Purchases | Allow customers to purchase OTC medications that don't require a subscription. Keep records of controlled substance and pseudoephedrine (PSE) purchases. |
| Barcode Scanning | Scan a barcode on the prescription to populate patient info in the POS system to quickly create records for new patients. |
| Inventory Management | Track real-time medication inventory levels and automate purchase orders when the stock is running low. |
Other Features
| Feature | Description |
| --- | --- |
| Document Management | Scan and upload hardcopies of patient insurance information and prescriptions. Backup important documents, so you can easily pull up the info you need any time. |
| Accounts Receivable | Track balances due at time of pickup and automatically apply interest to past-due balances as needed. |
| Reporting | Create custom reports to get a deeper look at profitability, prescription and patient trends, and overall pharmacy operations. |
Prescription Management with Pharmacy Software
Most medications need to be picked up and taken by the patient on time to prevent further health issues. Pharmacy management software ensures the inventory is stocked and refills are ready on time. The system will also send out pickup reminders to patients to prevent medications from being forgotten.
When new prescriptions are submitted by a prescriber, the pharmacist is notified. The pharmacist will then be able to check with the patient's insurance company to ensure the prescription is covered. When the patient picks up the new medication, the pharmacist will be prompted to provide instructions and information on side effects or drug interactions to ensure the medication is being taken correctly.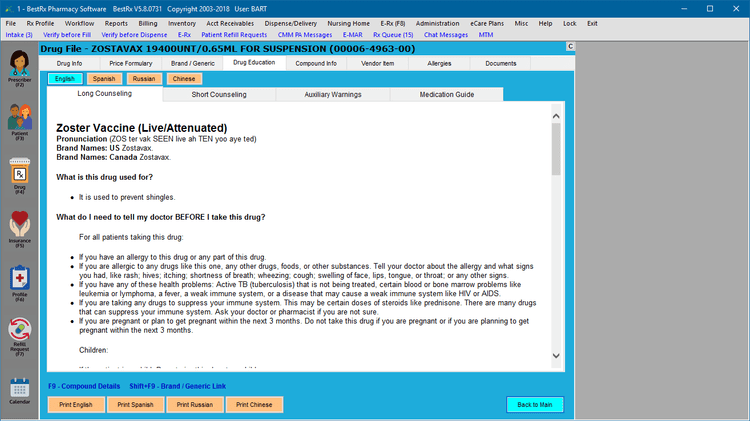 Pharmacy Point of Sale
Pharmacy point of sale software allows patients to electronically sign for and pay for prescriptions at the time of pickup. Patients can also purchase OTC medications, vitamins, supplements, and ointments available for sale within the pharmacy.
Some pharmacies are also required to track sales of controlled drugs like pseudoephedrine. The system will record patient information, date of purchase, and quantity. If a patient has met their limit, the system will deny the sale.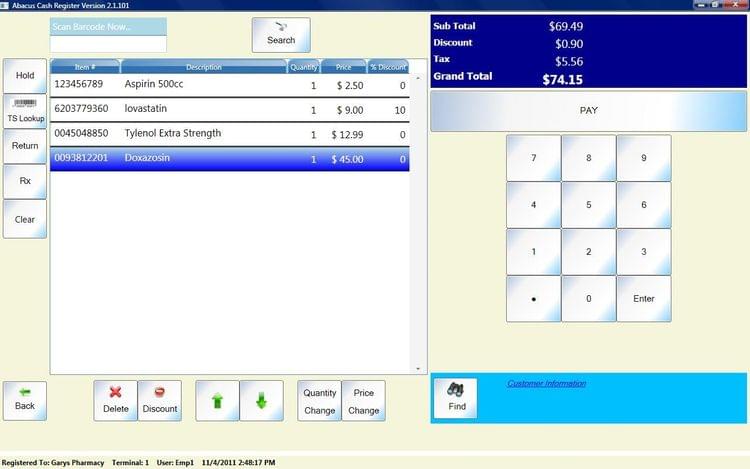 What Does Your Pharmacy Business Need?
Type of Pharmacy
You Need:
Community Pharmacy
Independent pharmacies and retail pharmacy chains should look for pharmacy management software with an intuitive POS system to process orders efficiently.

Other important features to look for include inventory tracking, refill management, and document management. Multi-location pharmacies will also want to track prescriptions as they are transferred between stores.
Long Term Care Pharmacy
Nursing homes, hospice care, assisted living centers, and other long-term care (LTC) facilities use pharmacy systems to reduce medication processing time and increase time spent providing patient care.

Some features to look for in a pharmacy solution include Medicare and Medicaid billing and automatic refill requests. The system also needs clear medication administration instructions for improved patient safety. Accurate real-time inventory tracking is also important to prevent medication theft.
Specialty Pharmacy
If you offer specialty pharmacy services, you need a system that manages expensive medications for treating chronic or rare illnesses. These medications often have special storage and administration requirements.

Your pharmacy management system should provide clear instructions for administration and storage.
Mail Order Pharmacy
Pharmacy management solutions for mail order pharmacies need to have a patient portal that allows patients to submit refills online. The system needs to be able to verify the patient, prescriber, and insurance information before filling the script.