What is Sales Forecasting Software?
Sales forecasting software creates financial reports of expected sales based on historical trends, economic conditions, industry behavior, changes within your company, and selected time periods. An accurate forecast can provide the information your sales team needs to better understand and achieve sales goals.
Whether a small business or a large enterprise, forecasting tools help with tough decision-making. Sales forecasting software uses customizable templates to build visualizations of financial forecasts which can be adjusted at any time, letting you test out different "what if" scenarios. For example, something which negatively affects a sales process in the short-term could have increasingly positive returns in the long-term, and sales forecasting software will let your business predict those metrics.
There are a few distinct types of web-based sales forecasting software, such as quantitative and qualitative, which can make finding the right solution difficult. Things to consider in finding a system to provide an accurate forecast will be ease of use, affordability, and total functionality.
Note: You might be looking for budgeting and forecasting software or demand planning (forecasting) software. The former deals with long-term financial planning while the latter is a sales and operations planning (S&OP) tool for meeting customer demand.
Sales Forecasting Software Features
Demand Forecast: Forecast by item SKU or location on a monthly or weekly basis; Create statistical-based forecasts to analyze levels, seasonality, trends, and intermittency of products
Sales Planning: Track the sales process in real-time, from the initial lead to the final invoice, to measure performance effectiveness of the pipeline
Financial Modeling: Generate graphs to create visualizations and simulations of your sales data
Revenue Planning: Use automation to fill sales forecasts for your next periods; Import current sales prices and use historical data to align revenue forecasts with demand forecasts
Approval System: Helps you see which forecasts have been viewed and approved, and which need further attention
Reporting: Create in-depth forecast accuracy reports based on key performance indicators (KPIs) and other select metrics to measure performance over time
Import Capabilities: Integrate your forecasting solution with tools you use to record data, such as Excel, accounting software, or an ERP system
Assumption Management: Planned promotions not reflected in historical data can be manually accounted for to ensure revenue planning and overall sales forecasts are accurate
Collaboration: Encourage communication between sales reps; Add notes to reports, spreadsheets, and other planning items to document the forecasting process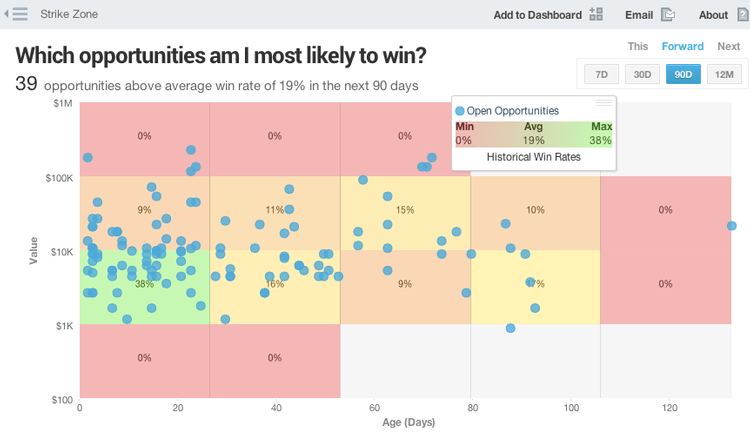 Types of Sales Forecasting Software
There are several different forecasting methods which software can cover, broadly defined as either quantitative (reviewing historical data) or qualitative (using recent data or expertise):
Historical Sales Forecasting Software: A historical or quantitative sales forecasting software looks at previous performance of your company to determine a mean (or average) sales level you can expect for the following month, year, or whatever time period you're looking at based on the seasonality of what is being sold.
Surveyed Forecasting Software: This short-term qualitative forecasting method directly asks the customers what their intentions are for buying your product in the near future. Asking customers comes in the form of surveys or direct interaction with prospects themselves by the sales team.
Pipeline or Opportunity Sales Forecasting Software: Blending qualitative and quantitative, pipeline sales forecasting software takes into account opportunities that already exist within your existing sales pipeline and helps determine a win rate to establish the priority they should be handled in. Look at: The value of an opportunity (expected sale price) with the age of the opportunity and the sales personnel working the opportunity.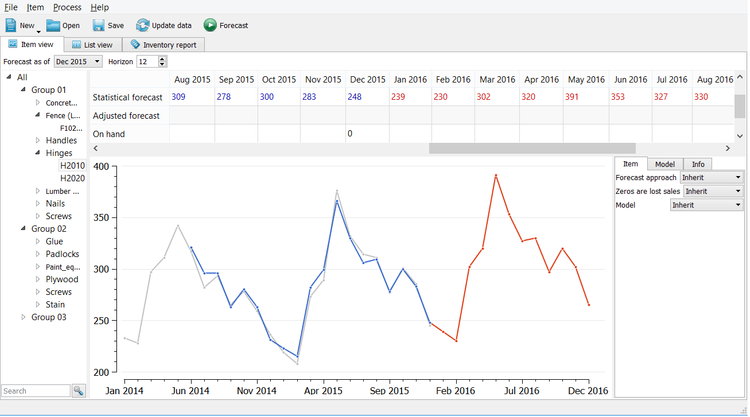 Forecasting Software Alternatives
Sales managers looking to streamline their planning process often turn to forecasting software. However, there are some alternatives to consider:
Demand Planning vs Sales Forecasting
As mentioned before, there's a difference between sales forecasting and demand planning, although the latter is sometimes referred to as another type of forecasting. Demand planning software helps forecast demand for a product so it can be developed and shipped in as efficient of possible ways. It can also manage your overall sales and operations planning stage (S&OP). In sales forecasting, demand planning is the first step in calculating expectations of sales for a specific period. While demand planning helps gauge the interest of buyers and better assists in product development, sales forecasting provides the numbers for anticipated revenue.
Can Excel Work as a Sales Forecasting Solution?
Excel can operate as a basic sales forecasting software by using historical time-based data and custom formulas. An Excel spreadsheet is often the first choice for many companies trying to create sales forecasts given its prevalence in the workplace. These forecasts can let your company get basic sale predictions, determine inventory requirements, or identify emerging consumer trends. However, using spreadsheets instead of an automated sales forecasting solution can leave you vulnerable to human error and simple mistakes.