Running your small business isn't cheap, and every expense adds up. One way that many small businesses can cut costs while remaining competitive is to use free accounting software. Free accounting software is a great way to simplify and automate financial tasks such as core accounting, invoicing, or expense reports.
This guide compares the top 7 free small business accounting software options, assessing their basic accounting features, integrations, scalability, and limitations.
Learn more about these products:
Wave: Best Overall
Wave is a free cloud-based accounting software with invoicing, accounting, and US-based banking functionality. Customizable invoice templates with automated reminders ensure your payments are always on time. Wave even offers a free app for iOS and Android to send invoices on the go. With Wave's accounting features, you get unlimited expense and income tracking, unlimited bank and credit card connections, and you can add unlimited users.
Some drawbacks to the software include the mobile app's lack of comprehensive accounting functionality and live customer support for free users.
While the base software is totally free, Wave accounting offers other paid products for money management that your business may find helpful, including credit card and ACH payment processing, payroll, and more. Wave's credit card processing is 2.9% plus $0.60 per transaction and 3.4% plus $0.60 per transaction for American Express. Bank payments are 1% per transaction. Payroll pricing starts at $20 per month plus $6 per month for each active employee or contractor.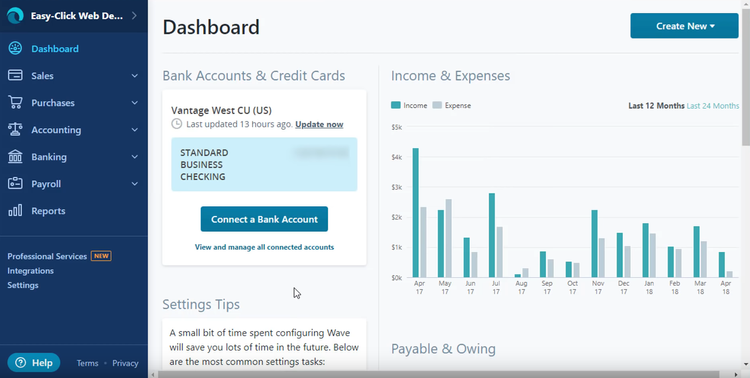 Akaunting: Best for Freelancers
Akaunting is another cloud-based accounting solution with a user-friendly interface that is great for freelancers and entrepreneurs. Akaunting offers a free plan and a paid premium plan. You can manage multiple businesses through your account and send unlimited bills and invoices.
Akaunting has a couple of drawbacks, however. First, with the free plan, you can only have one user and one accountant on your account. Second, to get the capabilities you need (like a chart of accounts or expense tracking), you will likely need to purchase third-party apps or upgrade to the paid version. Customer and vendor management tools are also standard in the free plan.
If the base features don't cut it for your small business, you can get the full Akaunting experience starting as low as $24 per month with a yearly plan. The paid software will grant you access to premium support, unlimited users, a client portal, expense claims, and more tools to help your business stay financially organized.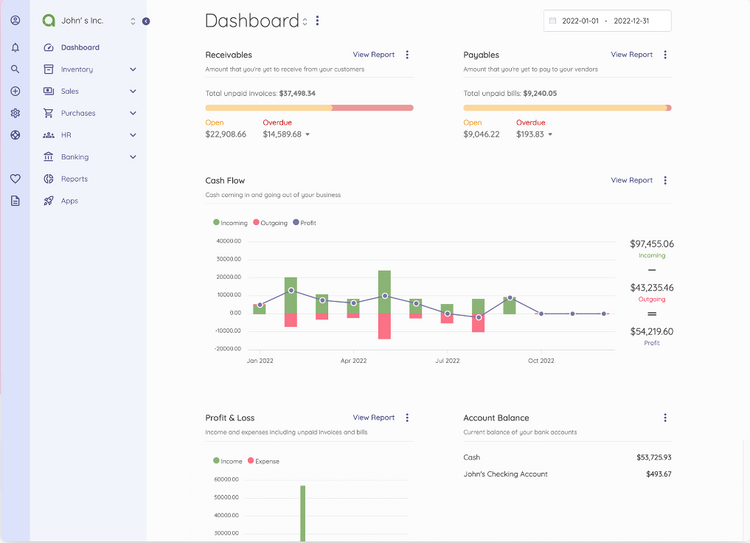 GnuCash: Best Open-Source
GnuCash is a free, open-source software for personal use and small businesses. This software runs entirely on donations and is developed and maintained by volunteers, so no paid version is available. Unlike the other cloud-based software options on this list, this software is on-premises only. It runs on Linux, Mac OS X, Windows, and other operating systems.
Some of the features that GnuCash boasts are double-entry accounting, a "checkbook-style" register with a custom interface, scheduled transactions, statement reconciliation, income and expense account categorization, multiple currency support, and check printing. Small companies that conduct international business will appreciate multiple currency support and the software's translations into various languages.
Some drawbacks to this totally free software are its dated interface and lack of customer support. While there are forums for users to connect with one another for help, there is a steep learning curve with this software, so if you anticipate needing expert assistance, there might be a better solution for you. Additionally, there are no features to pay bills, send invoices, or collect payments automatically.
ZipBooks: Best for Online Payments
ZipBooks is a cloud-based accounting software with free and paid plans. The free Starter plan allows you to send unlimited invoices, manage unlimited customers and vendors, accept online payments from Square and Paypal, view basic reports, and connect one bank account.
Like some other software on this list, customer support does not come with the free version. You are also only allowed one user, which limits the scalability of the software.
If you need to connect to multiple bank accounts, access time tracking, and add more team members, upgrade your free account to a paid one. ZipBook's paid plan starts at $15 per month. ZipBooks offers a free trial on the paid plans so you can see for yourself if the added features are worth the money.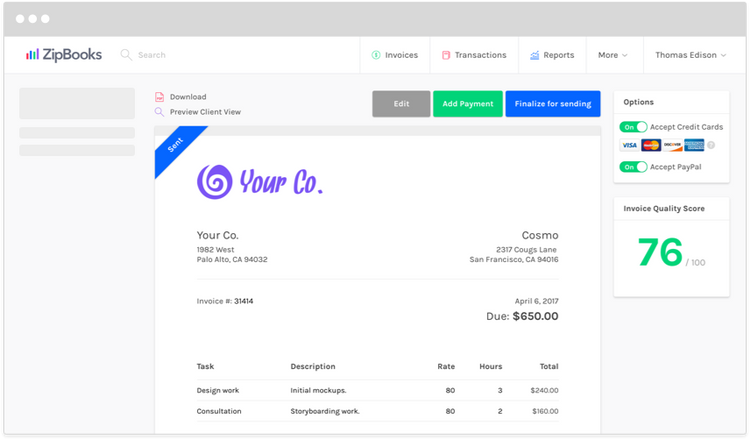 Zoho Books: Best for Customer Support
Zoho Books offers free basic accounting software for businesses with revenue under $50K per year. With Zoho Books Free, you can add multiple bank and credit card accounts, import statements, create customized recurring invoices, manage a chart of accounts, and track mileage.
Zoho Books Free integrates with other Zoho products like Zoho CRM and third-party apps like Slack and GSuite. In addition, with the free plan, you get access to customer support through email. While live customer support would be preferable, email support is a benefit the other options on this list do not offer.
Even with all these excellent features, Zoho has its drawbacks as well. For example, you are only allowed one user and one accountant per account. Also, unlike the other free software options, you are limited to 1000 invoices per year.
Because Zoho limits its free accounts to businesses with revenue under $50K a year, you will have to either find another free accounting solution or pay for one of Zoho's paid plans if your business grows and your revenue increases. The lowest-priced plan starts at $10 per month with add-ons for additional collaborators, branches, autoscans, and even snail mail.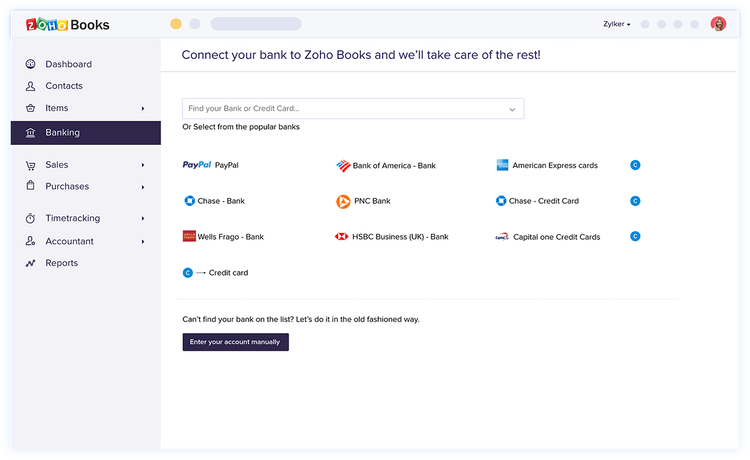 Lendio (Sunrise): Best for New Small Businesses
Lendio, formerly known as Sunrise, allows free users to manage income and expenses, create and send invoices, send quotes, and generate profit and loss statements. Lendio enables you to process credit cards and ACH payments, with 3.55% plus $0.30 per credit card transaction and 1.5% plus $0.30 per ACH transaction. This software also has the benefit of supporting unlimited users.
The drawbacks to this software are that its integrations are limited, and if you need any advanced features, you will have to move up to the paid plan. You are also unfortunately limited to only one user.
Digital payments integrations with Stripe, Square, and Paypal are not supported unless you move up to the Plus plan, which starts at $19.99 per month. With the paid Plus plan, your credit card and ACH payment processing fees are lower, and you get access to cash flow insights and expense categorization.
NCH Express Accounts: Best for Desktop
NCH Express Accounts is a business accounting software with a free option that small businesses with five or fewer employees can use. NCH is an on-premises solution that supports Windows and macOS 10.5 or newer. The free plan has far fewer features than the paid version.
Some standout features of NCH include invoicing, sales tracking, and accounts payable and accounts receivable. The financial reports are also great: Easily create profit and loss statements, balance sheets, and income statements. In addition, workflow diagrams for each function are an intuitive tool that helps you understand your business's cashflow.
This software lacks a modern and attractive interface, which is outdated and visually unappealing.
The paid version of NCH starts at $99 and can be bundled with other invoicing and inventory products.
How to Choose Free Accounting Software
With all these free accounting software products, how do you know which will be best for your business? There are a few criteria that you should consider, including the individual features, the scalability of the software, the integrations offered, and the deployment method (cloud-based or on-premises). You should also consider the bookkeeping software's ease of use: small business owners are not always trained accountants, so an intuitive interface and easy-to-understand tools can be critical to your success.
Compare some of the top free accounting software options:
Is Free Accounting Software Actually Free?
As seen above, there are genuinely free software options. Still, each of them has limitations regarding features, scalability, integrations, and connectivity. Software like GnuCash is a forever free software, but because it depends on volunteers and donations, it can lack the functionality of software with the funds to maintain consistent updates. On the other hand, Zoho Books Free is totally free, but because it only offers support for one user, you may feel compelled to upgrade to their paid plan. Free accounting software only gives you a taste of the features you could get from their paid plans.
When Should You Use Paid Software?
There are many benefits to the free software listed above but also many limitations. After reading this guide, you may realize that you need more advanced features to care for your business's accounting needs. When your company reaches a certain size (such as over $1 million in annual revenue), you will need to step up from the basic bookkeeping functions of free software and graduate to paid software that can do more for you.
Additional solutions like FreshBooks and QuickBooks Online are low-cost paid accounting programs and have more project management features that can benefit the organization of your growing business. If your company sells products, you will need advanced tools like inventory management that the free software doesn't offer. Additionally, these free accounting software options have limited customer support (if at all), so if you need advanced assistance, a paid software option will be necessary.