The best small business accounting software will track your financial transactions to record profit and loss as accurately as possible–all while giving a clear view of your profitability.
Since accounting software is something your small business will use everyday, it's important you choose one that is easy to use, easy to implement, and within your budget. Most small businesses may opt for a simple out-of-the-box software that does not require any additional add-ons or customization.
There are hundreds of accounting systems on the market today–so which is right for your small business? You may need to create invoices, run financial reports, or identify and follow up on past-due balances. The number of employees and your industry will also be a factors considered.
To help you find the best small business accounting solution, we've conducted research on a wide range of management software and put together a collection of our best picks for small business accounting software.
1

FreshBooks - Best Overall

FreshBooks is a true all-in-one small business accounting software that improves cash flow and automates your administrative tasks such as basic invoicing, organizing expenses, and tracking your time worked on projects. It also offers a large quantity of reports that help monitor the finances and financial health of your business.

The biggest benefit of FreshBooks is what you get included for the price. Rather than offer a limited base version of their software (such as only invoicing), their "Lite" package includes a full suite of unlimited invoices, expense entries, estimating, and time tracking. It can also accept credit card payments and ACH bank transfers and has an automated bank import feature built in.
2

AccountingSuite - Also Great

AcountingSuite is basic option intended for the growing small business. Due to offering an integrated suite of banking, sales, purchasing, inventory management, and accounting in it's base package, the solution encourages you to continue to use it as you grow and does not require 3rd party add-ons or outside stand-alone options.

AccountingSuite includes as many CPA/bookkeeper seats as needed so your accountant can help you use the program. The solution starts at $19/month for 1 user and the cost is mostly dependent on the number of users.
3

Wave - Best Free Option

Wave is a forever-free accounting solution that offers accounting, invoicing, payments, payroll, and receipts. Wave is very transparent into their pricing structure. The accounting, invoicing, and receipt scanning is 100% free. Collecting payments via credit card or bank transfers, or running payroll for your employees, does come at a price, however.

Wave is not only one of the most popular free accounting solutions, it can also be thought of as one of the most popular accounting solutions period. Because of this, it's a great choice for freelancers and start-ups who are strapped for cash.
4

Kashoo - Best for Invoicing

Kashoo is a complete bookkeeping solution for small business owners, providing invoicing, income/expense tracking, and credit card payment processing. However, Kashoo has it's roots as primarily a powerful invoicing tool, which provides unlimited invoices and unlimited users. You can brand your invoices with your company logo, include payment instructions, and send invoices on a recurring basis.

Billing and invoicing capabilities in in Kashoo will help customers make payments on-time through automatic payment reminders and notifications. Kashoo's dashboard was designed to quickly enter income and expense transactions. There are some key metrics found on the right-hand side, but the home screen is mainly a form for entering income and expenses, which shows you where it's priorities lie.

Want more results? Check out our list of best small business invoicing software.
5

Xero - Best Online Software

Xero is very scalable online accounting software, meaning many small businesses continue to use Xero as they grow into larger enterprises and upgrade to more advanced versions. Because of this, over 1.3 million users have chosen Xero as their primary accounting software.

Online accounting solutions (also known as cloud accounting software) such as Xero provide a "log in from anywhere" approach, which is intended to increase usage given the ease of access. On top of being able to access your financial information from anywhere you have access to a web browser, Xero has a mobile app for iOS devices, which can provide accounting features such as receipt scanning.

Xero learns and categorizes each transaction to help save your business time. Xero also has a large customer support network and an online "checkup tool" that lets the customer support team run some system checks to identify issues and handle issues via chat support.
6

QuickBooks for Mac - Best for Mac Users

QuickBooks for MacOS is the Mac-exclusive version of one of the most widely used accounting products ever, QuickBooks Desktop. New in 2020, the Mac version includes modernized reporting, an improved customer snapshot, a dark mode, electronic invoices with online ACH, credit card, or e-check payment options, and bounced check processing.

Due to the widespread popularity of PCs, many software developers have a "Windows-first" approach when it comes to creating their software. While it can be challenging to find an accounting software with a Mac-specific UI, QuickBooks for Mac gives all the same features provided to it's Windows counterpart. This is a relief for Mac users who prefered a locally installed option rather than QuickBooks Online accounting software.

QuickBooks for Mac primarily serves small businesses and starts at only $299 for a one-time purchase.

Want more results? Check out our list of best mac accounting software.
What is Small Business Accounting Software?
Small business accounting software manages financial transactions at a lower cost of entry. By tracking income and expenses and determining profit and loss, businesses can improve their cash flow through an affordable and easy to use platform that allows them to spend the least amount of time entering data.
Small businesses will usually only require core accounting features such as accounts payable for tracking expenses, accounts receivable for creating customer invoices, and a general ledger that creates profit and loss statements and balance sheets.
A growing small business may also look beyond basic income and expense tracking, desiring additional functionalities such as payroll services, inventory management, and fixed asset management. Some solutions are scalable and will let you add these functionalities on at a later date.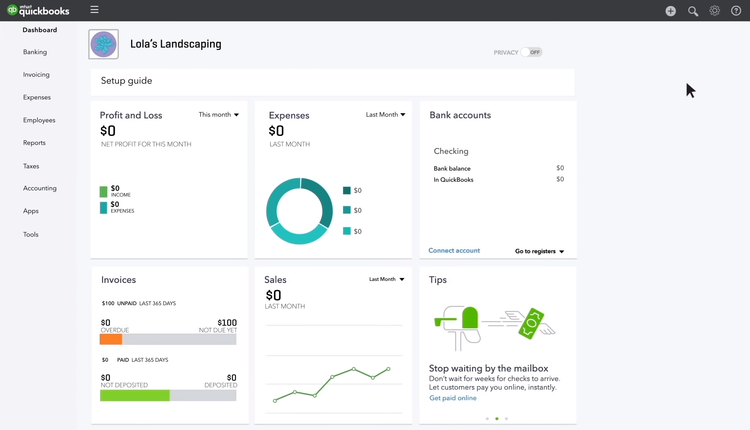 Features of Small Business Accounting Software
Accounts Payable: Track expenses by monitoring the money you paid or owe.
Accounts Receivable: Track income by monitoring the money you received or are owed from invoicing.
General Ledger: Records financial activity including transactions and account structures. Creates reports such as profit and loss statements and balance sheets.
Payroll: Manage employee compensation including wages, check printing, ACH deposits, and compensation tax reports.
Inventory Management: Inventory is recorded as current assets on your balance sheet. The cost of goods sold is also tracked on the income statement.
Fixed Asset Management: Automates the calculation of depreciating asset value with standard or custom decay models.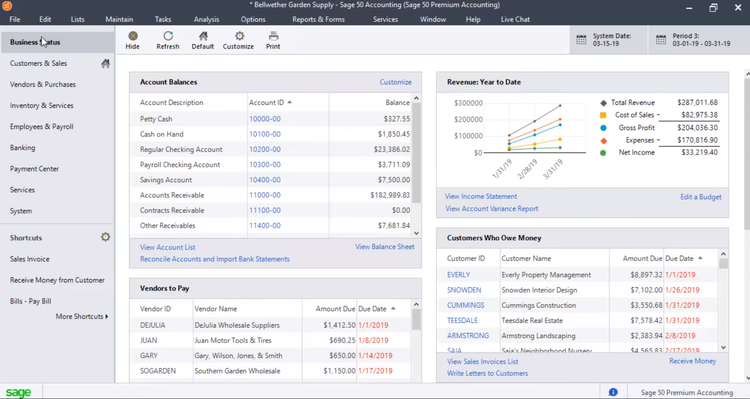 Types of Small Business Accounting Software
Small businesses need an affordable, easy to use solution. A company will understandably want to save on their first software purchase and will need a user-friendly option that someone without an accounting background can learn quickly. :::
Small Business Accounting Software for Mac
Finding a reliable small business accounting software for Mac platforms can be a challenge. This is because the vast majority of solutions are built with PCs in mind. Accounting solutions developed for Macs often have limited functionality compared to similar options on PC.
Developers tend to focus their efforts on PCs because PCs are more common. Net Applications found that only 10% of active personal computers were Macs. PCs are considerably cheaper than Macs, which plays a big part in their popularity. Businesses also find PCs to be a more cost-effective option for running accounting software.
Because of the prevalence of PCs in the workplace, software developers looking to capture both PC and Mac users will create full-featured online and cloud-based options that run easily on both. For example, Xero is a popular online accounting software that is optimized for PC and Mac.
One of the most popular desktop solutions for Mac users that doesn't sacrifice functionality is QuickBooks for Mac.





What We Like
Automated payment reminders
Company snapshot dashboard
e-Statements
What We Don't Like
3 users maximum
Limited tech suport
Limited tech support
Overview
Price Range: $
Starting Price: $299.95 (perpetual license)
Client OS: macOS
Deployment: On-Premises
Online Small Business Accounting Software
Online (also known as cloud-based), small business accounting software lets you access real-time financial data from anywhere with an Internet connection. Online software has a low cost of entry, making it a popular option for smaller companies with limited funds.
Cloud-based software is typically lower-cost because it is billed on a subscription model. You will pay a small monthly or annual fee to get access to the software. The developer also handles all of the hosting and you won't need to spend extra money on additional hardware to download the solution.
Our 2018 Accounting Software Buyer Trends Report surveyed 3,000 software projects and found that 21% of smaller businesses want cloud-hosted software only. Smaller companies were also more receptive to cloud solutions than larger companies.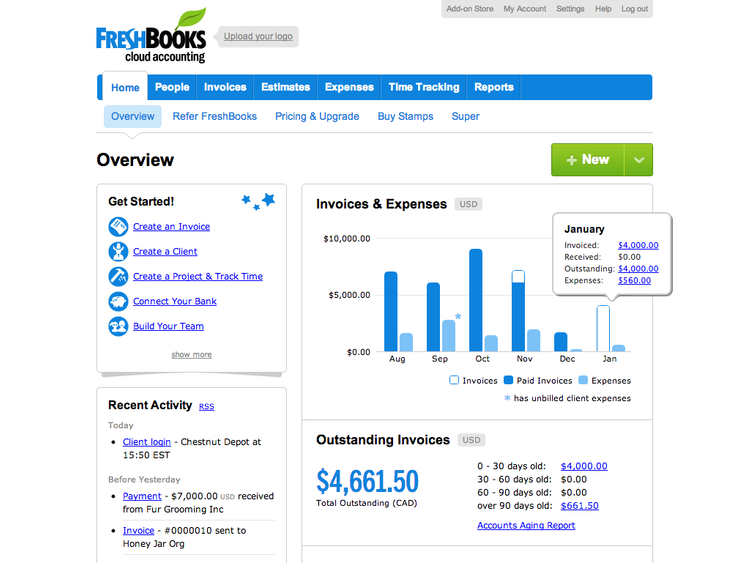 Free Small Businesses Accounting Software
Startups and very small businesses can get away with using free accounting software, but free software will be limited in functionality. You will also be limited to one user, and will usually have a small threshold when it comes to how many customer/vendor accounts you can store information on.
Features typically include income and expense tracking, invoicing, and receipt scanning. Additional fees usually apply to credit card payment processing and ACH transfers (per transaction).
Examples of free small business accounting software include:
←
→
Wave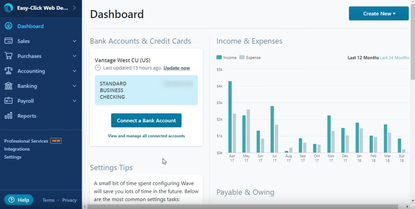 Client OS
iOS, Android, Web
What We Like
Accounting features are free
Mobile app
Multi-currency invoicing
What We Don't Like
Collecting online payments is "pay-per-use"
Payroll costs extra
Payroll is a monthly add-on
ZipBooks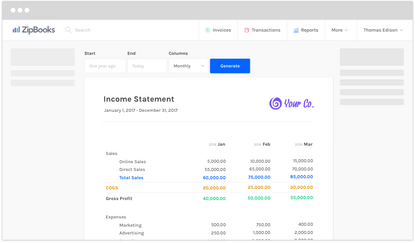 What We Like
Credit card and bank integrations
Easy to create reports
Unlimited vendors, customers, and invoices
Cloud-Based vs. On-Premise Small Business Accounting Software
|   | Cloud-Based | On-Premise |
| --- | --- | --- |
| Payment Model | Monthly payments with smaller upfront costs for setup | Upfront charge for license with annual maintenance fees |
| Deployment | Hosted by developer | Installed on your server or computer |
| Accessibility | Accessible from anywhere with an Internet browser | Accessible from the system it's installed on |
Cost
Cloud-based accounting software is usually more popular among small companies due to a generally lower monthly cost compared to the upfront prices of an on-premise solution. However, some companies prefer the one-time purchase of on-premise, because they feel more comfortable owning the software or don't want to worry about ongoing monthly payments.
After years of paying for a subscription-based software, you might end up paying more than if you bought a solution outright. However, many smaller companies don't have immediate funds to pay for a solution upfront.
Adding users
Online accounting software makes it easier to add additional users as your business grows. Some systems give you a range of users or even unlimited users that you can set up with an account in just a few minutes. Desktop software typically requires you to purchase additional user licenses for each computer you want to install the solution on.
Accessibility
Cloud-based solutions allow you to log into the software from any computer or mobile device. With on-premise software, you would only be able to access your financial data from the computer where the software is installed. A smaller company might need the convenience of cloud accessibility. If an employee is traveling for business or working from home for the day, they will have easy access to the data if needed.
Data backups
Online software generally allows automatic cloud data backup. Depending on the package, there may be a storage capacity limit. Desktop software requires data to be backed up manually.
Security
Some business like the idea of having their data secured on designated computers within the company instead of storing data on the cloud.