We've reviewed the best Mac accounting software for ease of use, core features, cost, and compatibility with Mac OS.
1

Xero - Best Overall

Why We Chose It: Xero is our top overall pic for Mac users because it's easy to integrate with apps and services commonly used on Macs, such as Apple Pay and iCloud. This integration helps in streamlining various business processes, including payments and data synchronization. Mobile apps are available for the iPhone, iPad, and Apple Watch to manage financials on the go. Xero also uses Apple's Touch ID to increase data security. Additionally, Xero allows multiple users to access accounts, enabling efficient collaboration between financial advisors and team members. It also provides functionalities like customizable invoicing, expense tracking, inventory control, and payroll, suitable for small to medium-sized businesses.
2

AccountEdge - Best Desktop Accounting Software for Mac

Why We Chose It: AccountEdge is our best on-premise pick because it operates directly on your Mac. It's an on-premise accounting system designed specifically for the Mac ecosystem, offering an intuitive and seamless user experience. The software's feature set is robust, encompassing accounts payable and receivable, general ledger, invoicing, time billing, purchase order management, payroll, and inventory management. A standout feature exclusive to Mac users is the Business Insights functionality. This tool offers valuable financial insights by analyzing profits, operating balances, and turnover, providing a clear picture of the fiscal year's performance.
3

QuickBooks Online - Best Cloud-Based Accounting

Why We Chose It: We went with QuickBooks Online as a top cloud-based option because it eliminates the compatibility issues often faced by Mac users with software primarily designed for Windows. Its user-friendly interface utilizes intuitive design principles, boosting overall ease of use and reducing the software's learning curve. It also offers a gamut of features, from basic bookkeeping to complex financial reporting, meaning Mac users of various accounting backgrounds can fully utilize the platform.
4

Dynamics 365 Business Central - Platform Agnostic Pick

Why We Chose It: Dynamics products have traditionally been associated with Windows users. However, Microsoft Dynamics 365 Business Central is a cloud-based ERP solution, accessible from any device with an internet connection, including Macs. Since it runs on a web browser, there are no compatibility issues with MacOS. It integrates seamlessly with other Microsoft 365 products, including Outlook, Word, and Excel. There is a Dynamics 365 Business Central mobile app available for iOS. It includes features like editing financial data, sales orders, purchase orders, and customer data. Business Central's accounting suite delivers cash flow management, general ledger, accounts payable and receivable, and inventory control.
5

Odoo - Open-Source Community

Why We Chose It: Odoo provides a robust API, making it possible to integrate with many other systems and tools, including those commonly utilized by Mac users. Additionally, its open-source community contributes a wide range of plugins and modules, expanding the software's capabilities. This means Mac users can benefit from numerous features and integrations developed by the community. Additionally, Odoo's Community version is available for free, which may be appealing for Mac users already invested in premium hardware. For accountants, Odoo delivers automated invoicing, bank synchronization, expense tracking, and budget management.
6

Zoho Books - Best Free Plan

Why We Chose It: Zoho Books delivers a feature-rich free plan. It provides essential accounting functionalities like recurring and custom invoicing, bank rules and reconciliation, and expenses and mileage tracking. While this plan is limited to one user and one accountant, it's tailored for smaller businesses earning less than $50,000 annually. Plus, its cloud-based nature ensures accessibility across various devices, an essential aspect for Mac users who often use multiple Apple devices in their business activities. Zoho Books has a mobile accounting app available for iOS and Android devices. The iOS version can send invoices, estimates, and account statements to customers within an iMessage app. GPS and Apple Maps can help track mileage and turn it into an expense. Users can tap into Siri for reminders about transactions. Zoho Books even has an app for the Apple Watch.
7

Connected Accounting and ERP - Most Customizable Solution

Why We Chose It: Connected Accounting and ERP allows Mac owners to customize their user experience. They can tailor the UI to meet their preferences and the high standards typically associated with Apple products. The software provides API access for integration with other business systems like CRM, eCommerce platforms, or custom applications. Connected Accounting and ERP also has adjustable account structures and customizable reports, allowing users to analyze data in a way that aligns with their specific reporting requirements. Finally, key financial features include multi-currency support, project accounting, tax management, and inventory control.
8

Gravity Software - Great Multi-Entity Management

Why We Chose It: Gravity Software is a good pick for easy financial management across multiple businesses or departments. This is especially useful for Mac users managing several clients or large businesses. Generally, the platform is suitable for various business sizes. It can scale with a company, making it a decent choice for mid-sized organizations anticipating rapid growth. Gravity Software offers a comprehensive range of accounting functionalities such as general ledger, accounts receivable and payable, bank reconciliation, and financial reporting.
What Is Mac Accounting Software?
Mac accounting software helps track your small business income and expenses through a program that runs local to your Mac operating system. This specific type of accounting software is meant to work exclusively for the Mac–meaning your business won't have to worry about features being released that may only work on a Windows counterpart, or having to run a virtual desktop to use a Windows program.
The best Mac accounting software will appeal to what Mac users love most about their computers and mobile devices:
Intuitive design in form and function
Aesthetically pleasing and easy to use
Allow for easy collaboration with others
In recent years, accounting software that runs exclusively on a Mac is becoming harder to find. This is due to an increase in cloud-based accounting software. Since cloud-based accounting software runs via a web-browser (such as Safari, Google Chrome, or Firefox), the solution will work independent of whatever operating you are running on. Rather than cater exclusively to Mac users, many accounting software developers are turning to online accounting software that can serve all operating systems.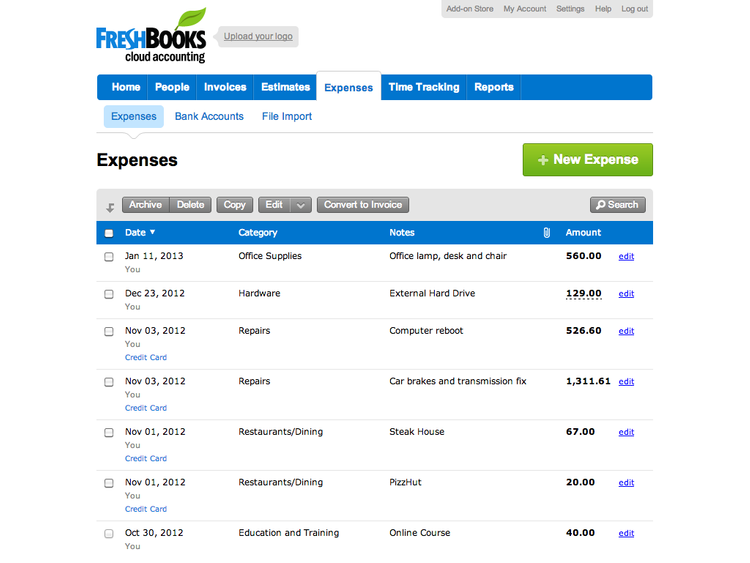 What Is the Difference Between Desktop Based Accounting and Cloud-Based Accounting?
On-premise Mac accounting software should be optimized for using the latest iOS devices. This is because Macs are revered as high-end machines with a dedicated user base–ones that clamor for exclusives. These customers do not want to be treated as an afterthought to a Windows version of a program.
A mac accounting software that takes advantage of Mac-specific features will tend to have more success. This includes retina display optimization, the ability to connect via mobile applications on iPhone or iPad, and backup data in Dropbox.
Prior to the cloud, if a software developer wanted to market their product to both Windows and Mac users, they would have to create a product that worked on both. This lead to longer development times. Traditionally, developers focused their efforts on Windows accounting software (or PC-exclusive options that would not work on a Mac) have been more common.
Many software developers now choose to sell a web-based version of their solution–meaning anyone with a web browser, regardless of operating system, can access their program. Cloud-based options have many advantages over traditional on-premise options, such as cost savings, mobility, data recovery via cloud storage, and automatic updates.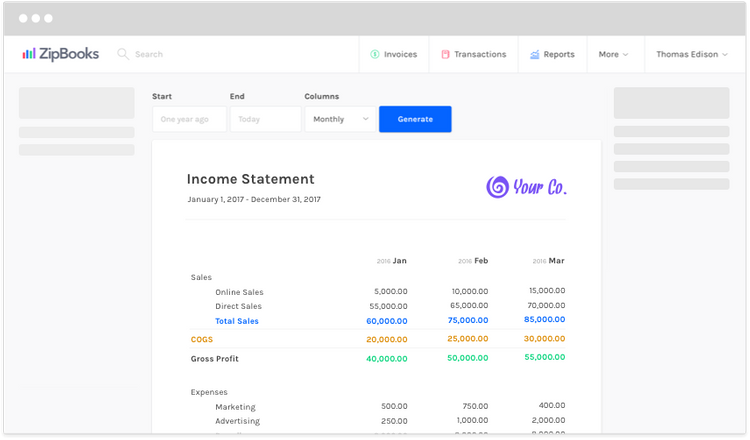 What Are the Advantages of Mac Accounting Software?
Mac users will look for a dedicated accounting software for the following benefits:
Connect Seamlessly with iOS Apps
Many iOS applications can work alongside one another. Developers that focus on Mac users will want to ensure their accounting software can connect to many of the apps Mac users already know and love. Some simple examples include calendars, email tools, and spreadsheets. It may also include other small business applications used for time-tracking or even payroll.
Keep Your Data Organized In One Place
Macs can be known as a user-friendly system due to the drag and drop capabilities. Mac accounting software is no different–allowing you to easily drag customer data from one file to another, or connect it with a pending invoice or bill. Connections with your CRM or email tools will help even further. Since some software can be picky, you'll want to ensure the contact details match exactly how the info is listed in any emails or CRM tools. This can help organize what info goes where.
Keep Your Data Secure
Since MacOS has traditionally been a closed system, they are often considered to be more secure than their competitors. For many years, Windows PCs were susceptible to viruses while Macs were generally safe from this type of malware. While that may no longer be as true as it was years ago, Mac users still perceive their systems as being more secure against hacking and viruses. As such, they desire a product that they can feel secure inputting financial data into.
Mac users will want to look for an accounting software with multiple layers of security. This can at times include a hands-on customer support team that understands your Mac inside and out and can help diagnose any issue that may arrive.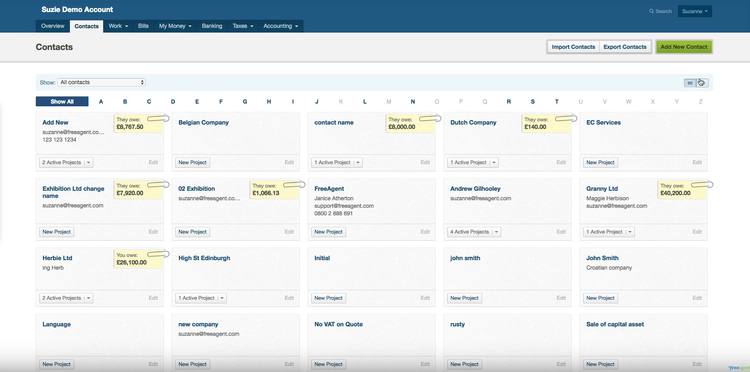 How Much Does Mac Accounting Software Cost?
The cost for basic on-premise Mac accounting systems start at $250-$400 (one time charge) for limited user licenses (more licenses add to the cost).
For online Mac accounting software, the price starts at $9/month for very limited solutions to $150/month for more full-featured systems. Cloud accounting software for Mac is usually billed on a subscription-based pricing model–meaning you'll pay month to month for continued usage and included support.
What Free Accounting Software Works on a Mac?
Free accounting software for Mac is available but usually comes with very limited functionality. In most cases, you will be limited to only one user, so free options are generally used by very small companies or freelancers.
An example of a popular free accounting software option for Mac includes Wave, a popular cloud-based accounting software that works in any web browser. Wave works on both Mac and PC due to it's web-based nature. It has a free iOS app for invoicing and receipts.