In today's strong economy, businesses large and small are booming. But with growth comes added complexity. Are businesses using accounting software that's up to the task?
At Software Connect, we're always seeking a better view of the market. Who's buying accounting software? What drives companies to upgrade to today's more powerful, feature-rich packages? And what new functionalities are these firms seeking?
To find out, we looked at more than 3,000 accounting software projects from the past year. The result is a portrait of the needs and motivations of software buyers nationwide.
Here are some of our key findings:
New buyers are a big chunk of the market. 37% of the companies we surveyed are buying accounting software for the first time.
More than one-third of upgraders are QuickBooks users. 35% of upgraders are coming from QuickBooks, and 11% come from Sage 50.
Many buyers want functions beyond core accounting. Over 20% need software that handles payroll, inventory, and invoicing.
Large companies want business intelligence. Businesses with 50+ employees are more than 70% more likely to need software that handles budgeting/business intelligence (BI) and fixed assets.
Large companies are cloud-averse. They're 41% less likely than small companies to prefer cloud-hosted software.
In the big picture, we see that more and more firms are finding that legacy accounting systems can't keep up with their needs. Naturally when companies consult with us, they typically need something beyond what basic packages like QuickBooks and Sage 50 have historically offered. They're looking for more robust software with more features and better security.
Purchase motivations
Companies have many reasons to purchase new accounting software. These include increasing functionality (43%), replacing dated systems (29%), and improving usability (17%).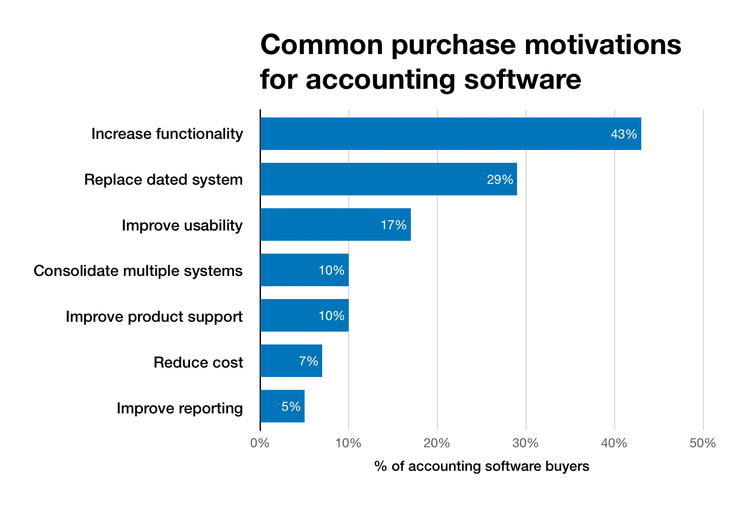 Among current users of accounting software, more than one-third are upgrading from various versions of QuickBooks. Sage 50, and to a lesser extent Sage 300, are also common.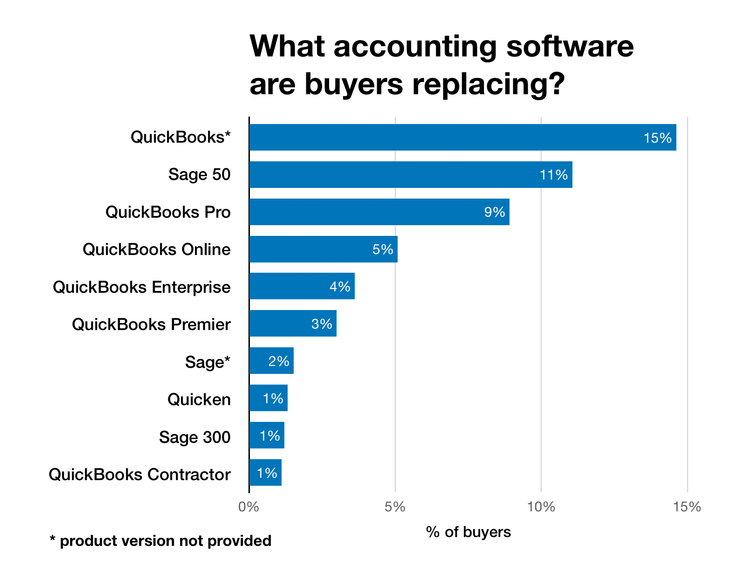 Accounting or ERP Software?
Over time, the defining line between accounting and ERP systems has become increasingly less clear. Even the simplest accounting systems often include simplified features beyond basic accounting (i.e. invoicing, and inventory management). Meanwhile many advanced intelligence reporting features previously exclusive to large-scale ERP systems are more affordable than ever.
So at what point do you categorize a system as ERP over accounting? There are differing opinions, but our sample included only buyers who needed at most one major additional feature aside from core accounting, invoicing, inventory management, payroll, order management, and procurement. See the demographics section below for more details.
Going Beyond Core Accounting
While firms have many reasons to upgrade, their choice of software largely depends on the specific features of each program. Our survey sheds light on the extra, non-core features that companies find most enticing.
Over 20% of buyers say they need software that can handle payroll, inventory, and invoicing in addition to the core accounting functions of accounts receivable (AR), accounts payable (AP), and general ledger (GL).
Non-accounting features may be the key selling point for businesses on the fence about upgrading, says Kelly Hummel, ERP practice director with business software consultancy Net@Work.
Hummel notes that many users are ultimately deciding to migrate to more advanced software "when they require more industry-specific functions outside core accounting, such as inventory, service management, or EDI [electronic data interchange]."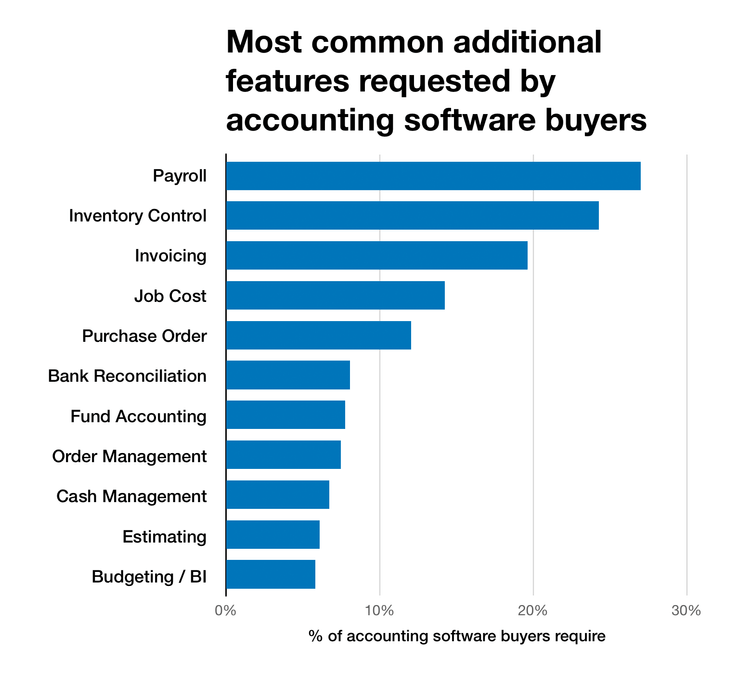 Naturally, with greater capabilities comes greater cost. Hummel cites cost as a major reason companies hesitate to upgrade to a new accounting system even when they see the need. "QuickBooks customers are probably the most resistant because of the next jump in cost," she says.
Advanced Capabilities
Among larger companies, which we define as firms with 50 or more employees, the most distinctive advanced need was budgeting/business intelligence (BI) software, which larger companies were 72% more likely to need than their smaller counterparts.
Other distinctive needs of large businesses include fixed assets (71% more likely to need), fund accounting (55%), and procurement (49%).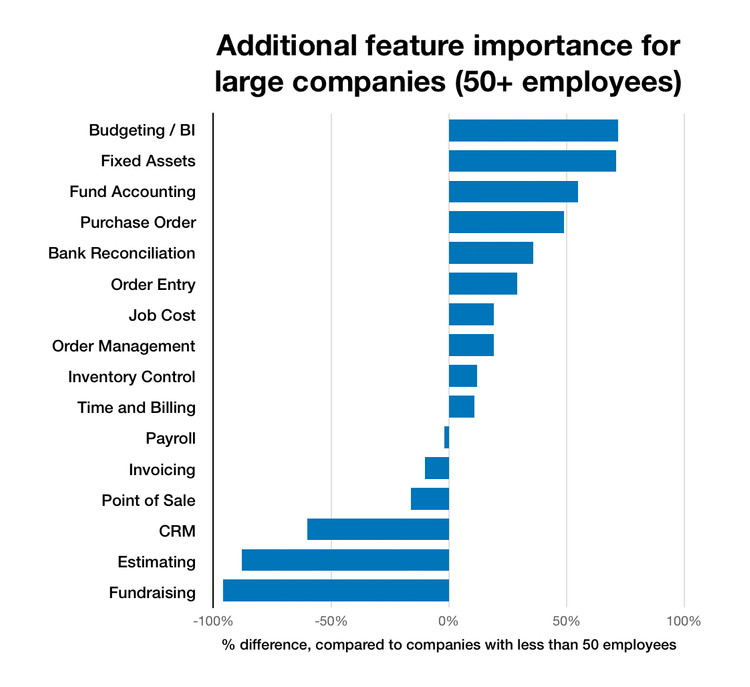 These responses suggest a strong need for specialized software at large companies–basic software just can't provide the advanced data analysis required for BI, for example.
The big picture: What's driving migration?
But what's driving so much interest in advanced features? Industry consolidation, the rise of telecommuting, and government compliance all have a role to play.
Industry Consolidation
Industry consolidation is affecting many companies' bottom lines–and also their accounting needs. Some experts see think consolidation is driving the need to get more out of accounting software.
"Over the last year we've had an exorbitant number of customers that have gone through M&A [mergers and acquisitions]," says Hummel of Net@Work. This, in large part, may explain a need for consolidated reporting and robust BI tools.
The Rise of Telecommuting
With millennials now the largest generation in the US labor force, telecommuting is the norm in workplaces nationwide. In fact, as of 2017, 89% of US workplaces allow employees to work from home on an ad hoc basis, according to a recent BusinessWire survey from nonprofit HR association WorldatWork.
Legacy accounting software often isn't designed with telecommuting in mind–and reporting requirements don't stop just because an employee is physically out of the office. The need for remote access is a key factor driving firms to buy new software, as one Massachusetts business owner told us.
[Our employees] need to produce daily update reports [such as shipments and payments] and will be working from home, but [our] old system doesn't allow for remote access. Massachusetts seafood distributor
Government Compliance
An exciting new government contract can also lead to accounting headaches, if companies aren't prepared with the right software.
Any company that does business with the federal government needs to be compliant with Defense Contract Audit Agency (DCAA) regulations–and this includes accounting software. Companies with federal contracts need DCAA-compliant accounting systems.
Contractors often need more out of their accounting software when DCAA compliance enters the picture. For example, one defense contractor we surveyed in Missouri reported that it was upgrading because the time and billing functions in QuickBooks weren't DCAA compliant.
[We] have problems getting timesheets from employees as it comes down to the billing cycle so [we] can generate the invoice to the government. [We] need general accounting reports particularly as it relates to employee time and customer projects. Department of Defense contractor
Deployment: To host or not to host?
When it comes to software deployment, respondents are evenly divided between locally installed and hosted software, with about 20% expressing a preference for each. The remaining 60% of respondents say either will do.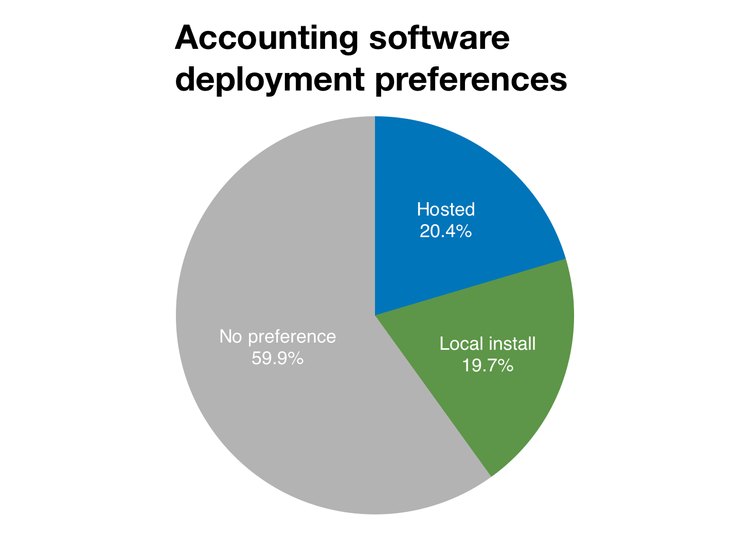 Large companies, however, appear to be shying away from the cloud. Companies with 50+ employees are significantly less interested in cloud-hosted software–only 12% say they want hosted software only, compared to 21% for smaller businesses. This means they're 41% less likely than smaller companies to express a preference for cloud-hosted software only.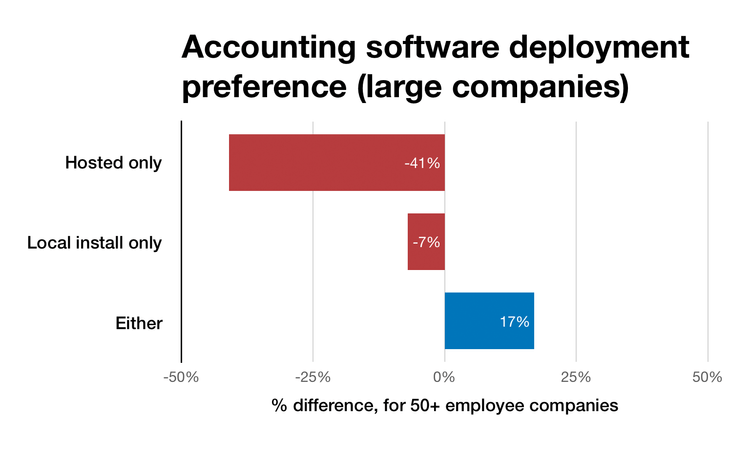 In an era of major data breaches, large companies may be seeing cloud services as more vulnerable than local hosting. They may want to keep data closer to home for greater security.
The demographics of our survey
Our survey collected a comprehensive dataset of 3,051 accounting software projects undertaken over the past year.
We took care to ensure that our sample included projects focused specifically on accounting, excluding larger enterprise resource planning (ERP) projects. We required projects to meet the following conditions:
Core accounting: Projects required AR, AP, and GL functions.
Advanced features: Projects could only have up to one advanced feature, excluding payroll, invoicing, inventory management, order management, procurement, fund accounting, and job costing.