DCAA compliance refers to the adherence of a company's accounting, financial, and timekeeping systems to the recommendations and guidance provided by the Defense Contract Audit Agency (DCAA). This federal government agency is responsible for auditing Department of Defense (DoD) contracts, ensuring that the business processes and systems of organizations seeking or holding government contracting work are in line with DCAA requirements. Since these contracts can be worth hundreds of millions or even billions of dollars, funded by taxpayers, DCAA audits are crucial for maintaining transparency and accountability.
It is essential to note that the DCAA does not officially approve any accounting systems; instead, it audits a company's financial systems to determine their compliance with government Job Cost Accounting regulations found in the Federal Acquisition Regulation (FAR).
A DCAA-compliant business system should be able to track various costs, such as direct and indirect costs, accounting costs, billing costs, and labor costs, and be fully integrated with its timekeeping system. This way, the company can efficiently produce all necessary reports that the DCAA may require during an audit.
We've taken the time to review a variety of the top accounting software that can help your business remain DCAA compliant:
1

Jamis Prime ERP - Best Overall

JAMIS Prime ERP is an intuitive, easy to use Cloud-based ERP solution designed for government contractors in need for DCAA compliant accounting. This software brings all your data into one system for easy access and use. Both displays and reports can be customized.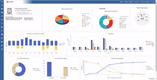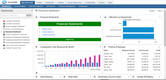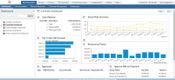 What We Like
Easy to use with government contracts
Multiple payment methods
iOS and Android apps
Overview
Price Range: $$$
Client OS: Web
Deployment: Cloud Hosted
2

Unanet - Also Great

Unanet Project Software is a tailorable and lightweight ERP which is both intuitive and well-designed. This fully integrated solution is 100% web-based, providing access to one database for real-time visibility into project labor and expense, direct and indirect costs, profitability, invoicing, revenue recognition and performance against budget.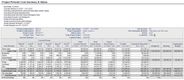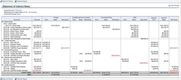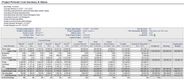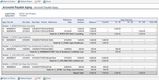 What We Like
Flexible setup and configuration
Integrates between time tracking and financials
Scalable and cost-effective
Overview
Price Range: $$
Client OS: Web
Deployment: Cloud Hosted
3

Wrkplan - Most User-Friendly

WrkPln is a popular project accounting solution which is both DCAA compliant and easy to use. This software is popular with small to mid-size Federal Government contractors looking for ways to save time and automate accounting processes. The Government Format Automatic Invoice Generation feature covers Fixed Price, Time & Materials, Cost Plus Contracts, and Funding Status Tracking.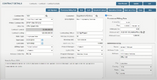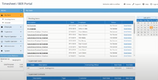 What We Like
Easy setup
Modern interface and highly responsive
Very user friendly
Overview
Price Range: $$$
Starting Price: $450/month
Client OS: Web
Deployment: Cloud Hosted
What is DCAA Compliant Accounting Software?
DCAA Compliant Accounting software is any financial solution compliant with the Defense Contract Audit Agency (DCAA) requirements, the government organization responsible for auditing government contracts made with the Department of Defense (DoD). For financial and accounting software to be DCAA compliant, it simply must follow the latest DCAA's recommendation and regulations.
One thing to note is no software is officially "DCAA approved", as the term itself is an inaccurate designation. In reality, it's your organization and the procedures you follow that need to be managed better for compliance. Any ERP platform or accounting software could be classified as DCAA compliant if it passes the required accounting system audit based on Government Auditing Standards from the "Yellow Book".
Government contractors span a huge variety of different business models, from small businesses to global enterprises. One thing that all government contractors have in common though is a high level of oversight with DCAA audits. Most federal government contractors looking to win bids and contracts for DoD jobs will need an accounting system that can pass an audit from the DCAA and easily prove a contractor's compliance with Federal Acquisition Regulation (FAR) regulations. The right accounting software can help your government contracting company ensure financial visibility for the different monitoring organizations and compliance with relevant regulations.
Key Features of DCAA Compliant Accounting Software
Expense Reporting: Measure financial data in a general ledger to balance Accounts Receivable (AR) and Accounts Payable (AP) and report on all direct and indirect costs
Cost Accounting: Accurately report on the allocation of funds to produce goods and services during government contracted projects
Contract Management: Manage the creation, negotiation, signing, and renewal of legally-binding government contracts, including subcontracts
Project Management: Coordinate and streamline the execution of project tasks to optimize direct and indirect costs related to labor and equipment utilization
Timekeeping System: Use timesheets for employee time tracking on all DoD contracted work assignments to ensure accurate hours are reported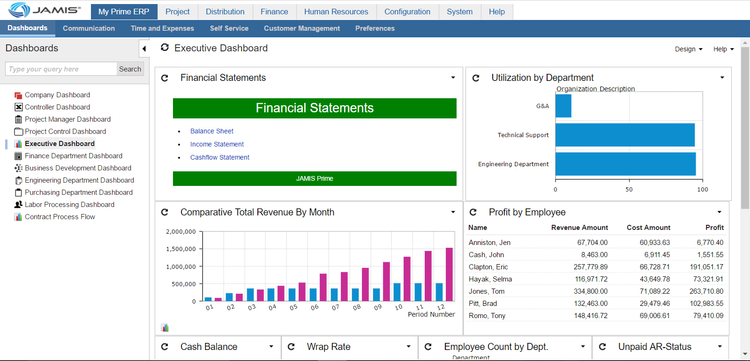 The scope of the different project accounting practices available to government contractors is as varied as the types of businesses that perform government contract work. Some small businesses will need to perform their own accounting in-house while others can afford Certified Public Accountants (CPAs) to handle the work for them. With so many possibilities, accounting software packages designed to meet DCAA requirements for government contractor companies must offer a full range of financial management tools. Accounting features include the ability to track real-time expenses, manage payroll from labor distribution, estimate job costs, perform bank reconciliations, and create top level financial reports.
Additionally, there is a huge variety of applications available for your specific DCAA compliant accounting system. For example, manufacturers will find MRP, inventory control, and bill of materials modules, while food services firms can benefit from point of sale solutions. Other typical applications can include time and billing, job costing, CRM, eCommerce, and work order management to name just a few.
One common need for government contractors is functionality to assist with bid and proposal processes. Applications are readily available that will help manage a portfolio of projects, while assisting in developing bids and managing on-going work for specific projects.
Best Government Contractor Accounting Software Benefits
Accounting software designed for your government contracting business can help you manage costs, revenues, and profits, while providing the ability to view the information on a per project basis. With the right accounting tools you can easily establish auditable financial records.
Manage Unallowable Costs
A common issue companies face when dealing with government agencies is determining allowable and unallowable costs. The former can be reimbursed or fully covered by a contract's terms. The latter can leave your business footing the bill. Generally, allowable costs are those which are necessary for the completion of a project: expenses related to manufacturing, delivery, or a service.
Unallowable cost as defined by FAR 31.205 are those which do not meet these criteria:
Reasonable
Allocable
Cost Accounting Standards (CAS)
Contract terms
FAR subpart limitations
For instance, imagine a small business wins a government contract. They require transportation for their workers to get to and from a job site. Purchasing one or two vehicles would be reasonable and therefore an allowable cost under DCAA regulations. On the other hand, buying a fleet of luxury cars would be considered unreasonable and thus unallowable.
It's important to note many indirect costs fall under the unallowable umbrella. With DCAA compliant accounting software, your employees can remain aware of whether their work is or isn't covered.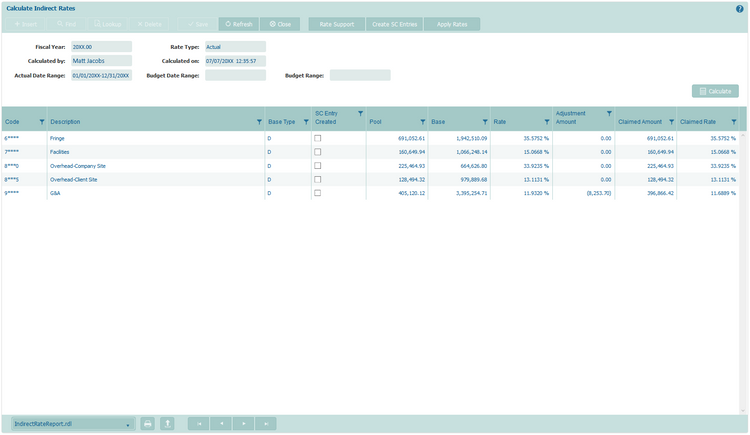 Maintain Government Contractor Accounting Compliance
Government contractor organizations are among the most frequently audited businesses in the world. Compliance with assorted regulations is part of doing business as a government contractor. Especially for smaller government contractors, there may be little expertise in dealing with audit agencies and the wide variety of different regulations. Approved accounting systems specifically designed to promote regulatory compliance can be of enormous assistance in helping your organization meet DCAA, DCMA, DOL, IG, and GAO standards.
DCAA Compliant Accounting System Costs
DCAA compliant accounting software is available for companies of all sizes. While completely custom software systems are always an option, it can be expensive and difficult to maintain such a program. With the huge variety of options already on the market, there is likely a solution to meet the needs of your business without the hassle and expense of customization. Some SaaS options are available for as low as $25 per month per user while others are up to $450 per month.
The right government contract accounting software should do more than simply ensure regulations compliance. It should also provide you with the tools you need to boost the profitability of your business and lower your operational cost. By more effectively monitoring profitability you can better identify which project management processes you need to improve. Additionally, if you streamline your accounting processes you can save time and avoid costly errors which arise frequently when data is not integrated or needs to be manually re-entered in multiple systems.
Is QuickBooks DCAA Compliant?
QuickBooks by Intuit offers incredibly popular accounting software products to businesses of all industries. As such, many government contractors have asked if their current QuickBooks software is already DCAA compliant. The answer depends on usage and additional software integrations. For instance, when time tracking features are used correctly and honestly by all team members, QuickBooks can be DCAA compliant by creating an audit trail for timesheets. And the software is compliant when used in conjunction with another approved system, such as GovCon, so you don't have to change your entire accounting system if you already use QuickBooks.