Do your internal or customer projects come in on time and on budget? With the right project management software you can make sure you are allocating resources and managing schedules, so your team can collaborate together and consistently meet project time, cost, and scope goals.
With programs designed for internal project tracking, client work, construction projects, and professional service work, it can be tough to get a grip on all the different functional options available and which programs are right for you.
What Is Project Management Software?
Project management software coordinates the execution of project tasks, including planning, scheduling, resource allocation, quality management, time tracking, and collaborative document sharing. Also known as PM software, these solutions help project managers increase customer satisfaction through decreased project cycle times and better deadline projection accuracy.
Project management software will improve labor and equipment utilization through better workflow scheduling and overall help your team collaborate better. This includes outlining tasks that need to be completed, the order that they should be done, what resources are required, how they will be distributed, and long the varying tasks will take.
Once implementing a project management workflow into your business, you'll see reduced instances of rework based on better collaboration between team members and external project stakeholders. This will lead to better customer retention through more reliable achievement of quality standards.
The best project management software includes features such as project visibility, tools for promoting collaboration and creativity, and increased efficiency executing project work. Complex project management systems can generally be broken down into three main functional areas: project planning, project tracking, and collaboration. Knowing what your business needs more of can help choose the top project management software that is right for your business.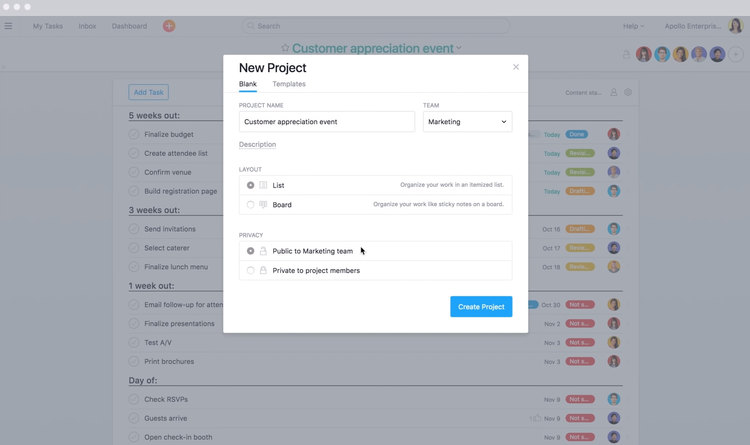 Features of Project Management Software
Project Planning and Scheduling: Design policies and methods to achieve project objectives. Assign tasks to complete projects by allocating resources within a timeframe.
Team Collaboration: Allows two or more users to collaborate on the same project–seeing updates and edits to files in real-time.
Time Tracking: Track hours spent on individual tasks and the project as whole. Monitor billable vs nonbillable hours for improved budgeting.
Reporting: Create summary overviews of the current status of a project. Includes status reports, risk reports, board reports, variance reports, Gantt charts, and PERT charts.
Budgeting: Estimate the total cost of a project. Includes labor costs, material procurement costs, and operating costs.
Billing and Invoicing: Prepare and send out client invoices, maintain cash flow, and measure the profitability of projects through planning, execution, and analysis.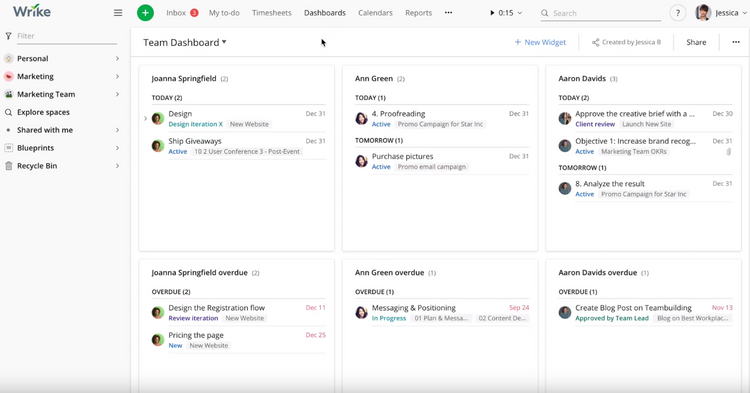 Benefits of Project Management Software
The best project management software will improve your resource management–allowing you to become a more agile business due to layers of customizable features. They will also allow you to increase the number of projects your business can handle on a daily basis. Some of the other top benefits of project management software include:
Plan Better With Project Planning
Project planning tools helps answer critical questions about the scope of the project, the people involved, and what the end results should look like. Tactical project management tools–such as those that address task management and scheduling–are derived from the answers we get from these strategic project planning tools.
Project planning tools will help get project schedules detailed into hyper-granular Gantt charts, which is an improvement from sharing data through individual email accounts and desktop file structures. Some other ways project planning can help improve your project management process includes:
Project ideation: Capture project ideas and prioritizing them. Includes tools like survey and interview capture programs to tap employee insights regarding business areas that can be improved. Polling and rating functionalities found in prioritization dashboards can provide a means of managing which projects deserve attention.
Project scope: Outline a detailed plan for your project. Includes collaboration tools, form based document templates, and access to scope statements from previous projects provide assistance for project scope authors. Entity relationship diagrams, SWOT analyses, Venn diagrams, and a variety of other project modeling tools can be useful in the planning work that precedes project scope documentation.
Work breakdown structures: Provides an inventory or decomposition of the work that will go into successfully completing a project. Commonly represented in a flow-chart like format.
Project team rosters: Track project team member skills and certifications to provider access to an appropriate level of access to documents and utilities within the software, often on a project-by-project basis.
Project budgeting: Includes estimating, line-item cost breakdown assignments, what-if scenario forecasting, and actual cost variance comparison tools.
Change management: Manage change orders through a structured approval process to ensure that the changes support the interests of the project stakeholders.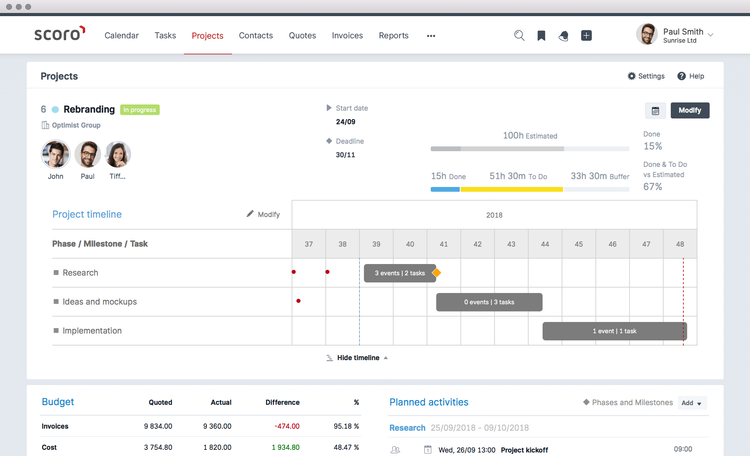 Manage Task Assignments and Scheduling
Keeping projects on track and productive helps your organization answer critical questions, such as who is responsible for certain jobs, assigned schedules for varying tasks, and any deadlines. There a variety of different scheduling models and approaches found in project management software, such as check-lists and to-do style task registers.
The ability to filter tasks based on task assignment, task attributes, and timeframe is an important basic feature for keeping up with scheduling when there are a large number of tasks present. Similarly, many systems will incorporate rule-based alert notifications related to upcoming tasks, task completions, or other indicators.
Some other common benefits involved with task assignments and scheduling include:
Gantt charts: Provides a means of viewing the dependencies between tasks. Helps visually represent the connections between what must be completed first. Can also track the completion of project milestones.
Progress tracking: Quickly identify where a project is relative to completion. Task completion dashboards display a percentage to completion, as well as provide filtering capabilities to identify what work remains.
Time tracking: Track time inputs on various projects for billing purposes. For internal tracking purposes, monitor project completion and identifying how long tasks will take on future projects.
Resource allocation: View resource (labor and equipment) availability. Connect with your scheduling functionality and mirror labor scheduling in terms of the usage of resource registers and availability schedules.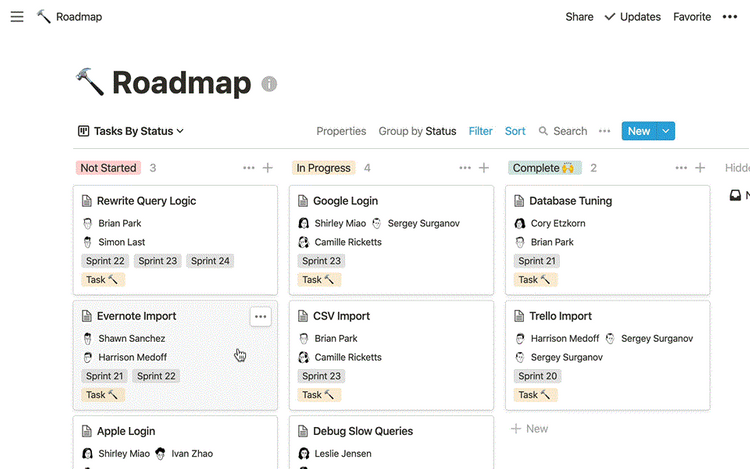 Collaboration features in project management software will manage the interchange of ideas and documents between project members. To ensure project members are working on common resources as well as maintain transparency and accountability, you'll need to ensure you're using an online project management software that allows for easy sharing.
Due to distributed workforces, your organization may need a unique way to manage communication with business partners or inter-departmentally among employees. It can be challenging for project members, especially those contributing to multiple projects, to keep others up to date on their work.
Most project management software will be able to handle collaboration features such as project communication, document management, and even meeting facilitation.
Email integration: Handle emails from within their standard email clients (such as Outlook or Gmail), while capturing email communication so that it also can be viewed from within the project management suite.
Message boards, wiki's, and instant messaging: Capture documentation that needs to be referenced frequently or continually updated. Promote more interaction and allow project members to rapidly communicate on a direct basis.
Meeting coordination: Enterprise class project management solutions are increasingly providing meeting tools. Web-conferencing, audio-conferencing, and screen-sharing technologies are appearing more frequently in the more capable solutions available.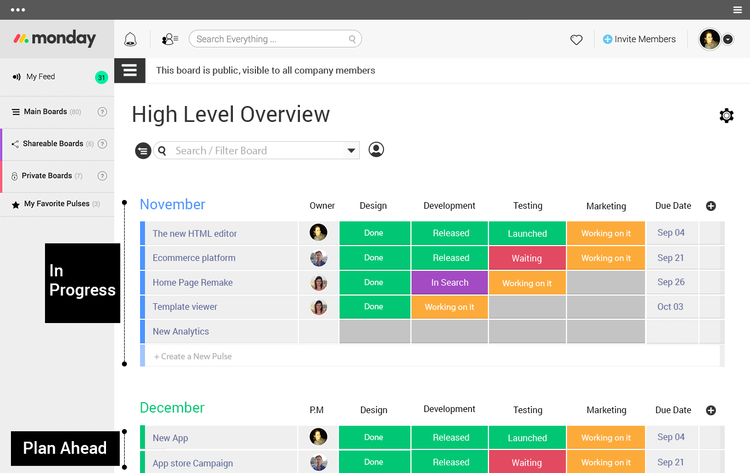 Get Better Control of Your Document Management
Project work includes the creation of a large amount of documents. Managing document exchange via email or 3rd party file-sharing sites can always present some issues for your company:
It is difficult to stay abreast of current versions
Doesn't allow for clear visibility into version histories
It's a time-consuming method of passing documents between project members.
Document management functionality within a project management system offers a host of advantages. This includes multiple file format support, audit trails identifying change histories, and managed shared access to common documents.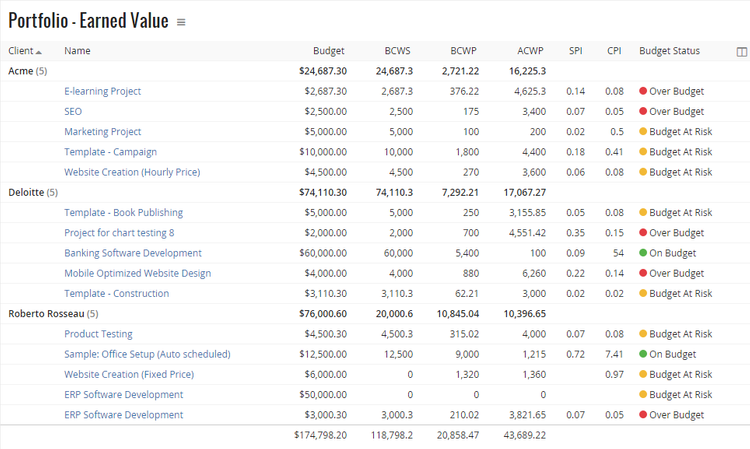 Types of Project Views in Project Management Software
Flexible project views can help ensure your project management software presents information to you in a manner that is easy to digest. The most popular types of project views include:
Gantt Charts
A gantt chart is a bar chart that shows project schedules and their overlapping relationships between activities. This visual view of project tasks lets you and your staff see what work is scheduled at varying times of the day, later in the week, or beyond. It's best used to discover which employees are available to complete tasks in order to avoid interruption to their project workflow.
Gantt charts show start and end dates, details about the tasks that need to be completed, the length of each tasks, and who has been assigned the task. Gantt chart software capabilities help aid in project planning through creating tasks dependencies, adding checkpoints or milestones along the way, or helping to show management which employees are completing their tasks on time.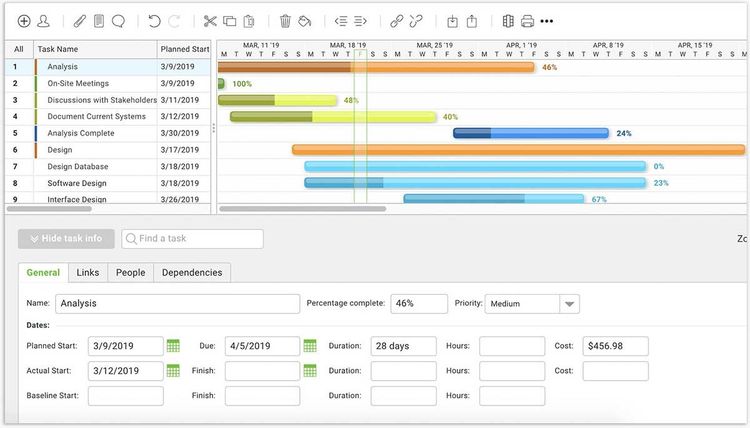 Task Lists
Tasks lists are sortable fields (similar to your common spreadsheet) that have rows and columns for employees, tasks, due dates, progress, priority levels, and more. Task lists can be thought of as to-do lists that can be assigned to your staff to ensure the project is completed on-time.
Task lists are best used by teams that are handling small projects with limited scopes. They are a definite improvement over manual methods (such as spreadsheets) due to providing automation and the avoidance of human error. Tasks lists are found in almost all project management software, and sometimes can be sold as a stand-alone solution.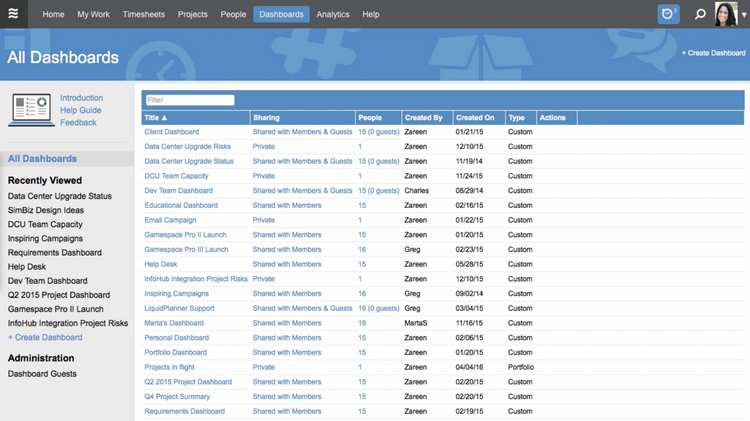 Kanban Boards
A kanban board helps visualize project work through cards and columns. Each card or column represents a stage of the project, and provides an easy way to visualize work that needs to be complete, or work-in-progress. Kanban itself is a lean method of managing work through the use of human systems, with the goal of avoiding bottlenecks.
Kanban boards can be broken down into visual signals, columns, work-in-progress limits, commitment points, and delivery points. The visual signals (cards) are what most think of, as this is where teams can write their work, tasks, and create their overall project workflow. From there, your cards will be arranged into columns, or workflows, that lay the path to completion. Kanban boards will let you establish work-in-progress limits which is simply a cap to how many cards can be in one column at a given time.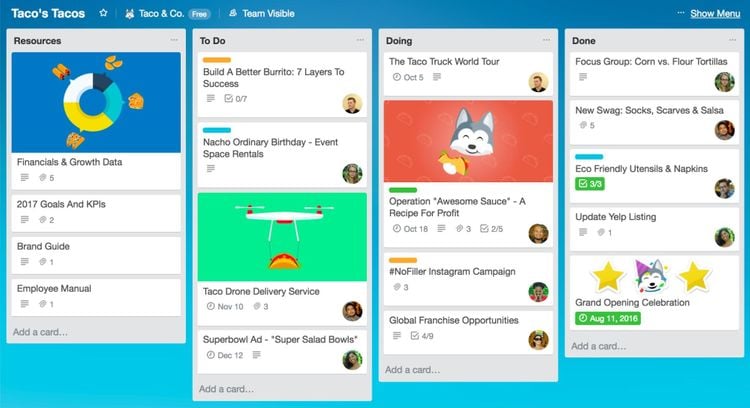 Pricing of Project Management Software
How much you'll pay for project management software will depend on:
The number of functionalities needed
The number of users
The scope of your business
A freelancer or someone looking for a project management system for personal use will pay far less than a large team looking to manage multiple projects simultaneously. Small teams will need to find a solution somewhere inbetween. This indicates that project management solutions will vary drastically in price–meaning there are options for all sizes of businesses.
The cost of project management software starts at $10/user/month to $75/user/month. Many solutions will offer free trials to let you determine which level you need. Some software companies also offer forever free project management software. These options can be used indefinitely, but usually are stripped-down versions of their paid counterparts. This means you are usually limited to the number of users and projects that can be used in the system.