What Is Food Traceability Software?
Food traceability software lets a company track and manage information on the food products they produce, stock, distribute, and sell. Primarily used by companies that manufacture, produce, and/or prepare food, food traceability systems excel at providing food safety and will greatly reduce the risk involved in the processing and manufacturing stage.
Functionality included in most food traceability software includes fully-integrated accounting, inventory, supplier management, traceability, landed cost tracking, and catch weight capabilities. A food traceability solution can provide these features on-premise or in a SaaS (software as a service) environment.
Food traceability software keeps your business compliant with the Hazard Analysis and Critical Control Points (HACCP) requirements and the Food Safety Modernization Act (FMSA). It will also allow for any improvements suggested by government organizations such as the Food and Drug Administration (FDA).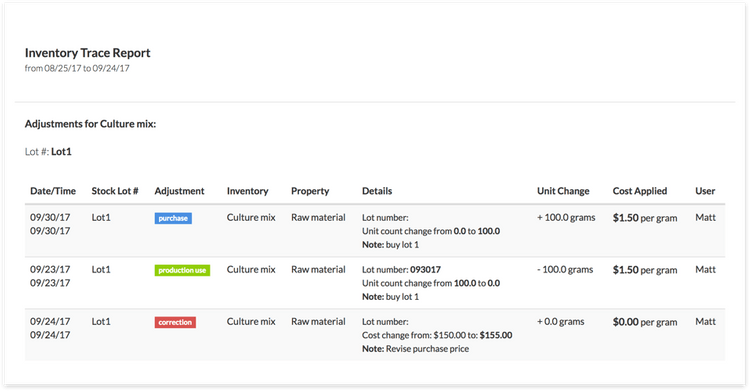 Features of Food Traceability Software
Supplier Management: Manage the supplier approval process. Assign a rating to a supplier and score their risk factor, detect non-compliance risk, create a workflow for supplier corrective actions.
Traceability: Track and trace all raw materials and finished products through improved inventory control. Produce HACCP documentation to structure terms of reference, process flow diagram, and hazard analysis.
Product Quality Control: Product testing, inspections, certificates of analysis, quality control KPIs, and real-time specification verification.
Recall Management: Create workflows for common recalls or stock withdrawals. Ensure proper action is taken and customer interactions remain positive and handled quickly. Monitor how quickly the recall process takes within your organization.
Business Intelligence: Create a dashboard to display food safety metrics, results of recent quality tests, and monitor bottlenecks in the supply chain.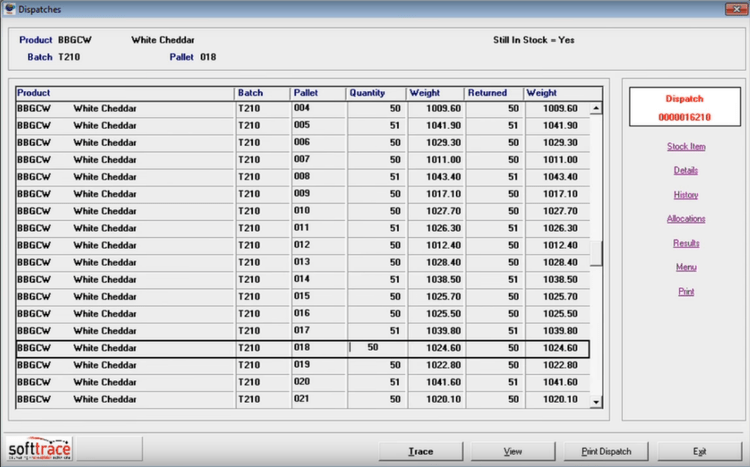 Benefits of Food Traceability Software
By following the correct steps and precautions, manufacturers and distributors involved in food production can ensure they maintain best practices for material tracking, staying compliant, recalls, and more.
Improved Food Safety
Food traceability software helps keep food safe through the identification of faulty products and assistance in initiating the recall process for products that have already been distributed. It can also prevent your company from producing more of said product. This can prevent contaminated food from hitting the shelves and ensure foodborne illnesses are not spread.
Food safety and foodborne illness prevention are reason enough to look into food traceability systems. Food safety incidents in one product can affect an entire sector. Having a proper solution in place gives your supply chain the ability to prove their product is safe and not related to any sort of outbreak ongoing.
Improved traceability also helps prevent fraud and "counterfeiting" of food, which cost the industry $10-15 billion per year. Some of the most counterfeited food items include olive oil, fish, and pomegranate juice, as the detection of any adulteration can be difficult to detect with these products. Catching fraudulent products or raw materials before they are used in your food manufacturing process is critical to maintaining healthy relationships with your customers and not spreading disease or allergens unknowingly.
Better Inventory Visibility
Inventory management has always been a strong part of food traceability. Software that improves upon your food traceability process will provide increased visibility into your overall warehouse management through traceability initiatives to track and trace data. There is also required track and trace for regulatory compliance, such as food safety issues if you pose a risk of spreading diseases such as E. coli.
Proper inventory traceability can mean identifying a problem quicker than ever imagined, which can potentially prevent a product recall. A supplier may contact a manufacturer about contaminated goods they recently sold. The quicker the manufacturer can identify the source of their raw materials and which shipments or batches they belong to (and if they've been used to create a now tainted product). Some examples of improved technology helping to streamline inventory visibility are through the use of barcode capabilities and improved lot tracking.
An increase in inventory visibility also means being able to save significant time and money when dealing with an organization such as the FDA, who requires that a traceability report be produced within 4 hours of being notified of a food safety event.
Improved Supply Chain Efficiency
A food manufacturer or food distributor can implement improved supply chain efficiency with food traceability software primarily through an increase in audits, better inventory control, and proper record keeping.
Production equipment at your facility needs to routinely be maintained, and preventive measures should be taken to ensure they are working at their highest operating points.
Improving your inventory control can be one of the most beneficial capabilities of food traceability software. One example is storing up-to-date information on the expiration dates of your raw materials and finished goods. This can ensure you don't accidentally use bad product in your production, or distributed expired goods to customers.
One way software can increase efficiency is by a more selective inventory picking process. The software can prioritize picking food with the closest expiration date, to help prevent any future losses.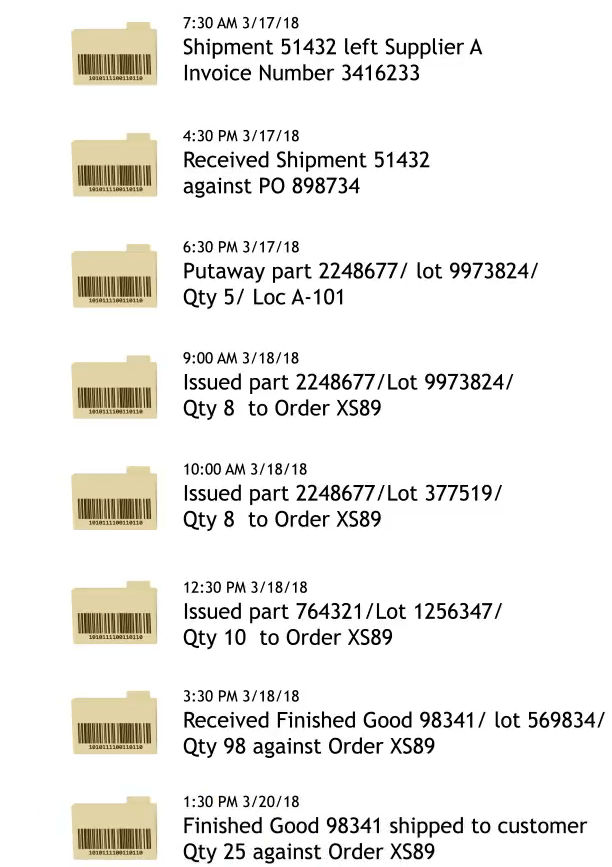 Stay Compliant With Food Industry Standards and Pass Audits
Food and beverage manufacturers have to stay compliant with many regulations set forward by the Food and Drug Administration (FDA). These companies must keep strict traceability requirements and meet various compliance deadlines, less otherwise face the wrath of an audit from the FDA.
To stay compliant with food industry standards via food traceability software, companies must find out how their own record-keeping will be managed and what sort of information a food traceability software will store:
Does the business have unique identifiers such as lot codes?
Can every single product or raw material used during production be traced back to an appropriate supplier?
Do you know exactly where your products are being shipped to in the event of a product recall?
Hazard Analysis and Critical Control Points (HAACP)
HACCP is a management system in which food safety is addressed through the analysis and control of biological, chemical, and physical hazards from raw material production, procurement and handling, to manufacturing, distribution and consumption of the finished product. FDA.gov
In food traceability, hazard analysis is the first step towards identifying risk. A hazard can be defined as a condition that (if in existence with other conditions) can lead to failure or an accident during the course of your food manufacturing or distribution. HACCP was created to give a systematic approach to control food safety hazards, based on the seven principles:
Conduct a hazard analysis
Determine the critical control points (CCPs)
Establish critical limits
Establish monitoring procedures
Establish corrective actions
Establish verification procedures
Establish record-keeping and documentation procedures
An established food traceability software should make HACCP adherence a top priority. Food traceability software can ensure HACCP compliance by helping to develop a HACCP plan (detailed below) which moves into establishing any needed workflows in your business to adhere to the seven principles.
| HACCP Plan | Applying the Plan via Food Traceability Software |
| --- | --- |
| Assemble the HACCP Team | Assign a user license to the needed individuals who will be creating HACCP plans. Consider granting access to the food traceability software for staff members across the organization, such as engineering, production, sanitation, quality assurance, and more. |
| Describe the food and its distribution | Store detailed descriptions of the ingredients and raw materials used to create your food product. Record every method of processing and preferred/required method of storage (such as the temperature the product must sit at) |
| Describe the intended use and consumers of the food | Store expected use details for each food item. Examples include human or animal consumption, or age recommendations (such as alcohol sales) |
| Develop a flow diagram which describes the process | Outline steps each employee needs to take via a workflow management tool. This will help your staff understand and evaluate the flow required to maintain HACCP. |
| Verify the flow diagram | Verify the accuracy of any workflow performance. Monitor which employees need to complete additional tasks. |
Food Safety and Modernization Act (FMSA)
Each year, roughly 1 in 6 Americans (a total of 48 million people) gets sick, 128,000 are hospitalized, and 3,000 die of foodborne diseases. Due to this, Congress enacted the FMSA with the goal of preventing foodborne illnesses from spreading.
When used properly, food traceability software should give you all the tools necessary to prevent foodborne illness. Specifically, the FDA has finalized seven major rules for food manufacturers to implement FSMA:
| Rule | Definition | How Software Helps |
| --- | --- | --- |
| Preventive Controls Rules for Human and Animal Food | Businesses must implement a written food safety plan, determine if any hazards require preventive controls, and outline measures to minimize or prevent the hazard. | Once hazards are identified, ensure the proper workflows are in place and assign tasks to employees. This includes supplier approval management and facility compliance management. |
| Produce Safety Rule | Ensures safe growing, harvesting, packing, and holding of produce. | Establish strict guidelines for quality testing of your products. Keep records of the expiration dates of raw materials. Set up routine examinations of areas that produce comes in contact with. |
| Foreign Supplier Verification Program (FSVP) Rule | Verify that foreign suppliers are following FDA requirements. | Keep a detailed record of all the suppliers your company imports products from. Ensure routine audits are performed of these suppliers. |
| Accredited Third-Party Certification | A voluntary program that lets third-party certification bodies conduct food safety audits and issue certifications. | Ensure inspection results are logged and sent to the FDA (either by the certification body or the company itself) |
| Sanitary Transportation Rule | Ensure food is kept safe during transportation through various requirements for shippers and receivers. | Store records of how food shipments will be handled (via truck, boat, air, etc.) and note who the specific carrier or loader is and when their pick-up and drop-off times are. Ensure carriers can handle specific temperature requests. |
| Intentional Adulteration Rule | Requires all facilities to register with the FDA as a good facility. | Create a written Food Defense Plan and monitoring how well the plan is performing through checks and balances. |
| Compliance with FMSA | Track how well your company is meeting requirements set forward by FMSA | Develop and review custom plans to ensure you meet any compliance not covered above. |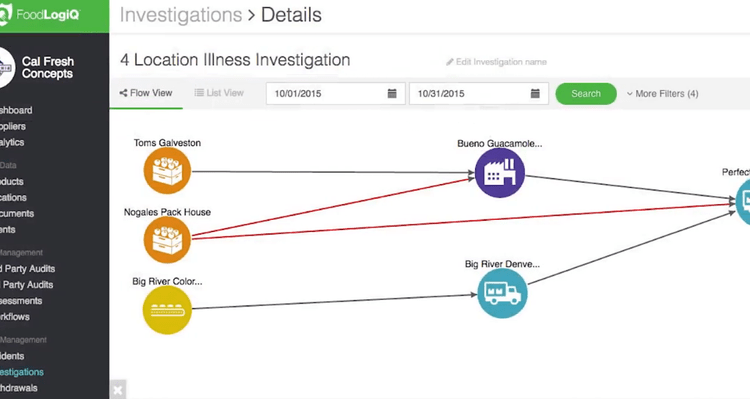 Safe Quality Food (SQF)
The Safe Quality Food program is a global food safety initiative that provides food safety and quality management certification system based on HACCP. This certification can involve all sectors of the food industry which includes the manufacturers, the companies that transport the product, and the primary distributors. Companies that implement the food safety management software can proudly display their SQF certification to let customer's know they provide safe products.
The benefits of SQF include managing risk, maintaining current customers, increasing your market reach, and preparing for new regulations that may come about.
Most food traceability software that will assist you with HACCP audits will help you adhere to the latest version of the Safe Quality Food Code (Edition 8). This is accomplished through build-in quality procedures that can enforce quality audits at different points of your food production or distribution cycle. It can also include in-depth inventory picking (such as picking first-expired goods first).
Like many of the above mentioned regulatory resources, SQF certification demonstrates a commitment to providing quality throughout the food production and distribution process, which starts with accurate record-keeping and transparency in your methods.