If access to tools that help you complete work efficiently and economically strikes you as fundamental to enterprise success, you're not alone. The enormous variety of work order software solutions available today testifies to a market of software buyers hungry to create repeatable and ongoing process efficiencies.
Managing work orders from creation to completion is a complex task. Having the right tool can make it much easier. Read on to find out more about the variety of work order software tools available and how they can benefit your company:
What Is Work Order Software?
Work order software allows you to create a trackable document identifying what work needs to be done and how it should be accomplished.
The underlying purpose of work order software exists to help your maintenance department accomplish two critical business goals: complete quality work quicker and at less cost. One could even argue that the type of software could be easily interchanged as "maintenance management software". An even more advanced type of work order software is a CMMS software, helps track the upkeep of assets and associated costs to prolong the lifespan of an asset.
Effective work order management software minimizes the friction standing between conveying work instructions and executing them. It provides a valuable means for key decision makers to analyze completed work to spot process inefficiencies and identify potential improvements and improve the overall asset management of your company.
When Does a Business Need Work Orders?
The biggest difference in when you may require a work order depends on the timing of the repair. This is a maintenance management decision your business needs to make based on their abilities, as all businesses will have varying levels of success with different methods.
For the most part, you'll be handling maintenance requests either before or after a problem has occurred:
Preventive Maintenance: Occurs before a problem has arose. Helps businesses service equipment on a regular basis to ensure the equipment maintains satisfactory operating conditions and lessens the likelihood of failure. Saves time on unplanned corrective maintenance.
Corrective Maintenance: Occurs after a problem has arose. Identifies and fixes failed equipment so it can be returned to an operating status.
What Software Has Work Order Functionality?
Work order management is a functionality found as a stand-alone software, as module included in an enterprise resource planning software (ERP), or included as a feature of a computerized maintenance management system (CMMS).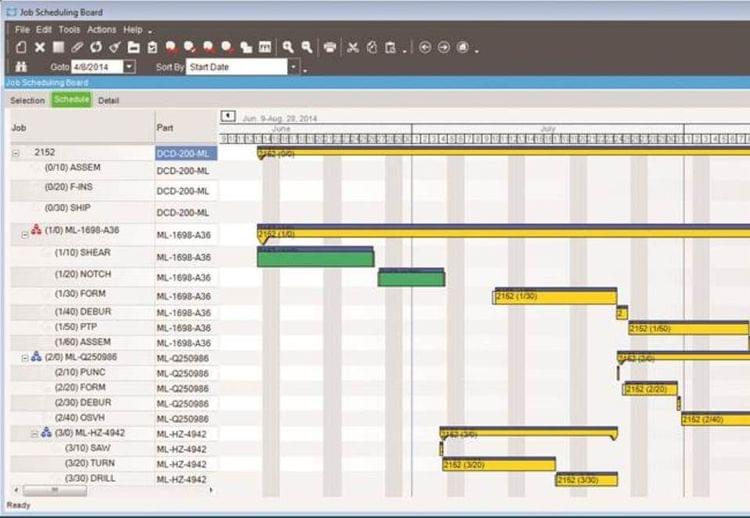 Stand-alone options: When a company already has an existing framework in place (such as a financial management system), companies will look to add-on what they need with a single-module solution. These options will provide the core work order management functionality, such as receiving requests and order creation, basic scheduling, and reporting. Stand-alone
ERP solutions with work order functionality: Companies that require fully-integrated solutions will want to ensure work order management is a functionality being provided by their ERP system. Field service companies who are scheduling work will want a work order module that is integrated with scheduling and dispatch management. This will ensure the right employees are being assigned to jobs, and that you are not having to key in information into multiple systems.
CMMS software with work order functionality: CMMS software helps ensure the operational health of your equipment. It's primary goal is to lower the overall cost of maintenance for your organization for efficient asset management. CMMS software uses work orders to create documents that can be tracked and to identify the work that needs to get done. As opposed to corrective maintenance situations, work orders are generated for predictive maintenance and preventative maintenance purposes, meaning they are created on a recurring scheduled basis.
Features of Work Order Software
Let's take a closer look at some of the most important features and capabilities of a complete work order management program:
| Feature | Description |
| --- | --- |
| Work order requests and order creation | Templating and guided order entry tools can greatly improve the ability of employees to rapidly and accurately convey work requests and instructions. This most basic step is leveraged for efficiency in work order management systems. |
| Rules-based approval management | Two fundamental concepts are utilized by work order solutions when managing approvals: access control and conditional logic. Access control allows only certain employees to have higher level privileges within the software (such as approving work orders or scheduling resources). Conditional-logic can be employed to automate much of the approvals process. |
| Scheduling and resource allocation | Work order management solutions can maintain a database of information that identifies what equipment and materials are required to complete each type of job. Similarly, a work order program will let you identify which employees are qualified for what type of work. A capable work order system will include calendaring tools to optimize equipment and labor resources usage and avoid double-booking. |
| Change orders | Work orders are not always static documents. Often changes to the scope of work or method of completing it can occur after the work order has been created. A comprehensive work order management program will include the capability to manage change orders. |
| Status updates and completion monitoring | Visibility into the completion of jobs is an important part of the value of a strong work order management solution. The ability to benchmark key intervals in the completion of work and report on the attainment of those benchmarks helps stakeholders in the work anticipate completion. Being able to accurately predict work completion can be a critical part of ensuring customer satisfaction. |
| Reporting | A work order management system gives you a rich source of data about your operational efficiency. Reporting tools in the work order tracking system help you turn this data into actionable information for improving your processes. Reporting tools can help you monitor key performance indicators on completed work such as error rates, adherence to quality standards, and time to completion. Tracing this information back to who performed the work, with what equipment, and following which processes provides insight into where improvements can be made. |
| Web-based work order requests | With some work order situations, it can be advantageous to allow 3rd parties to initiate work order requests directly. The most common method of meeting this need is to set up a web-based portal for customers, subcontractors, or business partners to access when needed. A web-enabled work order request portal represents a more sophisticated level of functionality and is a feature that won't be found in all work order management systems. |
| Remote and mobile access | If your company is performing work in the field, the ability to remotely access work order information is critical and can make you more profitable. Often this means accessing data via smartphones or tablet devices. To meet this need, many providers have optimized their solution for mobile web access or developed native mobile applications to extend important functionality to mobile users. |
Benefits of Work Order Management Systems
Work order management can help you meet a variety of organizational goals related to your work order process, such as improving customer service and increasing operational efficiency, including:
More Efficient Approvals Processes
Work order approvals are an important part of the work management cycle. For instance, work coded to specific areas may require different levels of approval. The level of sophistication found in different work order tracking solutions can vary widely and is an important aspect to consider when reviewing products.
Optimize Equipment and Labor Resources
Determining who does work, what is required to complete it, and when it should be done, is an important task within work order management in order to save time. Work order management programs offer a variety of tools to manage scheduling and resource allocation.
Faster Turnaround Times
A robust work order system can decrease turnaround times, improving customer satisfaction, with quicker work completion via two main methods.
First, a work order management system that promotes visibility into your processes can help you spot and address opportunities to complete work quicker–often in real-time. Secondly, an intuitive, easy to use work order management module reduces the administrative overhead related to processing work orders.
The result is that you can more quickly and accurately convey often complicated instructions with fewer communication related delays.
Decreased Downtime
Poor management of work orders can lead to overlapping demands on equipment and employees at some times and idle resources at others. The ability to manage resource scheduling allows for the optimization of your resources and decreased downtime. When work orders are used as part of a CMMS software, downtime will look to be decreased through preventative maintenance.
More Accurate Timeline Updates for Customers
Knowing where a job is in the work cycle isn't important internally, but is key for maintaining customer satisfaction.
Being able to accurately predict work timelines based on both historical information and real-time resource availability means fewer instances of customers disappointed by timeline overruns. Transparency into work completion status also means that in the instances where you are exceeding completion timelines, you're able to identify it much quicker and proactively address the issue.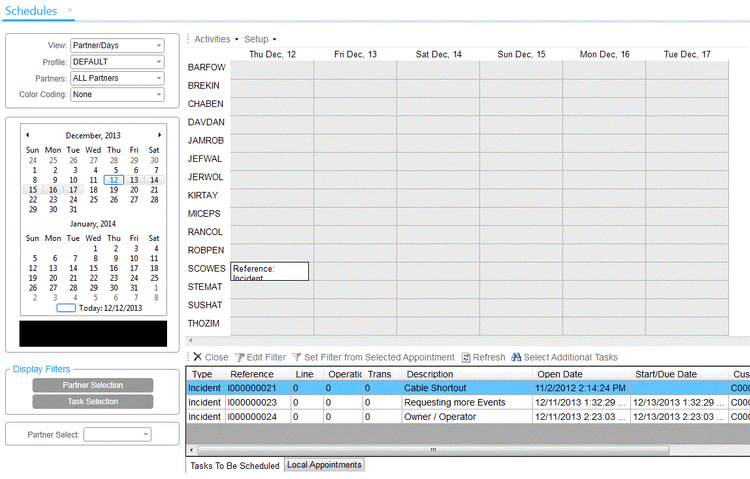 Lower Equipment Costs
How does a capable work order management software system lower equipment costs? Mainly by helping companies make more out of less when it comes to equipment.
When resource allocation is not optimized, often the easy answer is to acquire more resources to prevent bottlenecks in equipment availability. While that can be an easy answer, it's often not the most cost-effective one.
A work order management module can help to make sure that load-sharing and scheduling of equipment gets the most out of those resources before additional ones need to be purchased.
Improved Quality Control
While promoting efficiency is a core benefit of work order tracking, gains in quality outcomes shouldn't be underrated. Work order management capabilities can eliminate much of the guess-work that can lead to poor quality manufacturing and service work.
For example, work order management programs include the ability to database documents such as equipment manuals, schematics, and process instructions. Providing an easy-to-use tool to communicate work order greatly increasing the likelihood that instructions are fully detailed, received, and executed.
CMMS software allow for your maintenance department to put in maintenance requests before they are even needed. With a goal of preventative maintenance, CMMS functionality should improve quality control through better maintenance management.
The tracking tools that allow for monitoring for key performance indicators provide a mechanism for enforcing adherence to quality standards and increasing employee accountability.
Integration Requirements
Work order management doesn't occur in a vacuum. Frequently there is a necessity to pass data between your work order management module and other corporate information systems.
For instance, your work order management system may identify parts or materials requirements, but it's necessary to check with the inventory control system for availability. In some cases, it may be necessary to initiate purchase requests in order to acquire the inventory. Communicating customer order status data may entail links with invoicing or customer relationship management (CRM) modules.
Different work order systems have different integration and data export capabilities. Assessing whether or not real-time or batch integration capabilities are needed, and which systems will accommodate the required approach is an important part of evaluating work order software.
Industry-Specific Work Order Applications
Different types of work order solutions exist on the market, designed for companies doing all sorts of different work. But there are industry-specific sub-categories of work order management that bear a closer look, in terms of understanding how they are optimized for particular industry requirements.
Delivery and travel related work order management. Having vehicles in the field introduces a number of additional work order related requirements. Work order systems can include routing and dispatching capabilities. Features such as GPS tracking on mobile apps and managing truck inventories are common elements of solutions designed for businesses with delivery or vehicle based needs.
Custom manufacturing. Manufacturing oriented work order programs differ from service oriented options in some significant respects. For example, incorporating or communicating a bill of materials required for completing a given order is an important part of manufacturing work order management. There's often an elevated importance placed on quality management in manufacturing work order management. Features designed to coordinate product inspections and quality assessment are a hallmark of a work order program optimized for the manufacturing environment. CMMS solutions can also help ensure the machines used in manufacturing remain as close to 100% uptime as possible.
Facilities maintenance. Another common utilization of work order software is managing facilities work. Location based tracking capabilities are often important for facilities maintenance work tracking. For a property management company, identifying where the work was performed, for which tenant, and which owner is responsible for costs is an important dimension of successful work order management.
Trends in Work Order Management
Improved Enterprise Asset Management with IoT. In asset tracking, asset management software has an increasing potential for utilizing Internet of Things (IoT). Field service organizations have found that technicians can solve 10% of customer-reported issues without an on-site visit. This level of automation is expected to grow and improve asset performance management for all levels of customers.
The rise of mobile device accessibility. Businesses providing off-site service based work need to identify support needed off-site. In addition, they'll need to be synced with other field-service tasks such as dispatching and GPS tracking. An employee can be far more efficient if they can check for new jobs while in the field via a mobile app and get customer approvals without leaving the job site. Management can have a better understanding of how long workers are taking to complete jobs in the field, and have a more open path of communication when images or other files need to be sent back to the office. Teams can complete up to 30% more work orders by using a mobile solution.
Robotics & Automation. Robots are already being used to clean facilities. Automated processes may improve to the point that tasks and work orders may be triggered based on a workers location.
Pain Points of Work Order Software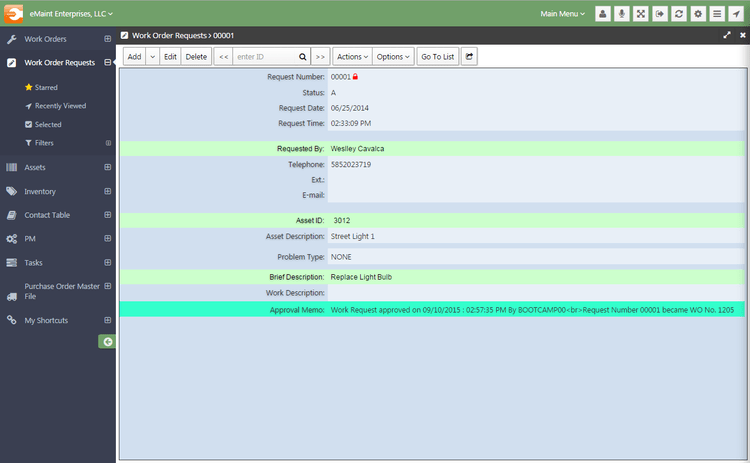 Properly prioritizing maintenance requests. When work requests come in, it can be overwhelming for a facilities manager to decide when and in what order an issue should be handled. A small business may lack the personnel to get to everything as needed. The circumvent this, a business should categorize work orders as follows: Emergencies (drop everything), High (do this after your current job), Safety (hazards in the work place), Low (simple requests), and Scheduled (planned in advanced).
Difficulty digitalizing work orders. With the recent desire for mobile based solutions, field service companies that still deal with manual paperwork may be hard-pressed to change to a new solution. The conversion process to go digital seems beneficial but can be a hill to climb for some businesses with historical records.
Taking the Next Steps
If you are at the point where you are ready to find which work order software options are right for you, we can help. Through a brief phone call, our software specialists will look to better understand your business and software needs to help you locate a handful of solutions that can address the issues you are experiencing. Get started today!