1

Jobber - Best Overall

Jobber reduces the time you spend entering data, saving an average of 6.8 hours a week. No experience is needed to create estimates and quotes, schedule your team, and get paid. It is easy to receive payments with invoices that are sent directly to clients through email and text.




What We Like
Integrates with QuickBooks and Xero
Strong mobile app
Real-time scheduling and dispatching
Overview
Price Range: $$
Starting Price: $29/month
Client OS: iOS, Android, Web
Deployment: Cloud Hosted
2

FieldEdge - Best for Customer Service

FieldEdge is a service management software that is powerful and easy to use. With real-time updates and a mobile app that gives users access from anywhere, your team will enjoy FieldEdge's functionality from the office to the field. Smart dispatch board decreases windshield time, and no double-entries are needed to ensure accuracy of accounting.






What We Like
Real-time updates from all-in-one dashboard
Create estimates and invoices on mobile app
QuickBooks Platinum Partner
Overview
Client OS: iOS, Android, Web
Deployment: Cloud Hosted
3

ThermoGRID - Best for HVAC

ThermoGRID by ECI is a field service management software that is built with HVAC companies at the forefront, and works for plumbing, electrical, roofing, landscaping, and other types of businesses. With all of your data stored in one place, you can easily manage leads, customers, jobs, and technicians.




What We Like
Smart Dispatching tool
Daily management reports
Reduce manual data entry
Overview
Price Range: $$
Starting Price: $110/user/month
Client OS: iOS, Android, Web
Deployment: Cloud Hosted
What Is Field Service Management Software?
Field service management software, also known as FSM software, manages every step of a job from scheduling to dispatching workers to invoicing. With the right field service management software solution, you can more efficiently create quotes, dispatch field technicians, estimate jobs, track costs, and handle work orders.
Field service management software can be used by a variety of industries which provide commercial or home services, including but not limited to:
Plumbing and HVAC
Electrical
Roofing
Lawn Care
Pest Control
Healthcare (In-Home Care)
Property Maintenance
And More
Whether your company installs, services, repairs, or does any other type of field work, you likely need some measure of organization to optimize your field service operations. With software, you can position your company to more swiftly and reliably deliver services critical to a successful business.
Read on to find the best field service management solution to meet your business needs:
Key Features of Field Service Management Software
Most field service software solutions include the following functionality:
| Function | Description |
| --- | --- |
| Estimating and Quoting | Quickly prepare bids, quotes, or proposals for a specific job or project using accurate estimating functionality; then use the bid or quote to prepare an invoice. |
| Work Order Management | Simplify work order assignment and tracking in order to ease the management of additional business tasks; Create checklists detailing what tasks are necessary for each work order. |
| Asset Tracking | Track the purchases of tools, equipment, vehicles, property, and other assets for depreciation, inventory, and tax treatment. Properly account for each asset during ownership and at disposal with depreciation data and gain/loss details. |
| Service Contracts | Use custom templates to create service-level agreements (SLAs) and automatically schedule recurring service and preventative maintenance for customers. |
| Field Service Scheduling | Schedule the most qualified field workers to jobs with less manual effort. Drag-and-drop features allow you an intuitive way to fill in time slots based on your workforce availability. |
| Dispatching and Fleet Management | Dispatch service calls and integrate service requests into a schedule with two-way communication into the field. May include mapping, vehicle monitoring, routing, and real-time GPS tracking functionality. |
| Parts Inventory Management | Track the parts you have available to complete jobs, so you know when to order more. |
| Project Management | Usually found in more advanced FSM software solutions for large, complex jobs, coordinate scheduling, resource allocation, time tracking, planning, task management, quality management, and document management. |
| Mobile Field Service Capabilities | Instantly send job related data from mobile devices including tablets, smart phones, and laptops. Adapt to other technology based on your specific business operations and service industry. |
In addition to these included features, many field service solutions integrate with other accounting and ERP software programs to fully automate your back-office operations. Others can be highly customized to meet the exact needs of your industry.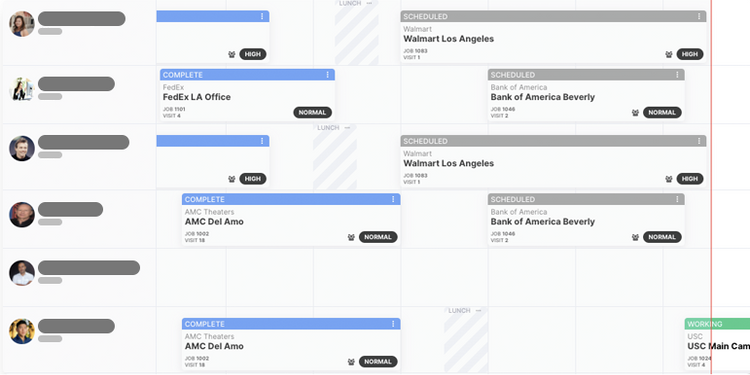 Best Benefits of Field Service Management
As previously mentioned, there are many benefits to implementing a field service management software at your organization:
Increased customer satisfaction: With field service management software, you'll be able to keep organized client records and job details in a digitized database. Being well-organized, keeping up with client communication, and getting the work done on-time and on-budget will improve customer relationships. Your satisfied customers are likely to turn into repeat business and refer others to your company.
Improved scheduling: Knowing when and where your currently scheduled projects are, and who you have assigned to those projects, will make it easier to plan new jobs around the existing ones. Don't worry about double-booking or forgetting about a job - everything is automated in a well-organized schedule!
Remote instant access: Technicians need real-time access to job details while they're working out in the field. Cloud-based software may include access to a mobile app and customer portal that allows you to schedule jobs, dispatch technicians, provide estimates, review service history, and accept credit card payments.
Improved internal communications: Office staff and field technicians alike will be able to access digitized client and project information to coordinate completed work and invoices. Field workers can update the client's information if work was paid for on-site so the office staff won't accidentally invoice the customer again.
Why Do You Need Field Service Software?
In the past, service jobs required a lot of labor just to create correct schedules with full coverage. Owners and managers had to balance which field service technicians were available against who was qualified for different jobs. Scheduling even a simple task could take a lot of back-and-forth calls between different workers before getting back to the customer with a confirmed appointment for the service request. Fortunately, service-based companies can now use automated field service software to:
Improve communication
Streamline workflows
Increase productivity
Enhance the overall customer experience
Service departments are assuming a more prominent role in the organization in terms of driving revenue and adequately maintaining existing customer information. Odds are, your employees are taking on new roles and responsibilities such as sales, account management, estimating, and public relations in an effort to improve service delivery.
Leveraging field service technology can provide you with the platform to properly track and understand service costs. The intelligence and automation which a properly implemented field service solution can provide allows your service department to become more efficient, and arms you with the necessary perspective and tools to increase your bottom line.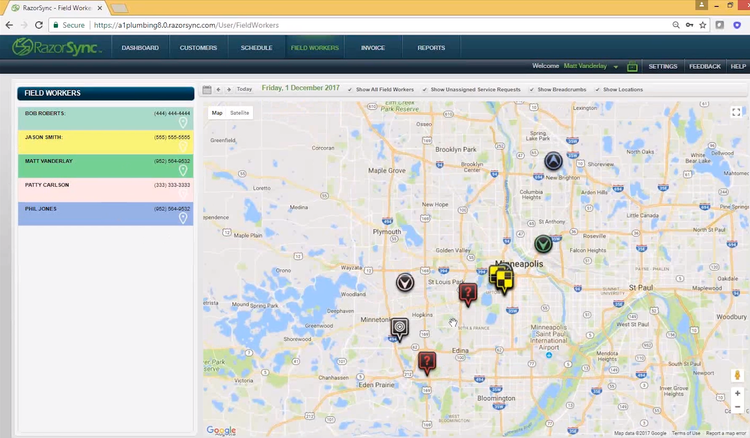 Increase Automation
Service departments are getting smarter about the efficiency of service operations. Decision-makers, from small business owners to field technicians, are realizing automation is necessary to keep pace with competition. More market competition means service-based organizations are facing increased commoditization. In light of this challenge, it's crucial to improve the customer experience to distinguish yourself. Creating customer loyalty starts on the job site, as the company that reliably gets its service staff onsite, effectively completing work, and billing accurately is the company that has taken a major step towards differentiating itself from the competition. The right software program is an accelerator in terms of more quickly meeting these objectives.
What Does Your Business Need?
The software needs of an independent plumber are different from that of a pest control company, even if they both fall into the realm of field services. Fortunately, field service management solutions are available to all sorts of businesses of every size:
Small businesses: Your software solution should make it easier to keep track of new and upcoming appointments, customer information, and job details. The main functionalities to look for include work order management, estimating and quoting, and scheduling. If you're running a small business with just a few employees but have plans to expand, you'll need field service management software capable of scaling with you.
Large businesses with multiple franchises or locations: Large enterprises needing to keep track of a variety of moving pieces – including office staff and field workers, vehicles, parts, and equipment among multiple locations – need a far more complex solution. Look for advanced field service management software with parts inventory tracking, dispatch and/or fleet management, project management, scheduling, and asset tracking.
Most service-related operations tend to be small businesses, with some employing only a few technicians. Yet there are also large field service companies which operate as regional or national franchises. There are solutions to fit every possible budget, including some free field service management software options. Others offer limited free trials for testing out functionality to ensure you find the best fit. Generally, the average software as a service (SaaS) subscription price starts as low as $26 per month and goes up to $169 per month.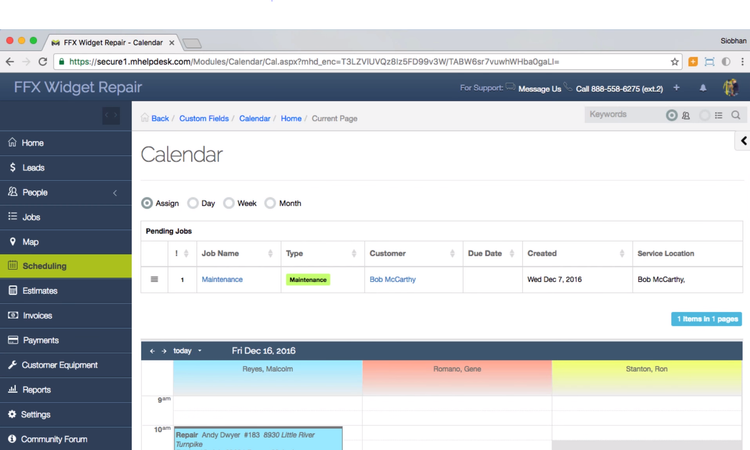 Finding the right field service management solution can seem like a difficult task. But it doesn't have to be. Our free software search service will help save you time finding the right program for your organization. Get started today!