What is Service Scheduling Software?
Field service scheduling software provides the tools field service companies need to take on customer appointments in a timely manner. Unlike general scheduling software, which is aimed primarily at arranging employee schedules, service scheduling is all about getting service teams and technicians into the field to answer customer requests.
Appointment scheduling software has some overlap, though those solutions are aimed more at businesses where clients or customers come in for service, rather than having someone come to their own home or business for services. The distinction is more clear when referring to this as technician scheduling software instead, which is sometimes used interchangeably by vendors.
Key Features of Service Scheduling Software
Work order management: Create custom work orders detailing what tasks are necessary for each job your company accepts, along with how they should be completed
Dispatching: Assign service calls to available technicians and integrate new service requests into a shared calendar; May include real-time mapping, vehicle monitoring, routing, and GPS tracking
Job tracking: Once a worker has been dispatched, keep track of job progress in real-time with monitoring tools on mobile devices; utilize various contact methods to facilitate two-way communication between technicians in the field and supervisors at the office
Quoting: Provide clients and customers with detailed estimates to develop professional quotes or bids; use estimates to prepare final invoices
Customer relationship management (CRM): Enhance customer communication through various means, such as push notifications, email, or SMS text messaging
Payment processing: Accept customer payments through various means, from traditional cash exchanges to online credit card payment methods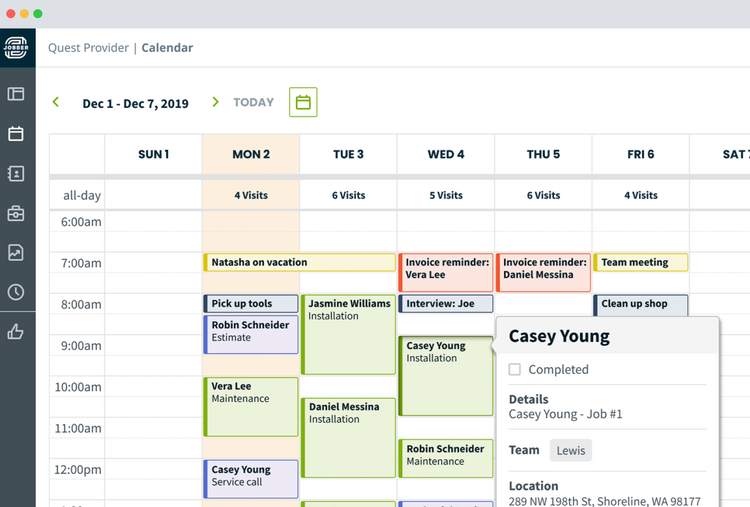 Best Service Scheduling Software Benefits
While a scheduling software offers some obvious to optimize your service calendar, it offers field service businesses many other advantages as well:
Automate Scheduling and Reminders
The most obvious benefit of scheduling software is the ability to easily add service appointments to a calendar. Whatever services you offer, having a clear schedule can help you and your team stay on time. With speedy service delivery, you can get jobs done faster and increase customer satisfaction.
These days, keeping customers happy isn't just a matter of having the right skill set and getting the job done. How many times have you sent a tech out to a job, only to find out the customer forgot and wasn't there? Rather than lose money on wasted time, clear communication tools can improve the customer experience by keeping them fully informed about their upcoming work orders. Automated appointment notifications can be sent via email or text message, reminding customers and technicians alike of upcoming appointments. Field technicians can even use software to directly call or text clients with real-time updates, or to get to the bottom of a no-show.
Easily Organize Appointments
Traditional scheduling requires a lot of paperwork. Calendars for each day, week, and month need to be in order to avoid accidental overbooking. Software makes it possible to automate scheduling, preventing any possibility of double-booking appointments. An online schedule can be accessed from anywhere so technicians can check when and where they are supposed to be while working.
These modern calendars are designed for ease of use as well. Time can be blocked out in different increments based on how long a task is expected to take, helping technicians prepare for each job in advance. Color-coding and custom tags on shared calendars can illustrate who is assigned to each job, what it entails, where it is, and more relevant information. Last minute cancellation or emergency? Drag-and-drop tools make rearranging a schedule easy for everyone, no matter their technical expertise.
Mobile apps let techs review their upcoming schedule even while on the go. And if your field workers are hourly laborers, these shared schedules can also assist with time tracking by showing the base hours worked on each job. You can even measure employee performance based on their response times.
Accept Jobs at All Times
Another downside of traditional scheduling methods is limited hours for accepting customer calls. When you close the office down for the night, you're potentially losing late night calls from customers. Competitors who keep their phone lines open can gain customers who might have been referred to you. Fortunately, there are now ways to open up your after hours availability.
Field service scheduling software allows you to open up your appointment calendar even when you're away from the office. Online scheduling allows you to set availability based on which technicians are available, then customers can select those existing timeslots. No more missed after hours bookings! And no more spending ages cross-referencing the availability of field workers while the customer sits on hold.
You can even use a template to set up an online booking on your company website. Clients can then book and update their appointments whenever they want and search for availability for certain services or individuals. Customers often prefer this method, as it gives them the freedom to select service providers without having to call during certain times.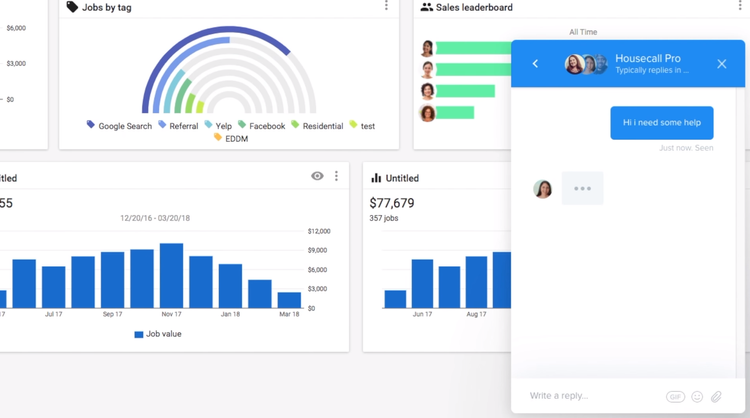 Service Scheduling Solutions by Industry
Essentially, scheduling software can be used by any commercial or home service providers to streamline their calendar appointments. This can include:
Automotive (sales or repairs)
Plumbing and HVAC
Electrical work
Roofing
Lawn care
Pest control
Property maintenance
Each field service industry has slightly different standards when it comes to scheduling. For example, automotive service scheduling software wouldn't just take technician availability into consideration, but also how many garage bays or parking spots are available as well. Otherwise, you could end up accepting appointments without the space to work on each vehicle.
Weather-dependent industries have their own idiosyncrasies when it comes to scheduling. Delays or cancellations due to severe weather can be addressed on the schedule through easy drag-and-drop features. Customizable software makes it possible to build your own system capable of meeting your specific needs, so impacted appointments on a certain day or time frame can be moved with one click.
Scheduling Software Pricing
Service scheduling software pricing tends to start as low as $8 per month and can reach $600 per month per user. Some SaaS plans also charge per user, creating a lot of price variety. If you're looking for an all-in-one solution, some full field service management software packages include scheduling modules. Most cloud-based solutions are accessible through iOS and Android mobile apps.
With such a wide range of subscriptions available, it's possible to find the right solution for your budget. The best service scheduling software for small business will be one which fits your limited budget but can potentially grow with you. Scaling software options tend to charge per user, allowing you to set the price based on how many employees you have so you're not paying more than necessary.
Does QuickBooks Offer Scheduling?
QuickBooks is a popular solution for affordable office management at field service companies, and it does include some scheduling capabilities. Some are offered as add-on modules while others are included in the base package. However, there are many scheduling software options which integrate with QuickBooks so you can continue using your existing accounting system while adding a new scheduling tool to your business.