Focus on your plumbing tasks, not chasing payments. Industry-specific software can manage your company's complex needs, no matter its size, including expense tracking, job scheduling, and dispatching. The best plumbing software enhances efficiency, reduces overhead, and minimizes errors, boosting customer satisfaction.
1

Service Titan - Best Overall

ServiceTitan provides a robust solution for plumbing businesses, offering an array of tools designed to streamline operations and boost efficiency. From multi-option proposal creation to real-time job costing, ServiceTitan ensures profitable and efficient management of commercial jobs. The software's comprehensive CRM elevates the customer experience, while its analytical reporting feature supports growth and profitability.

In the construction domain, ServiceTitan aids in keeping jobs on schedule and within budget through its project management module. Accurate inventory tracking, streamlined billing processes, and crew management capabilities are all part of its suite. The platform's seamless integration with popular accounting tools like QuickBooks keeps finances organized, while its dynamic forms automate processes for smarter work.
2

FieldEdge - Runner Up

FieldEdge is a top choice for plumbing software, designed to boost your business growth by streamlining operations and accommodating more customers. It equips your field team to enhance efficiency, generate bigger tickets, and deliver excellent customer service. The software facilitates easy selling of service agreements and on-the-spot payments, saving you both time and money.

Besides optimizing operations through automation, FieldEdge focuses on customer retention. It features tools for automated reminders and easy access to customer history, helping you maintain high customer satisfaction. The software's integration with QuickBooks, invoicing features, and a robust mobile app further contribute to a smooth business workflow and positive customer interaction.
3

Housecall Pro - Also Great

Housecall Pro offers a comprehensive, easy-to-use solution tailored to the needs of plumbers. It amalgamates key business operations such as scheduling, dispatching, estimating, invoicing, and payments into a single platform, simplifying the overall management and enhancing the customer experience. By digitizing these tasks, businesses can increase efficiency and cut down on manual paperwork, giving plumbers more time to focus on what truly matters - their service.

Further, Housecall Pro's tools are designed to foster better customer relationships. Their technology allows for online booking, a popular and convenient option for customers, which streamlines scheduling and makes it easy to set up new jobs or estimates.

Additionally, the software's capabilities extend to creating professional estimates and proposals right from a mobile device, with the added feature of providing detailed proposals with images and multiple options. Lastly, their payment software simplifies the payment process for customers, offering various payment methods and facilitating faster payments, reducing the chance of late payments.
4

Jobber - Best for Scheduling

Jobber is an exceptional choice for plumbing businesses due to its sophisticated scheduling capabilities. This all-in-one platform enables business owners to schedule jobs effortlessly, dispatch plumbers efficiently, and track the progress of each job in real-time. Its robust scheduling functionality, combined with a fully integrated customer relationship management (CRM) system, allows for improved organization, better resource allocation, and increased customer satisfaction.
What is Plumbing Software?
Plumbing software is a type of field service management software that automates your company's day-to-day scheduling, dispatching, and billing. By merging operational and financial modules together in one comprehensive solution, plumbing software is specifically tailored to the plumbing industry and will help your business run smoothly whether you're a one-person company or a large company with multiple locations.
Plumbing software will improve efficiency and profitability by streamlining work order management, improving document organization and management, simplifying scheduling and job costing, and tracking financial transactions. Mobile functionality is a widely desired function which allows field workers the ability to create work notes and invoices on the fly, without having to bring data back to the office.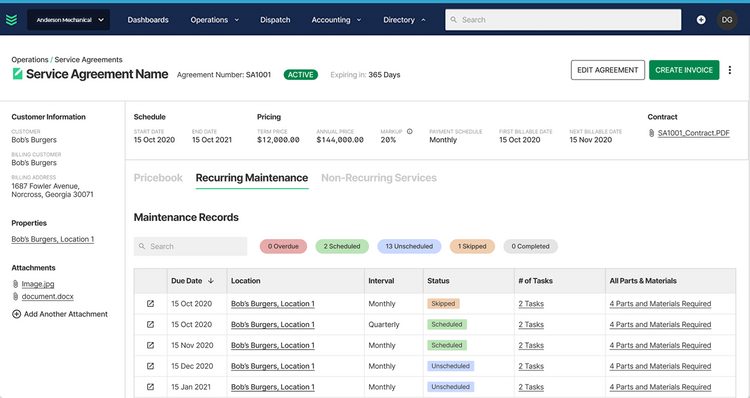 Features of Plumbing Software
Estimating: Create an accurate estimate of the cost to perform the job based on the materials, equipment, and labor needed.
Job Costing: Assigns costs to things like labor, equipment, and materials to monitor the profitability of any particular job and improve cost control.
Scheduling: Keep track of already scheduled appointments and schedule new appointment requests based on date/time availability.
Work Order Management: Coordinate the field work a plumber will perform by assigning labor to the most qualified employee.
Accounting: Record and track payments made to vendors (accounts payable) and invoicing/payments from customers (accounts receivable). The general ledger provides insights into your business's financial performance, so you can find where you're profitable and where improvements could be made.
Inventory Control: Track the materials and parts you currently are needed to complete a job to know when you need to order more.
Asset Tracking: Track the equipment, tools, and machinery you own, know who is using it, and where it is with barcoding or RFID.
Document Management: Store and record essential documents and files including photos from a job, service agreements, purchase orders, daily reports, and customer contact information.
Customer Relationship Management (CRM): Maintain your business-customer relationships by tracking customer contact information and work history and scheduling follow-up appointments. Bring in new business with outreach automation, marketing campaign management, and cross-selling. Many plumbing companies rely on repeat business and referrals as part of their growth. Having a good customer relationship management system will help you leave a positive impact on new and existing clients.
Fleet Management and Dispatching: Keep track of your company's vehicles and vehicle inventories to ensure plumbers are arriving at job sites on time and have the equipment they need with them. Map service calls to optimize driving routes, allowing plumbers to move between jobs as efficiently as possible.
Project Management: Coordinate project scheduling, resource allocation, planning, time tracking, task management, quality management, and document management for new construction, large jobs, and other complex projects.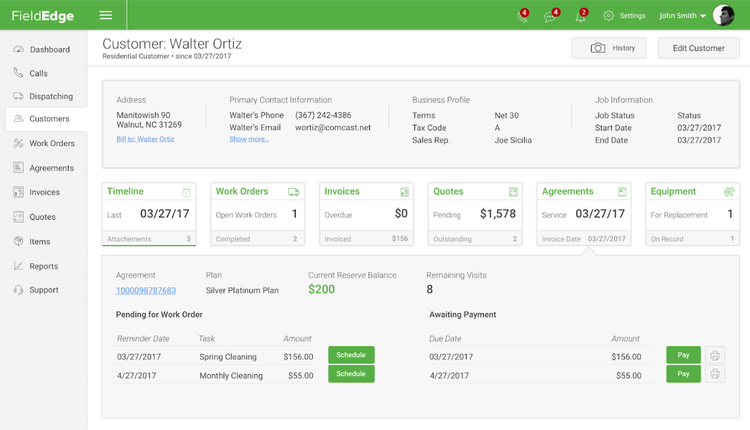 Plumbing Software Benefit #1: Streamlined Daily Reporting
Plumbing software makes it easy for field technicians to record notes and upload imagery while on the job. These daily logs and files make a great historical record in case of a discrepancy with the customer or if a claim gets made against you.
Plumbing Software Benefit #2: Easier Scheduling
See when and where currently scheduled projects are. When a new appointment request comes in, you'll be able to schedule around the other projects., making it easier to plan service routes based on location to maximize the number of jobs an employee can get done in a day. You also won't have to worry about overbooking if you can easily see which employees are scheduled at which times. With scheduling, you can also list appointment details to match the most qualified technicians to the job.
Plumbing Software Benefit #3: Better Organization
With plumbing software, you'll be able to save and quickly access important documents from each project, so you won't have to waste valuable time sifting through paperwork to find the information on a specific job or customer. You can also use asset tracking to see what equipment, tools, or machinery you have and who is using it, so you can spend less time looking for what you need. Inventory tracking will let you keep track of materials or parts you need to complete jobs. If you're running low on something, you can easily order more. Having the right parts on hand will let you get the work done sooner, making your customers satisfied with faster turnaround times.
Plumbing Software Benefit #4: Remote Access
The use of mobile devices and mobile apps on the job makes it much more efficient for plumbers to access the information they need even while out on a job. Your field service technicians will be able to obtain project information (including details on the issue or project and what materials or tools will be needed), scheduling in case a follow-up appointment is necessary, history of work completed for the particular customer, customer contact information, service contracts, and invoicing. The technician can also accept payment on the spot.
Plumbing Software Benefit #5: Improved Communication Between Plumbers and Office Staff
Both the plumbers on the job and the office staff can access project information to coordinate the work that was done and invoicing. If payment is accepted onsite, that information will be automatically updated, so the office staff knows the payment was received.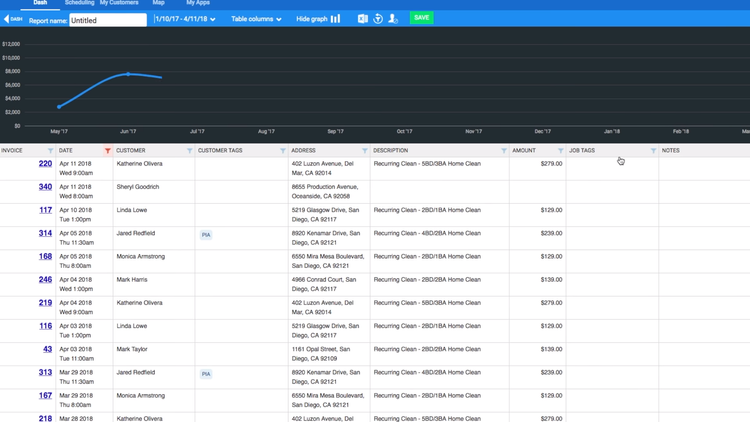 Plumbing Service Mobile Apps
Plumbers are constantly out in the field, and thus require tools at their fingertips that can allow for customer invoicing, managing equations with regards to pipe sizing, and other plumbing tasks. Most plumbing software will include a mobile app that allows access to the software while out in the field–meaning plumbers don't have to manually notate job details and key the data in later in the day back at the office.
The best plumbing service mobile apps will be loaded with features–sometimes as many features as the desktop version itself. This includes a business dashboard to control all aspects of your plumbing business. It also includes:
Mobile scheduling and dispatching: Allow field technicians the ability to view their work schedule and check for new additions. In-app messaging can also be used between both clients and employees to ensure everyone is on the same page with regards to arrival times.
Mobile estimate and payments: If a plumber in the field is doing a consultation, they can create and manage an estimate directly in the field via their mobile device, which can be instantly emailed to the customer. This information can also be sent back to the office for proper handling.
Route planning: GPS tracking can keep sight of where your plumbing staff is in the field. This helps load all service stops into the app and creates the most feasible route for the technicians to take. If a new route is added midday, the closest or most available technician will be notified.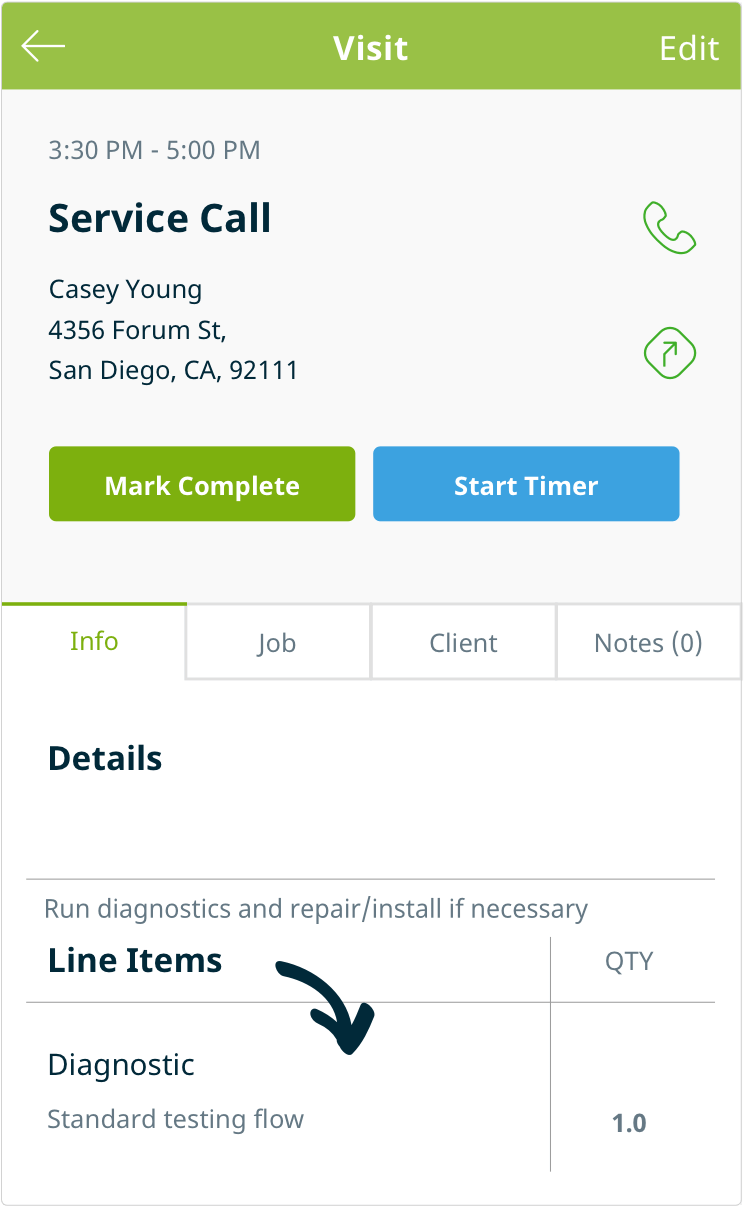 Types of Plumbing Software
One-person company: As a one-person company, the most important plumbing software functionalities will be used to keep yourself organized to optimize the number of jobs you take on and keep track of your financials to make sure you're profitable. Scheduling, document management, and accounting will be useful features to look for in a software solution.
Small businesses: A small business with a few plumbers on staff need software that will help you grow as your client base grows. Keeping track of appointments, project details, and customer information in spreadsheets or on paper will only slow you down. Look into a plumbing software that provides work order management, scheduling, document management, and accounting functionalities.
Large businesses with many locations or franchises: Large companies with many plumbers, office staff, and even multiple locations need a more complex software solution. In addition to work order management, scheduling, document management, and accounting, you should also consider having inventory control, asset tracking, payroll, and customer relationship management.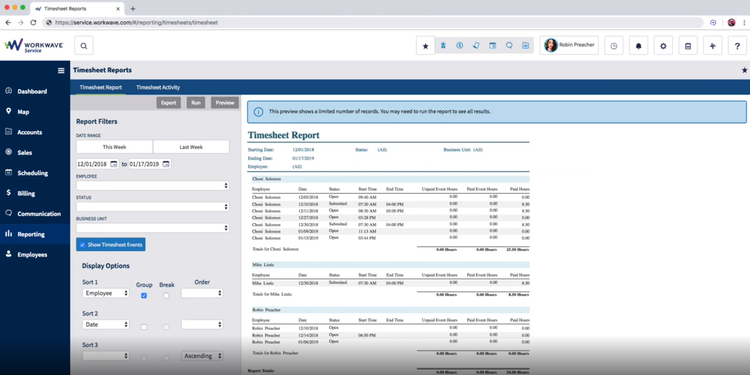 Is QuickBooks a Plumbing Software?
QuickBooks from Intuit is not inherently a plumbing software, in the sense that is was developed with plumbers in mind. However, QuickBooks has successfully been implemented and used by plumbing businesses all over–primarily for it's accounting capabilities.
Where QuickBooks falls short is in the field service management functionality, which includes job scheduling and on-the-spot invoicing. However, these features can usually be found within a QuickBooks add-on or an integrated solution. These integrated solutions allow you to continue using QuickBooks for accounting, but fill in the gaps with work orders, technician productivity monitoring, and job costs.
One example is Intuit's own product, Intuit Field Service Management. This option connects disaptchers with service managers and lets your techs see everything they need to complete a job from their mobile device, including customer history such as previous work orders. Once a job is completed, a field technician can create invoices and collect payments on the spot.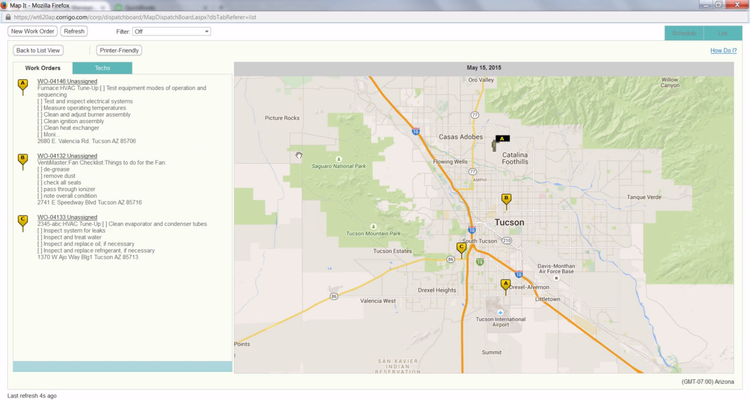 What Does Plumbing Software Cost?
Most service-related operations tend to be small businesses, with some employing only a few technicians. Yet there are also large field service companies which operate as regional or national franchises. There are solutions to fit every possible budget, including some free field service management software options. Others offer limited free trials for testing out functionality to ensure you find the best fit.
The best software options are designed to fit every budget and business sizes, from individually licensed plumbers to PHCC certified plumbing companies. Several options are able to integrate with general contracting or plumbing software for additional functionality, such as invoicing, work order management, or basic accounting.
Generally, the average starting price for a subscription-based pricing model starts as low as $26 per month and goes up to $169 per month.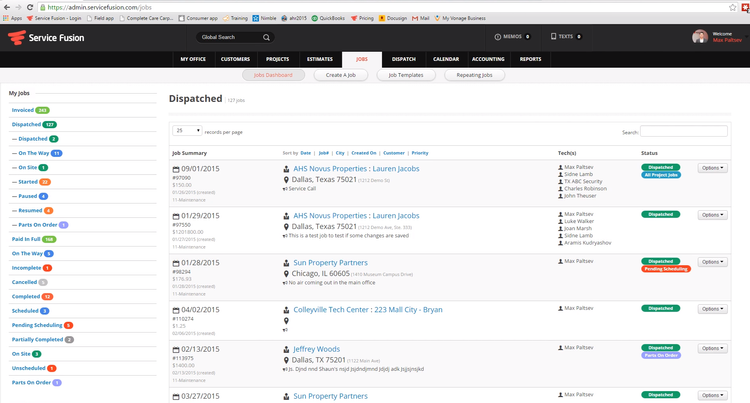 Will Generic Field Service Management Software Work?
Plumbing software is field service management software that has been developed and branded towards the plumbing industry. Some people may even refer to plumbing software as "field service software" interchangeably–lumping together other service-based industries into one solution.
Simply put, a generic field service management software that can provide the same level of scheduling, dispatching, and billing, will work just fine for any plumbing company. Most software that advertises itself as plumbing business software will be a field service solution that can also work within HVAC or other field service industries. Usually the software developer or reseller has experience implementing the solution into a plumbing environment–acting as a helpful resource in using the system to its full advantage.