To assist you in selecting the ideal solution for your business, we've identified and ranked the top fleet maintenance software available in the market today.
1

UpKeep

UpKeep is recognized for its effectiveness and reliability. Its integration with Linxup, a GPS tracking and fleet management system, offers a more streamlined fleet maintenance operation. The software's mobile capabilities are designed to support the productivity of technicians and maintenance teams, especially those frequently on the move. Its preventive maintenance capabilities and work order management can assist in reducing downtime and prolonging asset lifespans.

Key features:
Syncing vehicle location in real-time.
Triggering work orders based on vehicle diagnostics.
Performing recurring mileage-based inspections.
2

AUTOsist

AUTOsist is recognized for offering significant value in the fleet maintenance software realm, with flexible pricing options suited for various fleet sizes. It provides a comprehensive fleet maintenance management solution, encompassing features like maintenance reminders, custom digital inspection forms, parts inventory management, and more.

Its intuitive interface and mobile app cater to user convenience, decreasing training time and bolstering user engagement. The software's preventive maintenance capabilities focus on minimizing downtime and asset longevity.

Key features:
Preventative maintenance schedules.
Digital inspections.
Customizable digital inspection forms.
Two-way safety dash cameras that provide live feeds.
GPS tracking and fuel card data integrates into single dashboard.
3

eMaint CMMS

eMaint CMMS is a cloud-based software adept at capturing, storing, and sharing historical asset performance data. By reducing equipment downtime and enhancing visibility, eMaint CMMS can foster better customer satisfaction and worker productivity.

One of the stand-out features of eMaint CMMS is its comprehensive suite of fleet maintenance tools. With this feature, you can:
Automate preventive maintenance and scheduled service.
Track and analyze crucial fleet data.
Control fleet vehicle costs by capturing and analyzing total cost of ownership metrics.
The software's fleet management function also includes powerful reporting tools that offer insights into optimizing fleet operations and reducing maintenance costs.
4

Fleetio

Fleetio is a decent choice for comprehensive fleet maintenance management, given its broad array of features. It provides an integrated solution, covering facets from asset and fuel management to driver assignments and fleet reporting.

Its intuitive interface coupled with its mobile accessibility caters to user convenience. Fleetio emphasizes preventive maintenance to mitigate downtime and prolong asset life. Its robust reporting and analytics tools further empower teams to discern fleet trends, enabling informed decision-making for optimized operations.

Key features:
Real-time fleet tracking with GPS integrations.
Advanced reporting tools to analyze vehicle costs and fuel consumption.
Automated service reminders and digital work orders.
Streamlined fuel card integrations to capture all transaction data.
5

Samsara Fleet Management

Samsara includes real-time GPS tracking, telematics devices, and AI dash cams. These devices actively gather data to help enhance safety by anticipating and averting potential accidents. The software's comprehensive offering also encompasses elements like asset and fuel management, VIN decoding, and fleet reports.

Pricing is designed to suit diverse fleet sizes, from smaller outfits to larger operations. Its intuitive design aims to facilitate swift onboarding and sustained usage, while its mobile app offers on-the-move accessibility for busy fleet teams.

Key features:
Real-time vehicle tracking with live-to-the-second updates.
Comprehensive dash cams for on-road safety and incident recording.
Maintenance scheduling and vehicle health monitoring.
Fuel usage monitoring with real-time alerts for inefficient fuel usage.
6

Fleet Maintenance Pro

Fleet Maintenance Pro incorporates a flexible architecture, enabling customization to suit individual fleet requirements. With an all-encompassing suite of tools, it provides for asset management, fuel management, and driver assignments.

Its preventive maintenance tools play a role in minimizing disruptions and maximizing asset longevity. Efficient work order management and an intuitive interface further ensure smooth operations and user engagement. Its pricing structure is designed to cater to various fleet sizes, from small businesses to larger corporations.

Key features of Fleet Maintenance Pro include:
Comprehensive preventive maintenance scheduling.
Asset lifecycle tracking and depreciation reporting.
Inventory management with reorder alerts.
Detailed equipment maintenance history.
What is Fleet Maintenance Software?
Fleet maintenance software helps businesses keep their vehicles running smoothly. As a type of maintenance management software, this solution provides preventative maintenance reminders and tracks previous repairs on your entire fleet of work vehicles.
Unlike fleet management software suites, which cover acquisition and telematics, maintenance solutions only focus on issues related to vehicle repairs and improvements. This makes fleet maintenance software ideal for smaller businesses which want to focus on maintaining their vehicles and don't need all the extra bells and whistles offered by a full management solution.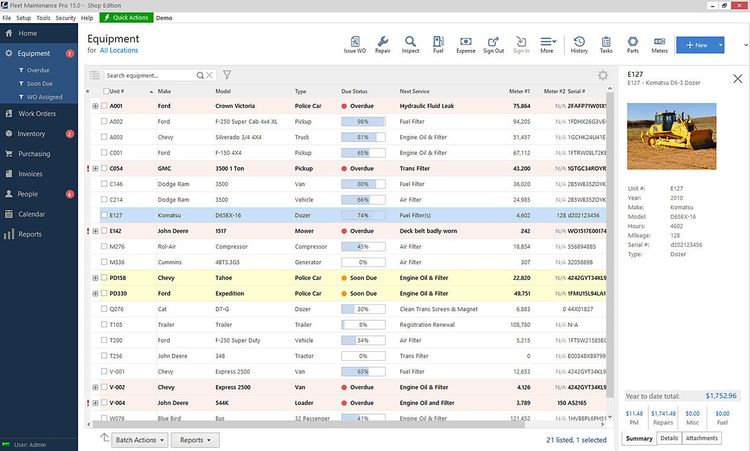 Features of Fleet Maintenance
Maintenance history: Store data on all past vehicle maintenance in one easy to access location
Predictive maintenance scheduling: Plan for maintenance service in advance by using algorithms to determine when parts need to be replaced
Preventive maintenance tasks: Reduce the likelihood of costly repairs by performing maintenance in advance of vehicle breakdowns; set and receive notifications for preventive tasks to upgrade vehicles
Work order management: Keep records of past work orders and generate new ones based on recommended service
Parts database: Organize your parts inventory to know where your vehicle parts were sourced and where you can order more when replacements are necessary
Vehicle compliance management: Ensure all your fleet vehicles are road-ready and meet the latest safety regulations based on your state or federal requirements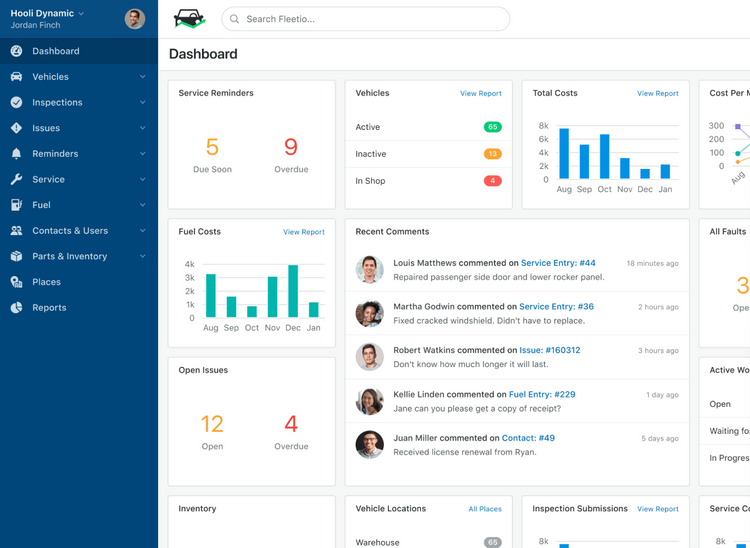 Fleet Maintenance Software Benefits
Using a fleet maintenance software can provide many benefits for your fleet operations:
Longer-lasting Fleet Vehicles
The main benefit of fleet maintenance software is keeping your vehicles in optimal condition. Whether you have cars, vans, trucks, or heavy machinery, continual use takes an incredible toll on your fleet. By using a fleet maintenance system, you can keep tabs on which vehicles have been in service longest and need the most work to stay running.
Predictive maintenance applications help you further the lifespan of your fleet. These tools estimate when you'll need service based on vehicle make, model, and usage. You can even account for other factors such as mileage or hauling tonnage. By analyzing every variable, you can rotate your fleet vehicles to ensure equal usage.
Lower Operating Costs for Fuel and Repairs
A missed oil change can cause permanent engine damage. A broken truck chassis can limit your hauling capacity. And balding tires can lead to dangerous accidents for your drivers. If you continually put off necessary repairs, your vehicles will slowly break down until they are detrimental to your bottom line.
Fleet maintenance software helps you set advance reminders to perform preventative maintenance tasks ranging from oil changes to full system checkups. Instead of playing catchup with service, you can know days, weeks, or months in advance when to schedule diagnostics and other basic services.
Additionally, real-time fuel tracking shows how efficient your vehicles are. Using this data, you can determine which vehicles are better suited for shorter deliveries or which of your old trucks don't have enough power to haul anymore.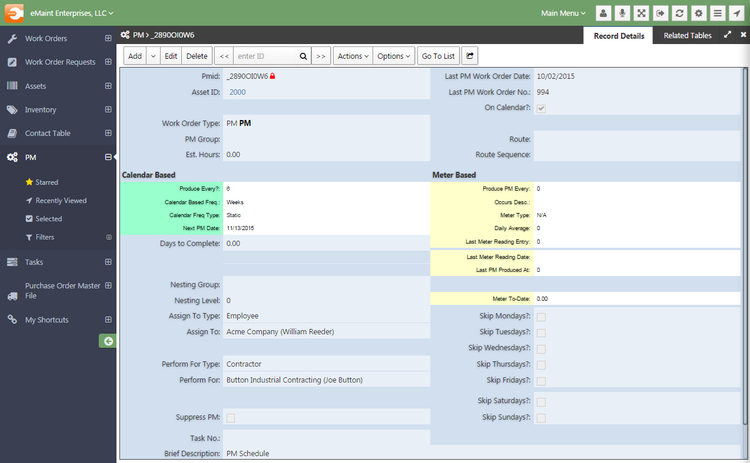 Reduced Downtime for Maintenance
If your business depends on a fleet, you can't afford a lot of downtime whenever something goes wrong with a vehicle. Every work order for replacement parts takes valuable time to fulfill. By using predictive maintenance applications, you can reduce downtime for maintenance services by planning ahead.
For example, if you know you'll need to replace balding tires, you can check your parts database to see where to order a new set at the best price. You can have the fresh tires ready before a tire pops or goes flat. Planning ahead when ordering replacement parts lowers downtime if you only ordered after repairs were needed.
Keep Vehicles Compliant with Road Regulations
There are many Department of Transportation (DOT) and Occupational Safety and Health Administration (OSHA) regulations designed to keep the road safe. If you operate a fleet, you need to know them. What are there rules about how much weight trucks can haul on different roadways along your delivery route? What are the state regulations for vehicle emissions? What will a broken taillight cost your company in fines? Fleet maintenance systems help you stay on top of the repairs and upgrades your vehicles need to remain compliant.
Vehicle compliance can change based on state and federal regulations. If your trucks need to haul goods across state lines or country borders, you need to know the full extent of the law to avoid expensive fines.
Fleet Maintenance vs Management: What's the Difference?
As mentioned before, there are a few key differences between fleet maintenance and management. Fleet management software provides many additional tools like route optimization and telematics. While these logistical applications are helpful for businesses which rely on regularly scheduled deliveries, they're not necessary for other vehicle-based business models. If you only need to know when to schedule and perform vehicle maintenance, like emissions testing, a fleet maintenance software is likely a better option for your company than a full fleet management suite.
For example, a pizza delivery restaurant would want a fleet management system to optimize delivery routes for their drivers to reduce the wait time between the initial order and final delivery. GPS-tracking would ensure drivers are on time. Since pizza delivery drivers use their own vehicles, they would have to handle their own maintenance scheduling.
In contrast, a pest control service with company-owned 5 vans and 5 trucks would want to use fleet maintenance tools to ensure all vehicles are up-to-date and in good condition. Route optimization is not necessary since there aren't the same time constraints for pest control as delivery food.