What is Maintenance Management Software?
Maintenance management software creates work orders for maintenance activities (such as preventive maintenance tasks and predictive maintenance scheduling) which help limit equipment downtime and lengthen the lifespan of assets. A properly implemented system will automate maintenance work and maintenance programs, lower maintenance costs, and provide real-time KPIs and maintenance history for your maintenance team.
The primary reason businesses use maintenance management software is to ensure production levels are never interrupted and that their profitability remains at a consistent level and is not threatened by equipment failure or downtime. Maintenance management systems can increase the reliability of your production facilities, maximize the life of your equipment, and increase the safety of your employees.
Often referred to as a computerized maintenance management system (CMMS), a properly deployed preventive maintenance software will keep your business proactive rather than reactive with how it approaches maintenance. This is accomplished by tracking and controlling all of your company assets such as equipment used in daily operations or at the facilities where you conduct your business.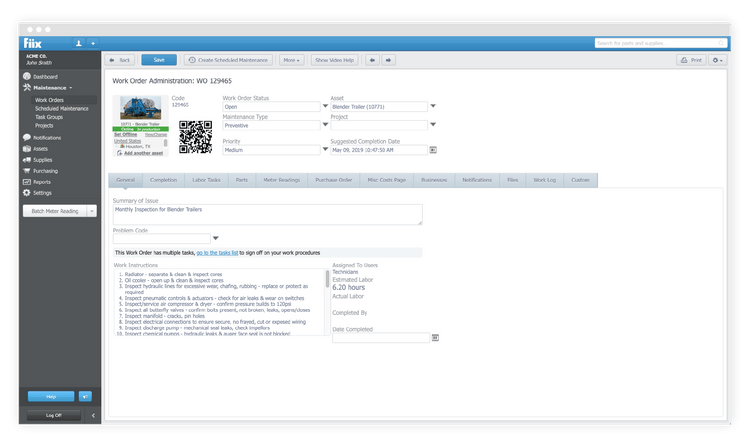 Features of Maintenance Management Software
Maintenance Request Portal: Allows employees to submit maintenance requests to management personnel for approval or denial. Ensures all requests are viewed and prioritized based on their urgency.
Work Orders: Create a trackable document identifying what work needs to be done and how it should be accomplished. Helps maintenance managers ensure tasks are being performed in a timely fashion. Includes widgets such as rules-based approval management, scheduling management, change orders, and reporting.
Preventive Maintenance: Schedules routine maintenance tasks to reduce the risk of production errors, work injuries, and asset damage. Creates schedules, tracks procedures, sets maintenance routines, balances workloads, and more.
Predictive Maintenance: Scans equipment data for performance trends and uses condition-based monitoring to alert the appropriate staff of any potential issues.
Equipment and Asset Management: Records general information on company assets (buildings, vehicles, technology, and more) such as the frequency of asset use, issues, ongoing costs, and asset specifications. Includes repair history, work orders associated with each asset, images and warranty info, meter readings, and floor plan management.
Inventory Management: Tracks information on equipment used in maintenance and repair operations such as tools and parts. Creates alerts to warn of low stock levels to ensure the proper materials and tools are always available for both routine and emergency maintenance.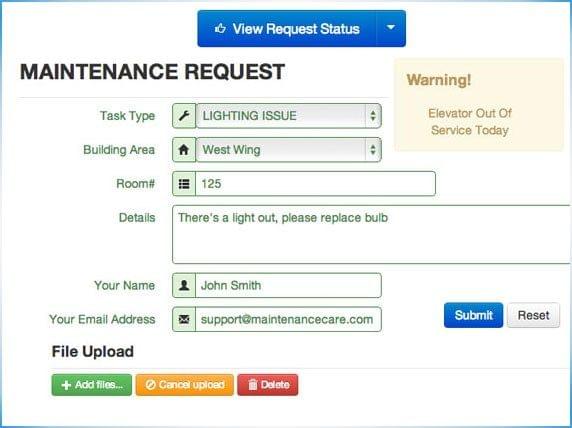 Types of Maintenance Management Software
Maintenance tasks can be broadly broken down based on the type of maintenance being performed, such as:
| Maintenance Type | Details |
| --- | --- |
| Reactive | Perform maintenance or repair tasks after an asset has broken down or been damaged |
| Preventive | Schedule maintenance tasks in advance to prevent potential breakdowns before they happen; utilize upgrades to offset maintenance |
| Predictive (PdM) | Attempt to forecast when preventive maintenance should be performed to maintain uptime without risking breakdowns |
| Condition-Based | Maintenance planning is based around asset performance, such as tune ups after certain milestones are met |
| Reliability-Centered (RCM) | Base maintenance operations on minimum criteria and allow less critical assets to "run-to-failure" |
Maintenance by Industry or Asset
Most of the time, software options will be marketed and sold based on your industry or by the relevant asset/equipment: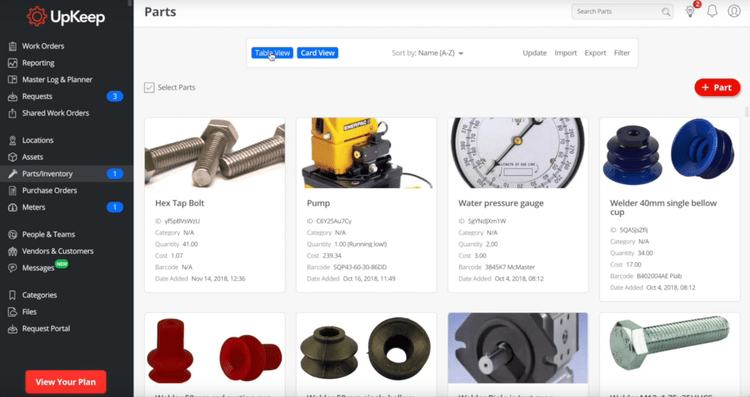 The Best Benefits of Maintenance Management Software
Used correctly, maintenance management software can help your company become more profitable than ever before and ensure your business doesn't lose money on maintenance. Some of the top benefits of maintenance management software include:
Avoid Downtime to Improve Efficiency
Preventive maintenance procedures can keep your assets running at optimal levels with limited downtime for repairs and upkeep. This means equipment can continually generate revenue for the company. A maintenance management software will automatically generate work orders for preventive maintenance tasks, eliminating the need for an employee to manually time and submit work orders. Rather, you can use scheduling modules to automatically generate repair tasks for your staff during non-peak times so your machines can continue to thrive when needed.
Save On Future Expenses
There's a lot more to this management software than just checklists detailing when and how to do maintenance. Without proper maintenance features put into place, assets will depreciate at a quicker rate and become overused. This can lead to machines breaking down quicker, and puts equipment at a greater risk of malfunction. Predictive maintenance tools can help spot problems before they occur. It also lowers labor expenses normally incurred when a machine becomes faulty.
Catching errors in equipment early and often will lead to less frequent turnover of assets, as well as lower labor costs involved with performing the maintenance. Companies who invest a solid amount of money into their core assets will want to maintain them as long as possible. Spending money on maintenance software with preventive methods now can save you from an exponential amount of repair costs in the future.
Keep Customers and Employees Happy
Customers are happiest when they receive their orders on-time, and are more likely to do repeat business with companies that consistently meet demands. Likewise, employees are happy when they can get through the work-day uninterrupted by equipment breakdowns. Assets and equipment kept in a serviceable condition help you produce quality products your customers can enjoy, without causing delays to employee workflow due to unexpected machine downtime.
Finally, maintenance software provides an easy way to keep records on past and upcoming maintenance work, perfect for compliance reporting and industry-required audits.

What's the Difference between CMMS Software vs Maintenance Management Software
Computerized maintenance management software (CMMS) or maintenance management software: which does your business need? How does the word "computerized" make a difference?
In short, CMMS and maintenance management software will provide you with the same functionalities. The goal of CMMS is to provide you with maintenance management capabilities, such as preventive and predictive features that can help you prolong the life of your assets. Both types of software will provide you with the means to create work orders, record spare parts inventory, scheduling preventive maintenance, and record asset histories. They can streamline your scheduling by using automated notification systems to alert you to upcoming or necessary maintenance.
Another type of similar software is enterprise asset management software (EAM software). This type of solution was created as a type of CMMS software for enterprise-level organizations looking to implement global maintenance initiatives. EAM software differs due to the scope of assets being tracked, as this usually happens across multiple departments and locations and will have a much larger impact on your business when it comes to the manufacturing process, procurement of goods, and even human resources due to how it may affect personnel.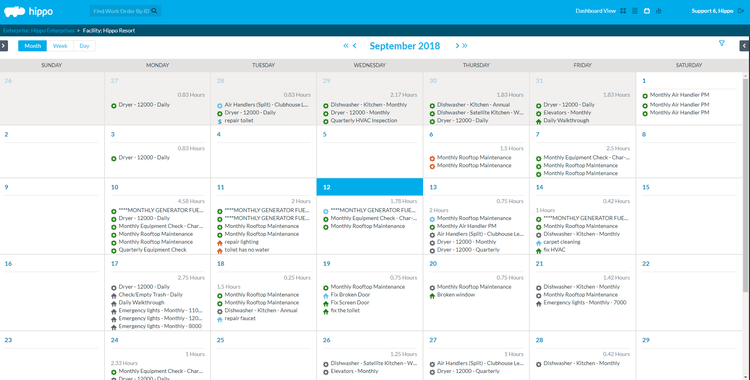 Pricing Guide for Maintenance Management Software
The cost of maintenance management software will range from $29 to $70 per user per month. This price range will give you an entry-level system for less than 3 users. Common capabilities included in these entry-level options include work order management, preventative maintenance, asset management, document management, and reporting. Onboarding costs for these types of systems will vary depending on your provider and the level of services needed, but will usually average between $600 to $2,500 one-time.
Companies that require more advanced capabilities such as maintenance request portals, barcode scanning, KPI dashboards, custom interfaces, and interactive floor plans can expect to spend as high as $400 per user per month, with onboarding costs of a few thousand dollars. These mid-level and enterprise type systems can handle a larger amount of users.
A majority of maintenance management software packages are sold as a subscription (SaaS) and are entirely web-based (SaaS). These options provide smartphone mobile device flexibility with the use of user-friendly mobile apps on iOS and Android devices. There are still a few options which can be sold on-premise with only a one-time licensing fee.