A business looking to get started with facility management and facility maintenance will understandably want the best product available.
Here are some of the best facility management software options for your business, along with the benefits each provide.
1

Hippo CMMS - Best Overall

Hippo CMMS can operate as a building management solution for almost every type of industry. From sports complexes to assisted living centers, Hippo CMMS provides a large number of modules in the package. Beyond the typical work order management and preventive maintenance, Hippo CMMS has a strong focus in extending equipment lifespan, standardizing procedures and processes, making better use of company time, and improving safety and compliance. It also includes unlimited users and lifetime technical support, making it one of the top web-based facility management tools available on the market.

Price: Hippo CMMS starts at $42/month for their "Hippo Lite" package (single user, limited functionality).
2

UpKeep - Best Mobile Apps

UpKeep markets itself as a mobile-first option for your maintenance management software needs through asset management, property management, facility management, inventory tracking, and enterprise global maintenance. The mobile app lets you monitor work requests, track inventory levels, create and go through checklists, and scan QR codes all from your mobile device.

UpKeep even lets you test out the software if you're unsure through their limited free version, making this a risk-free option if you're looking to invest in a mobile-first and relatively easy to use maintenance management solution.

Price: Paid versions of UpKeep start as low as $29/user/month.
3

openMAINT - Best Free

openMAINT is an open source solution for property and facility management. This solution is built to help you gather data that pertains to your asset inventory (buildings, installations, movable assets) and the maintenance costs related to them. The software comes with all the needed features, such as space inventory, facility maintenance, logistics management, and GIS/BIM support.

openMAINT is truly a free option and does not require any investment to use.
4

Maintenance Care - Best Maintenance Management

Maintenance Care is advertised as free CMMS software for work orders, preventative maintenance, and asset management. It also includes reporting and has a mobile app so your team can manage tasks from wherever they may be.

While Maintenance Care does have a free version, it's limited in the number of users you can have and does not have the extensive dashboard reporting or task assignment tool.

Paid versions of Maintenance Care start at $75/month.
What is Facility Management Software?
Facility management software monitors the health of buildings, spaces, and the equipment residing in them through tracked repair and facility maintenance work. Also known as computer-aided facility management software, or CAFM software, these solutions can monitor assigned tasks to ensure repair work is being done when needed (corrective maintenance) or as a routine check-up (preventive maintenance).
Most processes are accomplished through:
Asset management
Vendor/supplier management (for purchasing parts)
Maintenance software workflows
Together, these functions act as a unique type of computer maintenance management or CMMS software–helping to automate your facility lifecycle management and avoids downtime, which ultimately improves the efficiency and longevity of assets.
What is Facility Maintenance Software?
Facility managers can monitor maintenance easier with facility management software via reports and business intelligence on facilities in use. These can be analyzed and used to make at-large decisions for the company, such as what costs are involved with switching locations (such as moving to a bigger warehouse).
Facility management software can be called an integrated workplace management system, or IWMS software–but that type of software is thought to focus more on maximizing the resources and assets used in a facility, rather than monitor the maintenance and lifespan of the assets. The bottom line is, whatever the software developer or reseller decides to market it as you'll want to ensure it can monitor the health of your facilities and everything inside of it.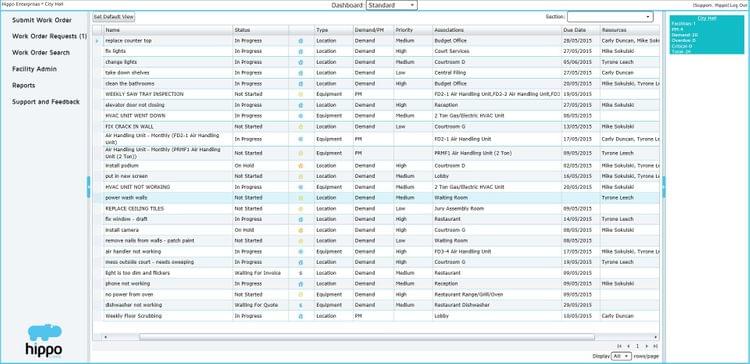 Features of Facility Management Software
Asset Management: Keep track of and optimize the use of physical assets including equipment, tools, and machinery. Store location data to know where an asset is at all times.
Materials Management: Buy the needed parts and supplies for any repair work. Ensure materials are only being sourced from approved vendors to ensure quality and price points. Streamline the order process and organize purchase orders.
Maintenance Management: Create service issues and work orders for any needed maintenance, whether corrective maintenance, preventive maintenance, risk-based maintenance, of condition-based maintenance. Track the status of work orders in real time.
Preventative Maintenance: Create schedules, track procedures, set maintenance routines, balance workloads, and more. Validate that maintenance events have occurred.
Facility Asset Management Software
Facility management software is much more than asset tracking software. Facility management software is meant to be a continuation of asset tracking and provide the tools needed to manage multiple campuses or properties that your business operates.
To determine if you'll need asset management software or facility management software, you'll need to consider:
What types of assets are being managed?
What does the business plan to do with the assets?
Who is responsible for the assets?
In short, asset management software has the main purpose to squeeze as much value out of an asset as possible and will aim to extend the lifespan of that asset in whatever way possible. A simple way to think about this is a longer life span = higher utilization opportunities, and thus, that asset has been of more value to your company.
Facility management, on the other hand, wants to have the most optimal work environment by improving business productivity. Compared to asset management software, there is less of a focus on the health of an asset, and more of a focus on meeting workplace demands; typically by ensuring the business is running at optimal cost/quality ratios. This means for every two identical machines if one produces a better quality product, the system will prioritize the use of the higher quality system.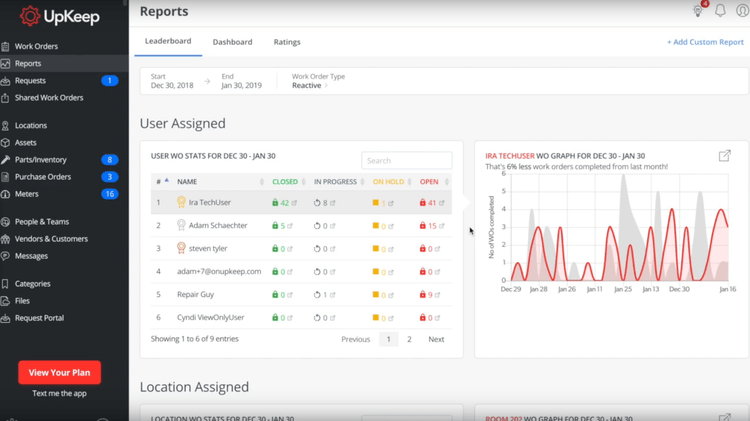 CMMS Facility Management Software
For companies more concerned about equipment asset management and equipment maintenance (compared to facility maintenance), a CMMS software may be the better fit. Many companies may mistakenly consider the terms "CMMS software" and "facility management software" interchangeable. And while it's true that many facility management solutions can provide the functionality of a CMMS software, it's important to note the true motivations of each software.
CMMS software helps lower the overall cost of maintenance while improving productivity through equipment availability. CMMS tracks the costs of maintenance, and can also see which labor resources are being invested in the maintenance of assets. Some CMMS software may also provide location tracking and track asset depreciation.
Facility management software acts like a complete tool that provides comprehensive care of the facilities that make up your business, and includes the following features not found in CMMS:
Space management
Energy management
Real estate and property management
Pricing of Facility Management Software
The cost of facility management software starts at $33/user/month for a solution with a subscription-based pricing model. Some solutions may bill annually versus monthly–calculating your balance based on the square footage of your facility and the number of features/applications needed. Those solutions start at $2,500/year.
Pricing for facility management systems will typically be custom–depending strongly on the square footage of the facility being managed, as well as the number of concurrent users needed.
While software companies advertise software on a per user/month basis, these are generally introductory level prices to get prospects in the door. A business should expect to spend additional costs upfront for the initial implementation and any needed training, on top of the ongoing subscription-cost for use of the software (and any additional services, such as ongoing support).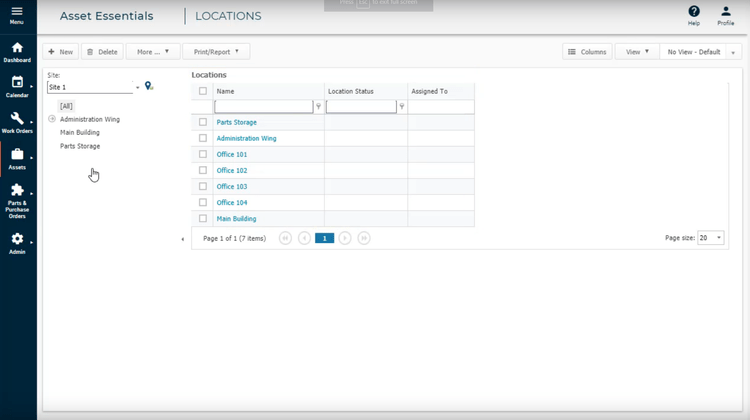 Free Facility Management Software
Only a handful of free facility management software options exist, which come in the form of an open-source facility management solution. These options are meant as starter packages and will charge you for additional functionality down the road. They may also be trial versions of paid options which give you a preview of what you could get if you decided to purchase the software.
A business looking to get started with facility management and facility maintenance will understandably look for the lowest cost option available. However, a company will be wise to not sacrifice quality just to save a few dollars, and should instead look for the best fit available that will increase the longevity of your facilities, which will be the real cost-saver.